Arizona Cardinals 2013 Schedule: Win-Loss Predictions for Every Game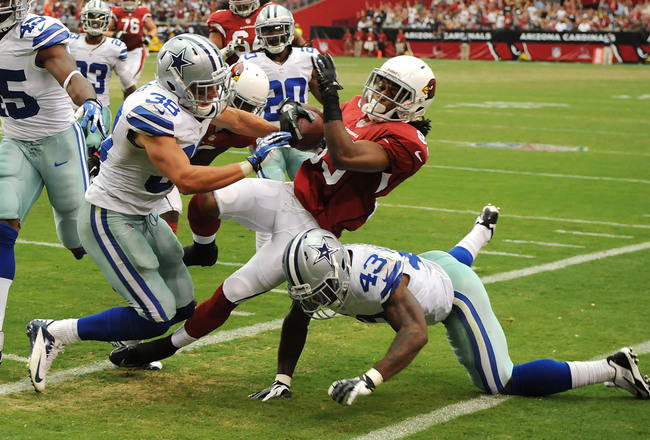 How will the Cardinals tackle the competition in 2013?
Norm Hall/Getty Images
The Arizona Cardinals look to rebound from a 5-11 campaign in 2012. The franchise-best 4-0 start made them one of the three unbeaten teams in the league after the first month.
Then the slide came, and the Cardinals dropped nine in a row. The Cardinals posted a win over Detroit in December for their only other victory of the season.
Optimism is plentiful after a pair of strong defensive performances to open the preseason. Will the offense be able to score enough points to get more wins?
Here's the 2013 schedule for the Arizona Cardinals. Start the slideshow to see our game-by-game predictions for the upcoming season.
Week and Opponent
1 at St. Louis Rams
3 at New Orleans Saints
4 at Tampa Bay Buccaneers
6 at San Francisco 49ers
7 Seattle Seahawks (Thursday)
9 BYE WEEK
11 at Jacksonville Jaguars
13 at Philadelphia Eagles
14 St. Louis Rams
15 at Tennessee Titans
16 at Seattle Seahawks
17 San Francisco 49ers
Week 1 at St. Louis Rams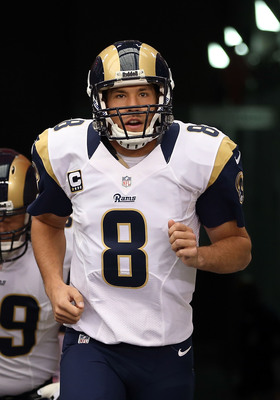 Christian Petersen/Getty Images
Arizona opens on the road against St. Louis. It's an early-season NFC West game against an improved St. Louis team. Steven Jackson is no longer in the backfield for the Rams, and Danny Amendola is now with the New England Patriots.
The St. Louis defense should be fierce and give the offensive line a big test at the start of the season. This looks to be a tough game for the running backs. Carson Palmer might have to win this game late with his arm.
Prediction: Cardinals 24, Rams 20 (1-0)
Week 2 vs. Detroit Lions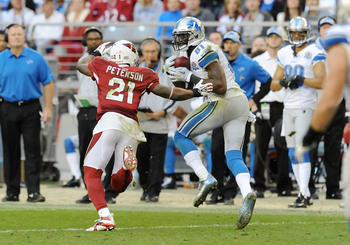 Norm Hall/Getty Images
Calvin Johnson and the Lions come in Week 2 for Arizona's home opener. Last season, the Cardinals thumped the Lions 38-10 for their only win outside of the month of September.
This looks to be a passing clinic as both teams should be airing it out. A Jay Feely field goal makes the difference here, and the Cardinals stay undefeated.
Prediction: Arizona 38, Detroit 35 (2-0)
Week 3 at New Orleans Saints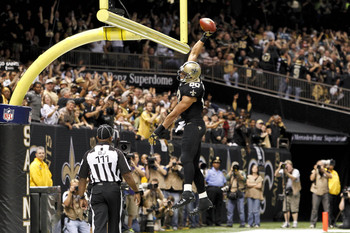 Derick E. Hingle-USA TODAY Sports
Arizona heads out to New Orleans in Week 3 to take on the Saints. This will be a very tough game for the Cardinals. Drew Brees and the Saints have the offense to make this a shootout. Arizona will find itself short on bullets and not have the firepower to keep up.
New Orleans tight end Jimmy Graham should take advantage of the absence of linebacker Daryl Washington and give the Cardinals matchup problems. Patrick Peterson can't possibly cover all of the weapons the Saints have in the passing game.
Prediction: Saints 35, Cardinals 14 (2-1)
Week 4 at Tampa Bay Buccaneers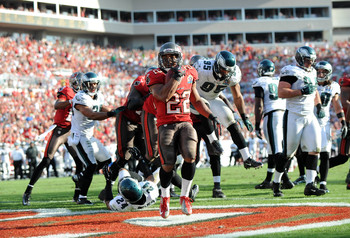 USA TODAY Sports
Arizona goes on the road for a second straight week when they visit the Tampa Bay Buccaneers in Week 4. Stopping running back Doug Martin (pictured) is going to be a big priority for the Arizona defense.
Carson Palmer will have a difficult game as wide receiver Larry Fitzgerald is going to be covered by cornerback Darelle Revis. While Fitzgerald is stuck on Revis Island, the Cardinals won't be able to overcome the Buccaneers.
Prediction: Tampa Bay 24, Arizona 13 (2-2)
Week 5 vs. Carolina Panthers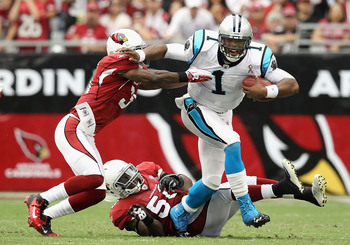 Christian Petersen/Getty Images
Cam Newton and the Carolina Panthers come to Arizona in Week 5. Newton comes back to the place where his professional career started in 2011. On that day, Newton threw for 422 yards on 24-of-37 passing with two touchdowns and an interception.
The Panthers will find it tougher to run with Washington back at linebacker for Arizona. Peterson will limit Carolina wide receiver Steve Smith, and Arizona gets back in the win column.
Prediction: Arizona 28, Carolina 20 (3-2)
Week 6 at San Francisco 49ers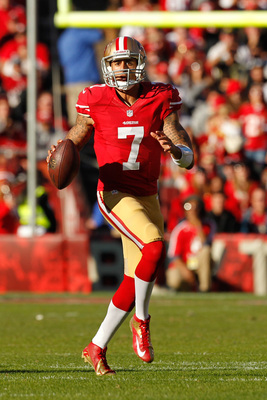 Cary Edmondson-USA TODAY Sports
Arizona travels to San Francisco for the first of two games with the rival 49ers. Quarterback Colin Kaepernick will give the Arizona defense fits. Running back Frank Gore could be in line for a big day, and tight end Vernon Davis will prove to be a challenge to cover.
It's going to be an uphill climb for the Arizona offense against a fierce San Francisco defense. If the offensive line isn't holding up, Palmer could be sacked several times.
The 49ers have won seven of the last eight games from Arizona, and that trend should continue. The Cardinals have failed to score double digits in six of those games, and that will continue too.
Prediction: San Francisco 24, Arizona 7 (3-3)
Week 7 vs. Seattle Seahawks (Thursday)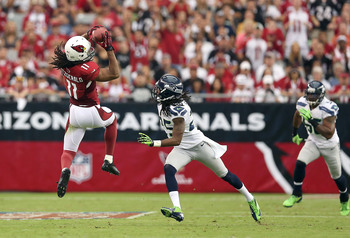 Christian Petersen/Getty Images
The Cardinals host the Seattle Seahawks in Week 7. It's a Thursday night game, so Arizona will be on a short week and fresh off of a bruising game against the 49ers. That doesn't set up for success for the Cardinals.
It's the second game of a four-game stretch against playoff teams from last season. That won't help either.
Seattle has one of the best defenses in the league and Arizona will struggle on offense.
Prediction: Seattle 27, Arizona 10 (3-4)
Week 8 vs. Atlanta Falcons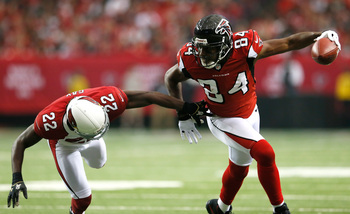 Kevin C. Cox/Getty Images
Arizona's last game before the bye is against the Atlanta Falcons. The Cardinals will have 10 days to prepare for the game and might need every second of it against quarterback Matt Ryan and the Atlanta offense.
The Arizona defense will be under the microscope in this game. How can they find a way to shut down Julio Jones, Roddy White, Tony Gonzalez and Steven Jackson? In short, they can't.
The Arizona offense will put some points on the board but not enough to keep pace with Atlanta. Arizona will limp into the bye week on a three-game skid.
Prediction: Atlanta 38, Arizona 21 (3-5)
Week 10 vs. Houston Texans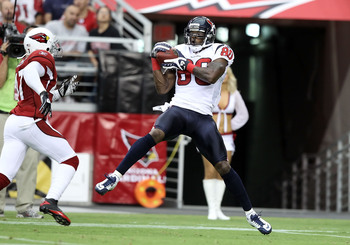 Christian Petersen/Getty Images
The Houston Texans will be Arizona's first opponent coming off of the bye week. They will provide a tough test for Arizona as the Cardinals need to slow down Arian Foster and Andre Johnson.
Houston's defense, led by J.J. Watt and Ed Reed, will make it very difficult for the Cardinals to get much going offensively. This will be the make-or-break game for the Cardinals in the 2013 season.
Tyrann Mathieu returns a punt for a touchdown in the fourth quarter, and Arizona pulls out a stunning win.
Prediction: Arizona 24, Houston 20 (4-5)
Week 11 at Jacksonville Jaguars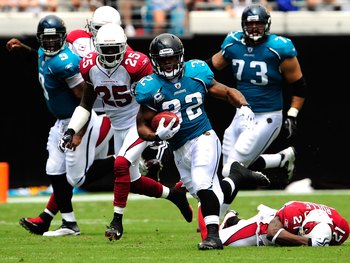 Sam Greenwood/Getty Images
The Cardinals take on their second consecutive opponent from the AFC South when they travel to Florida and battle the Jacksonville Jaguars in Week 11.
Arizona will have to keep running back Maurice Jones-Drew (pictured) in check to get a win. It won't matter whether it's Blaine Gabbert or Chad Henne at quarterback for Jacksonville. The Arizona defense comes up big and picks up momentum with a second straight win.
Prediction: Arizona 31, Jacksonville 3 (5-5)
Week 12 vs. Indianapolis Colts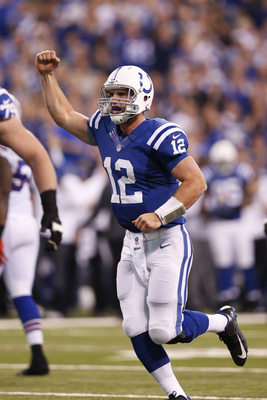 Joe Robbins/Getty Images
Indianapolis visits in Week 12, and emotions will run high. It marks head coach Bruce Arians' first game against his former team. Arizona will have to contend with Andrew Luck and a strong passing offense from the Colts.
This looks to be another make-or-break game. This one appears to be the straw that breaks the proverbial camel's back. Arizona will keep it close until a late turnover costs them the game.
Prediction: Indianapolis 21, Arizona 17 (5-6)
Week 13 at Philadelphia Eagles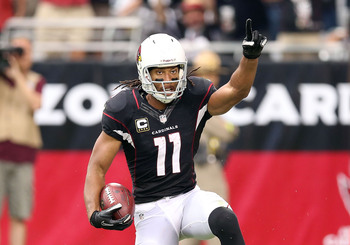 Christian Petersen/Getty Images
The Arizona Cardinals travel to Philadelphia to take on the Eagles in Week 13. The Eagles will be coming off of their bye and have extra time to prepare for Arizona.
The Eagles might have mastered the uptempo offense that head coach Chip Kelly is known for. Or the Arizona defense could make life miserable for the Eagles like it did last season.
Arizona finds a way to get a big road win and stays in the playoff hunt.
Prediction: Arizona 21, Philadelphia 13 (6-6)
Week 14 vs. St. Louis Rams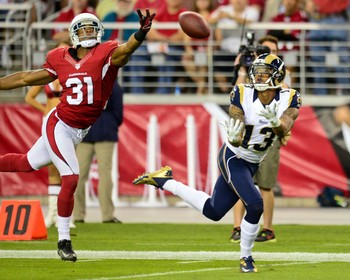 Matt Kartozian-USA TODAY Sports
Arizona takes on the Rams in a rematch of the season opener. The Cardinals know this will be a must-win game. It's a divisional game, and Arizona will run the divisional gauntlet in the month of December.
The Rams were the best team against the NFC West last season with a 4-1-1 mark. They're going to make things tough on Arizona in a close game.
Greg Zuerlein hits a field goal from downtown Phoenix to give the Rams the win and damage the Cardinals' playoff hopes.
Prediction: Rams 20, Cardinals 17 (6-7)
Week 15 at Tennessee Titans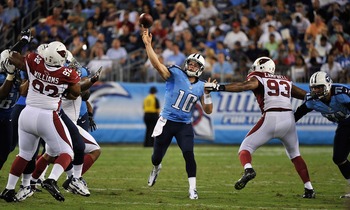 Frederick Breedon/Getty Images
The Week 15 game against the Titans is going to determine if Arizona will be a contender for a wild-card spot. It's the final game against the AFC South, and it won't be as important if a tiebreaker comes into play.
The Cardinals defense should be able to slow down Chris Johnson. It could take a touchdown in the fourth quarter to pull this one out, but Arizona finds a way.
Prediction: Cardinals 21, Titans 17 (7-7)
Week 16 at Seattle Seahawks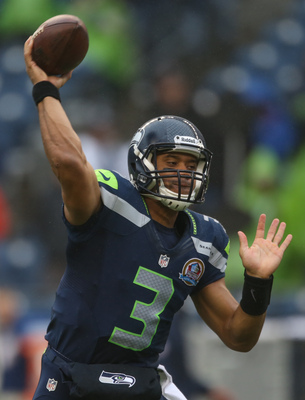 Otto Greule Jr/Getty Images
The Cardinals stand at 7-7 with two tough divisional games standing between them and a potential playoff spot. Or a winning record. The Cardinals won't get either.
The last time the Cardinals went up to Seattle it was a nightmare. It was a 58-0 demolition of the Cardinals, and Seattle took advantage of a slew of turnovers.
It won't be a blowout, but Arizona won't be able to post a road win when they need it the most. Seattle is one of the toughest places to play in the NFL, and Arizona gets reminded of that here.
Prediction: Seahawks 27, Arizona 10 (7-8)
Week 17 vs. San Francisco 49ers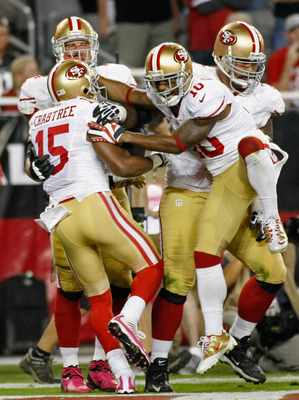 Ralph Freso/Getty Images
A tough season ends with a tough loss when the 49ers come calling in the season finale. By the time the game kicks off, the Cardinals are mathematically eliminated from the playoffs.
San Francisco will have something to play for. It might be wild-card seeding, but it could be a division title.
Either way, the 49ers complete the season sweep and end Arizona's season.
Prediction: 49ers 24, Cardinals 13 (7-9)
Keep Reading

Arizona Cardinals: Like this team?