FIFA World Rankings 2013: Complete Breakdown Following Confederations Cup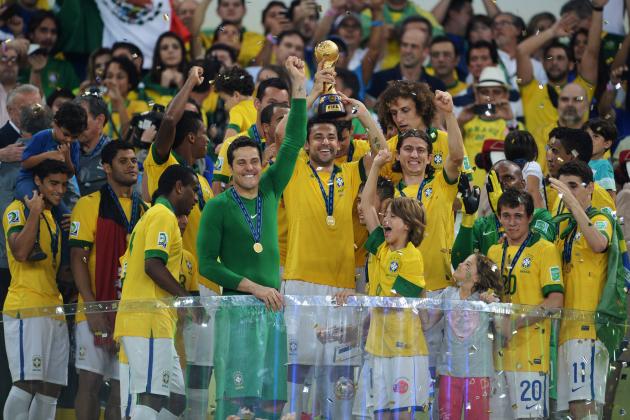 Michael Regan/Getty Images

The latest edition of the FIFA World Rankings for international teams was released on Thursday, with this summer's Confederations Cup victors Brazil making a significant jump back into the top 10.
There were plenty of other movers, both up and down, with World Cup qualifying action taking place all over the globe at the start of summer.
Here's the complete breakdown of the latest rankings, with specific emphasis on the eight nations who took part in the Confederations Cup last month.
Begin Slideshow

»
Michael Regan/Getty Images

The host nation of this year's Confederations Cup and next year's FIFA World Cup, Brazil, made the biggest splash in the latest rankings.
Brazil won all five of their matches in the tournament, giving them a big boost in the new list. Prior to their Confederations Cup victory, Brazil had slumped outside of the top 10, but their success this summer meant they surged 13 places back up the rankings, into ninth position.
Spain, the beaten finalists in the tournament, were already the No. 1 ranked side in the world and remain so after four Confederations Cup victories prior to their defeat to Brazil.
Italy moved up two spots into sixth, thanks to their third-place finish at the Confederations Cup, which came about after a penalty shoot-out win over Uruguay in a third-place match between the losing semifinalists.
Uruguay themselves moved up seven places, into 12th.
The 2011 Copa America winners need to take this improved form into the remainder of their qualifiers if they want to be back in Brazil in a year's time for the World Cup.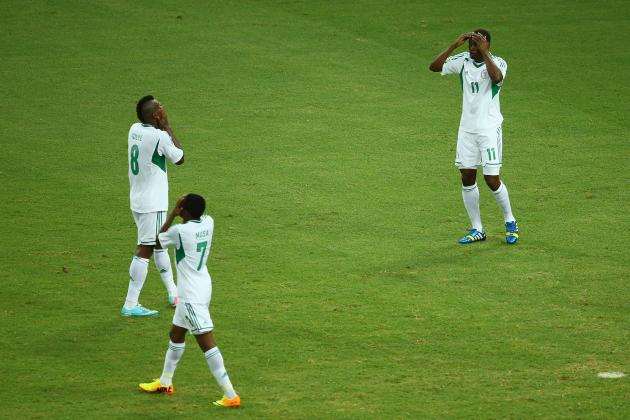 Clive Mason/Getty Images

It wasn't all good news as far as rankings are concerned for the Confederations Cup participants.
Nigeria lost four spots in the latest rankings after a fairly abject performance this summer. They beat Tahiti, but lost to Uruguay and Spain, exiting at the group stage. That meant they fell to 35th overall, which places them fifth amongst African nations.
Japan likewise took a tumble after failing to win any of their three group games in the tournament, losing the opening game to Brazil and then taking spirited but narrow defeats to Italy and Mexico. Japan fell five places to 37th, in a tie with Albania.
They remain the highest-ranked side from Asia.
Mexico were the third Confederations side to drop in the rankings, dropping just three places to 20th. They won one of their group stage games but it wasn't enough to progress to the semifinals.
Finally, Tahiti made huge strides for their country just by qualifying for the tournament, but they were soundly beaten in every game. 6-1, 10-0 and 8-0 were their three results.
They dropped a massive 16 places, down to 154th in the world, but this will be the least of their concerns having put on a great spectacle for the watching public and having scored their first ever major competition finals goal.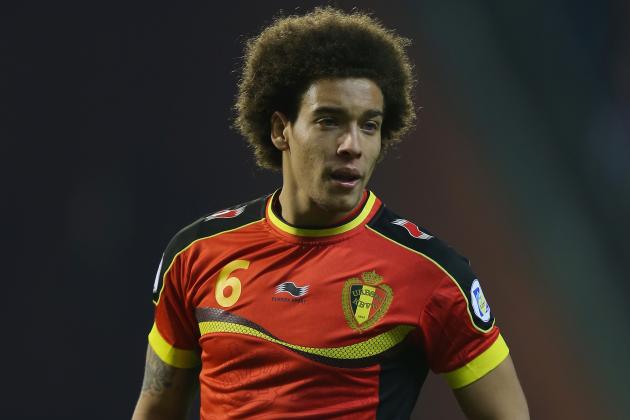 Bryn Lennon/Getty Images

Brazil and Italy weren't the only teams to rise in the top 10.
Colombia's two big results in World Cup qualifying—a draw in Argentina and a home win over Peru—lifted them four places, up to the third-best ranked side in the world, and the highest-ranked South American nation. They are now in second place in the CONMEBOL qualifiers and look like a sure bet to be playing at the 2014 World Cup in Brazil.
With Italy also moving up inside the top six, three teams suffered downward movements as a result: Argentina dropped from third to fourth, Portugal dropped one place to seventh, and Croatia fell four places to eighth.
There was also a new entrant into the top 10. Belgium continue to show they have spawned a new golden age of talent with a real chance of having an impact at next year's World Cup. They rose two places into 10th.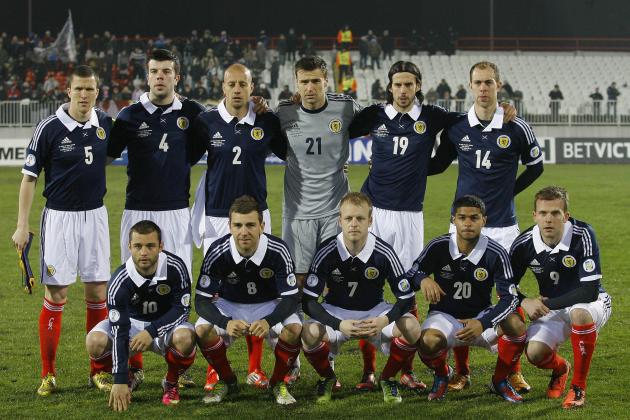 Srdjan Stevanovic/Getty Images

Other than Brazil, there were several nations who managed to earn enough positive results to climb significantly up the rankings.
Fellow South American nation Peru rose 11 places into 19th, while Ukraine did the same, rising to 28th in the world.
Three African nations, Cape Verde Islands (up to 49th), Guinea (61st) and Senegal (74th), rose more than 20 places in the rankings, while European trio Scotland (50th), Austria (54th) and Armenia (66th) did the same.
At the other end of the scale there were dramatic drops for Bolivia (down 15 to 68th), Jamaica (down 28 to 77th) and Central African Republic (down 30 to 89th) after all three suffered damaging defeats.
Way down at he bottom of the rankings, Cambodia dropped nine places to 198th. The Cook Islands, South Sudan and Somalia all rose slightly in their bid to move away from their titles of being amongst the worst footballing nations.
Bhutan, San Marino and Turks-Caicos Islands remain ranked dead-last, in joint-207th with no ranking points.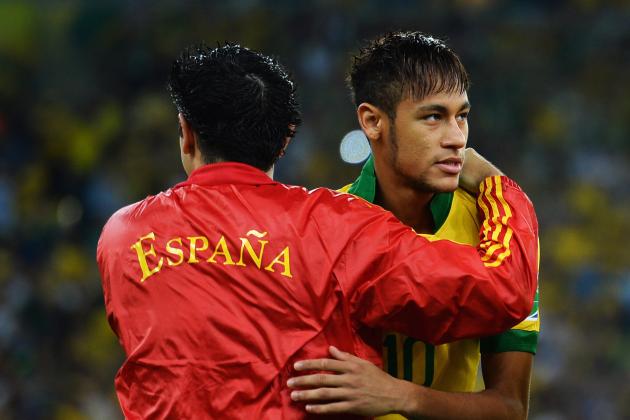 Laurence Griffiths/Getty Images

Despite Spain's final defeat to Brazil, they remain the top-ranked nation by some distance. Plenty more nations will get the chance to challenge their dominance next year in Brazil for the World Cup finals, and the FIFA rankings at the time of the group draws will determine who the seeds are for the group stages, so competition to move up the rankings ladder is both intense and tangible at this time.
Here are the latest top-25 nations covering all qualification zones, as per the July edition of the FIFA rankings.
| | | |
| --- | --- | --- |
| Rank | Nation | FIFA Zone |
| 1 | Spain | UEFA |
| 2 | Germany | UEFA |
| 3 | Colombia | CONMEBOL |
| 4 | Argentina | CONMEBOL |
| 5 | Netherlands | UEFA |
| 6 | Italy | UEFA |
| 7 | Portugal | UEFA |
| 8 | Croatia | UEFA |
| 9 | Brazil | CONMEBOL |
| 10 | Belgium | UEFA |
| 11 | Greece | UEFA |
| 12 | Uruguay | CONMEBOL |
| 13 | Ivory Coast | AFC |
| 14 | Bosnia-Herzegovina | UEFA |
| 15 | England | UEFA |
| 16 | Switzerland | UEFA |
| 17 | Russia | UEFA |
| 18 | Ecuador | CONMEBOL |
| 19 | Peru | CONMEBOL |
| 20 | Mexico | CONCACAF |
| 21 | Chile | CONMEBOL |
| 22 | USA | CONCACAF |
| 23 | France | UEFA |
| 24 | Ghana | AFC |
| 25 | Norway | UEFA |