MLS Week 18: Complete Schedule and 5 Things to Watch for This Weekend
Eric Hartline-USA TODAY Sports

It isn't the Fourth of July yet, but get ready for some fireworks in MLS Week 18. Of course, we're speaking in literal terms for the Ultras in San Jose.
The quarterfinal of the U.S. Open Cup highlighted the mid-week action in MLS. The Chicago Fire, Portland Timbers, DC United and Real Salt Lake all advanced to the semifinal with impressive victories.
The rest of the league will look to join the momentous festivities this weekend. A total of eight matches are scheduled.
But with so much action on tap, what warrants your attention in Week 18?
Read on to find out.
Begin Slideshow

»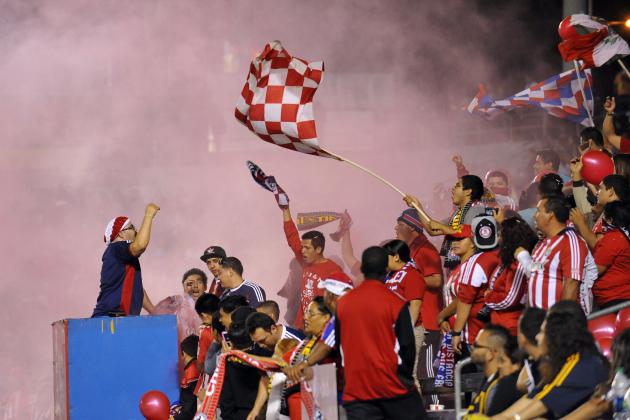 Gary A. Vasquez-USA TODAY Sports
Which match will you—the fan—be watching this weekend?
Before we delve into the featured storylines for this weekend's action, here is the complete schedule and guide for Week 18.
The Portland Timbers, Chicago Fire and Seattle Sounders are idle.
Saturday
Toronto FC vs. Real Salt Lake, 1:00 p.m. ET, MLS Live
Philadelphia Union vs. FC Dallas, 5:30 p.m. ET, NBC Sports Network
Montreal Impact vs. Colorado Rapids, 7:00 p.m. ET, Univision Deportes
DC United vs. Vancouver Whitecaps, 7:00 p.m. ET, MLS Live
Sporting Kansas City vs. Columbus Crew, 8:30 p.m. ET, MLS Live
San Jose Earthquakes vs. Los Angeles Galaxy, 10:30 p.m. ET, MLS Live
Chivas USA vs. New England Revolution, 10:30 p.m. ET, MLS Live
Sunday
New York Red Bulls vs. Houston Dynamo, 2:00 p.m. ET, ESPN 2
Get ready for another clasico, California.
Fortunately, this one won't have the atmosphere of an Under-20 World Cup match.
Stanford Stadium will serve as the backdrop when San Jose and Los Angeles do battle this Saturday. According to the Quakes' official website, over 35,000 tickets have already been sold. That's a far cry from the 10,409 that occupy Buck Shaw Stadium on average this season.
Throw in a salute to the armed forces, a fireworks display and a halftime show, and you have yourself a bona fide extravaganza.
But if last year is any indication, the real fireworks will be on the pitch.
A capacity crowd of 50,391 witnessed a wild, come-from-behind victory for San Jose last season. Trailing 3-1 at halftime, the Quakes responded with three goals in the second half. Chris Wondolowski flicked home the game-winner in the 61st minute.
After last week's debacle in DC, San Jose will look to recapture that Stanford magic on Saturday.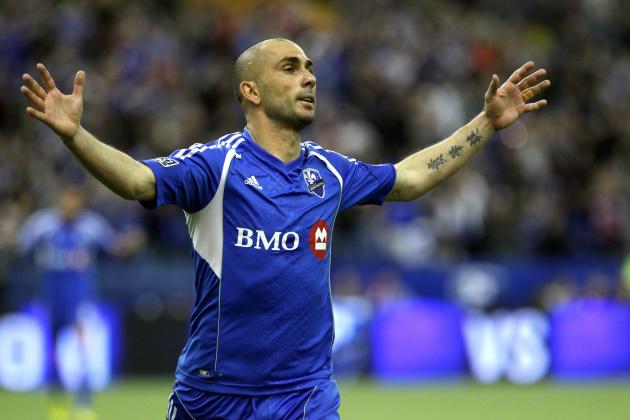 Jean-Yves Ahern-USA TODAY Sports

Dorothy Gale said it best in 1939: "There's no place like home."
The same five words can be used to describe Marco Di Vaio's 2013 campaign.
The Italian footballer is among the league leaders with 10 goals. Nine of his goals have come before a home crowd. Even better, Di Vaio has scored in each of Montreal's seven home matches. As a result, the Impact are unblemished at Saputo Stadium this season.
According to the team's official website, even Di Vaio is aware that his productivity is skewed in favor of his home turf:
I'm not happy with that. I'd like to score more when we're not playing in Montreal. I'm glad that I'm scoring in front of our fans, it's great for me and it's important for everyone. But I want to improve away from home, be more dangerous and score more.
But Montreal's No. 9 won't have to worry about that this weekend...not with the slumping Rapids visiting Saputo Stadium on Saturday.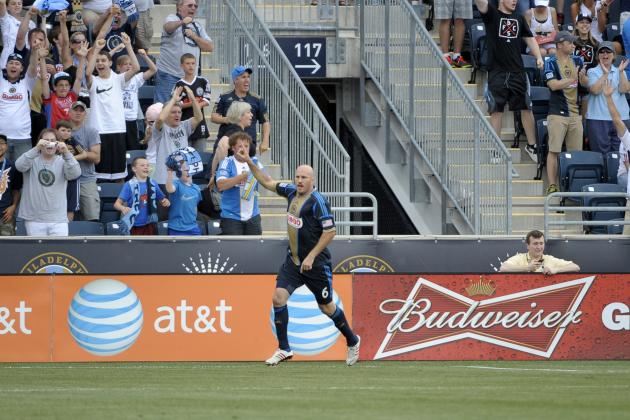 Eric Hartline-USA TODAY Sports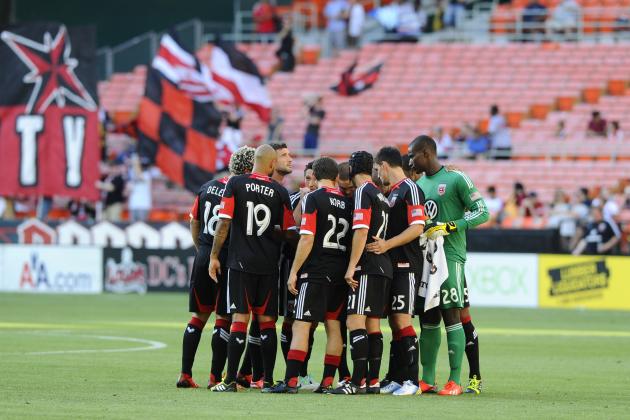 Brad Mills-USA TODAY Sports

Have DC United turned a corner?
A climb out of the Eastern Conference cellar is unlikely at this point. The team is still 14 points out of playoff positioning. But that hasn't stopped DC's current optimistic run of form.
According to the team's official website, head coach Ben Olsen shares in the confidence surrounding the club:
I'm excited about the last couple of weeks, and we've seen [the team] moving in the right direction. These guys deserve a little bit of joy right now. It's been a tough time, and we seem to have [regained] our health. Some young guys are also stepping in and doing the job...But I think our spirit right now [will allow us] to start doing a little bit better in the League.
The Black and Red were victorious in Week 17. A 3-1 victory over the Revolution in the quarterfinal of the U.S. Open Cup extended United's winsome attitude. And as James Gammon pointed out in the 1994 sequel Major League II, if they win one in Week 18, "that's called a winning streak."
It has happened before, DC.
In order to sustain that winning form, United must defeat Vancouver on Saturday. The Whitecaps enter the weekend in search of a three-game winning streak of their own.
Only one team will capture it at RFK Stadium in Week 18.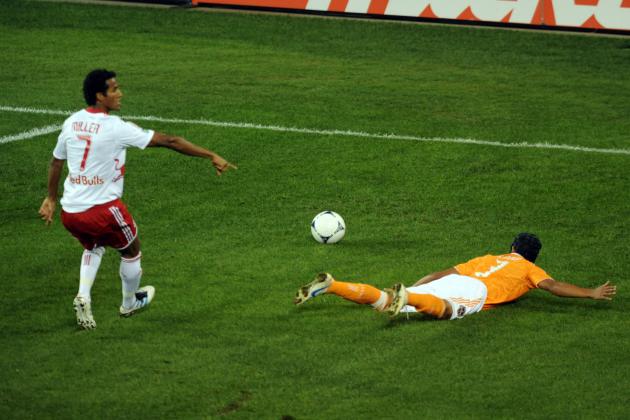 Joe Camporeale-USA TODAY Sports

When combined, red and orange don't make another color. But on the pitch, the two will make for some entertaining football in Week 18.
Sunday will mark the first-ever "red out" at Red Bull arena. All fans in attendance will receive a free "all in for red" T-shirt.
But will an essential victory follow?
Both New York and Houston enter Week 18 in a bit of desperation.
The Red Bulls have slumped in recent weeks. The team has lost its last two MLS matches and were eliminated by the Revolution in the fourth round of the U.S. Open Cup. The Dynamo have not fared any better during their current six-game winless streak.
Both of these Eastern Conference powers are in a funk. Both will have the opportunity to turn their seasons around in Week 18.
But only one will capture the glory Sunday afternoon.
Follow Eduardo on Twitter for more insight on a variety of sports topics. Follow @Mendez_FC