Spain constitute the gold standard for international football teams these days and they proved that again on Friday at the 2013 FIFA Under-20 World Cup in Turkey.
La Roja scored early and often in the first half to build a 3-0 lead and added to that lead in the second half en route to a 4-1 victory against the United States in a Group A match between the two young sides.
FIFA.com tweeted this at match's end:
FT in Istanbul, where Spain have beaten USA 4-1 at the #U20WC. Report and pics here - http://t.co/EtOmSW4tPQ

— FIFA.com (@FIFAcom) June 21, 2013
Spain's win marked the third such decision of the tournament so far, with group mates France and the Republic of Korea already picking up wins over Ghana and Cuba, respectively, to open up the action at the junior tournament in Turkey.
Group A has been known as the "group of death" leading into the tournament for the Americans and a draw that included Spain as the first side out lent no favors to Tab Ramos' side in their opening match of World Cup action.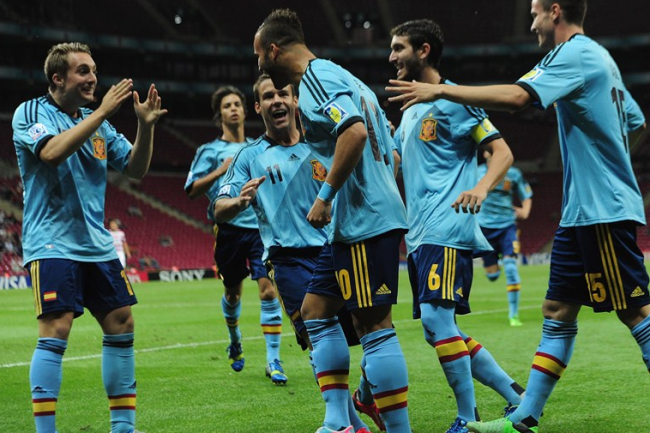 Jese Rodriguez and Gerard Deulofeu both found the net twice for La Roja on Friday, with Jese doing so twice in the first half as part of Spain's 3-0 lead at the break.
A breakdown in defensive pressure allowed Spain to execute an easy cross to Jese just outside the left half of the goal box in the fifth minute and one of Spain's most talented youngsters opened up the scoring with an easy tap-in past USA goalie Cody Cropper.
U.S. Soccer's YNT (Youth National Teams) tweeted this out as their side suffered an early setback:

5th min., Spain gets on the score sheet first as Jese scores off of Gerard Deulofeu's cross from the right. ESP 1, USA 0

— U.S. Soccer YNT (@ussoccer_ynt) June 21, 2013
After a few missed chances in the Spanish end, La Roja broke things open twice in the final five minutes of the first half. Deulofeu got the first of his two goals on a beautiful strike outside the box, curling the ball around Cropper's hand and into the right half of the net.
101 Great Goals tweeted the highlight:
Super finish! Gerard Deulofeu (Spain U20) 2-0 v USA U20 http://t.co/Y9kQuWcK3n

— 101 Great Goals (@101greatgoals) June 21, 2013
Jese added another goal to increase the lead to three and virtually end any chance of a United States comeback in the second half. As noted by Infostrada Sports, Spain has been outstanding as a U-20 unit over the years:
Spain #U20 lead 3-0 vs USA at halftime. Spain have now scored 144 goals in U20 history and surpassed ARG. Only BRA have more: 216

— Infostrada Sports (@InfostradaLive) June 21, 2013
A scary moment for the Americans came after the break, when Danny Garcia had to be carted off the pitch after an apparent head injury. He would not return, and Andrea Canales of Sideline Views commended the decision:
Taylor Twellman doesn't mince words, "He needs to come out" concerning Danny Garcia. He knows from experience, sadly. #concussions

— Andrea Canales (@soccercanales) June 21, 2013
Deulofeu would score again less than 10 minutes later to give Spain four goals on the board, and AS.com chastised his ill-fated celebration after the marker:
4-0! Deulofeu with a good run, rounds the keeper and slots home. Celebrates with the ubiquitous heart shape, but needs to practice that.

— AS English (@English_AS) June 21, 2013
Team USA managed to salvage some pride and goal differential when Luis Gil finally beat Spanish goalkeeper Dani Sotres to take us to the game's final tally.
The United States clearly have work to do to compete with the top international squads, and although the U-20 squad improved by leaps and bounds over the course of the Toulon Tournament earlier this year, this is a setback for the Americans.
Spain continue to show worldwide dominance at all levels, boasting strikers and defenders poised to join bigger clubs in the near future.
La Roja picked up an important three points that can be invaluable at the World Cup, while the Americans have dug themselves an early hole.
2013 FIFA U-20 World Cup Group A Standings (via FIFA.com)
| | | | | | | |
| --- | --- | --- | --- | --- | --- | --- |
| Team | MP | W | L | D | GD | Points |
| Spain | 1 | 1 | 0 | 0 | +3 | 3 |
| France | 1 | 1 | 0 | 0 | +2 | 3 |
| Ghana | 1 | 0 | 1 | 0 | -2 | 0 |
| United States | 1 | 0 | 1 | 0 | -3 | 0 |
What's Next?
Monday will be the next time these two sides hit the pitch for World Cup action. USA's task doesn't get any easier against a France side that already has a win at this event and will be thirsting for more to ensure a spot in the next stage.
Spain will take on Ghana on the same afternoon and will also look to stay atop Group A with a win over a side that managed just one goal against France in their first time out.
Follow Bleacher Report FC Ethan Grant on Twitter @DowntownEG.