Predicting the Contenders for Premier League Player of the Year Next Season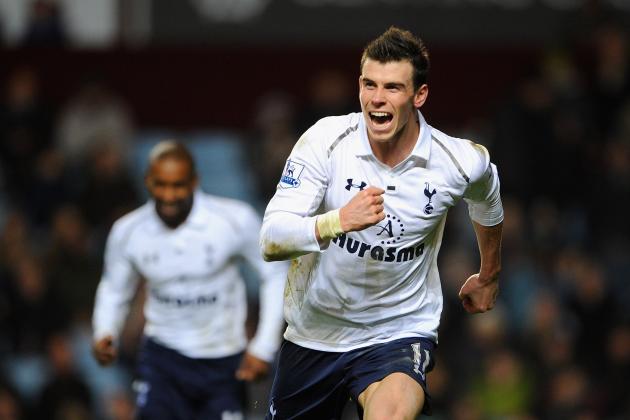 Michael Regan/Getty Images

The 2013-14 English Premier League season might still be several months away, but already questions are starting to be asked as to how the season will unfold. Questions about which teams will be in the mix for the title next year, which teams will qualify for the Champions League, which clubs will face a season-long relegation battle—and so many more—have dominated the offseason so far.
Thus, the question about which player will be named the Player of the Year next season is not out of the equation either. After all, few would have guessed that Tottenham Hotspur's Gareth Bale would beat out the likes of Luis Suarez and Robin van Persie last year, so will we be shocked again in 2014?
Who will be the EPL Player of the Year next season?
Read on to see which players are contenders, and which are simply pretenders.
NOTE: The players and statistics mentioned below are in regards to the official Barclays Premier League Player of the Season, which is a different award to the PFA Player of the Year Award. In many cases, the two awards have had different players win the award for that respective year.
Begin Slideshow

»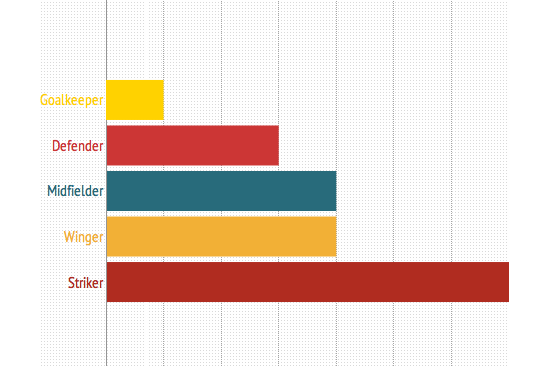 Before we begin, it's important to understand the nature of the Player of the Year Award. Because—as we saw as recent as last season—the award doesn't necessarily go to the player that's scored the most goals that year, or even ended up winning the EPL title that season.
Van Persie finished with the most goals and a premiership medal last season, yet it was Bale—who didn't even make the Champions League—who won the award.
So how does all of that work?
Well, the statistics are a helpful place to start from and, using the Premier League's official website as our reference point, there's two factors that are worth noting. They might seem rather trivial, but they're important factors to consider before we work through which players are most likely to win the award.
1. Playing Position and Goals
In the past 19 seasons, strikers have won the award more than any other position (see above). However, only seven times in the past two decades has the Player of the Year also been crowned with the Golden Boot Award for being the league's top goalscorer.
2. Position on Table
Six times in the past two decades, players have won the Player of the Year Award and not won the league title—with one player even being relegated in the same year that he won the award. However, recent trends suggest that the winner will come from the title-winning team, with Gareth Bale's win last year just the second time that a non-champion has won the award in the last 12 years.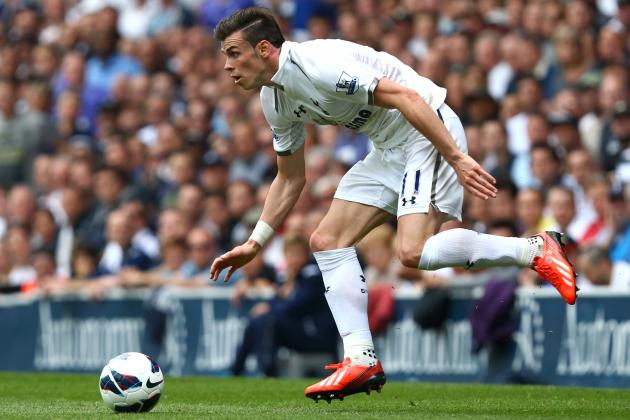 Jan Kruger/Getty Images

We'll get our "contenders" list underway here with three obvious selections—starting with last year's winner. Bale was simply exceptional throughout the middle-to-end of the season, and almost single-handedly won Tottenham a Champions League berth.
Manager Andre Villas-Boas has seemingly given the Wales international freedom to roam where he pleases in attack, and with more reinforcements expected over the summer transfer window, Bale is seemingly primed for another strong year in the Premier League.
Assuming he doesn't leave for Real Madrid, that is.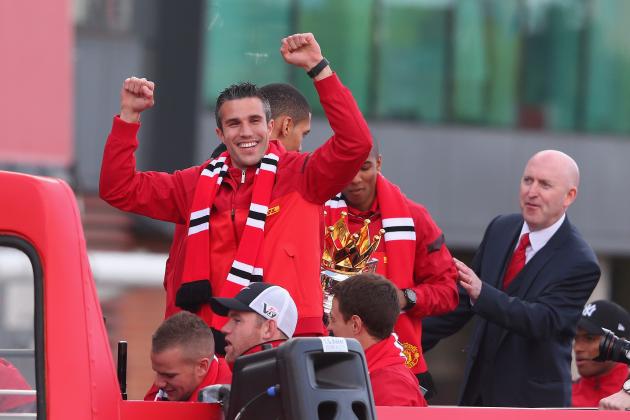 Alex Livesey/Getty Images

Similarly, you'd also have to consider Van Persie for the award next year—especially if United can manage to hang on to Wayne Rooney over the summer window.
Van Persie was prolific in front of goal and, with one of the most creative players in the world behind him, should find similar success next season. He's posted back-to-back seasons of 25-plus goals, and if he can do that for a third straight year, he'll be hard-pressed not to win the award in 2014.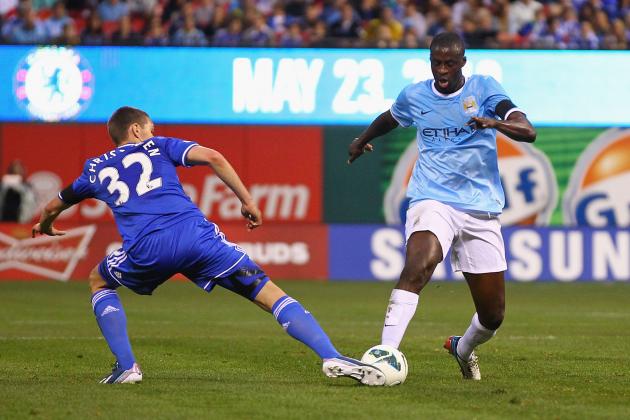 Dilip Vishwanat/Getty Images

A third and final obvious selection, for me, is Yaya Toure.
The Manchester City midfielder was one of their best two years ago but was forced to drop a lot further back in midfield this year—taking away some of his attacking potency and leaving the Citizens' attack without its usual ferocity. However, that should all change this year.
Manuel Pellegrini will look to free up Toure a lot more to be his usual "beast-mode" self in midfield. The new manager will aslo utilize the wings more effectively than Roberto Mancini did in the past few seasons, and with Fernandinho arriving over the summer transfer window to fill in that defensive midfielder role, Toure should be able to push up the field much more in 2013-14 than he did in the season just finished.
Toure will have greater freedom to attack and create, and if that happens like it did in 2011-12, he will definitely be a contender for the award in 2014.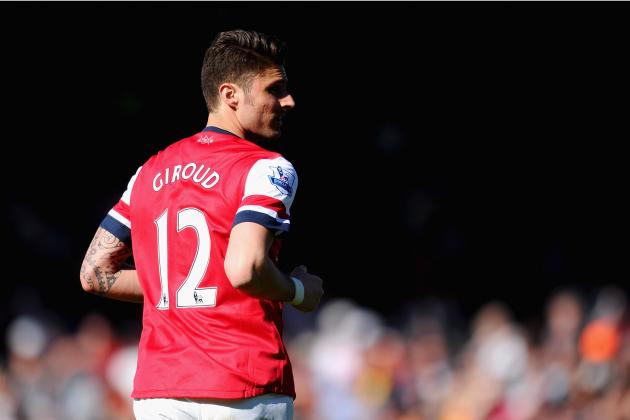 Mike Hewitt/Getty Images

However, it's safe to say that those three players aren't the only ones who could be challenging for the award this year. And while there are a slew of players who could also be considered contenders for the award, there's a select few who stand out as definite candidates.
Olivier Giroud had a stellar first season at Arsenal, and if he can repeat his production levels next season (and help the Gunners close the gap to both Manchester clubs in the process) he may very well chalk up the Player of the Year Award.
He has a great supporting cast alongside him in Lukas Podolski and Santi Cazorla, and if he finds himself with another top-tier striker to work with in the new season (perhaps someone like Stevan Jovetic) he should see the goals continue to flow.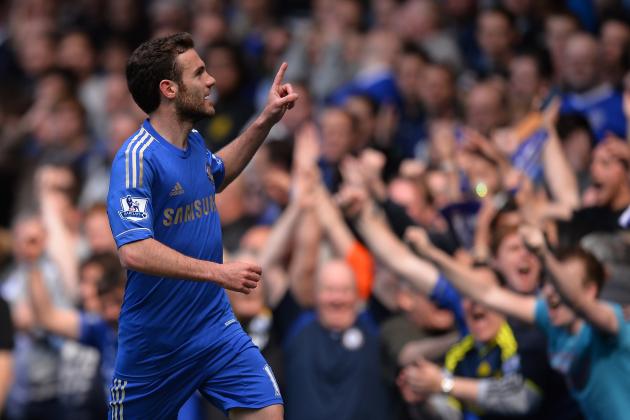 Mike Hewitt/Getty Images

Juan Mata was one of the Premier League's best last season, and, like Giroud, should see his numbers increase in 2013-14 with new arrivals at the club.
Chelsea are reportedly looking for a new striker to add into the fray next year—be that Edinson Cavani, who the Mirror report Chelsea are in talks over, or someone else—and if they do that, Mata's assist numbers and attacking opportunities should dramatically increase.
It's also worth noting that under Jose Mourinho, Chelsea conceded the fewest goals in a single season, with their 15 goals against in 2004-05 still a league record.
So don't rule out Petr Cech from being a serious contender this year.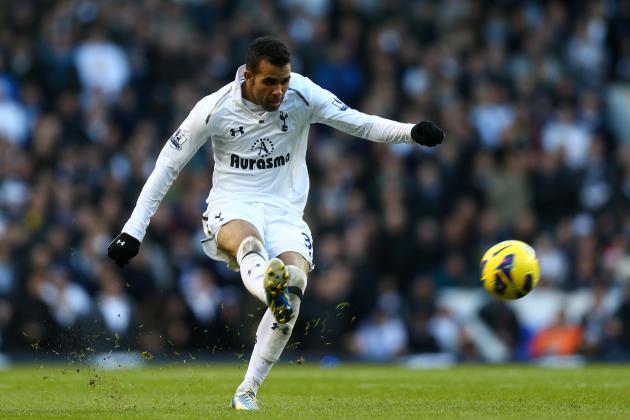 Paul Gilham/Getty Images

One other surprise contender I'd like to make note of is Sandro from Tottenham Hotspur. Up until his injury last season, Sandro was arguably the club's best (and most consistent) player and you would have to think such form would continue in the new season—especially with new additions in midfield around him.
Bale is playing his best, Lewis Holtby is improving rapidly and Moussa Dembele is a beast in the middle of the field—all of which could lead to some incredible production from the Brazilian.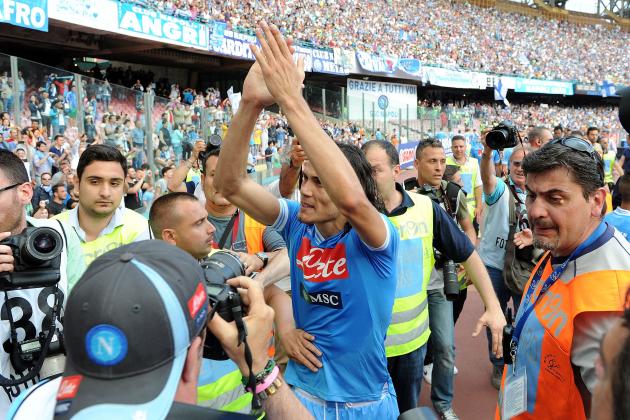 Giuseppe Bellini/Getty Images

With the summer transfer window still open for several more weeks, it's also worth noting a few potential summer transfers that could clinch the award next season.
And while there aren't many rumors that could have such an instant impact on both the league and the award, there are two transfers that are definitely worth discussing.
Edinson Cavani at Chelsea (or Manchester City)
One definite transfer to watch out in terms of potential Player of the Year awards is Edinson Cavani, who could end up at either Chelsea or Manchester City this summer.
If you believe the rumor mill, including this report from the Mirror, that is.
The Napoli striker has been in dynamic form for the past two seasons and has been netting goals seemingly at will. If he comes to the Premier League and does the same, he'd have to be in contention for the award next year—especially if whatever club he goes to ends up being in the title race. Which, given the strength of both Chelsea and City already, would definitely be a possibility.
Marouane Fellaini at Manchester United
Obviously there's a number of other transfers that could impact the award, but one other big one to watch out for is Everton midfielder Marouane Fellaini moving to Manchester United. He's already been heavily linked, including this report from the Metro, with a move to Old Trafford to link up with former manager David Moyes, and if that happens, the ramifications could be huge for the champions.
United would finally have the complete midfielder they've been searching for to replace Paul Scholes—someone that can get it done both in attack and in defense.
Fellaini is a prolific goalscorer but also thrives in deeper-lying roles. He'd be a great transfer, and one that could well change the power balance in the Premier League even further to the Red Devils—which could lead to a successful Premiership defense. And if that happens, United's best players would therefore be more likely to win the award next season.
It's definitely an outside chance, but it's definitely one worth watching for.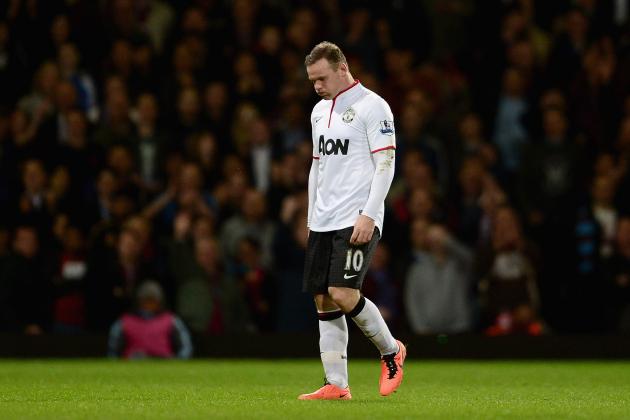 Jamie McDonald/Getty Images

And that, for me, is the list of contenders for the award this season. I don't think any other player will be able to clinch the EPL award next year and I don't think we'll see too many players have more of an impact than the list of players mentioned in the previous slides.
However, I do know I've left some big names off this list, so I'll quickly run through why some of the bigger names in the Premier League aren't contenders in 2013.
Just because I'm a nice guy and all.
Wayne Rooney, Manchester United
Rooney had an incredible season behind Robin van Persie, and yet he still didn't come close to winning the award. It's hard to see that changing next season—particularly as Shinji Kagawa grows into his role as an attacking midfielder and might start to take some of Rooney's assists and goals away.
There's also no guarantees that the England international will still be at United next season, with the Daily Mail reporting Jose Mourinho telling the striker to "do what makes him happy" amid speculation over the forward's future, which could end his chances at winning the award should he move abroad.
Luis Suarez, Liverpool
For me, Luis Suarez should have won the award last season. And while he obviously has a chance to do the same next season, I can't see him chalking up the same number of goals next season (and having the same direct influence) as he did in the year just passed.
Liverpool have added plenty of new attacking talent to their squad (Daniel Sturridge, Philippe Coutinho, Iago Aspas) and are reportedly close to adding another in Henrikh Mkhitaryan according to The Daily Mirror. With all of that talent there, I can't see Suarez netting the same number of goals that he did last year and he won't carry the team in the same way either—which will lesson his chances a great deal.
Plus, like Rooney, there's no guarantees that he'll be at the club next year either, with reports of a potential summer exit to Madrid attracting plenty of attention after the striker told Spanish newspaper El Pais (via Foxsports.com) of his desire to move to the Spanish capital.
Eden Hazard, Chelsea
I really like Eden Hazard as a player, but other than Petr Cech or Juan Mata, I can't see another Chelsea player winning the award next year. There's simply too much talent in the one midfield, and with Jose Mourinho continuing to add more into the mix, it's hard to see any one player standing out as their game-winner like Van Persie, Suarez and Bale were last year.
Sergio Aguero, Manchester City
Aguero is a difficult player to read at the moment and I haven't considered him in this list yet for a number of reasons. There's just too many questions around him at the moment, and while they aren't all going to affect him, combined, they present a barrier that should stop him from winning the award next year. Just off the top of my head, some of the big questions could be:
What attacking system is Pellegrini going to use? How will that affect Aguero and his production at the top of the attack?
Are City going to buy another striker? If so, what role will that be in and what impact will that have on Aguero's goalscoring levels next season?
Will City keep him, Carlos Tevez and Edin Dzeko next season? If not, which one will they sell? Will it be Aguero? And if they do keep them all, how will the trio operate next year and will that affects the raw number of minutes that Aguero gets to play in the Premier League?
Are we going to see another injury-affected season from Aguero?
For me, there's just too many questions. I'd love to be proven wrong because I really rate him, but I just can't see Aguero clinching the award in 2013-14.
Hit me up on Twitter for more sports goodness: Follow @dantalintyre