Spain can add another trophy to their already massive medal cabinet as they finished off Italy, 4-2, in the Under-21 European Championship final.
This is the fourth U-21 title for Spain and their second in a row.
The tournament has been exciting from start to finish, and the final continued in bringing plenty of entertainment.
It took all of six minutes for Thiago Alcantara to open the scoring. Isco got himself some space and found Alvaro Morata down the flank. Morata has scored in every match coming into the final, but he decided to let someone else have the fun. He delivered in a nice cross, leaving Thiago with a rather easy headed finish.
Spanish football expert Dermot Corrigan elaborated on Thiago's goal:
Thiago scores in second consecutive U-21 European Champs final. This one a lot easier / from closer range. Bout four yards out he was.

— Dermot Corrigan (@dermotmcorrigan) June 18, 2013
Italy wasted little time in making their reply. In the ninth minute, Matteo Bianchetti found Ciro Immobile with what was a beauty of a long ball. Immobile controlled the pass perfectly with one touch and quickly floated it over an onrushing David de Gea. It was route one football, but Immobile at least made the finish look very pretty.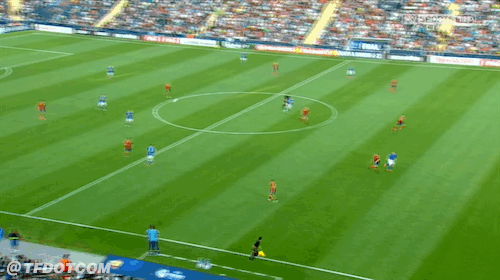 FourFourTom noted how great Spain's defense had been up to that point:
Or not. 1-1. Excellent long ball to Immobile, great touch and a composed finish. That's the first goal Spain have conceded all tournament.

— Tom (@FourFourTom) June 18, 2013
Zonal Marking's Michael Cox thought de Gea could have done better:
Goal! 1-1. Completely different move, but lovely finish from Immobile. Not sure about De Gea's effort there.

— Michael Cox (@Zonal_Marking) June 18, 2013
The keeper more than made up for his mistake when he saved an Alessandro Florenzi volley from point-blank range in the 25th minute.
Thiago was the man of the moment again in the 31st minute, as he fired in a close-range shot with his left foot.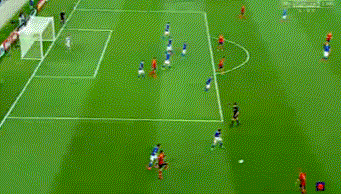 It was an entirely preventable goal as Luca Caldirola gave Thiago enough space in the box with which he could receive the pass from Koke. Francesco Bardi also got his legs on the shot, but Thiago put so much power in it that there was little Bardi could do to stop it.
Take nothing away from the pass by Koke as he did very well to float it in over the top. Spanish football expert David Cartlidge was complimentary of Koke's performance in the tournament up to this point:
Wonderful spot from Koke. Probably the least 'fashionable' of Spain's midfield but working very hard to make himself integral in the system.

— David (@davidjaca) June 18, 2013
Spain were the side on the ascendancy in the buildup to the goal, so it's only fair that they managed to get on the board again.
Italy could certainly feel hard done by. In the 37th minute, Giulio Donati was deemed to have fouled Cristian Tello. Replays looked to have shown Donati winning the ball before bringing Tello down, but the referee's decision was final, and Thiago stepped up to complete his hat-trick.
Graham Ruthven of The New York Times' Goal Blog summed up the situation well:
Oh, that's a terrible decision.

— Graham Ruthven (@grahamruthven) June 18, 2013
The midfielder drilled the shot right down the center to put Spain up 3-1. Bardi got a touch on it with his feet, but he was diving to his right, so he was helpless to prevent the goal.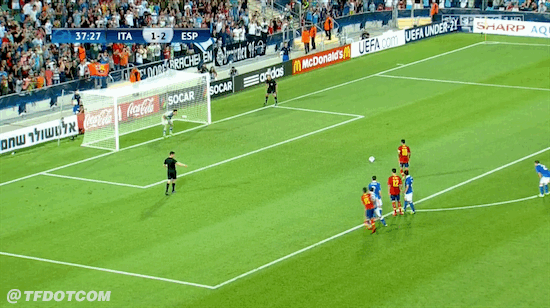 It was the perfect hat-trick for Thiago as he scored with both feet and his head. Here are some of the stats regarding Thiago's hat-trick, via OptaJose and UEFA.com's Paul Saffer:
1 - Thiago, 1º player to score a hat trick in a final of U21 European Championship since it's disputed with the only game system (94). OK

— OptaJose (@OptaJose) June 18, 2013
Thiago Alcantara has first #U21EURO final hat-trick since Pierre Littbarski In 1982 2nd leg in Bremen (West Germany 3-2 England, agg 4-5)

— Paul Saffer (@UEFAcomPaulS) June 18, 2013
That was the last of the action of the first half. Italian football journalist Tancredi Palmeri felt that Spain deserved their lead going into halftime:
Italy-Spain 1-3 HT. Great display from SPA,playing high pace and quality,while ITA is too slow and never building up in the midfield

— Tancredi Palmeri (@tancredipalmeri) June 18, 2013
With a two-goal lead, Spain were able to kill off the game in the second half. They squeezed the life out of the Italians and passed circles around them.
If Italy weren't out of before the 64th minute, they certainly were after it. Vasco Regini brought down Martin Montoya in the box to give Spain their second penalty of the match.
On this call, Italy would have no one to blame but themselves as Montoya did well to get forward and knock it across Regini before the defender brought him down. It was a clear penalty, and Isco stepped up to take the kick.
He slotted it away in the right corner to give Spain a 4-1 lead.
Bleacher Report's Italian football expert Matteo Bonetti thinks it's a little to early to call the demise of Spanish football:
So much for Spain NT potentially losing a step. This younger gen. plays faster, more entertaining direct football

— Matteo Bonetti (@TheMilanGuy) June 18, 2013
Italy didn't go down without a fight. Fabio Borini did his best to try to get his team back into the match with his goal in the 80th minute. He did very well, playing a one-two with Lorenzo Insigne and firing a low shot into the bottom corner.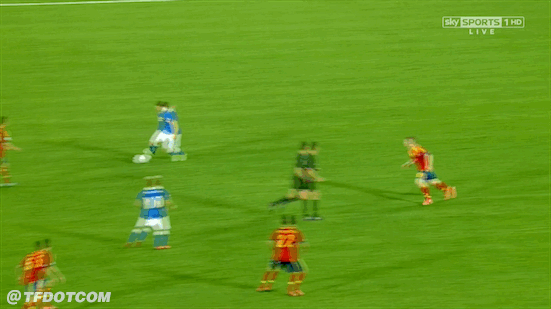 It was too little too late for the Azzurri, though.
This was a tremendous win for Spain. They absolutely tore apart what was a talented Italy team. The supporters for Italy will rightly point out that the first penalty given to Spain wasn't a penalty, and that that call changed the match.
It may have altered the game a bit, but there's no doubting which was the better side on the day. Granted, the Italians came in with some issues about their back four, but the Spanish attack was irresistible. It's scary to think what's coming up the pipeline for the national team.
What's Next
This is what you'll see from players like Isco and Thiago with the U-21 side. They're going to have roles to play in the senior level team very soon. Looking at this team, there's no reason to think that Spain will be falling off in the near future.
The future for Italy is a little less secured. Over the past four or five years, the Azzurri have had a hard time turning their strong youth players into stars at the next level. Although Italy have plenty of attackers, their defending was very poor.
The Azzurri aren't going to tumble down the FIFA rankings, but with this performance, there's still a ways to go in the future if they want to get back to the pinnacle of world football.