A first-half stoppage-time goal by Rodrigo was the deciding factor as Spain defeated Norway. Spain scored twice late in the second half to earn a 3-0 victory and a spot in the 2013 Euro U-21 Championship final.
And full time, Spain cruise into the U-21 final. 3-0.

— AS English (@English_AS) June 15, 2013
After a sluggish start, in which both teams struggled to maintain possession, Spain created the first scoring chance just inside the 10-minute mark. Malaga rising star Isco was able to find an opening and unleash a heavy strike, which went just wide.
Isco was on the attack again a couple minutes later. He took a pass and made a nice turn at the top of the box to get free. This time, he put his shot on target, but Norway goalkeeper Orjan Nyland was up to the task, as he was for most of the opening half.
This Norwegian goalkeeper Orjan Haskjold Nyland looks excellent. Recently signed by Ole Gunnar Solskjaer for Molde.

— Dale Johnson (@dalejohnsonESPN) June 15, 2013
A minor controversy arose in the 25th minute when Marc Bartra was taken down in the box. He was chasing a loose ball after Rodrigo struck the post. Spain appealed for a penalty, but the referee deemed it to be a give and booked the La Roja defender.
Nyland was back under siege in the final minutes of the first half, and he made two more key stops. The first came on a deflect shot and the second on a laser from Cristian Tello, which he was able to knock away while sprawling to his left.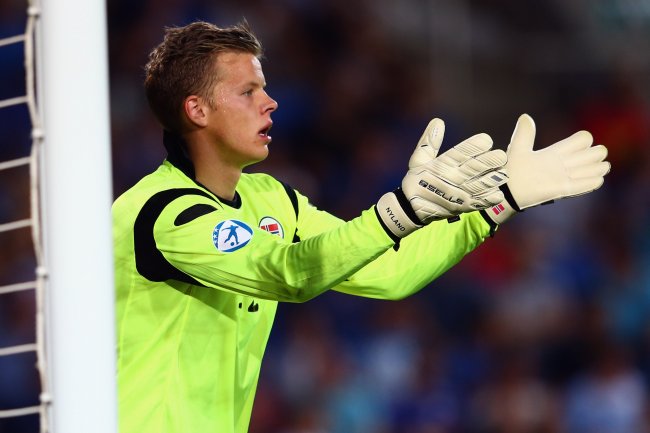 Alex Grimm/Getty Images
Despite Nyland's best efforts, Spain was finally able to capitalize on its control of the match just before halftime. Bartra won a header and flicked it toward goal, where Rodrigo was standing onside and impressively touched it past the Norwegian keeper.
Norway was able to generate its first golden scoring opportunity in the 53rd minute. Havard Nielsen was able to spot a charging Markus Henriksen, who quickly went for goal. Spanish defender Alberto Moreno was just able to get enough of a touch to knock it off target, though.
A glimmer of hope for Norway as for the 1st time they create a shooting chance for Henriksen but Moreno deflects his shot behind #U21EURO

— Simon Hart (@UEFAcomSimonH) June 15, 2013
Following that close call, Spain started putting on a passing clinic. La Roja worked the ball to every corner of the pitch, forcing Norway to chase. It's the type of play that's allowed the senior national team to become so dominant in recent years.
By holding possession and playing strong defense when Norway did gain control, the Spanish side was able to frustrate yet another opponent. Goalkeeper David de Gea was rarely called on to get involved in the match en route to the clean sheet.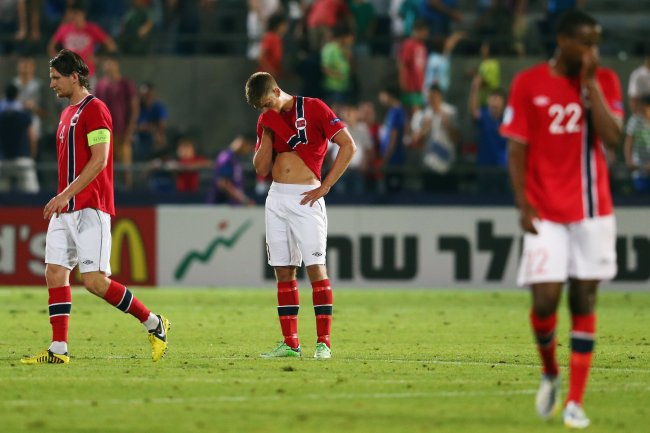 Alex Grimm/Getty Images
Norway's final chance came in the 85th minute off a free kick. The ball bounced free in the crowded box, but an attempt by captain Stefan Strandberg sailed over the bar.
Spain would secure the victory with a goal from Isco just moments later, taking the remaining air out of Norway's sails. Alvaro Morata finished the scoring right before the final whistle sounded. He's scored in all four matches for La Roja.
What's Next?
Spain, which still hasn't given up a goal in the tournament, advances to the final. It will meet the winner of the second semifinal between Italy and Netherlands later on Saturday.
Norway is eliminated. The team's second-place finish in the first stage was a nice result in a group with Italy, England and host nation Israel. It just was unable to overcome a strong Spain side.