MLS Week 16: Complete Schedule and 5 Things to Watch For This Weekend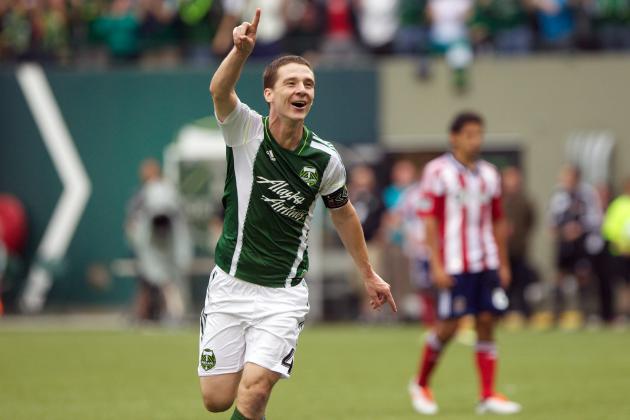 Jaime Valdez-USA TODAY Sports

Teams will need to deliver more than pizza in MLS Week 16. Crucial points are on the line.
Ten teams returned to action on Wednesday. Five advanced to the quarterfinal of the U.S. Open Cup with victories. Inclement weather forced the Chicago Fire and Columbus Crew to postpone their match to Thursday afternoon.
The MLS action continues this weekend with five matches scheduled for Saturday night. But what warrants your attention in Week 16?
Read on to find out.
Begin Slideshow

»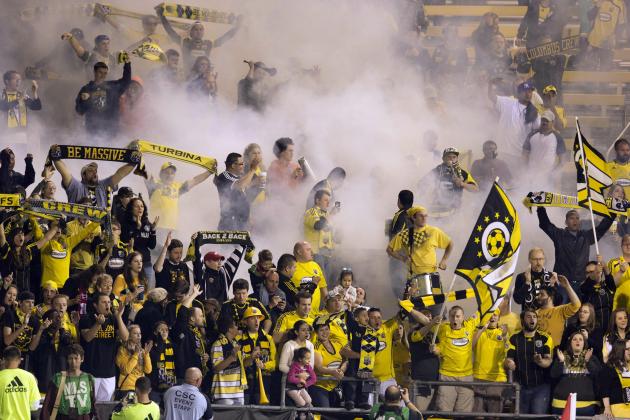 Greg Bartram-USA TODAY Sports
Which match will you, the fan, be watching this weekend?
Before we delve into the featured storylines for this weekend's action, here is the complete schedule and guide for Week 16. Nine teams are idle.
Saturday
Portland Timbers vs. FC Dallas—5:00 p.m. ET, ESPN
DC United vs. Toronto FC—7:00 p.m. ET, MLS Live
Columbus Crew vs. Montreal Impact—7:30 p.m. ET, Univision Deportes
Colorado Rapids vs. San Jose Earthquakes—9:00 p.m. ET, MLS Live
Vancouver Whitecaps vs. New England Revolution—10:00 p.m. ET, MLS Live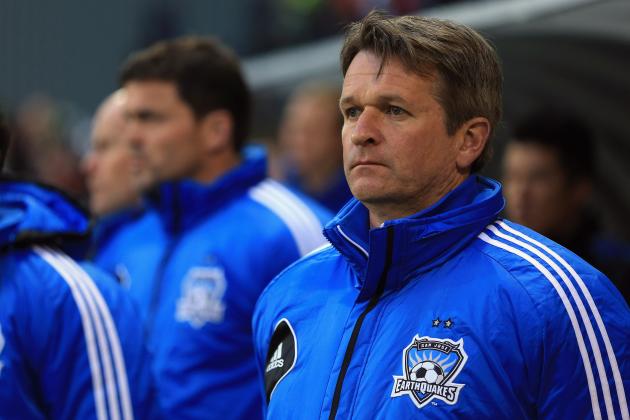 Doug Pensinger/Getty Images

What a difference a year makes.
Last season, the Quakes found themselves lifting the Supporters' Shield trophy. Fast-forward a few months: Not only is San Jose outside of the playoff picture, but the team is now in search of a new head coach.
The Quakes and head coach Frank Yallop announced that they mutually agreed to part ways last Friday. Assistant Mark Watson was named the interim head coach for the remainder of the 2013 season.
But Yallop's decision came as a surprise to everyone, including the players.
According to the league's official website, Chris Wondolowski was "speechless" after hearing the news:
"No one saw it coming. That was literally the last thing we [expected]."
No one expected a 3-6-6 start from last year's Supporters' Shield winners, either. But was Coach Yallop really the problem in San Jose?
A slew of injuries and suspensions kept the core of last year's squad off the field for a majority of this season. Steven Lenhart, Alan Gordon, Steven Beitashour and Marvin Chavez have all played less than 725 minutes in 2013.
Just for some perspective, Wondolowski has clocked 1,350.
But those excuses weren't enough to keep Coach Yallop in San Jose. The team's current 1-5-5 run is Coach Watson's problem now.
His first test will come this Saturday in Colorado.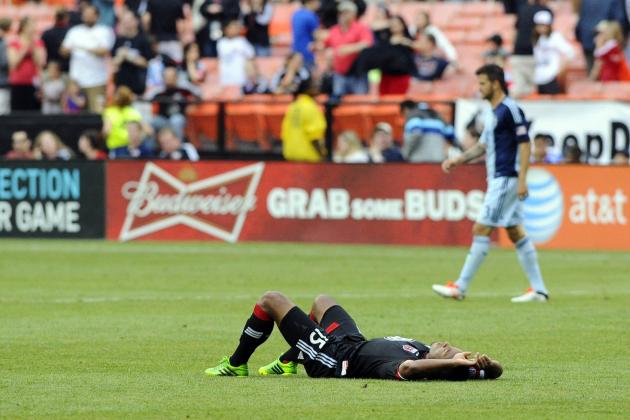 Brad Mills-USA TODAY Sports
Will DC United be down for the count...again?
Two. That is the combined win total of two of MLS' most pitiful clubs.
Two teams. Twenty-seven games played. Fourteen laughable points.
DC United and Toronto FC will do battle this weekend for one reason and one reason only: The schedule says they have to.
Open your eyes and hope for the best, MLS fans. But don't expect a barnburner at RFK Stadium Saturday night.
DC enters Week 16 with a total of six goals. By far the worst goal total in the league. Toronto is well ahead with 12, but even that is enough to land the Reds in the bottom third of MLS.
Neither team is notorious for dictating the pace, either.
According to statisticians at WhoScored, a standard 50.7 percent possession this season is the best United can muster. Toronto is no better at 47 percent.
The numbers say incompetence will be on display at RFK, so the question is: Who wants the victory more?
The answer will come in the closing minutes of the match.
Toronto's reputation for conceding late goals will be put to the test this weekend. The Reds have allowed a league-high nine goals in the final 15 minutes of matches, costing the team crucial points in the process. United have scored zero in that time span.
Something has to give in Week 16.
It was amusing to see Dominic Oduro deliver a Papa John's pizza to a fan last Friday. But Oduro will need to deliver more than that in Week 16.
Especially after his disappearing act in last week's 3-0 loss to the Philadelphia Union.
The team's leading goalscorer failed to make his usual impact in Week 15. Oduro played 90 scoreless minutes with only one shot on goal.
But the Ghanaian footballer doesn't shoulder 100 percent of the blame for a debilitating loss at PPL Park. Even head coach Robert Warzycha categorized the team's performance as "lethargic" in his post-match press conference, which can be found on the team's official website.
After a 10-day layoff, Oduro will have the opportunity to return to form.
It won't come easy, though.
A visit from Montreal awaits the Crew Saturday night. The league's best team enters with a 2.17 points per game average and a three-game unbeaten streak.
But there is a bit of optimism for the Black and Gold ahead of kickoff. The two teams played to a 1-1 draw in Week 7. Oduro scored the equalizer with a spectacular half volley from an impossible angle in the 72nd minute.
He'll need to repeat that performance if Columbus hopes to stay relevant in the Eastern Conference playoff picture.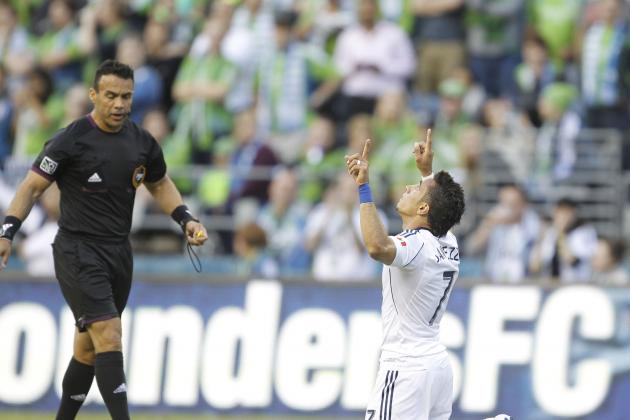 Joe Nicholson-USA TODAY Sports

How will you respond this week, Vancouver?
"Inconsistency" has been the tag following the Whitecaps in 2013. A solid six points in the first two weeks was followed by a seven-game winless streak...only to be followed by a three-game unbeaten streak.
Then, Week 15 happened.
A 2-1 lead over the Sounders evaporated in the second half.
Vancouver is back to square one.
Obviously, injuries have been a factor in Vancouver's roller-coaster season. Jay DeMerit was lost after six minutes of play. Kenny Miller remains an impact player, but he can't stay on the field consistently enough. The Scotsman has just four starts under his belt this season.
But even with the loss to Seattle, the Whitecaps have exhibited the qualities of a playoff contender in recent weeks. Signature wins over the Galaxy and the Red Bulls leave Vancouver just four points out of a playoff spot with a game in hand.
And the opportunity is there for the team to play its way back into playoff contention.
Two of Vancouver's next three games will be at home. Even a trip to RFK Stadium is welcomed at this point. DC United aren't exactly world beaters.
But their toughest test during that stretch will come this weekend.
The Revolution are vying for a playoff spot in the Eastern Conference. If the Whitecaps hope to duplicate that accomplishment out west, business must be handled at BC Place on Saturday.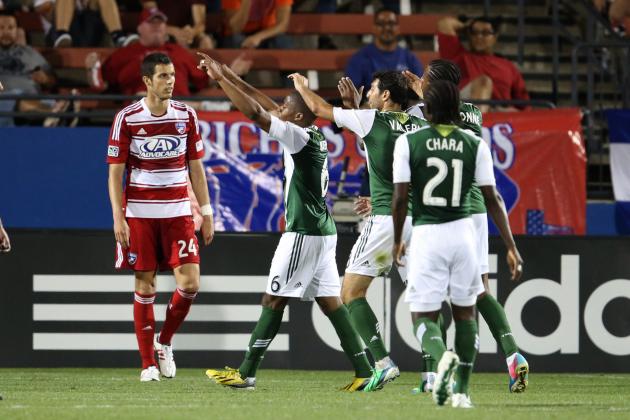 USA TODAY Sports

Ninety minutes were not enough to separate Portland and Dallas in Week 11. Goals from Kenny Cooper and Darlington Nagbe highlighted a 1-1 draw in Frisco, Texas. Now, it's the Timbers' turn to flex their home muscle.
And flex they will in Week 16.
For all of Dallas' "dominance," the team is rather pedestrian away from its home crowd. The Hoops enter Week 16 with a 1-2-3 record on the road. Portland remains unblemished at JELD-WEN Field and is unbeaten in its last 12 games overall.
The opportunity is there for Portland to extend that streak to 13.
Unfortunately, international duty will gut a portion of the rosters for both sides. Gastroenteritis will determine the availability of Dallas' leading goalscorer Blas Perez.
But that won't put a damper on the action. This is still a battle for Western Conference supremacy, and only one team will reign supreme when the final whistle blows.
Follow Eduardo on Twitter for more insight on a variety of sports topics. Follow @Mendez_FC