Summer Transfer Window: How Tactics Will Influence the Big Buys in Europe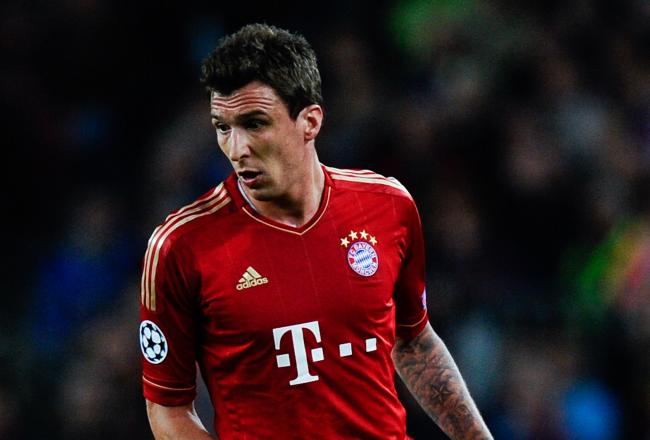 David Ramos/Getty Images
Heading into the summer transfer window, tabloids and papers will often link nondescript players senselessly to random clubs.
Here, we offer you a rough guide on what sort of players will be market hits over the coming months, using tactical trends from the 2012-13 season to help.
Positions change, duties change. Here's what your manager is looking for.
The Midfield Game-breaker
The 4-2-3-1 is still the de facto best formation despite losing a little gloss, and there are two distinct types of teams utilising it.
There are those who have the correct combination at holding midfield and therefore enjoy wild success, and there are those who do not and thus limit themselves in what becomes a cagey system.
The missing ingredient is often the rarest of breeds: the all-round, box-to-box midfielder who can defend superbly then break off a 50-yard run and force matters.
They are tough to find, and that means they'll go for big bucks this summer as managers source them out. Ideally, you're looking for a Sami Khedira to accompany your Xabi Alonso.
Fernandinho is on the market...
Multifunctional Forwards
Gone are the days when a striker's sole job was to score goals. Need proof? See Darren Bent's imprint on the Aston Villa bench despite being fit all season.
A forward needs to be multifunctional and add value in nearly every area of the game, be it holding the ball up, double-teaming with wingers, drifting between the lines or closing down deep-lying playmakers.
Mario Mandzukic played a big role in neutralising Andrea Pirlo during Bayern Munich's victory over Juventus, helping Thomas Mueller exert pressure on the maestro and limit both time and options.
In Euro 2012, Mandzu played as a deep-lying forward and did the very same job on Pirlo, and he has usurped Mario Gomez this season despite not being as gifted a finisher as the German.
Christian Benteke does a lot more for Villa than just finish—he's the focal point of everything, and clubs are searching for the next Benteke or Romelu Lukaku.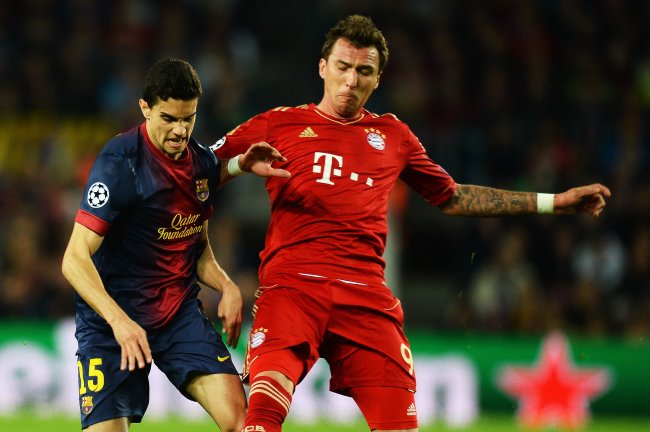 Mike Hewitt/Getty Images
The Suffoco
Mario Manduzkic's exploits lead us to the hardworking No. 10 perfectly, and we've seen plenty of top tacticians utilise these this season.
The No. 10 role has undergone surgical changes over the past decade, moving from the static playmaker in the mould of Juan Roman Riquelme to the dynamic version in (healthy) Kaka and Mesut Oezil and finally to the "suffoco" version we see today.
In what possible capacity could a player like Duda start a UEFA Champions League quarterfinal? As a suffoco, of course, tasked with marking Ilkay Gundogan and playing it simple when on the ball.
The modern combination of speed, defensive commitment, stamina and creative wizardry for an attacking midfielder has seen the "elite pool" slim down to very, very few. That's why No. 10s who have it all are getting so very, very expensive.
Surging/Ball-Playing Centre-Back
Sensing a theme? You should be.
Ultimately, football in 2013 comes down to the following principle: The more diverse you are, the more multifunctional you are and the greater the pallet of tasks you can take on, the more valuable you become as a commodity.
The playmakers have to be able to do it all. The strikers have to put the hard yards in. The midfielders need to be capable of taking the game by the scruff of the neck and changing it if their strikers can't do so themselves. And the defenders must now be able to initiate attacks from the back.
Managers will be on the lookout for the next Jan Vertonghen as surging centre-backs continue to rise to the fore. It's emerged as a perfect way to overcome strict man-marking.
One has already gone in Toby Alderweireld (Ajax to Roma).
This article is
What is the duplicate article?
Why is this article offensive?
Where is this article plagiarized from?
Why is this article poorly edited?