Europa League: Picking the Top 10 Goals of the Tournament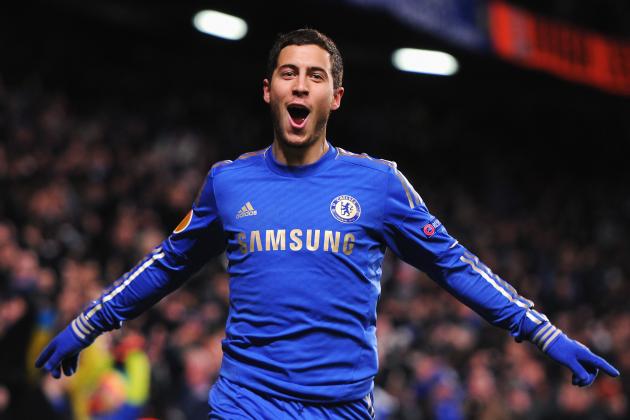 Michael Regan/Getty Images

Chelsea may have won the Europa League with a late header from Branislav Ivanovic, but can the English club prevail in our top 10 goals of the tournament?
Now the gruelling competition has finished, it's time to sift through some of the best goals seen on the European stage this season. The advantage is given to goals scored from unlikely sources, important strikes and those that make us cry out like a banshee.
Is your favourite goal included? Read on to find out.
Begin Slideshow

»
Gareth Bale has scored plenty of important goals this season.
The Welshman's free-kick technique is often likened to Cristiano Ronaldo, and this strike against Lyon proved why.
Bale's last-minute winner played a massive part in sending Spurs through to a last 16 tie against Inter Milan, although the competition would end in bitter disappointment at the quarterfinal stage versus Basel.
Vlad Chiriches is likely to be the least-known footballer on this list.
The 23-year-old centre-back isn't the type of defender who will score you many goals. Having joined Steaua Bucharest in 2012, he netted a sublime first for the club on 21 Feb., 2013. Chiriches' powerful volley just kept rising to tie the aggregate score with Ajax at 2-2.
Bucharest proceeded to win the Round of 32 match 4-2 on penalties and went on to fall 3-2 against eventual winners Chelsea at the next stage. Still, it was an impressive showing.
What can I write that hasn't been said about Joey Barton?
Like his Twitter ramblings and on-field antics, the Englishman's goal against Borussia Monchengladbach was remarkably to the point. Barton's corner evaded the presence of everyone to level the encounter at 1-1, with the eventual result coming in at 2-2.
The 30-year-old's corner comes in ahead of Bale and Chiriches for the sole reason that I've been able to write about Barton without wanting to headbutt my computer screen.
Eden Hazard's debut season at Chelsea has confirmed the 22-year-old wonderkid's stature as one of the world's greatest starlets.
The Belgian often springs to life when his side needs him. With the score tied at 1-1 going into second-leg stoppage time, Hazard waltzed into the box and slammed a terrific finish into the Stamford Bridge net.
As the Europa League winners proved, their tournament would come to be defined by late goals.
Hazard's winner leads us onto Branislav Ivanovic's final heroics rather nicely.
Like last year's Champions League triumph, Chelsea relied on a late-headed winner to grab the prize. Although Didier Drogba's goal sent the match against Bayern Munich into extra time that night, Ivanovic went one better this year to win another trophy outright for his club. The Serb's looping header almost travelled in slow motion and seemed to take an age to find the net.
The goal is made all the more sweeter, as he missed the Champions League final through suspension.
You can't have a top 10 goals compilation without an overhead kick, right?
Thankfully, Fenerbahce's Bekir Irtegun has us sorted. The Turkish defender clinched Group C victory with a goal of immense technique. As the ball floated into Marseille's box to little danger, Irtegun did brilliantly to control a pinpoint header on his chest before producing an overhead kick that gave Steve Mandanda no chance.
Irtegun's goal comes in above the successes we have already seen for playing a major part in Fenerbahce's run to the semifinal. It was also wildly unexpected for the defender to produce a moment of such quality.
Not content with scoring one free-kick in the Round of 32 second leg against Zenit St. Petersburg, Luis Suarez stepped up on the hour mark to add his second excellent goal of the game.
Watching the set piece from behind, the amount of curl Suarez applies to the ball makes it nigh on impossible to stop. His shot isn't even on target until the last second. Unfortunately for the Reds—with the battle drawn 3-3 on aggregate—Zenit emerged winners via the away goal.
Samuel Umtiti is just 19 years old.
The defender's career has barely entered its adult phase, and he is already the deliverer of an unbelievable goal against Spurs. Umtiti creates something out of nothing after some sustained pressure from Lyon, swerving the ball into the top corner of Brad Friedel's net with a breathtaking hit from the edge of the box.
David Luiz is becoming one of the world's most watchable footballers.
The crazy-haired Brazilian flits between genius and disaster, but we're not complaining. His recent stint in the Chelsea midfield has provided a handful of memorable goals that also happen to be rather important for his side's quest to glory.
In the semifinal second-leg against Basel, Luiz's perfect shot sent Rafa Benitez's side to the Amsterdam Arena in style, confirming a 5-2 aggregate victory.
Any goal compared with Marco Van Basten's 1988 European Championship clincher should be taken seriously.
Despite being a relative unknown, Taison thrust Metalist Kharkiv into a fourth-minute lead against Rosenborg during a tight Group K match. He also provided an important assist in the 3-1 victory and went on to be linked with a move to Chelsea in the days following the game.
Unfortunately for Taison and the eventual winners, Shakhtar Donetsk snuck in to steal the deal (via The Daily Mail). Even so, Taison's volley is undoubtedly the best goal of the Europa League season and certainly competes against Van Basten's classic goal from all those years ago.
If only anyone watched the Europa League.
Which were your favourite goals of the Europa League season? Let me know in the comments section below and be sure to follow me on Twitter right here: