Twitter Reacts as Manchester City Fire Manager Roberto Mancini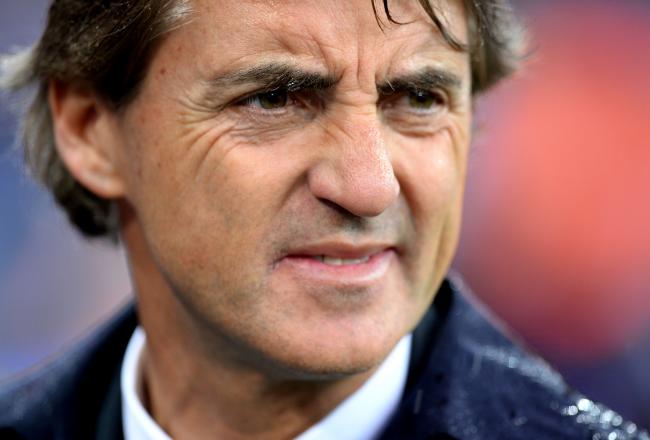 Mike Hewitt/Getty Images
Manchester City have officially fired Roberto Mancini as their manager, with a statement on the club's website citing a failure to "achieve any of its stated targets this year" as the reason behind his dismissal.
The writing was seemingly on the wall for Mancini, who saw the Citizens lose the Premier League title to Manchester United this season and were eliminated from the Champions League group stage without a single win as well.
When combined with their recent FA Cup defeat to Wigan Athletic, this seemingly left club officials with no choice but to part ways with the Italian manager.
The news quickly spread around the world, and invoked some great responses from celebrities, football pundits and viewers alike via Twitter.
Eurosport were first to confirm the sacking had taken place, which was quickly greeted with affirmative responses, such as that from Opta's Cristian Nyari:
BREAKING: Manchester City have sacked manager Roberto Mancini.

— Eurosport.com EN (@EurosportCom_EN) May 13, 2013
Mancini sacking not surprising. Who is next to step up in the toxic game of meeting unrealistic expectations under unrealistic pressure?

— Cristian Nyari (@Cnyari) May 13, 2013
Goal.com's Wayne Veysey issued similar sentiments about the decision:
Sacking Mancini correct choice by #MCFC. Players had become sick of his management style. Never answered CL question marks, either.

— Wayne Veysey (@wayneveysey) May 13, 2013
One of the things that the sacking did show was the difference in class between the two Manchester clubs over the past few days. The Sun's Charlie Wyett points out just how differently City and United dealt with their current managers leaving the job, and how that reflects on the clubs:
Manchester United have showed real class over these last few days. Manchester City have not. Mancini is better off out of the club

— Charlie Wyett (@CharlieWyett) May 13, 2013
Devin Pleuler at MLSSoccer.com and AP writer Rob Harris both pointed out that Mancini's firing highlighted some serious problems at the board level for City:
This Mancini sacking is further evidence of the growing disconnect from reality at the top.

— Devin Pleuler (@devinpleuler) May 13, 2013
Man City chairman Khaldoon Al Mubarak's first statement all season is to sack the manager

— Rob Harris (@RobHarris) May 13, 2013
Football 365's Matthew Stanger highlights just how fickle the City board were to let Mancini go, given what they've put up with some of their players in the past:
Never thought Tevez would outlast Mancini.

— Matthew Stanger (@MatthewStanger) May 13, 2013
However, as The Guardian's Sid Lowe and others highlight, the timing on Mancini's firing is bizarre, given that there are only two games remaining this season:
Something I don't understand: even if City were convinced of need to sack Mancini, why didn't it come at end of season?

— Sid Lowe (@sidlowe) May 13, 2013
Football writer Ives Galarcep also weighed in on that fact—suggesting that Malaga manager Manuel Pellegrini may well be the next in charge at the Etihad:
Seriously, would it have killed City to wait a DAY on firing? That said, I think Pellegrini can do well, assuming City bosses let him work.

— Ives Galarcep (@SoccerByIves) May 13, 2013
ESPN's Paul Carr also shed some light on the ironic timing of it all:
Roberto Mancini is fired a year to the day that Manchester City beat QPR to win the Premier League.

— Paul Carr (@PCarrESPN) May 13, 2013
Yet as Sky Sports' Guillem Balague notes, perhaps the incident isn't that unusual after all, and that the decision to fire Mancini right now definitely has some merit to it:
Mancini has been sacked because he didn't get the best out of the squad. As simple as that. A football decision

— Guillem Balague (@GuillemBalague) May 13, 2013
And with a £28 million compensation package reportedly set to be provided for Mancini, the decision might not seem like such a bad idea after all:
The English Premier League - been making a lot of middle aged men very rich very quickly with redundancy packages since 1992.

— Stefan Bienkowski (@SBienkowski) May 13, 2013
Especially since he doesn't have Piers Morgan "supporting" his club:
Mancini fired? Ridiculous. Wish we could have him at Arsenal, but he's too successful for us.

— Piers Morgan (@piersmorgan) May 13, 2013
Hit me up on Twitter for more sports goodness:
This article is
What is the duplicate article?
Why is this article offensive?
Where is this article plagiarized from?
Why is this article poorly edited?