10 Best South American Imports in Serie A History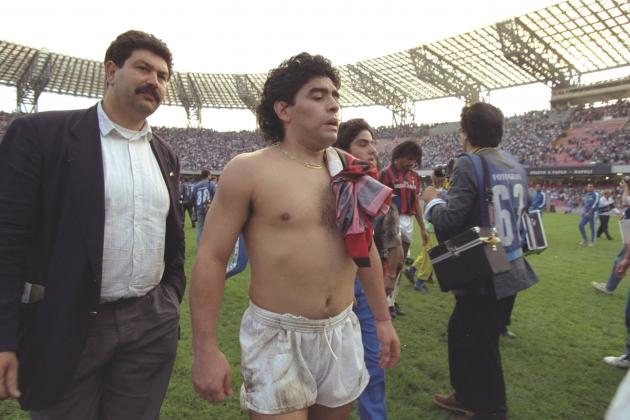 Simon Bruty/Getty Images

The Italian Serie A has been graced by some of the greatest players the world has ever seen over the years, and South America has been a major contributor of such talents.
Over the past 20 years alone, Serie A has boasted several South American players who would win World Player of the Year crowns in the course of their career as well as two Brazilian World Cup winners.
While the country's footballing setup may struggle to attract truly world-leading talents at present, that most certainly has not been the case historically.
Let's, then, take a look at the top ten South American players to have graced Serie A.
Begin Slideshow

»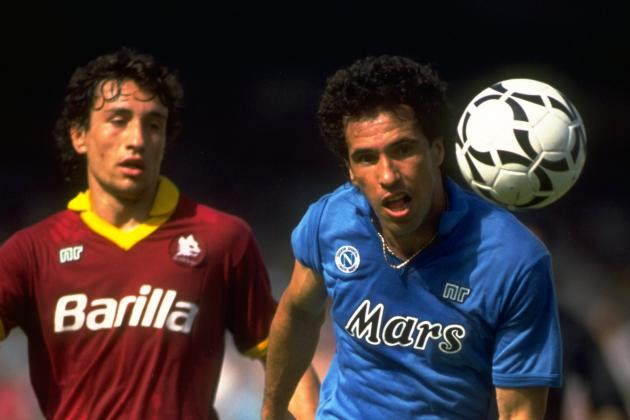 Dan Smith/Getty Images

Brazil striker Careca was an important member of the Napoli side that won a UEFA Cup title, a Serie A title and an Italian Super Cup title at the turn of the 1990s.
While he would always be overshadowed by the contribution of Diego Maradona, Careca was a star in his own right. A Brazil international, he arrived from Sao Paulo in 1987 with an already burgeoning reputation.
The centre-forward would score 73 league goals in his six-year stint in Naples, but his goals in both legs of a 5-4 victory over Stuttgart in the final are remembered most.
A powerful finisher with his right foot and an agile presence around the area, Careca was one of the best forwards of his time. His contribution to Napoli's success has certainly not been forgotten.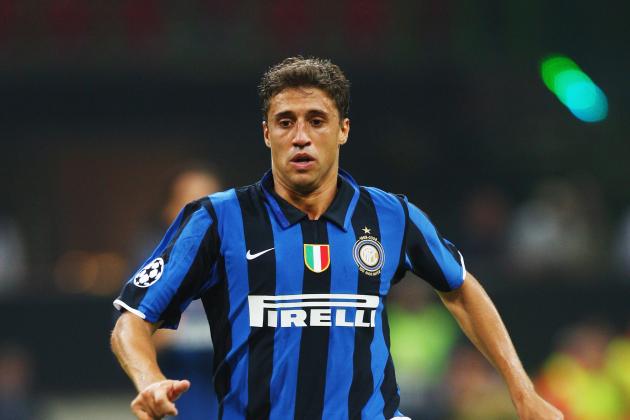 Michael Steele/Getty Images

Argentine striker Hernan Crespo would represent an impressive five different Serie A clubs in his two spells in the country, scoring goals across a 16-year period.
For much of that time, around the turn of the millennium, he was one of the most feared forwards anywhere in the world, and a tally of over 150 Serie A goals is truly testament to his abilities.
Three Serie A titles, a UEFA Cup win and a Champions League runner up medal, achieved across three different sides, offer a glimpse of his importance to the Italian game. After all, in 2000, Lazio had broken the world transfer record to secure his services from Parma for £35 million.
Crespo was a clinical finisher off both feet, while his movement and ability in the air made him a fine all-around striker. In many ways, he is an early example of the mobile, modern No. 9s that have become so popular in recent times.
Argentine striker Omar Sivori was a major figure for Italian giants Juventus in the late 1950s and 60s. A prolific forward, Sivori would score 167 goals in 254 appearances for the Old Lady.
Like many imports of his era, Sivori would end up representing Italy as well as the country of his birth. He would score on eight occasions in just nine games for the Azzurri.
A three-time Serie A winner, and European Footballer of the Year in 1961, it is only right that he is acknowledged as one of the league's all-time great South Americans.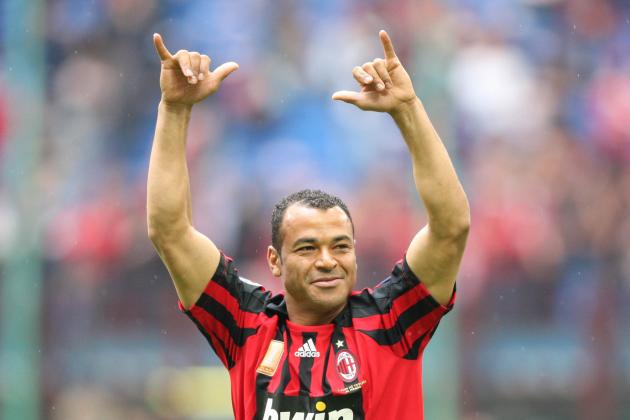 New Press/Getty Images

One of the best—if not the best—full-backs of modern times, Brazil international Cafu combined longevity with brilliance to write his name deep into the Serie A history books.
After joining Roma from Sao Paulo-based Palmeiras in 1997, the barnstorming right-back would go on to make 378 appearances for both the capital club and later AC Milan over a period of 11 years.
In that time, internationally, he would go on to become Brazil's all-time most capped player with 142 appearances and also lift the World Cup as captain in 2002.
A solitary Serie A title with Roma was soon bettered upon joining Milan in 2003. Although already 33 years old, he would play on for five more seasons—winning a league title, a Champions League and a Club World Cup title.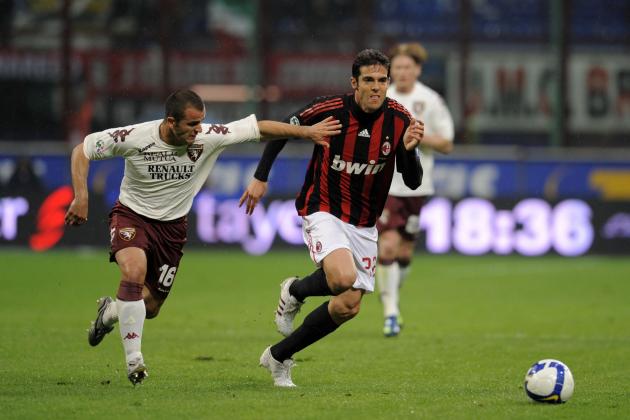 New Press/Getty Images

Brazilian midfielder Kaka was the best player in the world for a brief spell midway through the last decade, playing a major role in inspiring AC Milan to the 2007 Champions League final.
While his subsequent move to Real Madrid may not have worked out quite as hoped, the Sao Paulo-born star's time in Italy was majestic—scoring nigh on 100 goals in 270 Milan appearances.
A winner of the Serie A, Champions League and Club World Cup with the Rossoneri, Kaka's six-year spell at the San Siro would see Milan achieve great success—while also raking in a €60 million profit on their investment.
At his peak, Kaka glided past players with incredible ease. His inspired performance against English giants Manchester United en-route to Champions League success in 2007 is a particular highlight.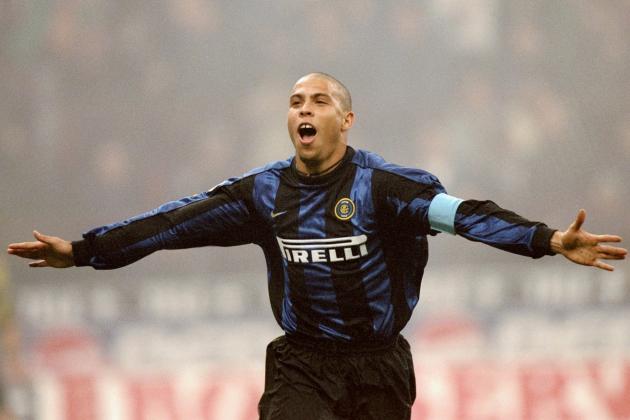 Claudio Villa/ Grazia Neri/Getty Images

Aside from a brief spell at AC Milan late in his career, Ronaldo's biggest contribution in Italy came in a five-year stint at Inter Milan in the late 1990s.
Although injury ravaged throughout much of his time at the club, the Brazilian superstar would still finish with a phenomenal goalscoring record to his name as well as a UEFA Cup title secured in 1998.
It was that phenomenal first season, with 34 goals in 47 appearances for the Nerazzurri, that proved to be the forward's only unhindered campaign at the club. He would earn UEFA Club Player of the Year and Serie A Player of the Year crowns for his good work—all at the age of 21.
Overall, Ronaldo would score 59 goals in 99 official games for the club, including a starring role in the UEFA Cup Final success. Had this list been on pure talent, or career achievements, he would be nearer the very top.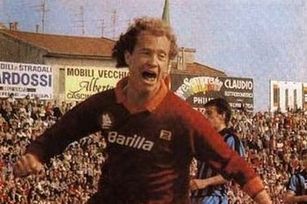 Twice a Coppa Italia winner and once league champion with AS Roma, the "King of Rome" Paulo Roberto Falcao is the highest-ranking Brazilian in our list.
Falcao would play just 107 league games in Italy over a five-year career in Rome but would leave a lasting impact on football in the capital that none of his countrymen can match.
Had it not been for a loss on penalties to Liverpool in the European Cup Final of 1984 in Roma's own stadium, he could have been even higher up the list. Falcao, though, famously opted not to take a spot-kick.
That decision marked the beginning of the end of his time in Rome, despite his previous success, with the club terminating his contract the following year having travelled to New York for an operation without Roma's consent.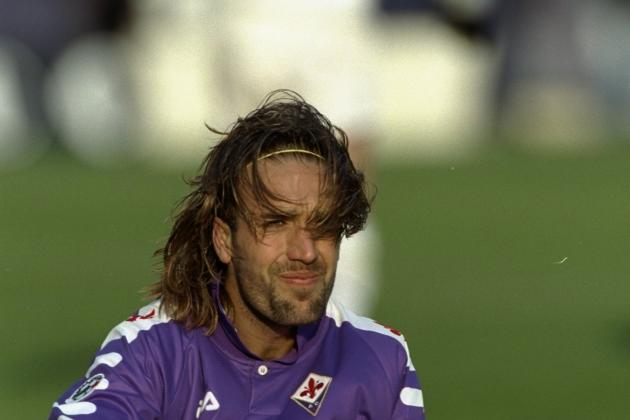 Getty Images/Getty Images

Argentina striker Gabriel Batistuta, otherwise known as Batigol, only won one league title in his time in Italy. However, he currently sits inside the top ten of all-time top scorers in Serie A.
The long-time Fiorentina striker scored 168 league goals in his time with the Viola before moving on to Roma where he would add a further 30 in 63 games.
The Argentine is currently the all-time top scorer for Fiorentina as well as for his country. He was also Serie A top scorer in 1994-95 with 26 goals.
Batistuta is remembered by most as one of the best strikers to have played the game in the modern era.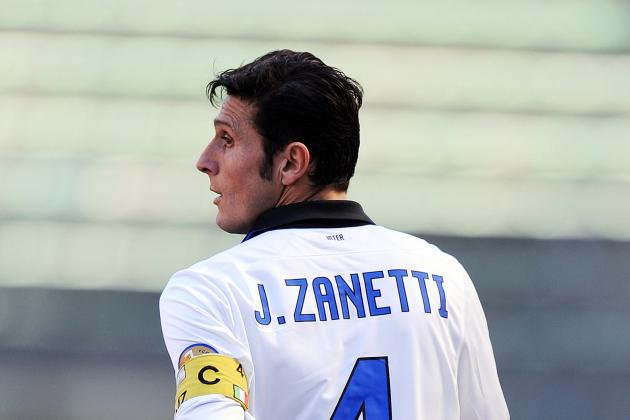 Giuseppe Bellini/Getty Images

Argentine full-back Javier Zanetti has just completed his 18th season as an Inter Milan player in what is a quite remarkable achievement.
Having played over 600 league games, or 843 games in total, there are few players of any nationality who can come close to his contribution to their respective clubs.
Throughout much of that time, Zanetti has been one of the best and most consistent full-backs in Europe as a whole. Should he have ever left Inter, the list of potential suitors would be enormous.
Five Serie A titles, four Coppa Italia, a Champions League, a UEFA Cup and a Club World Cup is his incredible list of major honours, while he has been a first-team regular this term at the age of 39.
Sadly, though, a recent cruciate ligament injury threatens to bring a premature end to a glorious career.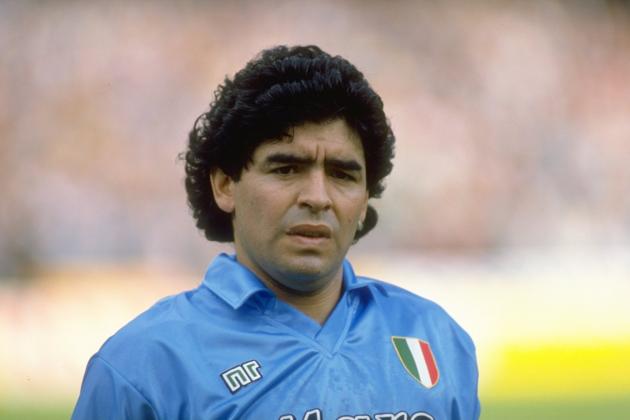 Simon Bruty/Getty Images

There was only one man ever going to top this list—former Napoli and Argentina star Diego Armando Maradona.
Arguments will rage as to whether he is the greatest of all time for many years. Ask a fan of the Naples club, though, and you would almost certainly be given a firm answer.
The arrival of the Argentine from Barcelona in 1984 proved to be a masterstroke for the club. Over the next seven years, he would score 115 goals in 259 appearances for the Partenopei, including helping the club to two league titles and a UEFA Cup.
To this day, those honours remain Napoli's only ever top-flight and continental titles.
While his exit from the club would be overshadowed by drug-related controversies, all has been forgotten for El Diego.
For Napoli fans, he represents the only period of sustained success in the club's history and has been honoured with the retiring of the club's iconic No. 10 shirt.