Barcelona vs. Bayern Munich: Key Battles to Define Champions League Semi 2nd Leg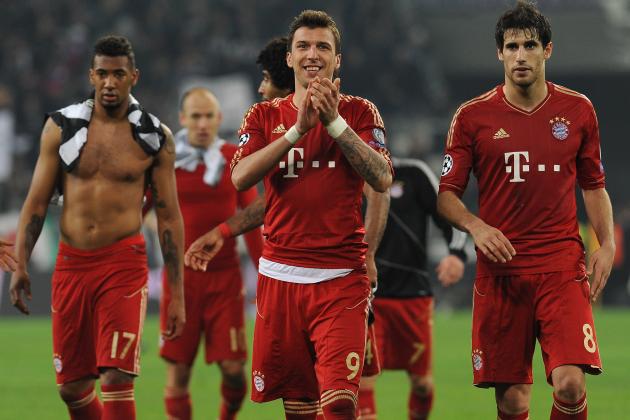 Valerio Pennicino/Getty Images

Having staged an almighty 4-0 drubbing of their Catalan opponents at the Allianz Arena last week, Bayern Munich travel to the Camp Nou this coming Wednesday hoping to wrap up their Champions League semi-final against Barcelona.
However, the Bavarian outfit will again need several key staff members performing to potential if they're to pull off such a resounding victory.
While the first-leg meeting might not be indicative of this fact, Barca remain one of the world's best sides and, thanks to the myriad of superstars under Tito Vilanova's command, can't quite be ruled out of a final place just yet.
Another clash of the titans, the following five individual key battles are where this tie could be won or lost for either team.
Begin Slideshow

»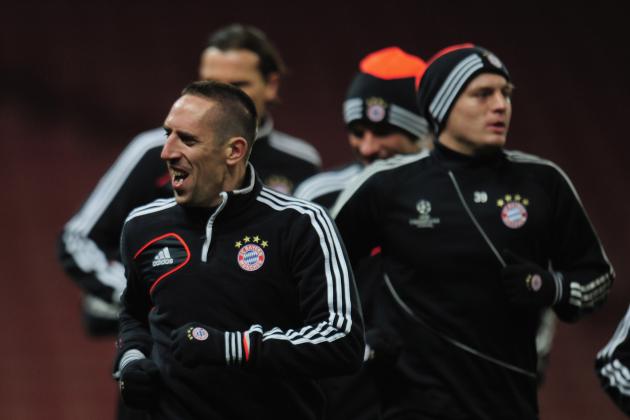 Shaun Botterill/Getty Images

With 90 touches of the ball, Dani Alves was one of the most involved Barcelona players to feature at the Allianz last week, beaten only by the likes of Xavi, Andres Iniesta and Gerard Pique.
Unfortunately for him, Frank Ribery also had his fair share of the possession and matched Bastian Schweinsteiger with the joint-highest tally of touches for the hosts (62).
On that occasion, both Alves and Ribery completed two dribbles apiece, but with the 4-0 scoreline going in his favour, it would certainly seem as if Ribery was a lot more efficient with the space he managed to create.
Hoping to again link up with the likes of Thomas Muller, Mario Gomez and Schweinsteiger, any hopes the Frenchman might have of asserting a similar attacking presence in Spain will again have Alves standing in their path.
Although one of the finest wing-backs in the world, Alves' shortcomings have always lain in defence, an aspect of his game carved open expertly by Ribery last week.
The trouble is that with a four-goal deficit to overcome, the Brazilian risks further exposure if he dares to chase the game, but won't be able to inject as much pace down Barca's right flank if he's too busy marking his opposite man.
With the ball seemingly in Ribery's court, the duel set to unravel between two of football's finest wide men is one to smack the lips at.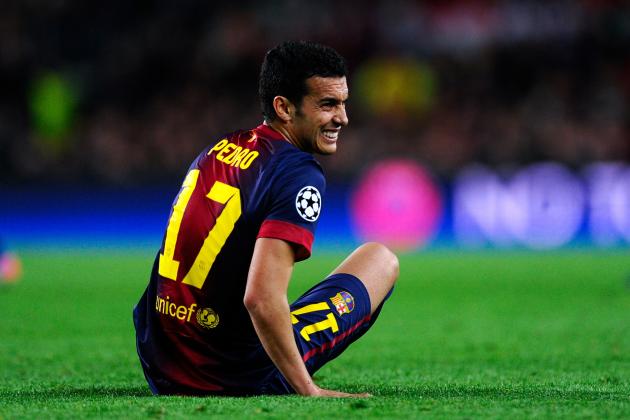 David Ramos/Getty Images

Fast emerging as one of the most prodigious players in his position, David Alaba did a fine job of not only keeping the opposition at bay, but also finding the time to grab an assist in the first leg between these two sides.
In fact, Jupp Heynckes has been posed the conundrum of playing the versatile left-back in defence or midfield for a vast majority of this season, two positions that he plays just about equally well.
The main victim of such astute play last Tuesday was Pedro, who had a very quiet game as a result of Alaba's heroics.
This time around, the Spanish winger will need to find a way around the young starlet opposite him if Barcelona are to succeed in having any assured supply of ammunition from the right wing.
Pedro should have the advantage back on home turf, too, as Bayern are bound to play the waiting game to an extent, but no longer is the side occupied by a Bayern full-back other than Phil Lahm considered a weak spot.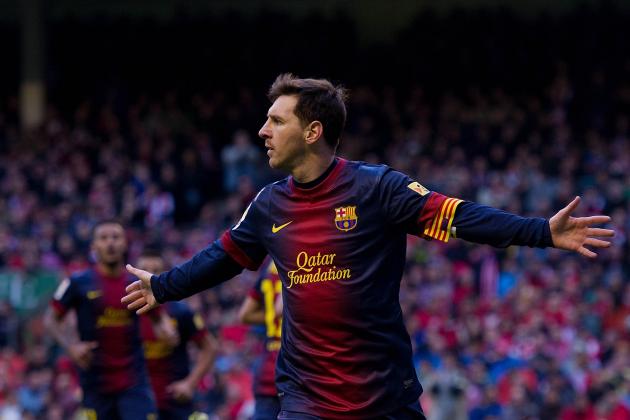 Gonzalo Arroyo Moreno/Getty Images

Potentially the battle that could decide just whether Barcelona have even the slightest chance of advancing to the Champions League semi-final, Lionel Messi will attempt to find space away from Javi Martinez, who did a job in marking out the Argentine last week.
Although out of shape—having reportedly come back from injury prematurely—Messi's performance at the Allianz Arena was a poor one by his incredibly high standards, something he'll hope to rectify this time.
Playing as the central focus of Vilanova's three-pronged attack, Messi was simply inundated by man-to-man coverage during his side's trip to Germany, finding as many as five opposition players surrounding him with the intention of limiting his effectiveness at times.
Back in his native Spain, Martinez— who could have made the move to Barca from Athletic Bilbao last summer—will again be tasked with restricting Barca's leading man to a minimal influence alongside midfield partner, Bastian Schweinsteiger.
The most defensively inclined on Bayern's starting midfield, it's likely that Martinez will be happy to sit in front of his central defenders and allow the game to come to him, adding to the six tackles made in the last meeting between these two sides, a tally beaten only by Schweinsteiger.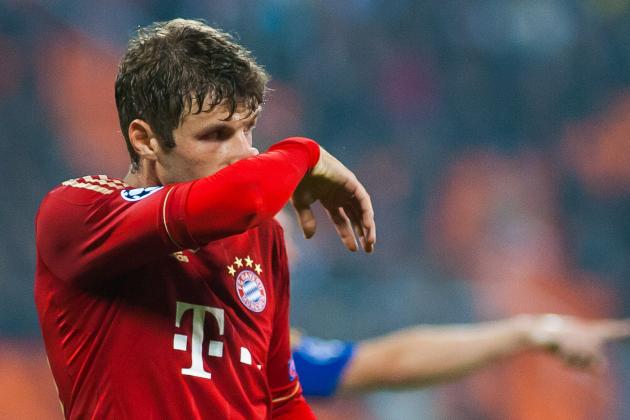 EuroFootball/Getty Images
Muller
With two goals to his bow and an assist in the 4-0 thrashing also, Thomas Muller proved to be Bayern's greatest asset against the Catalans last week, playing from behind Mario Gomez through the central channels.
Undoubtedly the most defensive of all Barcelona's midfielders, Sergio Busquets simply has to be held accountable for a great deal of that blame, with Xavi and Andres Iniesta concentrated much more on pulling their team's offensive strings.
Playing from an anchoring position, Busquets' five tackles ended as the most made by any Barca player and given the onslaught of opportunities created by Muller, Arjen Robben and Ribery, it's of little wonder that the Spaniard had such a frequent chance at stopping the opposition.
Because of the counter style deployed by Jupp Heynckes on the night, Barcelona would often find their numbers to be lacking whenever Bayern had the chance to break—Busquets falling victim to sheer numbers on several notable occasions.
If Der FCB are to be clawed down from their 4-0 lead, restricting Muller has to be a part of Tito Vilanova's tactics, limiting the say of the 23-year-old who not only registered four shots on target in the first leg, but laid chances for those around him also.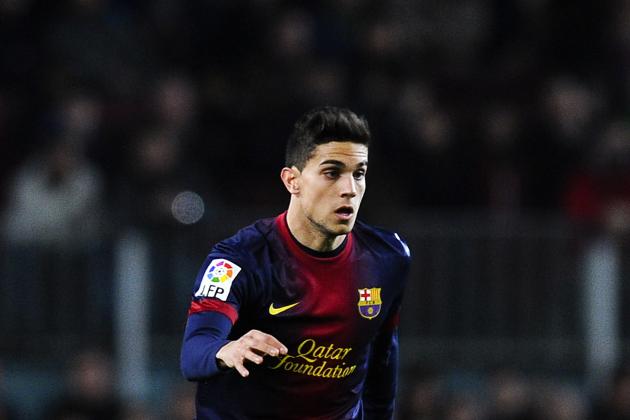 David Ramos/Getty Images

Marc Bartra's Champions League baptism through fire this season was all going to plan, but conceding seven goals in his last three European matches really isn't the record the youngster will have been wanting to see.
Just 22 years old, Bartra is the latest of a factory line of La Masia talent to make their break into the Barcelona first team, but was inevitably looked upon as a weakness in the Spanish side's setup against Bayern Munich last week.
With Mario Gomez up against the fresh-faced central defender, Bartra was exposed like you'd expect one so inexperienced to be against one of the world's most clinical finishers.
Alongside Gerard Pique—himself not having the finest season to date—Vilanova's defence remains in a shabby state, and although Bayern have massive talent on the wings, again looking to penetrate through the middle of the pitch could be their greatest shot at increasing a 4-0 aggregate lead.
You can follow me on Twitter: