Championship Promotion Candidates: Teams Fighting for a Premier League Place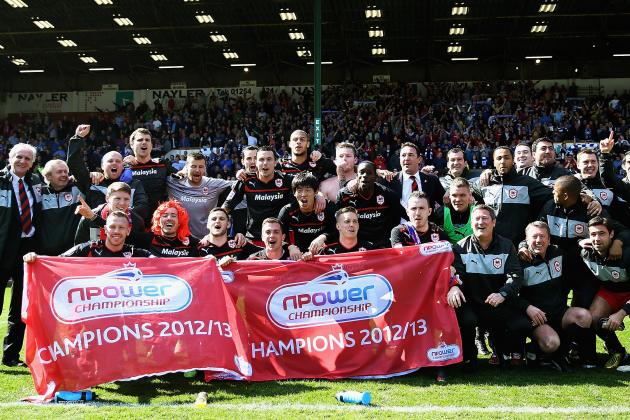 Matthew Lewis/Getty Images
Cardiff City celebrate being crowned npower League Champions on Saturday.
For some teams, promotion to the English Premier League signals the start of a new era. For others, it is merely a short break from the almost inescapable bear pit that is the Championship League.
Few promoted teams go on to make themselves Premier League mainstays. The Championship is widely considered the hardest league in the world to gain promotion from, but the disparity in quality between it and the Premier League often means that teams who made being promoted look easy can suffer once they reach the dizzying top-tier.
In recent seasons the Queens Park Rangers and Reading have been prime examples of this: Both took the Championship title at a stroll in 2011 and 2012 respectively but are now propping up the PL table, badly needing a few teams around them to collapse if they are to have any chance of survival.
As evidenced by these teams, surviving is not all about buying big in the summer. While Reading's poor season can be attributed in part to a lack of signings during the leap between leagues, QPR have spent tens of millions bringing in top (if a bit beyond their sell-by date) players from the likes of Real Madrid and Manchester United, yet they find themselves odds-on favourites to go down.
So will this year's new arrivals make the mistakes of those before them or can some of them become stalwarts in the Premier League?
Begin Slideshow

»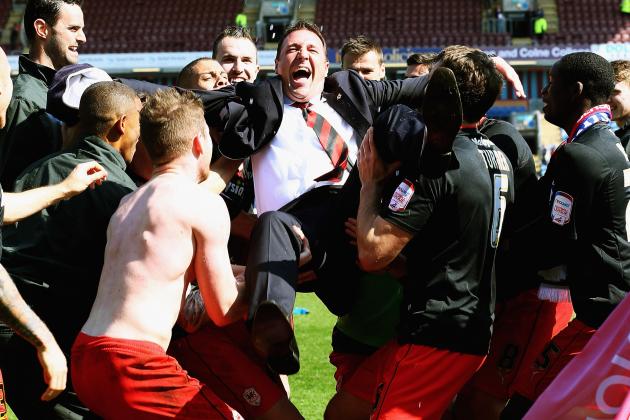 Matthew Lewis/Getty Images
Malky Mackay enjoys the fruits of a hard season's graft.
Cardiff have not just enjoyed a stellar season: In fifteen years, they have come from League Two (the fourth-tier of English football) to securing Premier League promotion in their third-to-last game of the 2012-13 season and winning the Championship title the week after.
Their manager, Malky Mackay, has also proved that he is capable of remaining strong in the face of adversity—when Mackay joined the Bluebirds in June 2011, he only had ten professional players contracted to the club, yet managed to secure a play-off place by the end of his first season in charge.
Their campaign has been consistent, though not to the degree that Mackay would have liked. Nine defeats this season—two at home and seven away—does not make comforting reading, especially when considering the huge leap in class between the Championship and PL strikes, but Cardiff can take some pride in having held 18 clean sheets this season.
Owner Vincent Tan has pledged to spend money during the summer to overhaul the squad.
A new striker, preferably one with PL experience, would bolster the ranks. Despite there being plenty of names on the scoresheet, with Whittingham, Helguson and Gunnarsson tied on eight goals each, they need someone who shoots double-figures every season to compensate if one or two players have a bad run of form. At age 35, Heidar Helguson, while proving that he can still perform at Championship level, would be the one to make way.
As long as they pick up a goal-scorer and perhaps a solid centre-back, Cardiff should still be in the top division when 2014-15 comes along. If Mackay collapses, which is doubtful, then I fully expect the Malaysian owners to pick up the pieces.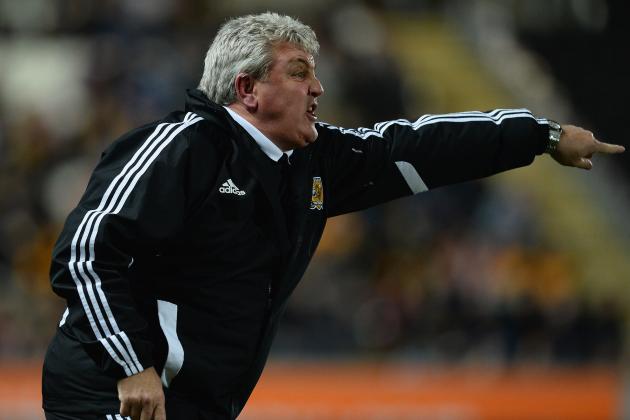 Laurence Griffiths/Getty Images
Bruce may have something to prove upon his return to the Premier League.
With Hull looking likely to return to the Premier League after a two-year break, the man at the helm has something to prove.
Manager Steve Bruce was dismissed by Sunderland in November 2011 when the club sat in 16th place, having just lost at home to bottom-placed Wigan Athletic, and with his current club, Hull City, sitting pretty at 2nd place in the Championship with Sunderland teetering above the PL relegation zone, it appears a prime opportunity for the former Manchester United player to set the record straight.
It appears Bruce's management style is keeping the players in good spirits, with striker Sone Aluko relishing the freedom he has up front with an eight-goal return, while the Slovenian playmaker Robert Koren, who arrived on a free transfer last summer, has notched nine.
Despite the manager's experience in the top division, having coached Wigan Athletic and Sunderland, as well as guiding Birmingham City to PL promotion, Hull just don't seem to have the resources to hold their own. Unless Bruce makes some clever signings in the summer, the Tigers could find themselves on the slippery slope during their first season back at the top.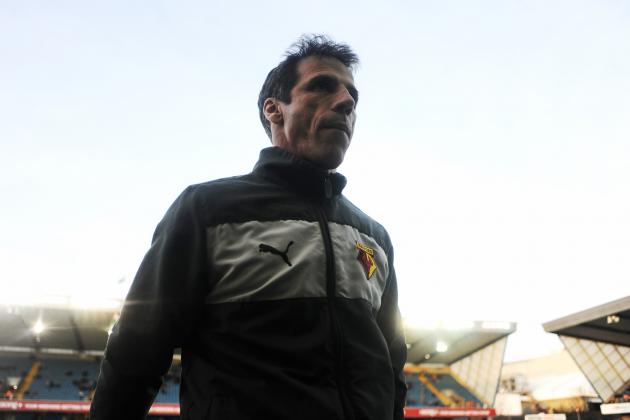 Charlie Crowhurst/Getty Images
Zola has to address the issue of loan players during the summer.
Watford make interesting contenders for two reasons: the first reason is their manager, Gianfranco Zola.
Remembered as a quick, intelligent player by fans around the country for his time in the PL, initially Zola did not adapt quite as well as a manager. A short spell with the Italian under-21s landed Zola the job at West Ham, but he saw a three-year contract terminated after less than a year when the Irons finished in 17th place.
Now he is back with Watford, who have performed well, sitting just four points off of the second automatic promotion spot with the most goals scored in the league, at 82. However, there are certain issues to be addressed during the summer, especially if Watford gains promotion.
The second reason Watford makes an interesting contender is their partnership with Udinese and Granada. Both clubs are owned by Watford owner Giampaolo Pozzo, and the deal has seen a number of Udinese players loaned to Watford for the season, which could have a detrimental effect on the club in the long-term.
The most obvious consequence is that when the loan players return to their parent clubs, the manager will have to find replacements for 11 players— this would not just be an inconvenient headache, but highly damaging when it comes to building a strong team mentality.
Of course, one suggestion would be that if you have the access to loan players, why not use them? But naturally the team mentality issue scuppers that dream. At least we know that a team full of Italians managed by an Italian, particularly a class act like Zola, will bring some slick and entertaining football to the PL, should they make it.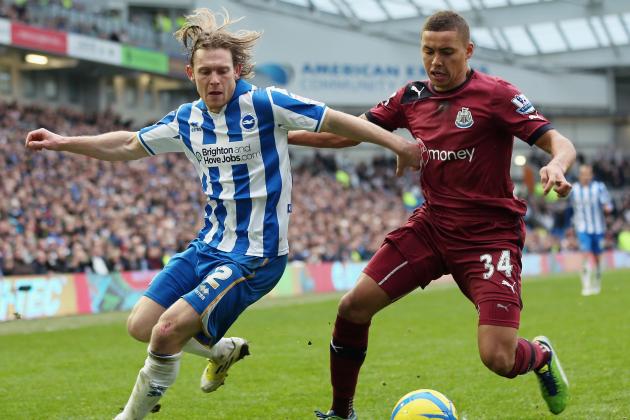 Bryn Lennon/Getty Images
Mackhail-Smith has been worth his weight in goals this season.
At one point last season it appeared that Gus Poyet's men had the momentum they needed to secure historic back-to-back promotions, from League One to the Premier League. Unfortunately the bubble burst, and Brighton were forced to dwell in the Championship for another year.
The case seems to be the same this time round. While the Seagulls are situated in the playoff places, their form is shy of what is required to pull through, having won only three of their last 10 games.
But should they make the cut, the PL would be the better for it.
Poyet has got his team exhibiting quick but controlled football, which in terms of style has elevated them above most other teams in their division. Craig Mackail-Smith, while not being the cleanest or most accomplished of players, has proved to be an effective focal point, scoring 11 goals this season, while Kazenga LuaLua is coming on well as a deputy to David Lopez.
Brighton have the right methods and know how to execute them. Should they get promoted, a bolstering of the guard with a few experienced PL heads would greatly increase their chances of staying up.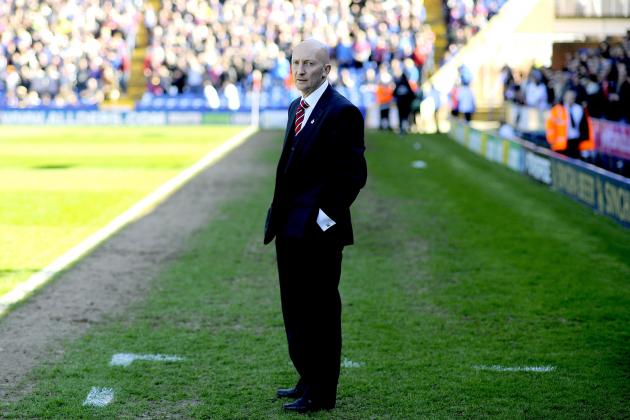 Charlie Crowhurst/Getty Images
Holloway has not had the desired effect since replacing Dougie Freedman as manager.
When Crystal Palace announced bedrock crazy Ian Holloway as their replacement for Dougie Freedman in October 2012, the south London side were exchanging 1st and 2nd places with Watford on a weekly basis. Going by Holloway's previous successful promotion with Blackpool, you could be forgiven for thinking that, with what is oft considered a superior squad, it would be even easier this time around.
Conversely, it is now late April and Palace are hanging in there, sandwiched between Brighton and ex-manager Freedman's Bolton, albeit with a game in hand. But their recent form is not good, with only two wins from 10, including a shocking 3-0 defeat at Ipswich, and now that the manager is issuing statements telling his players to remain calm during the run-in, it is clear that the ship is not steady.
Going by their form, it is entirely possible that the Eagles might not even finish in the top six, and sense would suggest that parting company with Holloway is the first step in the healing process—the club and the man just don't fit. Though, if Palace do make it, we will all be glad if they hold onto him, if only for entertainment value.
Replacing Wilfred Zaha, who is set to join Manchester United at the end of the season, must be first priority.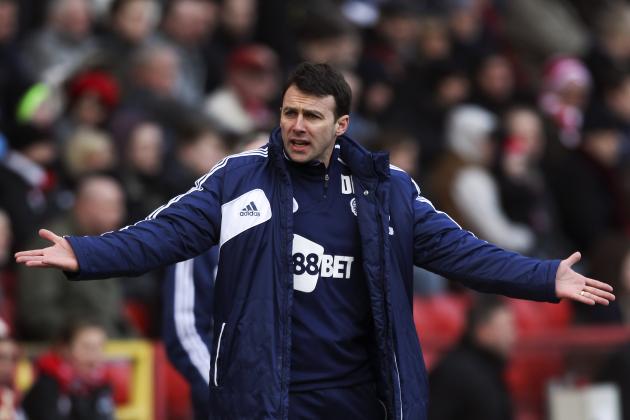 Ben Hoskins/Getty Images
Dougie Freedman expects his side to make the play-offs.
It is unclear why Dougie Freedman gave up the Crystal Palace job to help steer Bolton back in to the top flight, unless money is a factor, of course.
The Scot has been getting fighting performances from his players and having won 10 of their last 15 games, their form may be enough to carry them through.
Freedman's advantage over his counterparts is that he has a good selection of players with PL experience in Chris Eagles, Kevin Davies and David N'Gog. Add to that the upcoming talent of Marvin Sordell and they have a pretty solid front line.
For me, they are the pick of the play-offs; if they finish in the Top Six, I back them to go all the way. Freedman is a clever tactician, probably best exemplified in his FA Cup fifth round 2-1 victory at Old Trafford when managing Crystal Palace, and will know that the addition of strong defenders and perhaps another striker will serve them well should they reach the top-flight.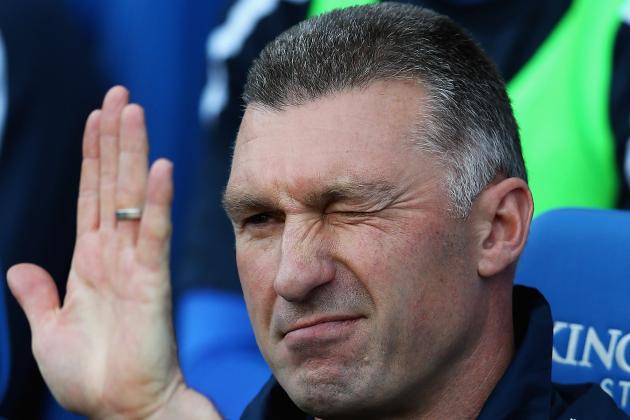 Matthew Lewis/Getty Images
Pearson needs to inspire a turnaround in form if his team are to make the top six.
There's something about Leicester boss Nigel Pearson. It could be his imposing stature, the gruff, authoritative voice, or perhaps even the crazed look in his eyes. Whatever it is, something is affecting his players the wrong way.
Of their last 15 league games, the Foxes have won only two and lost seven.
David Nugent is providing the goals that are keeping them within touching distance of the play-offs with 14, but should there be an injury or drop in form it is unlikely that the promising 21-year-old Chris Wood is good enough yet to fill in convincingly.
Of the teams discussed so far, other than Watford, Leicester are most in need of reinforcement should they get far enough in the promotion race. However, they are mainly included here because of their current position, one point behind 6th-placed Bolton; if their form continues in the same vein, it won't be long before resurgent Nottingham Forest hurdle them.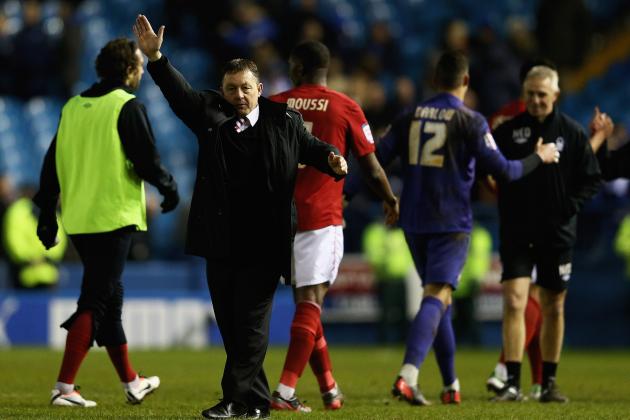 Matthew Lewis/Getty Images
The reappointment of Billy Davies seemed the only sensible option.
Forest have fallen a long way from the back-to-back European Cups won by Brian Clough in the late '70s.
They are one of those clubs, like Palace, who are more associated with the top flight than with their current division, but that perception doesn't do them any favours when it comes to getting back into the PL.
They are essentially back where they were two years ago, before they sacked manager Billy Davies. After several unsuccessful flirtations with Steve McClaren, Steve Cotterill, Sean O' Driscoll and Alex McLeish, Davies was reappointed and charged with carrying on where he left off, albeit with a much changed side from the one he left.
This is the main problem they will face if promoted, which is unlikely anyway. Davies will have the unenviable task of building a new team in his vision while getting his players accustomed to the pace of the PL, which could prove disastrous for the club both in the short- and long-term.
However, at least for this season, it is unlikely it will get to that stage.