European Football's Top 20 Under-20 Players
Valerio Pennicino/Getty Images
Here are the top 20 footballers aged 20 or under playing in Europe right now.
I will judge players on this season's form via a combination of objective (statistics) and subjective (my observations) analysis.
No list is ever exhaustive, so feel free to comment below with examples of players you feel should be on this list.
Long-List Cuts and Notable Omissions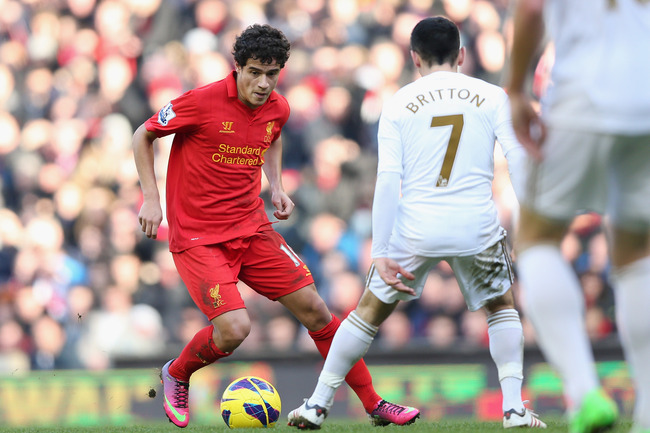 Liverpool's Philippe Coutinho was No. 22 on the long-list
Clive Brunskill/Getty Images
The aim of this article is to provide you with an accurate list of the top 20 European-based footballers aged 20 or under.
Please note that I have excluded footballers who aren't playing regular top-flight football, so apologies in advance if you wanted to see the likes of Gerard Deulofeu (Barcelona), Kevin Friesenbichler (Bayern Munich), Islam Feruz (Chelsea), Jesé (Real Madrid) and Serge Gnabry (Arsenal) on this list.
Last 10 Long-List Cuts
Florian Thauvin (Bastia), Philippe Coutinho (Liverpool), Tonny Vilhena (Feyenoord), Serge Aurier (Toulouse), Viktor Fischer (Ajax), Samuel Umtiti (Lyon), Matthias Ginter (Freiburg), Adam Maher (AZ), Kurt Zouma (Saint-Étienne), Mauro Icardi (Sampdoria)
Comments on Notable Omissions
Adrien Rabiot (Toulouse; on loan from Paris Saint-Germain): It's imperative that he ups his passing percentage (76.6) into the mid- or high-80s. Elegant playing style, and isn't afraid to put his foot in.
Alex Oxlade-Chamberlain (Arsenal): His first season as a Gunner was impressive, but he hasn't kicked on. Will need to watch his back with Gnabry set on being the club's breakout star next season.
Alvaro Morata (Real Madrid): For a player of his talent, he should have played 50 La Liga games by now. Real Madrid Castilla have consistently produced prospects who weren't given a chance in the first team. As soon as they moved on, they developed into world-class players.
Amin Affane (Chelsea): For a struggling club like Roda to kick him out as a loanee, despite him being one of their most incisive players, gives you an idea how unbearable he must have been.
Granit Xhaka (Borussia Mönchengladbach): His petulance and outspoken demeanour have caused friction among teammates (via ESPN FC). Xhaka's inability to back up his talk has left him looking like a fool. He has flashes of brilliance, but isn't justifying Mönchengladbach's €8.5 million investment with turnover after turnover.
Iker Muniain (Athletic Bilbao): He is showing signs of being an early bloomer, because his career is at an impasse—he isn't making improvements, nor has he kept up the standard of play expected in him.
Jetro Willems (PSV Eindhoven): Hasn't really been the same since being thrown to the wolves at Euro 2012. Isn't in the league of Patrick van Aanholt and Daley Blind, but Jetro does have time on his side.
Joel Campbell (Real Betis; on loan from Arsenal): Considering he wasn't even getting a look-in at the start of the season, his loan should be considered a positive, in that he's managed to consistently get playing time.
Juan Quintero (Pescara): His mind is already focused on his next destination, hence why he hasn't come to Pescara's rescue in their fight against Serie A relegation.
Lucas Digne (Lille): Can't understand why there are transfer rumours linking him to big clubs. His positioning is not elite, and he's constantly being bailed out by his teammates.
Lucas Moura (Paris Saint-Germain): Fantastic to watch, but he isn't producing like a €45 million-valued player—Denílson 2.0.
Lucas Piazón (Málaga; on loan from Chelsea): What's the point of buying Oscar for £25 million when Piazón has the potential to be a better player?
M'Baye Niang (AC Milan): Supremely gifted, but hasn't been efficient in front of goal.
Moritz Leitner (Borussia Dortmund): He's a quality footballer, but he just hasn't been able to solidify a permanent starting position in a talented BVB midfield.
Nicola Murru (Cagliari): Of all the traits the left-back could have taken from midfield general Daniele Conti, Murru took the worst one—Conti's habitual tendency to make stupid fouls. Nicola leads the club in interceptions per game and should have a bright future, provided he erase his trend of conceding pointless free kicks.
Raheem Sterling (Liverpool): His defensive and offensive production have steadily decreased throughout the season. At one point, his tackles per game were higher than several well-known right-backs.
Ricardo Rodriguez (Wolfsburg): Is a modern day full-back, in that he can win back possession and be a threat in the attacking half. However, he's has had a few André Santos-like moments at the back.
Sead Kolasinac (Schalke): He is a left-back version of Jermaine Jones. Kolasinac is an intimidating presence on the field and may end up as Schalke's permanent LB if Christian Fuchs continues to have lapses in concentration at the most inopportune moments.
Tomas Kalas (Vitesse; on loan from Chelsea): Hasn't been able to start in his preferred centre-back position, so he's been doing a job at right-back. But does he have world-class potential in that position? No.
20. Thibaut Courtois, Atlético Madrid GK (on Loan from Chelsea), Age: 20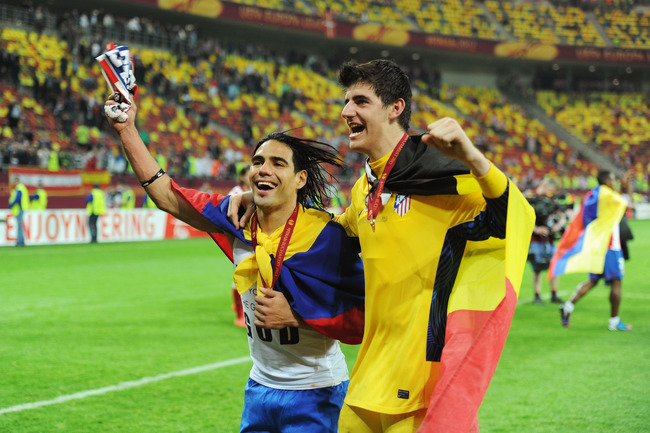 Michael Regan/Getty Images
Thibaut Courtois' saves per goal (3.2) stat and 18 clean sheets are misleading, because Atlético Madrid concede the second-least amount of shots per game in La Liga.
Diego Simeone has Atléti playing self-sacrificing football, where the team attacks and defends as one.
With Courtois doing what is expected of him—making routine saves—you shouldn't expect anything less.
Is he Petr Cech's successor? Yes, but will Petr just roll over and hand Thibaut the reigns to the No. 1 shirt? No.
| | | | | |
| --- | --- | --- | --- | --- |
| LEAGUE ONLY | SAVES | SPG | S% | CS |
| Petr Cech | 106 | 3.3 | 77.9 | 12 |
| Thibaut Courtois | 74 | 3.2 | 76.3 | 18 |
SPG = saves per goal, S% = save percentage, CS = clean sheets
The more time Courtois spends with Atlético, the more he'll want to stay there.
Why loan him out to La Liga in the first place? He should have gone to a Premier League club.
19. Luke Shaw, Southampton LB, Age: 17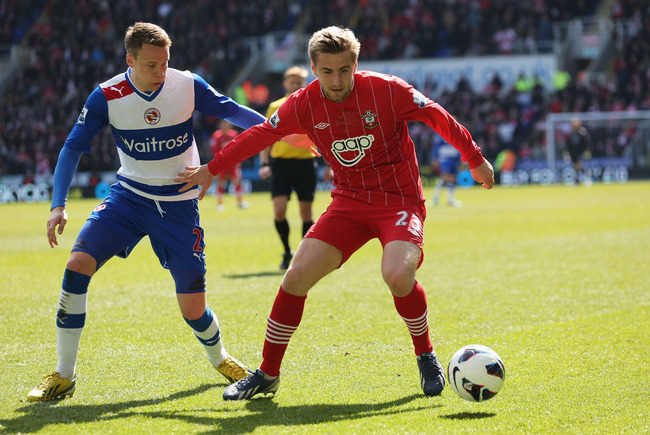 Ian Walton/Getty Images
Luke Shaw isn't physically overawed, nor does he play like a 17-year-old.
He has won back possession 93 times whilst only receiving one yellow card, which is what you expect from world-class defenders—not a 17-year-old.
The transfer commotion about him leaving the Saints is bizarre, given that he's committed himself to the club (via SaintSFC.co.uk):
To put an end to all the speculation, I will be committing my future to Southampton. I'm not going anywhere.

I think Southampton is the place to be for young kids like me.

I'm playing in the Premier League for the first team and that is all anyone wants to be doing, so I just want to carry on.
A wunderkind and a smart kid.
Luke Shaw: Southampton have a loss rate of 15.8% of their PL games this season with Shaw starting, compared to 76.9% without him

— WhoScored.com (@WhoScored) April 12, 2013
18. Marco Verratti, Paris Saint-Germain DM, Age: 20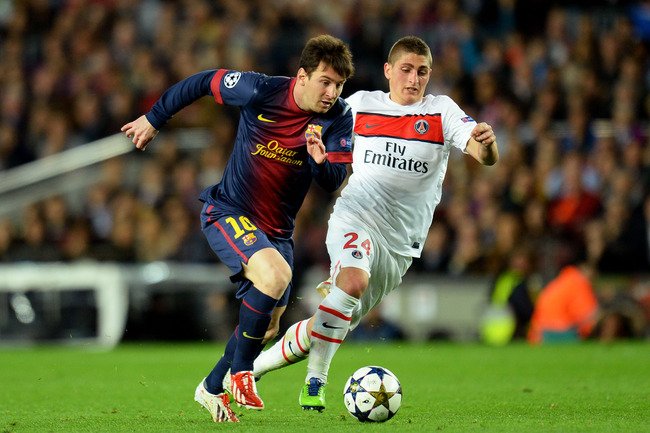 Shaun Botterill/Getty Images
Marco Verratti's limitless passing range, his creativity and positional awareness in relation to receiving and offloading possession has been top-notch, as expected.
The surprising facet about his game is how involved he is defensively, receiving 10 yellow cards in Ligue 1, most of them due to ill-advised lunges.
He's nowhere near as good as his teammate Blaise Matuidi, but Marco is only 20 years old and will presumably continue to develop.
17. Ben Davies, Swansea City LB, Age: 19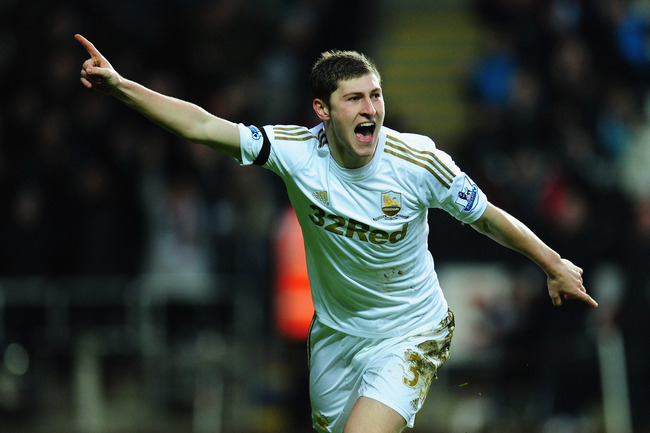 Stu Forster/Getty Images
When Neil Taylor's ankle buckled 15 minutes into Swansea City's game vs. Sunderland, it presented the chance that Ben Davies was waiting for.
32 Premier League games later, and Ben is one of the most promising young defenders in the Premier League.
His 0.8 fouls per game indicates that he isn't at risk of conceding regular free kicks or a big chance to receive a red card.
Swans manager Michael Laudrup believes Davies could be a future centre-back (via Gareth Vincent at the South Wales Evening Post):
In the future, my personal opinion is that Ben can be a good left-footed centre-back.

Maybe in some people's minds over here he lacks a little bit of height for that position, but I think in time he can play there.

He is getting stronger in the air and physically he is getting stronger as well.

And left-footed centre-backs are hard to find. Look how many sides play with two right-footed centre-backs—we are one of them.
16. Mattia De Sciglio, AC Milan RB/LB, Age: 20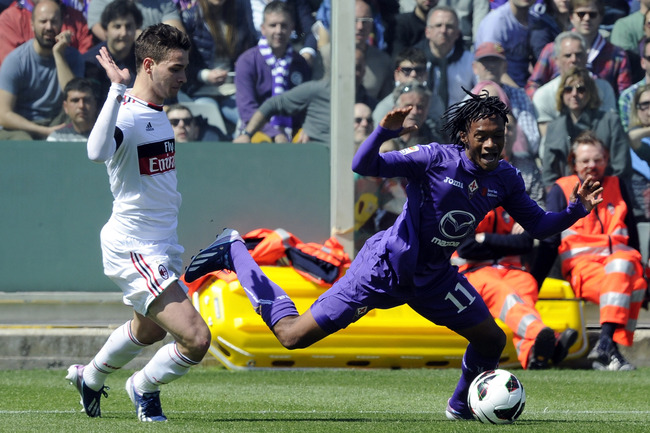 Claudio Villa/Getty Images
When Mattia De Sciglio was compared to AC Milan legend Paolo Maldini, the iconic defender gave De Sciglio a suggestion (via ACMilan.com):
There is one thing I think he can improve on: it is fine being a well manners person but when he is on the ball and when he is winning the ball, from a sporting point of view, he needs to have that killer instinct, he needs to be hungrier.
European football writer James Horncastle brought up the cautionary tale of Davide Santon to remind everyone that there is no such thing as a can't-miss prospect (via Eurosport):
Mourinho was hard, maybe too hard on Santon after a performance against Palermo.

He had come on in the second half with Inter 4-0 up. By the 67th minute, it was 4-3. Palermo's right-back Mattia Cassani had given Santon the run around. Though Inter still won 5-3, Santon left San Siro that night in tears after a reported dressing down from Mourinho. The man who'd made him could break him too.

Inter were in crisis and couldn't risk results by allowing a youngster to keep learning on the job.

He was sent out on loan to Cesena then sold to Newcastle where, to his credit, he has since resurrected his young career.

The fear is that something similar may occur with De Sciglio.
Mattia's season in general has been promising, but he was the worst Milan starter in the 2-2 draw vs. Fiorentina: He was caught in no man's land several times, conceded a penalty and a liability at the back.
He can fill in at left-back, but he should always be a right-back to maximise his elite crossing ability.
15. Julian Draxler, Schalke LAM/CAM, Age: 19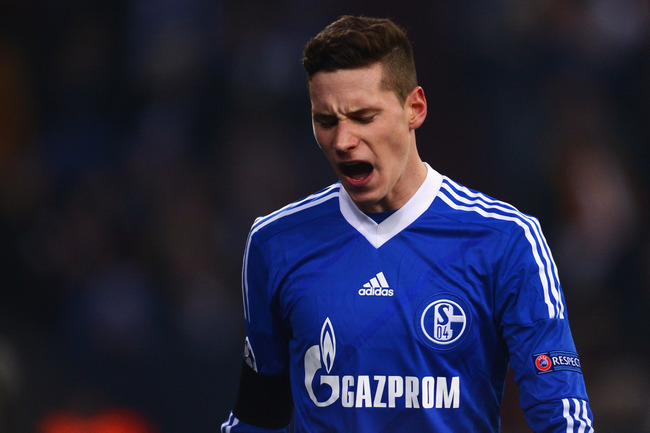 Lars Baron/Getty Images
Julian Draxler is 6'2", he can accelerate past defenders, he is two-footed, is creative and is only 19 years old.
It's not just Draxler: Schalke have a strong defender in 19-year-old left-back Sead Kolasinac, and there's something special about 17-year-old creative midfielder Max Meyer.
Lewis Holtby's departure has enabled Julian to have an extended run as the No. 10, but he still hasn't grasped the concept of making his teammates better, like Mario Götze has at Borussia Dortmund.
Draxler must be more selfless, which is problem with which André Schürrle also struggles.
Until they score 50-60 goals a season like Cristiano Ronaldo, Julian and André need to understand that an assist has the same value as a goal.
This anecdote from Gary Neville about CR7 makes you wonder what type of player Draxler can turn into if he went on the same regiment Ronaldo took at Manchester United (via the Daily Mail):
When he had come to the club he was this thin, wiry boy. Now he was a light-heavyweight. He'd been on the weights over the summer and it was like watching someone grow up in a matter of weeks.
14. Paul Pogba, Juventus CM, Age: 20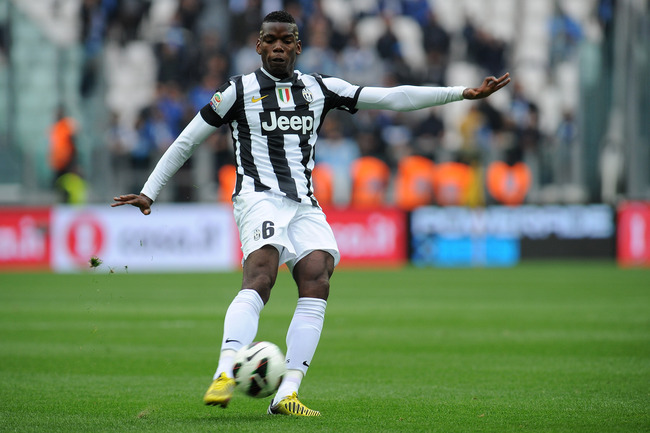 Valerio Pennicino/Getty Images
Paul Pogba started nine of his 16 league appearances as a sub, yet still averages 2.2 tackles per game, so how much would he average if he was a permanent starter? 3.5-plus?
His reputation as a threat from long range was created by some sensational goals at Moss Lane, and he's carried that into Serie A.
The MVP midfield is about to turn into the PVP midfield with every nonexistent game Claudio Marchisio plays—he has really faded in recent memory.
Pogba needs to work on playing his teammates through and not forcing the pass.
If there is a high chance of losing the ball, why go through with the pass? That's the reason why he loses the ball so much.
5 - Paul Pogba is the 2nd youngest player to have scored at least 5 goals this season across the top-5 Euro leagues after R. Lukaku. Talent.

— OptaPaolo (@OptaPaolo) February 24, 2013
13. Leo Baptistao, Rayo Vallecano CF, Age: 20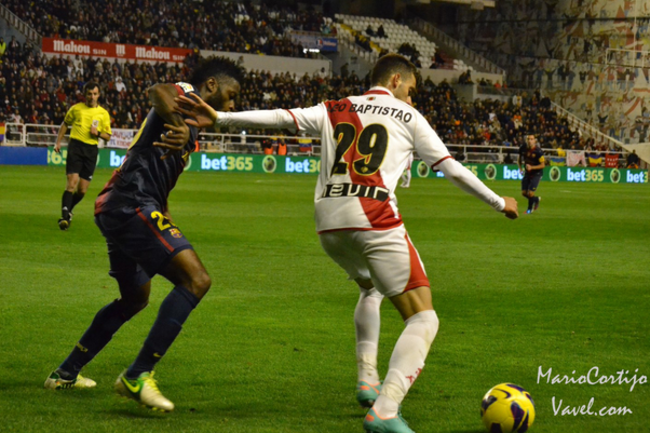 Photo via Vavel.com

First, it was Real Valladolid's Patrick Ebert, and now it's Rayo Vallecano forward Leo Baptistao.
If you're linked with Atlético Madrid, you may go down with injury.
Atléti may view both situations with a glass-half-full perspective, because they could use the injuries as a reason to lower potential transfer fees during contractual negotiations with the respective clubs of both players.
Ebert has only just returned from a thigh muscle injury (he scored a free kick vs. Granada on the weekend).
It was sad to see Baptistao, a player who has had a breakout season for Rayo, break his collarbone.
By early December, he had scored six times and created four goals. After that, he's only found the back of the net once and registered two assists.
He thrived under the radar, but as soon as opposing clubs began creating game plans designed to stop his at times magical displays, he has struggled.
Should he join Atlético (presumably as a replacement for Radamel Falcao), he could form an effective one-two punch combination with compatriot Diego Costa.
A fascinating point about Leo's career thus far was that he played with and against Neymar in futsal (via GuillemBalague.com):
I have been playing against Neymar ever since I started playing Football Sala. It was always my team against his in the finals and if we met in the semi-finals it was like the final because whichever team won would go on to become champion.

We both played in excellent teams. We played together when we were both called up to the "Santos Selection" so I was able to play with him in that team and when we formed an eleven-a-side team he was there as well.

I don't think he has changed much. He has always been very humble, very attentive. He remembers everyone who has helped him and all of his friends and I think that has helped become one of the greats and reach the top.
12. Mateo Kovacic, Inter Milan CM/CAM, Age: 18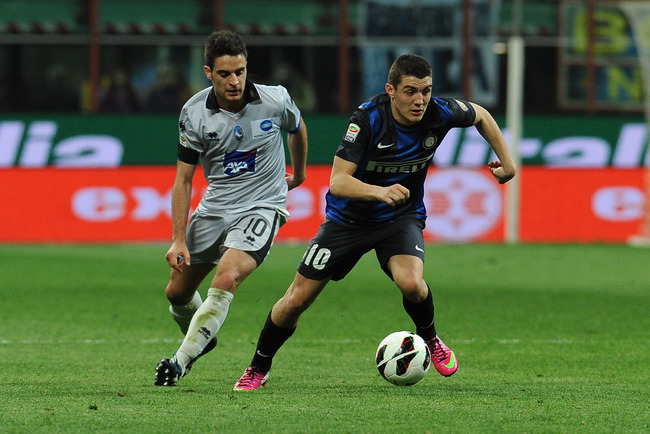 Valerio Pennicino/Getty Images
Inter Milan's best player of late is an 18-year-old rookie who happens to be a foreigner.
Mateo Kovacic has surprisingly positioned himself in advantageous positions to win back the ball and he makes high-percentage passes.
Considering he can tackle, his long-term position may be as a midfield general in the centre, rather than as a No. 10, which was the position most Interisti thought he would assume.
Mateo Kovacic must play every single match from now on. A tremendous performance tonight offensively AND defensively. twitter.com/_FedeNerazzurr…

— FedeNerazzurra.com (@_FedeNerazzurra) March 14, 2013
11. Geoffrey Kondogbia, Sevilla DM, Age: 20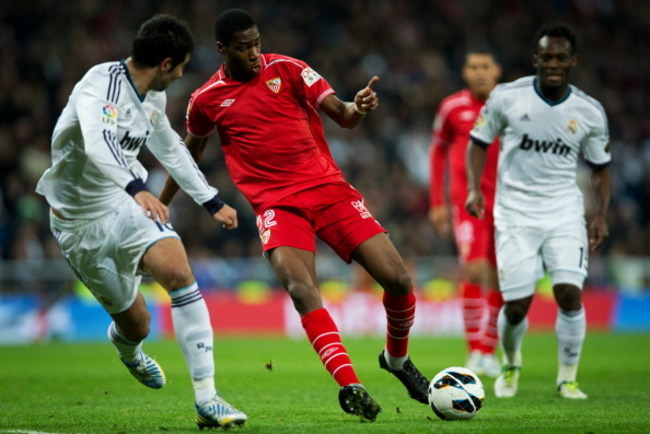 Jasper Juinen/Getty Images
In an alternate universe, Manchester City would have sold Yaya Touré to Anzhi Makhachkala and signed Geoffrey Kondogbia of Sevilla as the Ivorian's replacement.
Calling Geoffrey a clone of Yaya is inaccurate, because the Manchester City midfielder has generally ignored his defensive duties throughout the season and strayed into the attacking half as if he was a deep-lying forward.
Yaya Toure was quite happy to casually stroll around as City were dominated in the second half today. Never seems to get any criticism

— Michael Cox (@Zonal_Marking) April 21, 2013
| | | | |
| --- | --- | --- | --- |
| LEAGUE ONLY | PWBPG | P% | CDPG |
| Geoffrey Kondogbia | 4.1 | 87.1 | 1.1 |
| Yaya Touré | 2.1 | 88.4 | 1.1 |
PWBPG = possession won back per game, P% = passing percentage, CDPG = completed dribbles per game
Kondogbia can surge past opposing midfielders, but he makes a safe pass and then retreats back into position.
You see, unlike the overpaid Yaya, Kondogbia actually plays his position properly.
Geoffrey has the potential to turn into a box-to-box threat in a 4-4-2, 3-4-3 or 3-5-2, but he's on track to become a world-class pivot in a 4-2-3-1 (which is the most popular formation in Europe right now).
2– Racing Lens were relegated to Ligue2 in the season Raphael Varane & Geoffrey Kondogbia played with them in the French league(10/11).Young

— OptaJose (@OptaJose) April 16, 2013
Juventus pulled off a market coup when they got Pogba. If they paid 500k more, they would have had Sevilla's Kondogbia too last year.

— Mina Rzouki (@Minarzouki) April 21, 2013
10. Raphael Varane, Real Madrid CB, Age: 19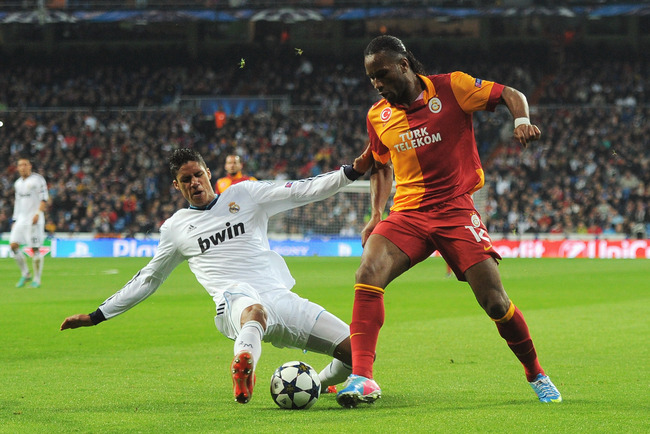 Gonzalo Arroyo Moreno/Getty Images
Who is the best centre-back out of Pepe, Raphael Varane or Sergio Ramos?
Varane, who's the youngest of the three.
Yet the Frenchman plays like a seasoned pro, is rarely ever dribbled past, has a higher pass percentage than his two more experienced colleagues and actually resembles a Real Madrid-standard defender.
One of Ramos' hobby is acquiring yellow cards, while Pepe just likes to kick people (at least he doesn't bite opposing players)—Raphael does neither.
9. Marco Van Ginkel, Vitesse CM, Age: 20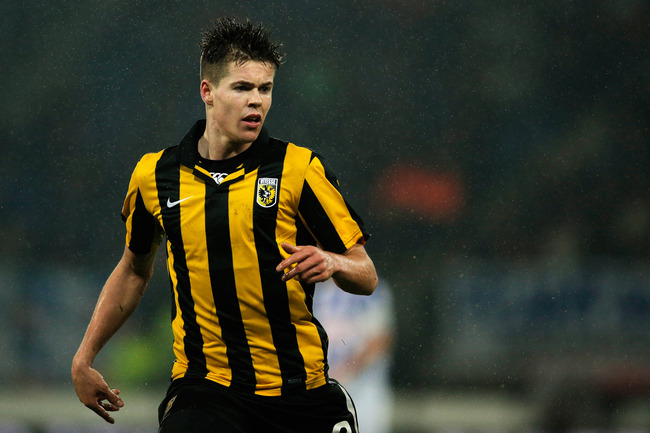 Dean Mouhtaropoulos/Getty Images
Marco van Ginkel went through a stretch where he scored or created four successive goals, whilst also snapping at the ankles of opposing players when Vitesse didn't have possession.
He has an exceptional connection with Wilfried Bony, which was on show when the two combined for Vitesse's first three goals vs. ADO Den Haag.
Van Ginkel's all-around makeup suggests that he would be compatible in the Premier League.
Two years from now, Tonny Vilhena (Feyenoord; 18) should be in the same position as Marco.
8. Heung-Min Son, Hamburg CF/RAM, Age: 20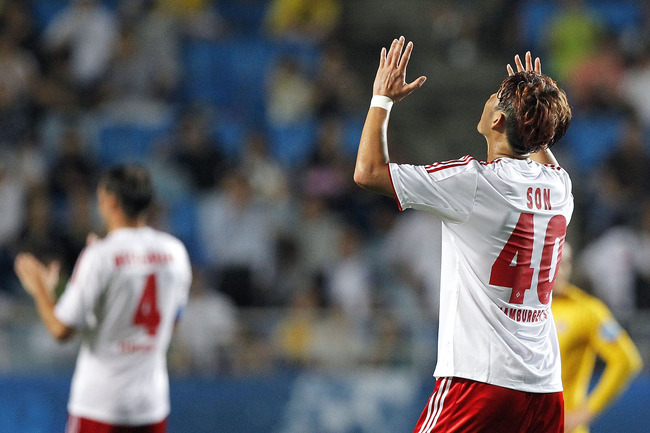 Kiyoshi Ota/Getty Images
Heung-Min Son was a whisker away from scoring a hat trick against Borussia Dortmund (the game when Robert Lewandowski was bizarrely sent off).
Defenders stick close to Son because they know if they give the South Korean some space, he'll take advantage and just motor past.
When he was playing out wide, so many of his goals came from counterattacks.
He is so much better as a No. 9 and has the potential to replicate Cha Bum-Kun's success in Germany—that's how good Heung-Min is.
Not only is HMS a great player, but there are commercial benefits, too, as Raphael Honigstein documented (via OneWorldSports.com):
Even at Hamburg, where Son has only this season fully established himself as a regular player, two Korean sponsors have been paying the club €3 million per season to be associated with Son since 2011. "Whatever Son does here is headline news in South Korea," Young-lan Kim, a Korean owner of a beverage store in Hamburg, told ZDF television.
7. Marc-André Ter Stegen, Borussia Mönchengladbach GK, Age: 20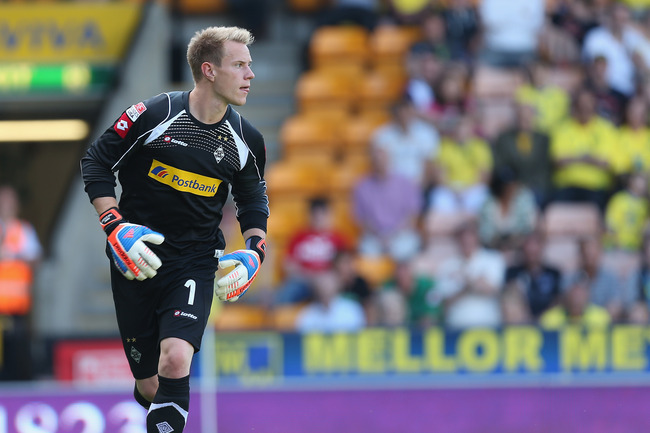 Pete Norton/Getty Images
Are you comparing Marc-André ter Stegen's form to last season? If so, then he'll fall way short.
Remember, he had a world-class centre-back in Dante, a reliable No. 6 in Roman Neustädter and Marco Reus, who had a Lionel Messi-like impact in terms of dressing room morale.
When Swiss prodigy Granit Xhaka arrived at the club, he was flabbergasted at how quickly the Borussia Mönchengladbach players dropped their heads going into the season without Dante, Neustädter and Reus (via Orange.co.uk):
After I arrived, I heard my new team-mates saying 'we have got to hope that we don't go down'. I thought to myself: what kind of a mentality is that?

I was told by journalists that I should not be so outspoken.

I told them 'sorry, that is the way I am, I am not here to fight against relegation'.
Since then, Xhaka is the team's 12th-best player, whereas Ter Stegen is the second-highest-rated player at Gladbach (per Bild).
10 - The Bundesliga player with most aerial duels without losing a single one is Gladbach's keeper Marc-Andre ter Stegen (10). Souvereignty.

— OptaFranz (@OptaFranz) April 15, 2013
6. David Alaba, Bayern Munich LB, Age: 20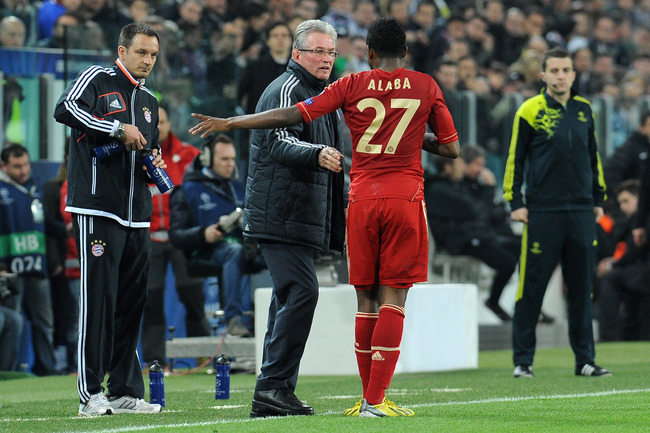 Valerio Pennicino/Getty Images
Bayern Munich just seem to always strike gold with their calculated risks.
They moved Philipp Lahm from left-back to right-back and then decided to give David Alaba—who is better in the attacking half—a chance at LB.
Lahm is the best RB in the world, and David has been exceptional at LB.
Alaba is a viable candidate as Franck Ribéry's long-term replacement.
Javi Martinez: "We have the best full-backs in the world. David (Alaba) & Philipp (Lahm) are particularly important for our build-up play."

— Daniel B. (@dan_bu) April 18, 2013
5. Matija Nastasic, Manchester City CB, Age: 20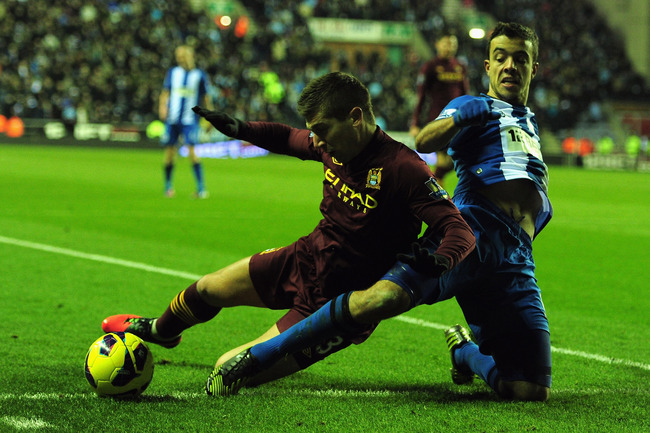 Jamie McDonald/Getty Images
Players A and B are both reactive centre-backs* at a major European club.
Player A has a 64-percent tackling percentage, whereas Player B has a 93-percent tackling percentage.
You would choose Player B as the better CB, right? Of course, you would.
What if I told you that Player A is Raphael Varane and Player B is Matija Nastasic—would you change your choice?
With Joe Hart, Vincent Kompany, Yaya Touré, Samir Nasri, Sergio Agüero and the large majority of Manchester City players not justifying their inflated wages, why didn't Matija fall by the wayside?
Instead, he and Pablo Zabaleta have fought to the end in every game, showing how much they care about the club.
Can Matija keep up this form throughout his career?
*A reactive CB is a defender who forces the opposing forward into losing possession. Proactive CBs are defenders who take the initiative and try and win back possession.
4. Marquinhos, Roma CB, Age: 18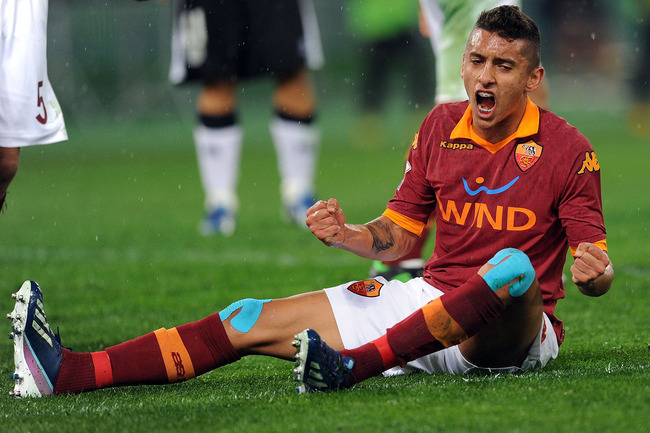 Giuseppe Bellini/Getty Images
Marquinhos could be the Brazilian Fabio Cannavaro, because the Roma centre-back is absurdly dominant despite being only 5'11"—most top-flight CBs are 6'2" or taller.
His tackles per game, interceptions per game and fouls per game are all better than Matija Nastasic, hence why the Brazilian is ranked above the Serbian.
Yes, Matija has a higher tackling percentage (93) but Marquinhos' tackling percentage (87) is close, and by virtue of being a proactive CB, it's slightly more impressive than Nastasic, who should have a high tackling percentage.
Without Marquinhos, how many goals would Roma have conceded? 75-85?
They don't know how to defend as a team, and they should start studying Diego Simeone's Atlético Madrid.
3. Romelu Lukaku, West Bromwich Albion CF (on Loan from Chelsea), Age: 19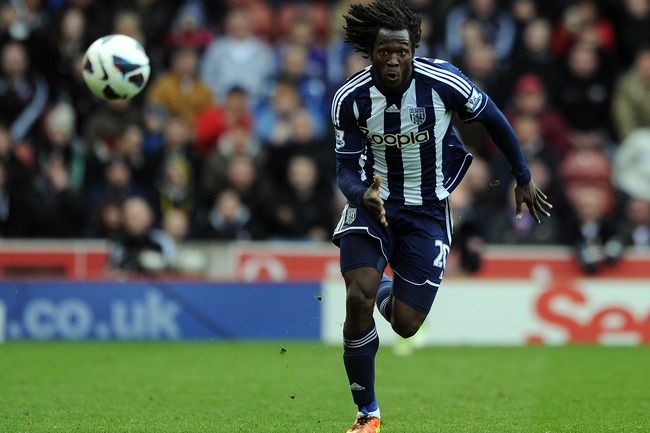 Chris Brunskill/Getty Images
If West Bromwich Albion ever need a favour, Chelsea should respond ASAP, because the Baggies have developed Romelu Lukaku into a Premier League-ready striker.
Last year, then-manager André Villas-Boas made the 6'3" Belgian feel like 5'0" (via Jeremy Wilson at The Telegraph):
There's one person I will never forgive for what he took away from me. The previous manager [AVB].

Not just for not letting me play in the Champions League, but for the way he spoke and behaved towards me.

From the early beginning, he let me play with a coloured shirt in between the two teams at training games, let me play left and right in training.

I did not learn a thing that way. I never got an explanation from him. I cannot stand being treated this way.
It's going to be a great day in Blues' history when they replace Fernando Torres with a real forward like Lukaku.
One concern with Romelu is that he doesn't seem to understand the offside rule, because he's bailed out the opposing team several times by not timing his runs.
Either that, or he's gambling way too much with his Filippo Inzaghi-like mentality in putting pressure on the linesman.
Romelu Lukaku: Of players to have 50+ shots in the PL this season, only Fletcher (50.9%) has a better shot accuracy than Lukaku (46.1%)

— WhoScored.com (@WhoScored) April 19, 2013
2. Stephan El Shaarawy, AC Milan LF, Age: 20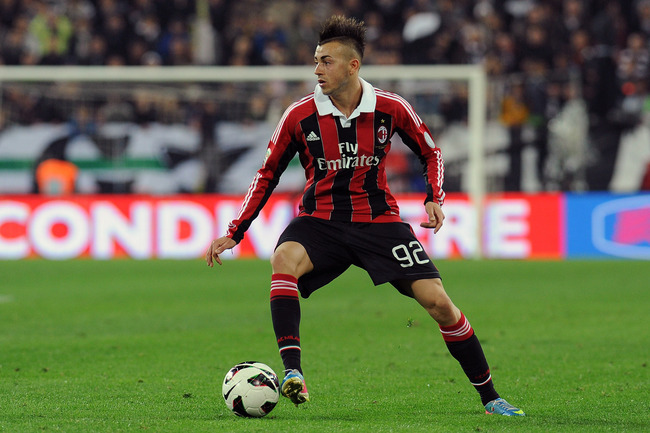 Valerio Pennicino/Getty Images
It's not Stephan El Shaarawy's 16 goals or his fancy footwork that have impressed me, but his work-rate and willingness to sacrifice for the team.
Like any young player, he's going to go through a rough patch, and he hasn't scored in his last eight games for AC Milan.
He has a good rapport with Mario Balotelli, so it's probably more of a coincidence that SES' goal-drought coincided with the former Manchester City striker's purple patch.
1 - Stephan El Shaarawy has scored just 1 goal in 7 Serie A games alongside Mario Balotelli, but 15 goals in 23 apps without him. Chance.

— OptaPaolo (@OptaPaolo) April 11, 2013
1. Mario Götze, Borussia Dortmund CAM, Age: 20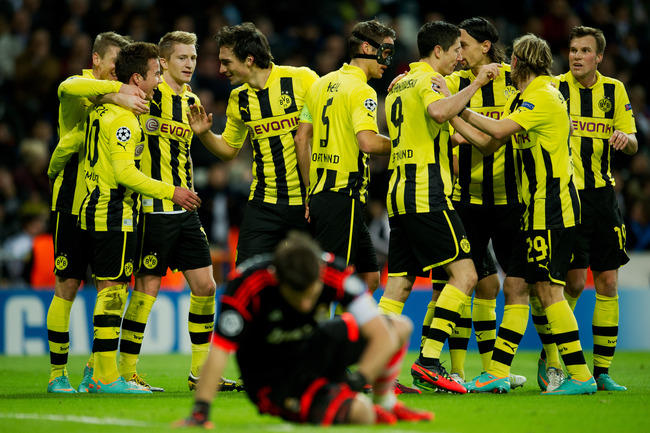 Jasper Juinen/Getty Images
Iker Muniain and Mario Götze both made their top-flight debuts in the same season.
Muniain was considered a better prospect, but look at him now: inefficient, petulant, and he doesn't evoke a sense of leadership at Athletic Bilbao.
The best thing to happen to Götze was Shinji Kagawa leaving for Manchester United, which vacated the No. 10 role for Mario.
At times, Kagawa played more like a second striker, rather than sharing the ball with his teammates like Mario, who commands high respect among the Borussia Dortmund players.
With the world watching Dortmund vs. Real Madrid, it's time for Götze to stand up.
Should he not live up to the standard he has set, it will be a stain on an otherwise brilliant season for a future FIFA Ballon d'Or contender.
Statistics courtesy of WhoScored.com, Fox Soccer and Squawka.com
Keep Reading