10 of World Football's Most Fascinating 'What Ifs'
Christopher Furlong/Getty Images
What if?
It's a thought that goes through a football fan's mind with regularity.
"What if" a certain player hadn't made a certain transfer?
"What if" a big international match had gone the other way?
"What if" a young footballer hadn't passed away in his prime?
So much of football—so much of sports—is decided, and subsequently defined, by single moments that would have altered the narrative entirely, crowned different champions, derailed dynasties and prevented heartbreak in other circumstances.
Following are 10 such items—10 "What ifs" that would have left a rather different mark on football, for better or worse.
What If Cristiano Ronaldo Hadn't Left United?
Alex Livesey/Getty Images
This sort of question—no doubt asked by fans of countless clubs at countless points over the course of a season—is the classic supporter's quandary. And in Cristiano Ronaldo's case, what if he hadn't left Manchester United to join Real Madrid at the age of 24?
For starters, United would likely be on course for a seventh successive Premier League title. They almost certainly wouldn't have lost last year's championship on goal difference, and they might well have got the additional pair of points they needed in 2010 to finish above Chelsea as well.
Ronaldo, meanwhile, would never have got into this ridiculous, media-fabricated rivalry with Lionel Messi. Had he stayed in England his achievements would have been viewed through an entirely different lens, and there just might have been some more individual awards as well.
What If Italy Beat Spain on Penalties at Euro 2008?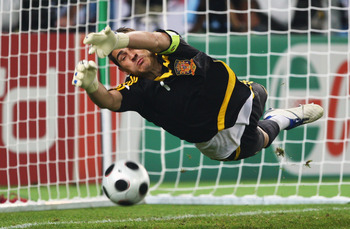 Clive Mason/Getty Images
Coming into the 2008 European championship, Greece were the kings of the continent and Italy were world champions. Spain—well they had yet to shake a reputation for choking on the big stage.
All that changed in Austria and Switzerland, where Spain dispatched Russia, Sweden and Greece (they conceded in all three matches) before being matched up against the Azzurri in the quarterfinals.
After 120 minutes of scoreless football the two sides went to penalties, where Daniele De Rossi and Antonio Di Natale missed for Italy while only Daniel Guiza failed to find the back of the net for Spain.
Cesc Fabregas scored the decisive spot kick, and Spain went on to win the title that would kick off an era of international dominance without precedent.
But what if David Villa had missed his penalty? Or Santi Cazorla? The Spanish dynasty might never have risen at all.
What If Pele Had Played in Europe?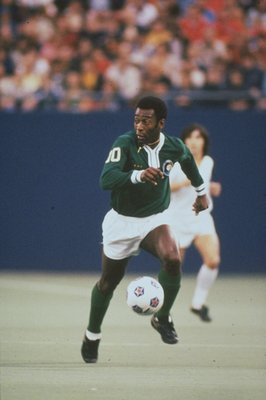 Getty Images/Getty Images
Pele is widely regarded as the best footballer to ever play the game (although Lionel Messi is already laying a claim to that distinction), but what people outside South America don't often realize is they're making the claim—and a very serious one—based on 14 matches.
Fourteen.
That's how many times Pele featured in World Cup matches, which means it's how many times fans, players, and pundits from Europe got to see him. His club matches for Santos weren't readily available on television, and it begs the question—what if he had moved to Europe at some point during his career?
Would he have excelled for a big club in Spain, Italy or England the same way he starred for Santos and for Brazil in international competitions? We'll never know. But it's certainly a fascinating question.
What If John Terry Hadn't Scuffed His Penalty in Moscow?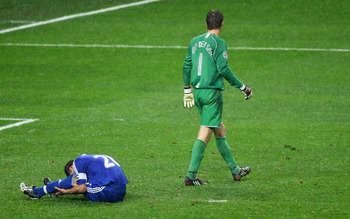 Michael Steele/Getty Images
Look up something along the lines of "John Terry penalty" on YouTube, and you'll come across countless homemade videos lampooning the Chelsea captain's disastrous attempt from the spot during the 2008 Champions League final in Moscow.
But what if he hadn't missed?
The obvious answer is Chelsea would have been crowned European Champions, but while Avram Grant would have likely been replaced anyway, there would have been some rather more serious repercussions at Manchester United, who ended up winning the final.
The group of players that was dominating English football at the time—Rio Ferdinand, Nemanja Vidic, Wayne Rooney, Carlos Tevez and Cristiano Ronaldo—wouldn't have picked up a Champions League winners' medal in addition to their Premier League silverware, and Sir Alex Ferguson would still have the one, lonely European Cup to his name.
What If Roberto Baggio Hadn't Skied His Penalty at the Rose Bowl?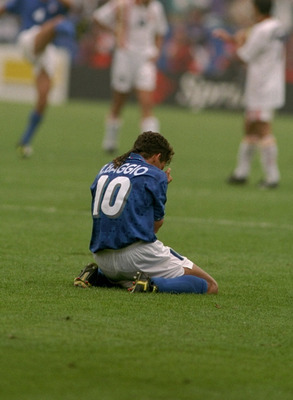 Simon Bruty/Getty Images
Roberto Baggio scored more than 20 goals in a season six times during an exceptional club career that took him to each of Italy's biggest clubs.
But despite being one of world football's top players in the mid-1990s, the trequartista is still mostly remembered for the penalty he sent high over the bar in the 1994 World Cup final against Brazil.
Had he found the back of the net, we'd remember him rather differently than we do now. And, of course, Italy might well have gone on to win a fourth World Cup—temporarily putting themselves ahead of Brazil on the all-time ledger.
What If Johan Cruyff Had Played in the 1978 World Cup?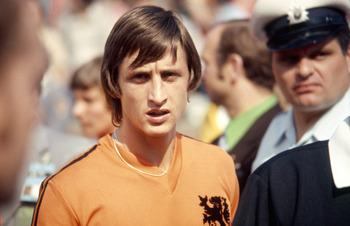 Getty Images/Getty Images
After helping The Netherlands achieve qualification for the 1978 World Cup, Johan Cruyff retired from international football.
Initially it was rumoured he was uncomfortable with the military dictatorship in Argentina—the country hosting the World Cup—but he later admitted his family had been the subject of a kidnapping plot in Barcelona, and the weight of the ordeal had caused his retirement.
In any event, The Netherlands progressed all the way to the 1978 final, where they lost in extra time to Argentina.
But what if Cruyff had been there? The Dutch might just have won their first ever World Cup.
What If Maradona's 'Hand of God' Goal Had Been Disallowed?
David Cannon/Getty Images
Diego Maradona scored twice against England in Argentina's 1986 World Cup quarterfinal win at the Azteca in Mexico City.
The first, which opened the scoring early in the second half, came after he deflected the ball past England goalkeeper Peter Shilton with his hand—the infamous "Hand of God" goal.
But what if it didn't count? What if referee Ali Bin Nasser or one of his assistants had waved it off?
As much as England fans won't want to hear it, the result would likely have been the same.
Four minutes after his opener, Maradona took on half the England team by himself—weaving through white shirts before depositing the ball into the back of the net. He would surely have found a way to score again if his first had been disallowed.
It was his tournament, after all.
What If Michael Owen Hadn't Joined Real Madrid?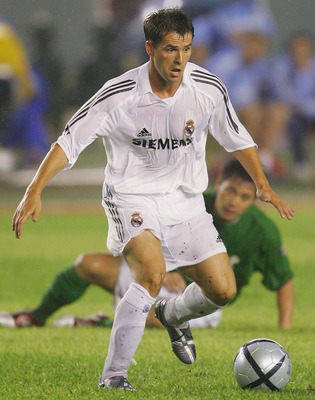 Guang Niu/Getty Images
Michael Owen was never the same player after returning to England following a year of mostly cameo appearances at Real Madrid.
The previous season he had scored 19 goals for Liverpool, and he had tallied 28 times in each of the two campaigns before that.
Had he remained at Anfield he would almost certainly have been part of a Champions League-winning side the following year, and who knows, his career would likely not have deteriorated as rapidly as it did upon his return to the Premier League.
What If Superga Hadn't Happened?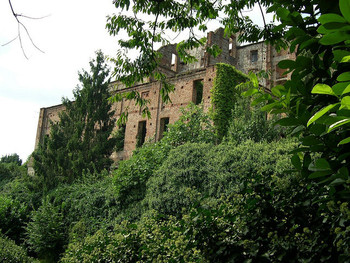 The church atop Superga Hill, above Turin.
On May 4, 1949, the plane carrying one of the finest football teams in the world crashed into Superga Hill above Torino, killing all 31 people aboard.
Eighteen of the passengers were members of Torino A.C., also known as "Il Grande Torino." The club had won four Serie A titles in the seven years leading up to the disaster, and despite having its squad wiped out in the crash, they won the 1948-49 Scudetto thanks to the efforts of its youth team.
Had the Superga tragedy not happened, Torino would have surely gone on to win even more titles, and the group that included 10 Italy internationals would have likely been contenders in the first few years of the European Cup competition as well.
What If the Busby Babes Hadn't Stopped to Refuel in Munich?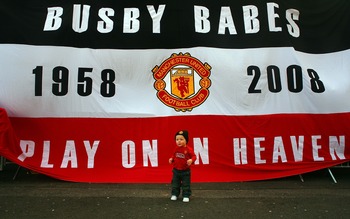 Christopher Furlong/Getty Images
Following a European Cup match away to Red Star Belgrade, Manchester United's Airspeed Ambassador aircraft stopped in Munich to refuel. Upon take-off (it had to attempt take-off three times), it smashed through a fence and into a house, and 23 of the passengers on board died either in the wreckage or in hospital following the crash.
Popularly known as the Munich Air Disaster, the 1958 crash claimed the lives of eight Manchester United players (among club staff, journalists, crew and other passengers), including up-and-coming England star Duncan Edwards.
Had the tragedy never occurred, United would almost surely have beaten Bolton Wanderers to win the FA Cup. Sir Matt Busby wouldn't have required a seven-year rebuilding period to repopulate his decimated squad, and Edwards might well have gone on to become one of the greatest English players of all time.
Keep Reading