The Best and Worst of Football Chants from Around the World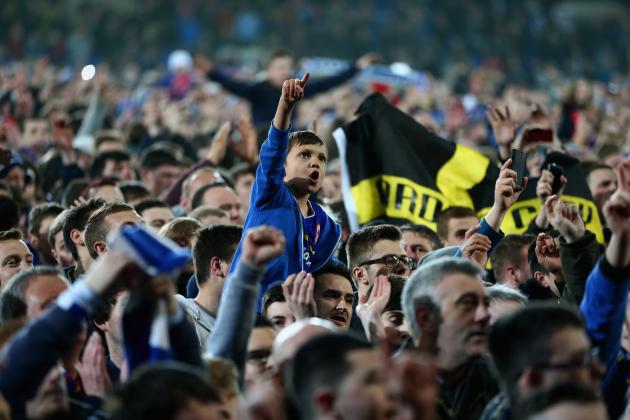 Michael Steele/Getty Images
In with the crowd: Without the fans, football would not be the global business it is today.
As the FA seem to have forgotten with their announcement of a 5:15 p.m. GMT kick-off for the FA Cup Final yesterday, football would be nothing without the fans.
The atmosphere; the driving force behind the team; the 12th man; the lifeblood of the club; these are just a few of the phrases that highlight the importance of every club's loyal support.
When coming up with a list of the best and worst songs and chants, there are two rules to be observed: It seems sensible to divide it into sub-categories; If you are going to include the best, you cannot be easily offended. This will give us a wide catalogue from around the world, ranging from the funny to the poetic to downright Schadenfreude.
The categories are: Traditional, Rivalry, Funny (If A Bit Un-PC) and The Worst.
Let's go…
Begin Slideshow

»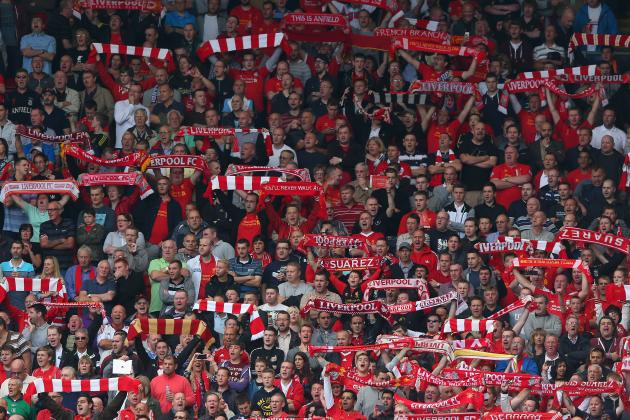 Alex Livesey/Getty Images
The Spion Kop have been belting out Gerry Marsden's hit since the 1960s.
Not one of my personal favourites, but the seminal Liverpool anthem makes it on here for being one of the best known football songs around the world.
Sung before every home game, the Rodgers and Hammerstein number was first sung in their 1945 musical Carousel before the Gerry and the Pacemakers' cover was adopted by Liverpool fans in the 1960s. Even for those most vehemently opposed to Liverpool, hearing this ring around Anfield is without doubt a moving experience.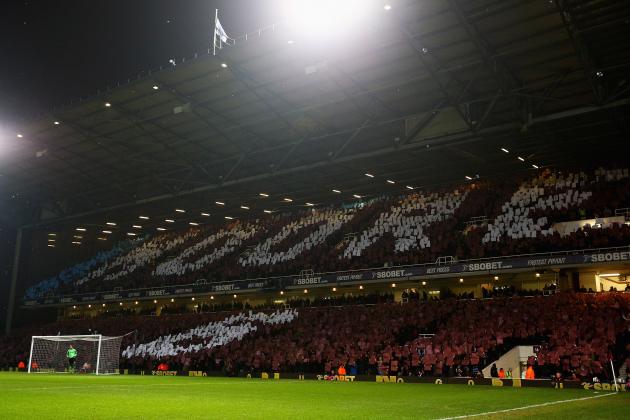 Clive Rose/Getty Images
West Ham fans are well-known for their undying loyalty.
"I'm Forever Blowing Bubbles" was originally featured in Broadway musical The Passing Show of 1918 before it was adopted in East London in the 1920s.
The story goes that West Ham manager Charlie Paynter used to sing a version of it when trial-player Billy J. "Bubbles" Murray had a good game.
Nowadays, Hammers fans sing it before every match at The Boleyn Ground, complete with bubbles being blown across the pitch.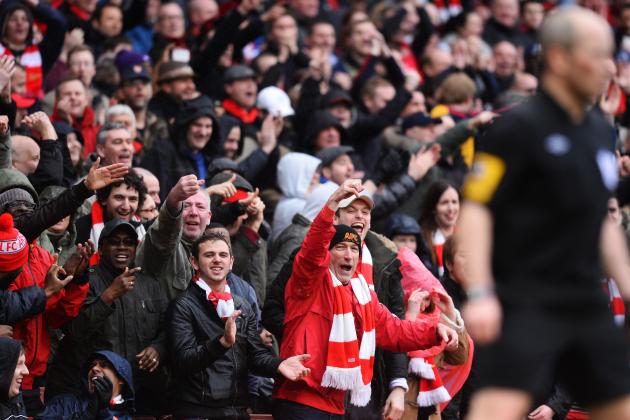 Mike Hewitt/Getty Images
Arsenal are on of the many clubs whose fans sing the "It's [-] FC" song.
Heard in football grounds around the world in many different languages, "It's [insert club-name here] FC" is one of those songs that works with almost every team-name. Though maybe not Leigh Railway Mechanics Institute Football Club.
The lyrics are simple but effective:
And it's [team-name],
[team-name] FC!
Are by far the greatest team,
The world has ever seen!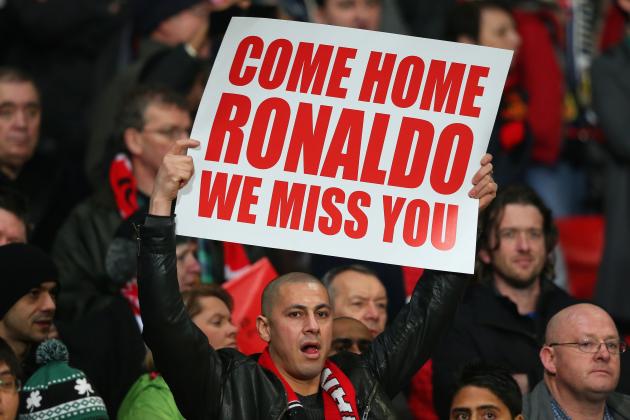 Alex Livesey/Getty Images
"Glory Glory" is most famously associated with Manchester United.
Another one that can be attributed to almost any team, the interesting thing about this is it is generally used by fans whose team-name doesn't fit into the "It's [...] FC" song.
That includes Manchester United, Leeds United, and Tottenham Hotspur, but interestingly the team that claim to have used it first are Hibernian, whose fans began singing comedian Hector Nicol's "Glory Glory to the Hibees" in the 1950s.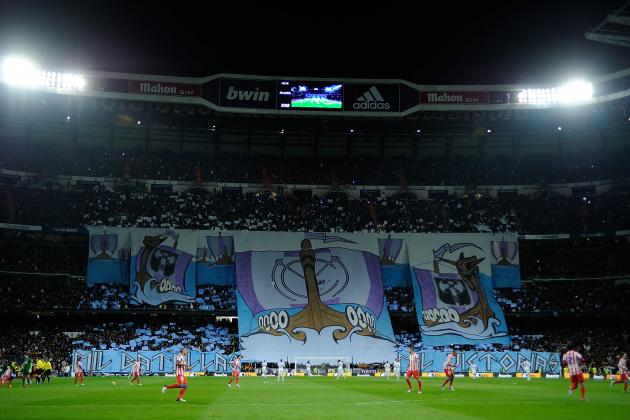 Gonzalo Arroyo Moreno/Getty Images
Madridistas have a healthy relationship with their Catalonian rivals.
No list of chants against rivals would be complete without something from Spain. Real Madrid and Barcelona pride themselves on the fierce rivalry that has manifested between their clubs, which is intensified by the fact that Madrid is the Spanish capital, while Barcelona is the capital of the Catalonian autonomy.
Here is a rough translation:
Ay Guardiola ay Guardiola,
How slim you can tell,
First there were the drugs,
Now all the betrayals...
Not sure exactly what "drugs" the Madridistas are singing about in the "Guardiola Song", and with Pep having been a Barcelona player before he went into management their disdain is understandable, but allegations of "betrayal" are slightly confusing. Anyway, this El Clasico, and it made the list.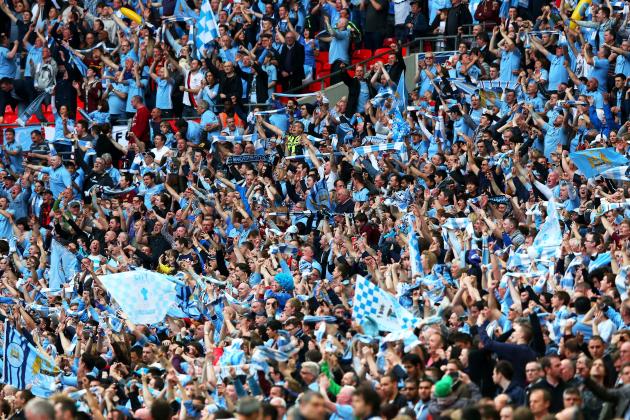 Alex Livesey/Getty Images
City fans have until recently been down-trodden by their Red rivals.
Of the great rivalries in world football, this is up there with Real-Barca, Spurs-Arsenal and Milan-Inter.
Just an amusing ditty sung by Manchester United fans about their cross-town rivals, the origin of "Kicking A Blue" is hard to determine.
Though, it is likely that it was in one of the many United fan pubs that surround Old Trafford, many of which feature memorabilia and song lyrics as part of the decorations.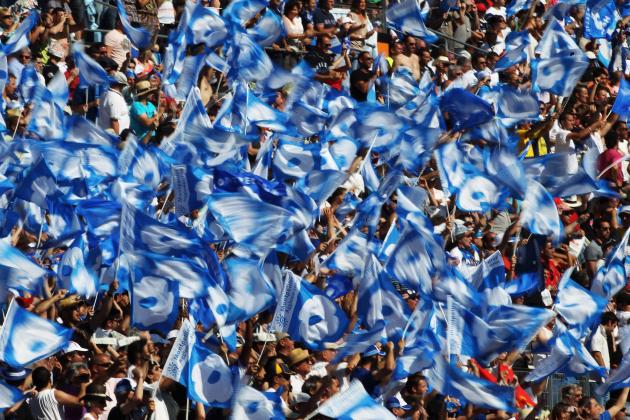 Bryn Lennon/Getty Images
Marseilles fans are known for being one of the rowdiest in France.
I really tried to find a chant from the great Paris Saint-Germain – Marseille rivalry that wasn't deeply offensive, but it was impossible. While we may have this image of the French as sophisticated fine-wine connoisseurs, when it comes to football, all civilised behaviour goes out the window.
The following is a "song" aimed at PSG courtesy of Marseille fans. I accept no responsibility for any ruptured arteries suffered as a result of reading this.
Nous sommes l'armée des marseillais,
Rien ne pourra nous arrêter,
Et Bordeaux c'est des PD et Paris des enculés,
Tous ensemble pour la victoire il faut chanter.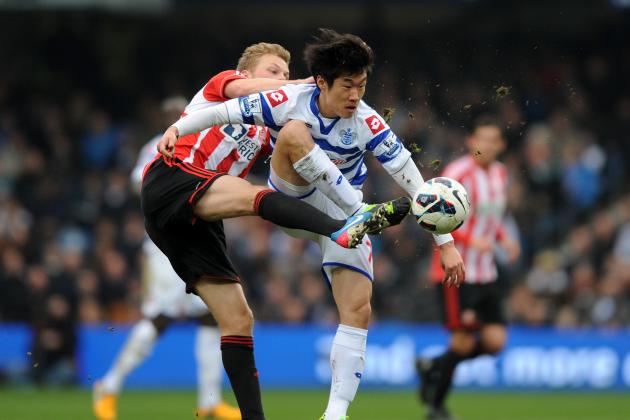 Steve Bardens/Getty Images
Ji-Sung Park spent 7 years at Manchester United - plenty of time to hear his song.
Manchester United fans are known for their rather witty songs, especially when it comes to their neighbours.
Here is some politically-incorrect praise of ex-United player Ji-Sung Park at the expense of Liverpool fans:
(To the tune of "Lord of the Dance")
Park, Park, wherever you may be,
You eat dogs in your home country,
But it could be worse,
You could be ******* scouse,
Eating rats in your council house.
Michael Regan/Getty Images
Norwich City: One of the unfortunate clubs to have had this song directed at them.
This amusing chant is usually aimed at small town or rural clubs by fans who hail from more urban areas.
Usually directed at clubs situated in areas of England which are rumoured to be a bit insular, such as Norwich City, Plymouth Argyle and Blackpool, the chant almost goes too far, but manages to retain its humorous edge.
Your mother is your sister,
Your father is your brother,
You like to **** each other,
The [insert team] family!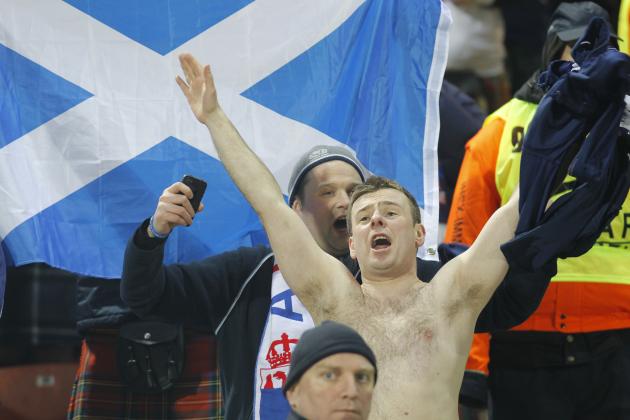 Srdjan Stevanovic/Getty Images
A future classic has been heard in the Scottish wilderness.
I have only ever heard this during my excursions to small grounds in the Scottish lower leagues, but it is so hilarious when sung by a mob of drunk Scotsmen in an otherwise empty stand that it had to make the list.
In these games the quality of the football rarely transcends playground scraps, so it takes something really horrendous to warrant a verse of:
You're making them,
You're making them,
You're making them look like ******* Brazil!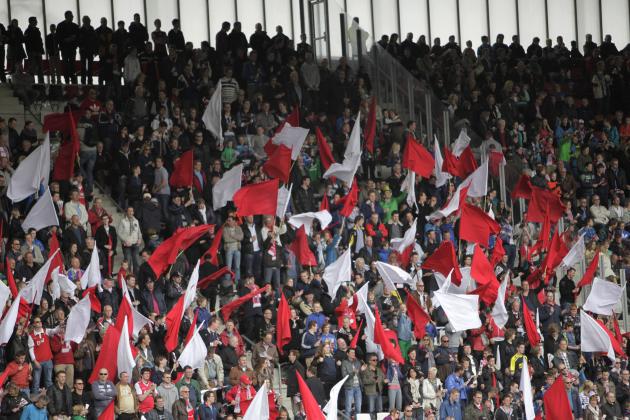 EuroFootball/Getty Images
I couldn't find any photos of Nacional fans, so this is just a random picture of football fans. I think they are AZ Alkmaar.
South America is notorious for having some of the most hardcore football fans in the world. Anyone remember Andres Escobar?
Club Nacional de Football share Uruguayan capital Montevideo with fierce rivals Penarol. However, unlike most football rivalries, straying into the wrong side of Montevideo can get you killed.
This song concerns a Penarol supporter who was killed by Nacional barrabravas (ultras) when he entered their area:
Vengo del barrio la blanqueada, barrio de frula y carnaval,
Juro que aunque pasen los años, nunca te vamos a abandonar,
Che vos manya sos cagón,
Cuantos trapos te robamos del camión, che vos manya sos cagón y a Rodrigo le cabió,
Por jugar al barrabrava se murió...
(Rough translation)
I come from the 'blanqueada', a slum of coke and carnival,
But I swear that although years may pass, we'll never abandon you,
You filthy manya scum, we'll rob all your rags from the van,
Rodrigo deserved what he got for messing with the barrabrava…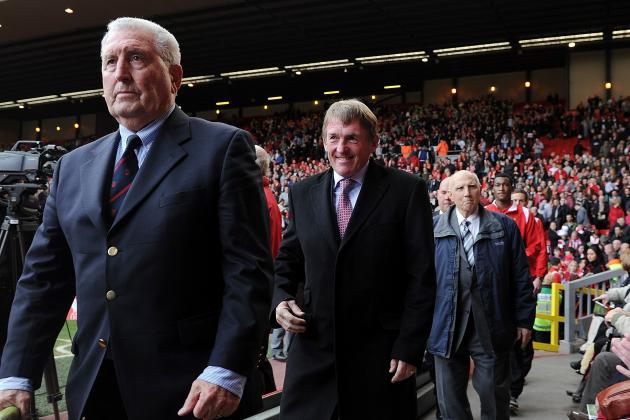 Handout/Getty Images
Kenny Daglish during a more appropriate reminder of the Hillsborough disaster.
As with anywhere, even the most respected clubs have supporters who bring shame and controversy upon them. This "chant", if you can call it that, is mainly a reference to the 1985 Heysel disaster, but it has also been heard during Hillsborough memorial week.
Certain groups of Manchester United fans have been singing this for years, but recently it died down in the wake of the Hillsborough revelations.
However, at the last meeting between United and Liverpool at Old Trafford, several Liverpool fans were spotted doing aeroplane gestures to the United fans, and the short-lived armistice came to an end.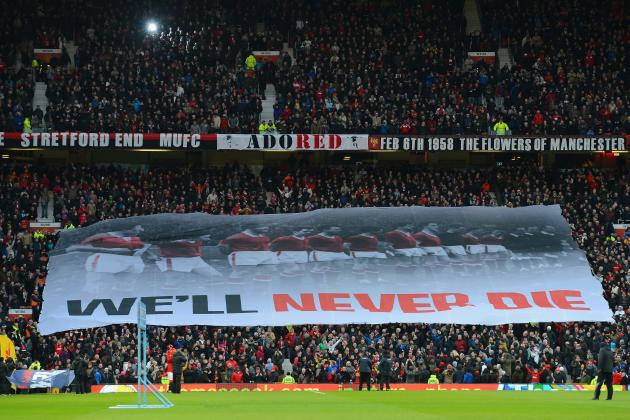 Shaun Botterill/Getty Images
The Munich air disaster is part of the Manchester United legend.
In the never-ending circle of blame, Liverpool fans claim that renditions of this are sung in retaliation for hearing the "It's Never Your Fault" dirge, but it is obvious which "chant" came first.
A mockery of the Munich air crash in 1958, in which 21 people died, including eight of the legendary "Busby Babes," it is widely detested but at the same time still pops up regularly.
Sadly, this despicable composition is not exclusive to Manchester United's rivals, with supporters of many other clubs around England having been heard to sing it when United are in town.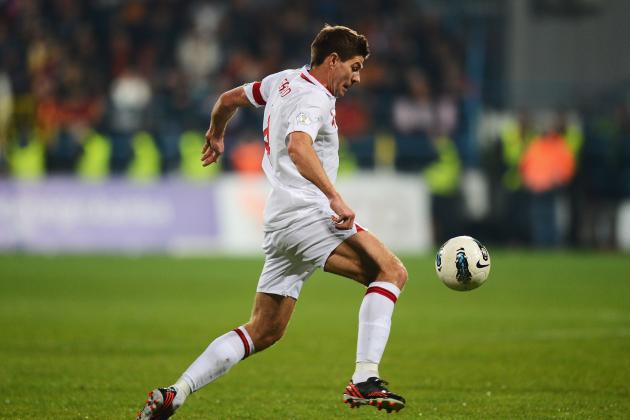 Mike Hewitt/Getty Images
The brass band has provided a cringe-worthy soundtrack to internationals for many painful years.
This lot go in the "worst" category not for how insensitive or vile their songs are, but purely on lack of musical merit.
If you've grown up watching England play, chances are that you got sick of the brass band within 10 minutes of hearing them.
Neither loud nor quiet, they have a unique talent of just droning on in the background whilst, instead serving as motivation for the team, they just drown out any potential chants that might break out.