Stat Attack: Which European Clubs Take the Most Shots on Goal?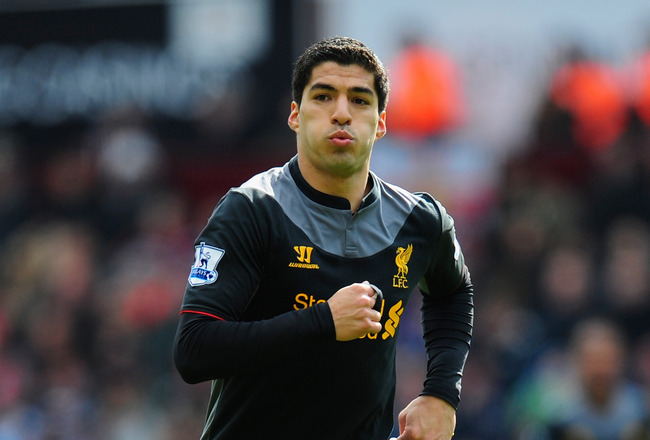 Stu Forster/Getty Images
Which European clubs are having the most shots at goal?
We bring you the five teams who have a pop most often, and in turn anaylse their goal-return to see if they're expertly clinical or woefully profligate.
We've taken Europe's top five leagues into consideration courtesy of WhoScored? statistics, so let's see who joins Juventus at the top of the pile.
5. Manchester City: 17.4 Shots Per Game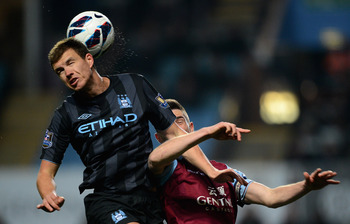 Laurence Griffiths/Getty Images
Kicking us off is reigning English Premier League champions Manchester City, exciting their fans by averaging an impressive 17.4 shots per game.
With attacking talents in Edin Dzeko, Carlos Tevez and Sergio Aguero, the shots are bound to fly in. Yaya Toure and David Silva present a dangerous midfield threat, while Aleksandar Kolarov is capable of hitting one home.
Verdict: Commendable
Tevez scores every 8.6 shots, Aguero every 7.2. and Dzeko averages out a little better at 6.1 shots per game, but the Argentine pair should really be finding the back of the net more often.
4. Tottenham Hotspur: 18 Shots Per Game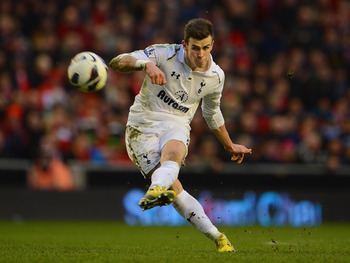 Michael Regan/Getty Images
Tottenham now have a lot of players happy to go for glory on the books, and Andre Villas-Boas hasn't been afraid to let them express themselves.
Clint Dempsey loves a shot (however wild), while Gareth Bale has developed a bit of a howitzer in his left leg. Pure strikers Emmanuel Adebayor and Jermain Defoe will never pass up the chance to have a crack.
Verdict: Downright profligate
Bale takes a lot of shots (132 at time of publishing) but pulls in a decent average of 7.7 per goal. Defoe (10.4), Dempsey (10.6) and Adebayor (10.3) are poor, but Gylfi Sigurdsson has been horrendous in this department.
The Icelandic international averages a goal every 25 shots.
3. Juventus: 18.6 Shots Per Game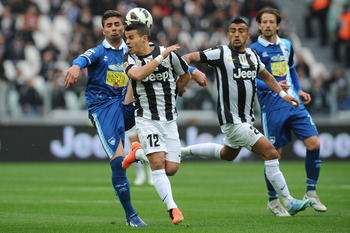 Valerio Pennicino/Getty Images
Soon-to-be consecutive Serie A champions Juventus have combined steely defensive football with a peppering of the opponent's goal this season.
With Sebastian Giovinco, Alessandro Matri, Mirko Vucinic and Fabio Quagliarella on the books you'd expect nothing less, and 18.6 shots per game is a dominant tally
Verdict: Patchy
Juve have clinical performers, but they also have wasteful ones. Vucinic averages a goal every 8.4 shots as a deep-lying forward, while Matri boasts an impressive 4.2 shots per goal.
Giovinco is another story altogether, though, and has managed a pitiful 11.7 shots per goal so far this season.
2. Liverpool: 19.1 Shots Per Game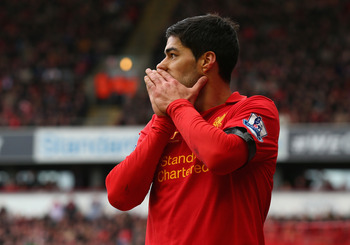 Alex Livesey/Getty Images
In silver medal position is Liverpool, accumulating an average of 19.1 shots per game.
The main protagonists are Luis Suarez and Steven Gerrard, but January additions in Daniel Sturridge and Philippe Coutinho are also happy to have a pop when the time comes.
Verdict: Par for the course
Suarez's 22-goal haul is very impressive, and his figure of 7.9 shots per goal is very serviceable. Gerrard's finishing is diminishing, however, and Sturridge has hit a rough patch in form. They average nine and 8.25 respectively.
1. Real Madrid: 19.4 Shots Per Game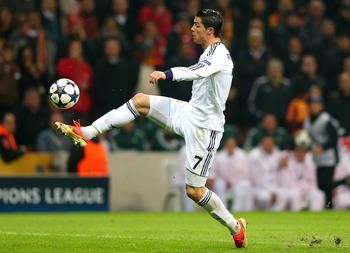 Alex Livesey/Getty Images
Seriously, who else was it going to be? Cristiano Ronaldo can only be on one team.
Real Madrid have a plethora of striking options that include Gonzalo Higuain, Karim Benzema and Alvaro Morata, but Los Blancos rely on their world-class left forward to do the damage.
Verdict: Clinical where it matters
Ronaldo takes a lot of shots from outside the area, accumulating an average of seven shots per goal. But that's exceptional considering his haul is 29 so far, and the statistics also give us a good understanding of the Benzema vs. Higuain battle.
The two strikers have both taken 47 shots at the time of writing. Pipita has scored 12; Benzema eight.
Oezil, despite being reluctant to shoot almost every weekend, averages a goal every 4.1 shots.
Keep Reading