Italy: Why Balotelli and El Shaarawy Make Them World Cup Contenders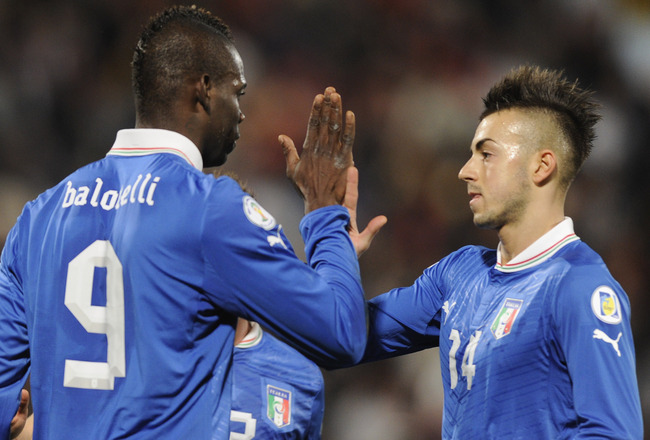 Claudio Villa/Getty Images
The striker position has been a thorn in the side of the Italian national team for a long time now.
Even during the team's magical run to the 2006 World Cup title, the Azzurri didn't have a top striker—they scored 12 goals through 10 different players.
In that tournament, Francesco Totti was still playing with metal plates in his ankle and Alessandro Del Piero was being deployed as a super-sub. The forward line was led by Luca Toni (scorer of 31 goals that season at Fiorentina) and Alberto Gilardino (17 goals with AC Milan).
Since then, Del Piero and Totti have both left the international scene, while Toni, Gilardino and fellow World Cup winner Vincenzo Iaquinta have never reached the heights they attained before Germany.
The lack of creative forwards like Giuseppe Rossi was blamed for the team's dismal title defense in South Africa in 2010, and even after Rossi became a mainstay for Cesare Prandelli, successive knee injuries have robbed Prandelli of his services since October of 2011.
The team has turned to stop-gaps like Antonio Cassano, Antonio Di Natale and Fabio Quagliarella to try and score goals, but it hasn't been working. In the run-up to Euro 2012, friendly defeats against Ireland, Uruguay, and the United States saw the Italians dominate possession and create numerous chances, but still fail to find the net.
Fortunately for the Italian faithful, a bumper crop of young attacking talent is on the way. Leading the way for this new generation are AC Milan pair Stephan El Shaarawy and Mario Balotelli.
These two talented forwards are going to be leading the line for Italy for years, and their presence on the team will make the Azzurri legitimate contenders for the World Cup title in 2014.
What is it that they give the team? Let's take a look and find out.
Clinical Finishing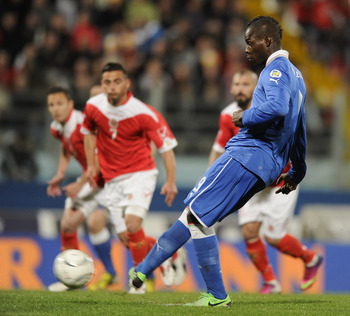 Claudio Villa/Getty Images
21, 16 and 19.
Those are the number of shots the Italians got off in three friendlies from the end of 2011 to the beginning of 2012 against Ireland, Uruguay, and the USA, respectively.
Against Ireland and the US, the Italians controlled at least 60 percent of possession—against Ireland the number was nearly 70. Against Uruguay and the Americans, the Italians found the target eight and seven times, respectively.
Italy failed to score a goal in any of those three matches.
The extreme lack of finishing was even on display against England in the quarterfinal of Euro 2012, when the Azzurri poured an astonishing 36 shots in 120 minutes of play, but only hitting the target eight times. An Italian didn't put the ball into the net until Balotelli converted the team's first penalty in the shootout.
But Balotelli and El Shaarawy are in prime position to end their country's finishing problems. Since his move to Milan from Manchester City, he has played in eight of Milan's nine games—the one he missed was due to injury—and has scored seven times. El Shaarawy has scored 16 times in 30 league games, more than once every two games.
Super Mario has also scored four goals in his last four matches in Savoy blue, including a wonder-strike to tie the game in a friendly against Brazil during the last international break.
The scary thing is that with both of them in their early 20s, there is room for the two to improve, especially for the 20-year-old El Shaarawy, who despite his lofty goal total could do even better when it comes to finishing.
If form holds for these two youngsters, the team's finishing woes will be a thing of the past.
Chemistry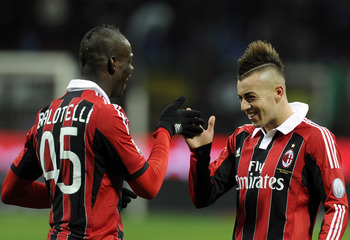 Claudio Villa/Getty Images
Cesare Prandelli praised El Shaarawy and Balotelli before the friendly draw with Holland in February, and the the fact that the two will be plying their trade together can only help the Italian cause.
In the next year, the two will be playing and training with each other nearly every day with Milan, to say nothing of international games and training sessions at Coverciano.
The familiarity that this proximity will breed will be extremely important.
By the time the World Cup comes around next June, Balotelli and El Shaarawy will know each other back-to-front. They will be able to work through defenses with an innate knowledge of each other's games, a huge advantage that most national teams are not able to enjoy.
Additional Tactical Options
Claudio Villa/Getty Images
In February, I wrote an article about the tactical options Cesare Prandelli had at his disposal. The article focused on the pros and cons of Prandelli's bread-and-butter 4-3-1-2 and the 3-5-2 that he began tinkering with at the end of 2012.
One commenter on the article proposed a third option for Prandelli to consider: the 4-3-3. The big advantage of this formation is that it maximizes the talents of El Shaarawy, who is at his best when he is allowed to drift out to the left wing and then cut inside.
The 4-3-3 would also allow Prandelli to eliminate the problematic trequartista position in the 4-3-1-2. The team currently doesn't have a player who is wholly suited to manning the position. Current resident Riccardo Montolivo is a good player, but he's a natural regista and doesn't work the same magic when he's playing farther up the field.
A third major point for the 4-3-3 would be that it would allow Prandelli to take advantage of another of the young forwards currently breaking into squads all over Italy. Someone like Lorenzo Insigne, Mattia Destro (should he improve on his first horrific season with Roma) or Fabio Borini (should he find his form after injuries at Liverpool) would be able to play alongside El Shaarawy and Balotelli, giving Italy even more attacking firepower.
The extra forward slot could also be given to a creative type like Sebastian Giovinco or a returning Giuseppe Rossi.
Creativity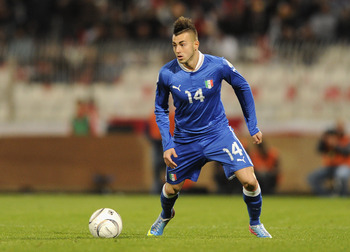 Claudio Villa/Getty Images
Neither El Shaarawy nor Balotelli are traditional No. 9s. Both are more modern forwards who can do a lot more than wait at the penalty spot for service and score.
Both are extremely adept at layoffs and can dribble around defenders to make their own shots. El Shaarawy is also a skillful player on the left wing who can pick out excellent crosses.
Their skills on the ball can lead not only to chances for themselves but also for others, particularly with layoffs like the one Balotelli provided to Kevin-Prince Boateng on Sunday. The goal that resulted was called back because Balotelli was offside when he received the ball, but it was a superb demonstration of his skills in distribution.
With midfielders with good scoring capability like Claudio Marchisio and Daniele De Rossi to receive such passes, as well as their fellow strike partners, the Milan pair open up exponentially more avenues through which the Azzurri can potentially score goals.
Keep Reading

Italy (National Football): Like this team?