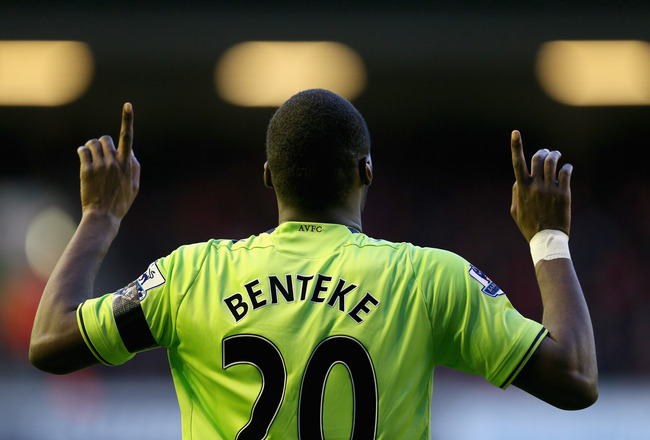 Clive Brunskill/Getty Images
Everybody loves a striker.
While we all appreciate a solid goalkeeper, reliable defender and silky midfielder, nothing gets the pulse going like a prolific, dynamic, frontman.
He is football's equivalent of a lead singer in rock band.
Because they are so highly prized, they cost the earth.
Europe's top clubs will all be on the hunt for goalscorers this summer, and they could do a lot worse than take a look at Aston Villa's Christian Benteke.
The Belgian has had a sensational season and will probably leave Villa at the end of it, especially if the club gets relegated.
So what is the best way to rate him against a similar shooter?
The number of goals scored is clearly paramount, but that only tells part of it.
You have to consider how important those goals are to the team's result, as well as analysing how much influence the player has on the overall performance.
I think you also have to take money into account.
When judging players, "better" can also refer as much to value as it does to talent.
So who is the best comparison for Benteke?
Clearly not the likes of Edinson Cavani, Radamel Falcao, Robin van Persie or Robert Lewandowski.
Someone like Bayern Munich's Mario Mandzukic might do, though.
He is a similar build to Benteke, he is playing his first season at new club and he is plying his trade in a league of comparable standard.
Who would you buy? Benteke or Mandzukic?
I'd have the Villa man. And these are a few reasons why.
Benteke Has Scored More Goals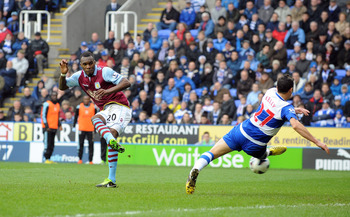 Tony Marshall/Getty Images
The most obvious comparison is the number of goals scored.
Just using that cold, hard fact, Benteke is slightly ahead.
He has scored 20 in all competitions versus Mandzukic's 18.
In their respective leagues, it's even closer, with Mandzukic edging Benteke 15 to 14.
Benteke out-scored Mandzukic last season by 16 goals to 14, but you can argue goals are easier to come by in Belgium's top division than they are in Germany's.
Benteke has played more games, which does magnify Mandzukic's record, but we have to settle on who has more.
Stats via soccerbase.com
Benteke's Goals Are More Important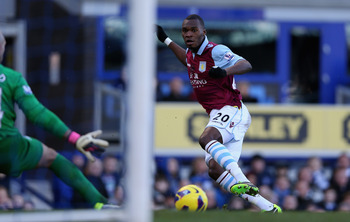 Clive Brunskill/Getty Images
The number of goals a striker scores is vital, but so too is how crucial those goals are to the result.
If they score the last goal in a 5-0 thrashing, it's not as important as scoring the only goal of the game.
Therefore, looking at how many points each striker has "won" for their sides is an interesting comparison.
In other words, if you removed the striker's goals from the game, what the result be?
Mandzukic is Bayern's leading scorer in the Bundesliga, and his goals have helped the team run away with the title.
When you analyse how many points those goals have won, however, their impact on each result is not particularly significant.
Mandzukic's goals have won Bayern four points so far this season.
If you took those off Bayern's total, it would not alter their enormous lead at the top of the table.
Benteke's contribution to Aston Villa's cause is much more obvious.
His goals have won Villa 15 points so far, and without them, the club would be a certainty for relegation and marooned at the bottom of the Premier League, 15 points from safety.
Stats via soccerbase.com.
Benteke's All-Around Contribution Is Better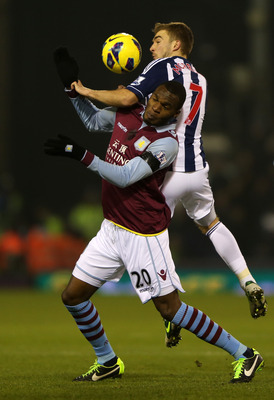 Ian Walton/Getty Images
There is still a place in the modern game for an out-an-out poacher—a striker who never really leaves the comfort of the opposition's penalty area.
But the best strikers offer extra dimensions to the team, whether it's in a defensive capacity or creating chances for others.
Assists, key passes, aerial prowess and defensive clearances are all important components.
In their respective leagues, Benteke has set up four goals and Mandzukic one.
Benteke has made 38 key passes; Mandzukic 13.
Benteke has won 235 aerial challenges at an average of nearly 8.5 per game. No-one in the Premier League is more successful.
Mandzukic has 50 at an average of just under 2.5 per game.
You might think that is down to Bayern playing fewer long balls than Villa?
Not so. Villa have hit 62 long balls; Bayern 76.
From a defensive point of view, Benteke has won 15 tackles and made 28 clearances.
Mandzukic has won 8 tackles and made 11 clearances.
As Benteke has played seven more league games than Mandzukic, the stats are bound to favour him.
Nevertheless his all-around contribution to the team is immense.
All stats courtesy of Whoscored.com
Benteke Gives You More Bang for Your Buck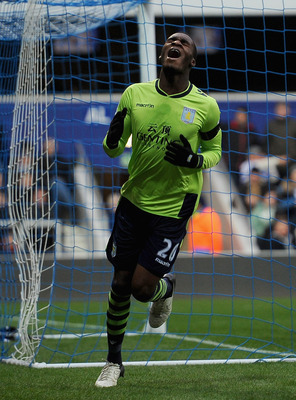 Christopher Lee/Getty Images
Aston Villa's financial situation is well documented, and the money Paul Lambert has had to spend has been limited.
Villa have to make every pound count, and in Benteke, they have certainly done that.
The £7 million they paid Genk for him was a lot for Villa in the current climate, but Benteke has repaid them handsomely.
If his goals end up keeping them in the Premier League, he will have done more than most to secure the £65 million windfall that each club is due under the new TV deal that starts next season.
If Villa go down, they know they could more than double their money on Benteke overnight.
At a cost of £11 million when he joined Bayern from Wolfsburg last summer, could you say Mandzukic offered a similar profit?
Benteke Has More Potential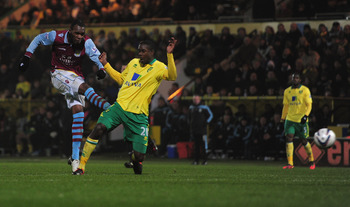 Jamie McDonald/Getty Images
Lastly, a bit of crystal ball gazing.
How good can these two players become?
You can only take their age as the crudest indicator and assume the likelihood of their rate of improvement.
Mandzukic is 27 in a few weeks. He is at his peak now.
Benteke has only just turned 22.
He may, of course, be at his best now, as some players hit their peak earlier than the accepted norm.
Assuming that, like Mandzukic, his best years will be in his late twenties, the potential that Benteke has is frightening.
Keep Reading
Load More Stories