8 Takeaways from the United States' Qualifiers vs. Costa Rica and Mexico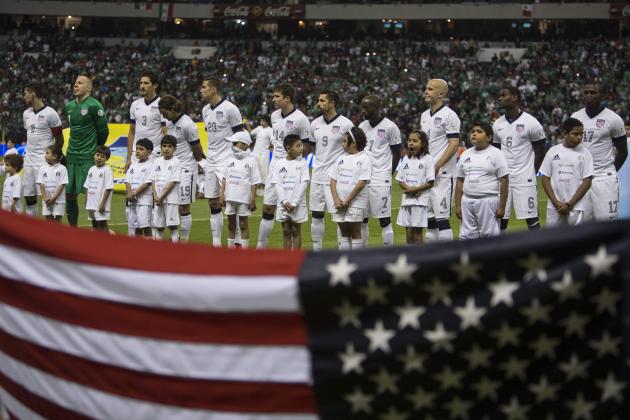 Miguel Tovar/Getty Images

The United States men's national team earned a crucial four points in their 2014 World Cup qualifying campaign over the past five days with a 1-0 home win over Costa Rica and a 0-0 away draw against Mexico.
The USMNT now has a long layoff from international action, not playing again until the end of May. So, what can be taken away from these two matches as the U.S. heads into the break?
Here are eight important things U.S. fans can take away from the March qualifiers.
Begin Slideshow

»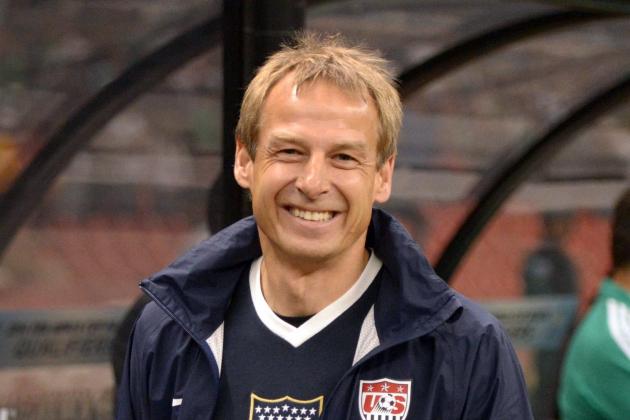 Kirby Lee-USA TODAY Sports

Coming into these two games, things looked pretty dire for the USMNT. The U.S. had struggled at times in the semifinal round of World Cup qualifying and had looked absolutely listless in a 2-1 away loss to Honduras in February to open up the hexagonal.
Then, just as the U.S. team came into camp this past week to prepare for the matches against Costa Rica and Mexico with a squad devastated by injuries to many key players, The Sporting News came out with a damning article. In the article, many U.S. players anonymously criticized U.S. head coach Jurgen Klinsmann's methods, tactics, roster selections and man-management.
However, the U.S. persevered through the stretch. Klinsmann kept things simple, the squad looked to have a good spirit about them and, most importantly, the team picked up four huge points towards World Cup qualification.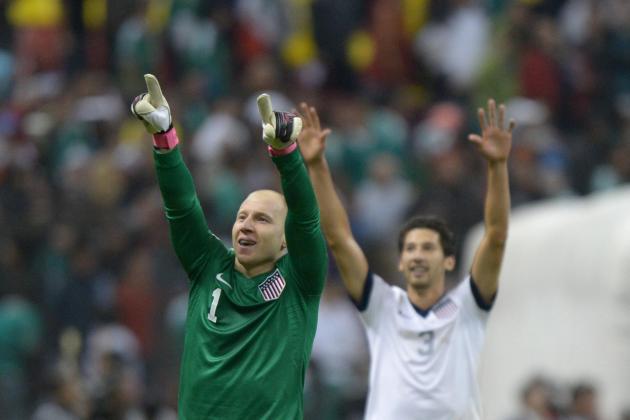 Kirby Lee-USA TODAY Sports

With the U.S. squad in disarray due to injuries and apparent internal turmoil, the U.S. put together two gutsy performances over the past week.
While no one would argue that either of the games were displays of the beautiful game, the U.S. did what it has always done best—battle.
Against Honduras, in the U.S.' opening match of qualification, that spirit was in question and with the U.S.' well-noted weaknesses, the team seemed to have lost the one thing that had always helped it persevere.
Against Costa Rica and Mexico, the U.S. showed that it still has plenty of heart—even if it is still lacking in flair—and ground out four big points in the face of adversity.
Dustin Bradford/Getty Images

Jermaine Jones continues to be one of the biggest talking points among USMNT fans. One group sees Jones as a brash, world-class midfielder who helps elevate the squad to another level. The other group sees Jones as erratic and reckless and questions his loyalty to the U.S. team.
Against Costa Rica, Jones put in one of his more consistent performances for the U.S. but was injured and missed the game against Mexico.
Maurice Edu started in his place and struggled.
Still, the question remains. Would Jones have done better? Would the U.S. have still earned the point with Jones on the field? Might they have earned all three points had Jones been able to play? Or, would Jones' inconsistency and wild streak have cost the U.S.?
These questions remain unanswered.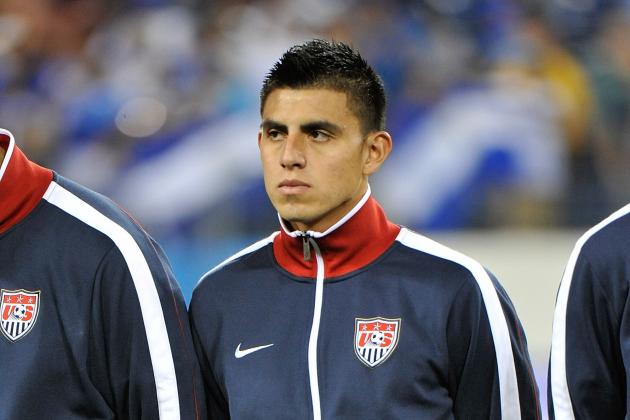 Frederick Breedon/Getty Images

Heading into Tuesday night's match with Mexico, there was wide speculation that Joe Corona would finally get his chance to make an impression with the USMNT squad under Klinsmann.
However, that didn't happen.
Corona, who is regularly called up by Klinsmann, has only made three appearances in the Klinsmann era. The first was a 22-minute cameo against Scotland last summer. The other two caps were stoppage time appearances, and one of those may have had an ulterior motive. Against Guatemala in October, Corona was brought in as the final seconds of the game ticked away. Because the game was a World Cup qualifier, those few seconds of playing time cap-tied Corona to the USMNT forever (at the time, Corona was also eligible to represent Mexico and El Salvador internationally).
With Graham Zusi struggling in his most recent appearances, slotting Corona in on the wing seemed to make sense. However, Klinsmann opted to go with Zusi again (a choice that was vindicated by Zusi's play). When Klinsmann did make substitutions on the wings, he inserted Brad Davis and Brek Shea—not Corona.
While Corona is a regular starter for Liga MX champions Tijuana, he can't even earn a proper run-out under Klinsmann.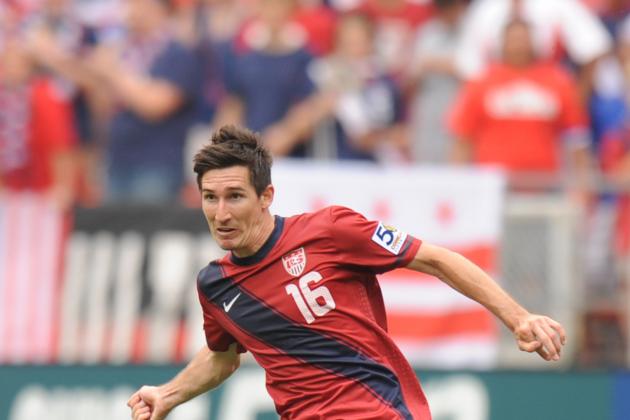 Mitchell Layton/Getty Images

Sacha Kljestan faces a situation similar to that of Joe Corona. With Jermaine Jones injured, many predicted Kljestan would get the start in midfield. This seemed even more plausible considering that many predicted Maurice Edu would be used at center-back against Mexico.
However, Klinsmann opted to use Matt Besler at center-back, and Maurice Edu replaced Jones in the midfield. Even as the game developed and Edu struggled, Kljestan remained on the bench.
Certainly, Edu gave the U.S. an element of strength that Kljestan cannot, but it would be tough to argue that Kljestan wouldn't have been better in possession than Edu was on Tuesday.
Kljestan is a regular starter for Anderlecht, the reigning Belgian champions. However, with Jones and Klinsmann favorite Danny Williams likely to return to the lineup when healthy (to say nothing of Kyle Beckerman), Kljestan is unlikely to see to earn a start for the U.S. any time soon.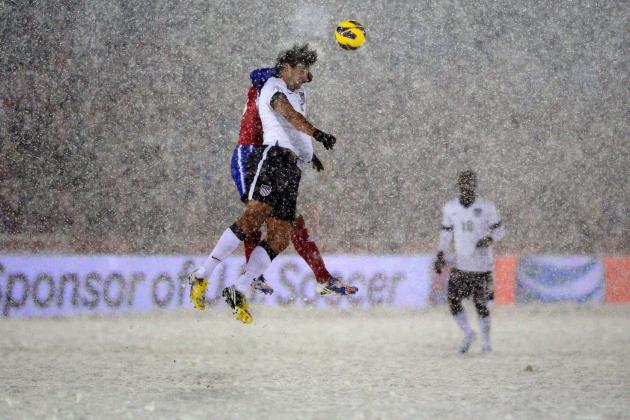 Ron Chenoy-USA TODAY Sports

For the past three years, since the 2010 World Cup, the U.S. has been desperately searching for center-back replacements for Carlos Bocanegra, Oguchi Onyewu and Jay Demerit.
Many of those choices have come in with much hype and gone out with a whimper—think Tim Ream and George John.
On Tuesday night, Omar Gonzalez established that his future with the USMNT is now. His play against Mexico was terrific as he bailed the U.S. out time and time again with his last-ditch tackles, solid marking and superb aerial ability.
Going forward, Gonzalez has cemented his position in the U.S. starting XI.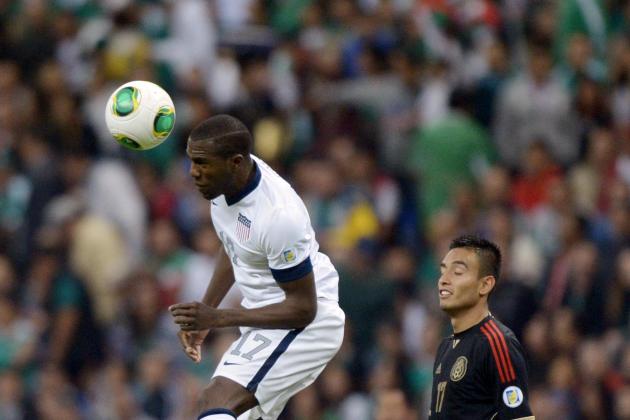 Kirby Lee-USA TODAY Sports

Look, it isn't sexy, but the U.S.' best opportunities to score against superior teams are still on set pieces. With players like Geoff Cameron, Matt Besler, Omar Gonzalez, Michael Bradley, Clint Dempsey, Jozy Altidore, Herculez Gomez and Maurice Edu on the field, the U.S. should be a dominant team on set pieces.
And against both Costa Rica and Mexico, the U.S. was poor on those opportunities.
Some of it was bad delivery—many of the U.S. kicks were played too far away from goal to truly be dangerous—and some of it was poor organization. The U.S. had several dead balls in the second half against Mexico where they didn't even send their big men forward. Even though the U.S. was happy with the 0-0 scoreline at the time, they should never pass up an opportunity to score from a dead ball. It has been a hallmark of the U.S. team in the modern era.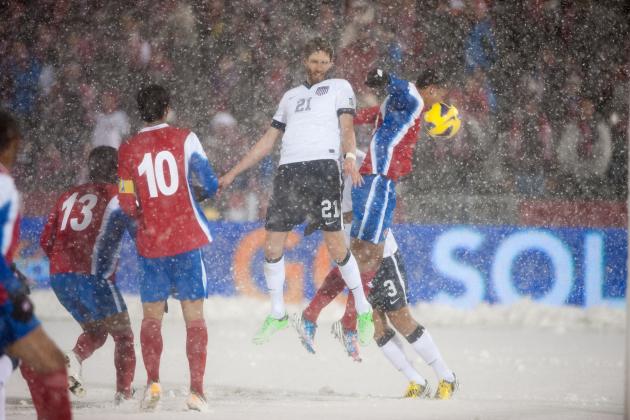 Dustin Bradford/Getty Images

Clarence Goodson has been a good servant to the USMNT over the past few years as the U.S. has been transitioning away from the old guard. A good example of this was Goodson's 90-minute effort in the U.S.' historic win against Italy last February.
At the same time, Goodson's performances last summer further exposed his weaknesses in 1 v. 1 defending and his lack of pace. Additionally, his club situation in Denmark has deteriorated over the past year with Brondby in serious financial trouble. They also finished ninth in the league last season, and Goodson lost his captaincy.
Against Costa Rica, Goodson's performance was key, helping lead the team to a big three-point effort. However, Goodson injured his hamstring and missed the game against Mexico.
With Omar Gonzalez and Matt Besler stepping up to the plate against Mexico and Geoff Cameron likely to return to the center-back position once the normal right-back contingent returns, Clarence Goodson may have played his last meaningful game with the USMNT.
If he did, he went out with a bang.
Follow me on Twitter @AmerTouchline
Follow me on Facebook www.facebook.com/AmericanTouchline