Best Facial Hair in World Football History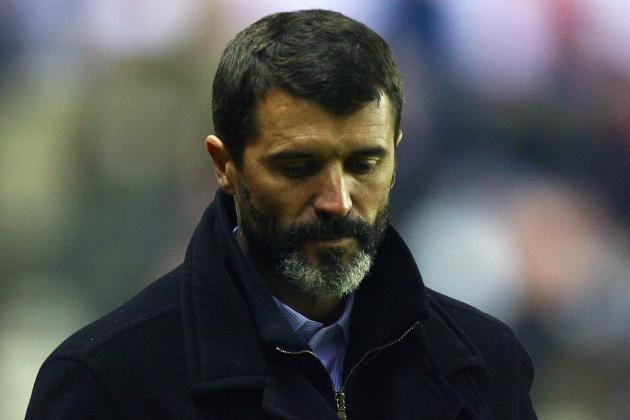 Matthew Lewis/Getty Images

For a beard owner and football fan, few things are more exciting than fine footballing facial fluff.
Be it a bellicose beard on a battling center back or a slim slip of hair over a silky striker's top lip, a well-planned example of facial hair can help enhance a footballer's "look."
So we'll be running through the top 25 pieces of football facial hair based on the looks they created.
Put down the Mach 3, and get out your Zach Galifianakis poster, because this is about to get hairy.
Begin Slideshow

»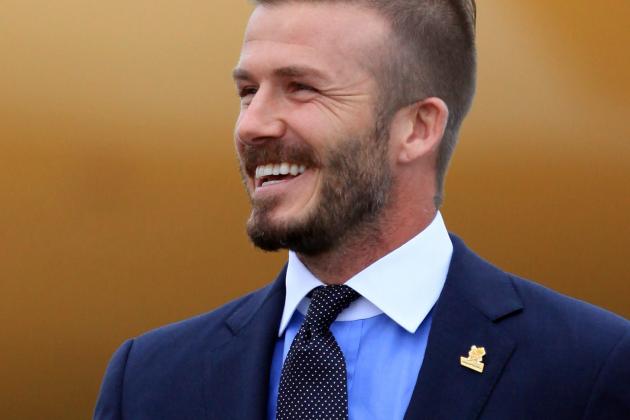 Matt Cardy/Getty Images

This fairly recent showing from D-Becks makes him look like a young Colonel Sanders after he'd had a mini-nervous breakdown following a traumatic military experience.
It would feature higher, but David Beckham has had so many looks that this is probably one of his least famous ones. When the "World Football's Top 25 Cornrows by White Guys" list is compiled, he'll be challenging for the No. 1 spot.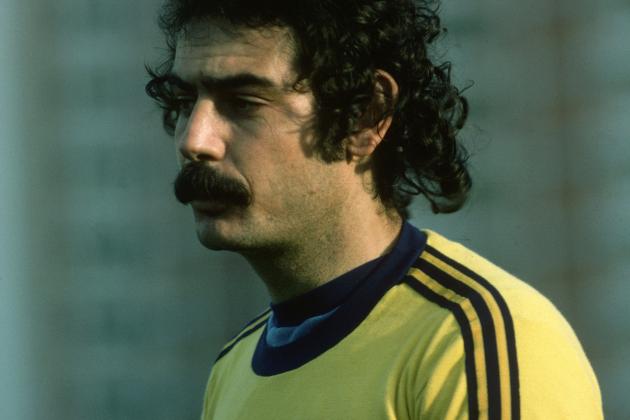 Getty Images/Getty Images

Brazil's Rivelino displayed a mustache that, when I first saw it, instantly gave me an idea for a western/horror hybrid movie called "The Cowboy Hunter." Tagline: Cowboys don't hunt him. He hunts cowboys.
The film would certainly be a flop, unlike Roberto Rivelino's glorious 'tache.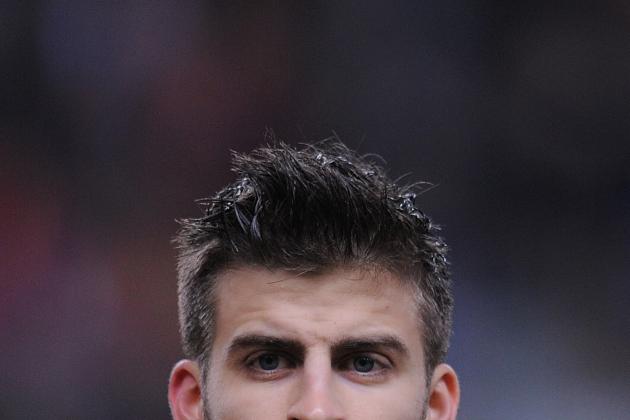 Denis Doyle/Getty Images

Gerard Pique's youthful, energetic face is complemented by a beard that exudes wisdom and knowledge. The Barcelona defender's beard makes him look like a young genius. An academic prodigy. Possibly too busy with math problems or curing diseases to find time to shave.
Plus, if it gets Shakira to go out with you, something must be working.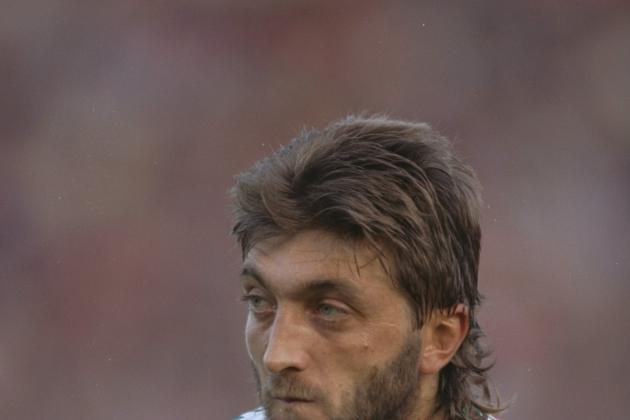 Gary M. Prior/Getty Images

Yes, ladies. We're only at 22, and we're into the eye candy already.
Bulgarian Trifon Ivanov's beard added to his "my master keeps me in a cage in his cellar and only lets me out for experiments" look.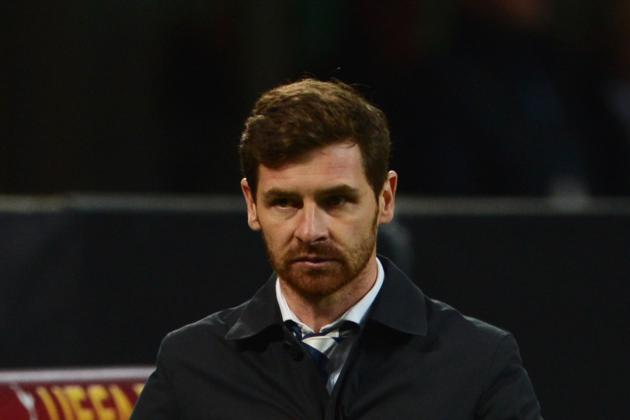 Michael Regan/Getty Images

AVB's beard is as rough as his gravelly voice, and it works.
The facial hair and the croaky tones give the impression of a bachelor who has always put his career over his private life. He's climbed the company ladder and is currently very high up for his relatively young age. But he's not all-work and no-play. He's known to go out on a weeknight, meet a lady, get intimate, then never call her again.
Why has he been so career-focused? Maybe he wasn't always like this. Maybe he had his heart-broken long ago...
Maybe, but good luck trying to get him to talk about it. He's a closed book. Professionals don't talk about their private lives.
He's had an aspirin, drank a Berocca, then dragged himself into work on a Thursday. He might be a bit late, he might even smell a little, but he's so handsome that the ladies in the office don't mind. Not one bit.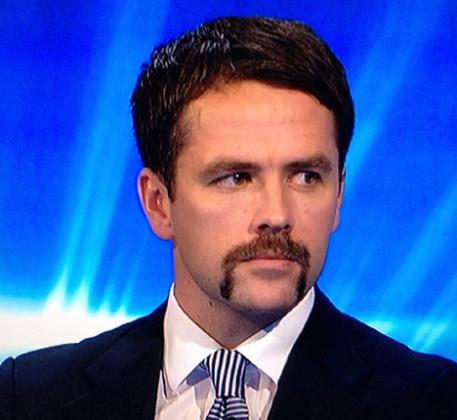 image via http://uk.eurosport.yahoo.com
It's amazing how a very boring man becomes fascinating with one stunning mustache.
We've all heard of kids wearing their dad's suits, but big Mike Owen's Movember 2012 attempt looked more like a kid wearing his dad's mustache.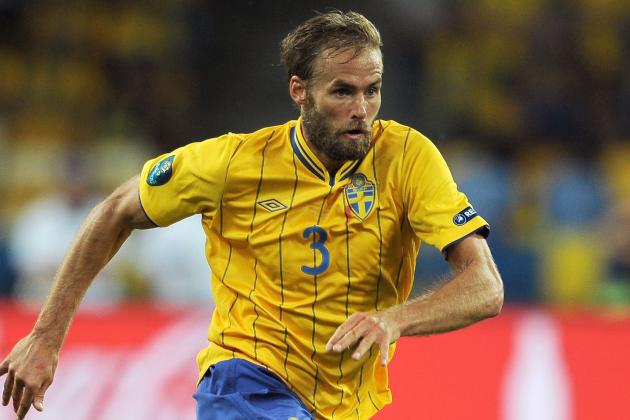 Christopher Lee/Getty Images

Villareal and Sweden center back Olof Mellberg's rugged beard, which was at its most prominent during the Euro 2012 tournament, looks incomplete without him wielding a blood-stained axe.
Being Scandinavian, it's fair to say that Mellberg's beard was "the type of Viking who ate people" chic.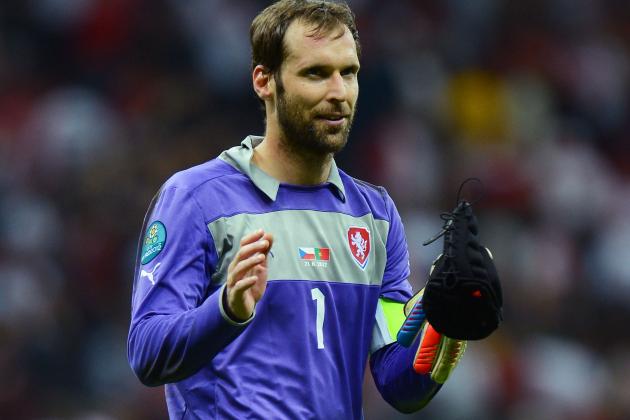 Shaun Botterill/Getty Images

Petr Cech debuted his "doesn't he look a lot like James Blunt" beard during Euro 2012—a tournament that will take its place in history as the golden era for football facial hair.
It's hard to remember that under Petr Cech's helmet, he has an actual face. And sometimes he puts a beard on it.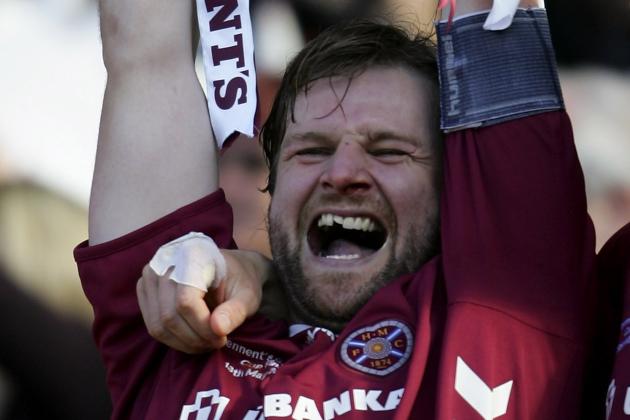 Jamie McDonald/Getty Images

Retired Scotland international Steven Pressley's beard said about him, "I could have killed an Englishman with my bare hands during the Wars of Scottish Independence."
But his floppy, Ewan McGregor-style hair also said, "I could also make a passionate debate in the upcoming referendum on Scottish independence."
If one man's face could sum up Scottish independence, it's Steven Pressley's.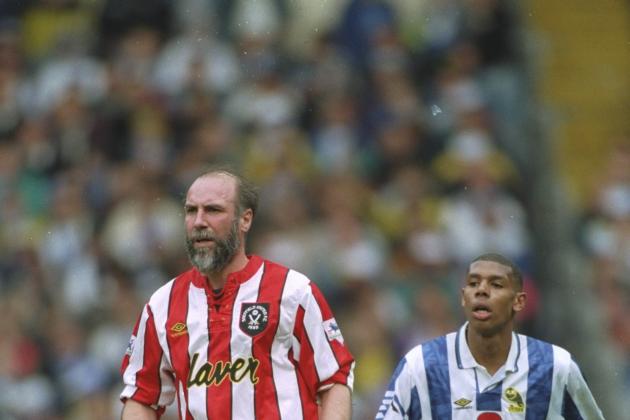 Getty Images/Getty Images

Late at night, there's nothing scarier than walking through a city when, out of nowhere, a bewildered homeless man appears and starts shouting abuse at you. Vile, hateful abuse. Some of it doesn't even make sense.
What do you do? How do you respond? You can't abuse him back, as he looks like he's been homeless for some years, and you get the impression that he isn't "all there."
So you just try to get out of the way, whilst remaining calm.
Well, former Wimbledon, Sheffield United and Fulham striker Alan Cork embodied the nonsensical, abusive, homeless look, seemingly to re-create that dreaded encounter for defenders.
You won't believe it, but Cork was just 34 in this picture.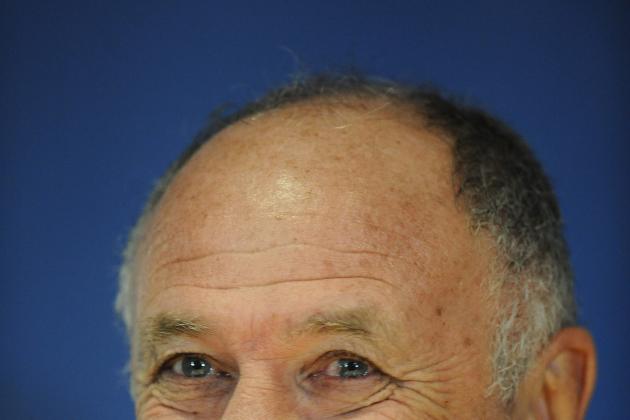 Tony Marshall/Getty Images

Luiz Felipe Scolari's mustache perfectly complements his look.
The combination of the "Big Phil" nickname and his facial hair gives the impression that Scolari would be a very accomplished lovemaker and probably a very deep-voiced soul singer in his spare time.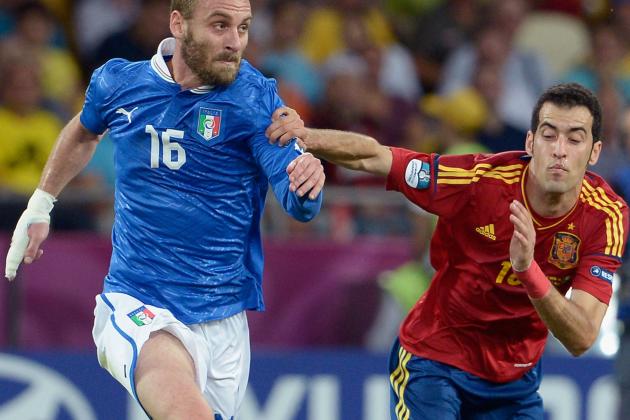 Claudio Villa/Getty Images

Daniele De Rossi is another man who's beardmanship really came into its own during Euro 2012.
Whilst De Rossi was wearing one short sleeve and one long sleeve, like a damn maverick, during Euro 2012, he was also sporting this wonderful beard, which would look as at-home on a central European discotheque dance floor as it would in a southern United States maximum security prison gang.
A beard for all occasions.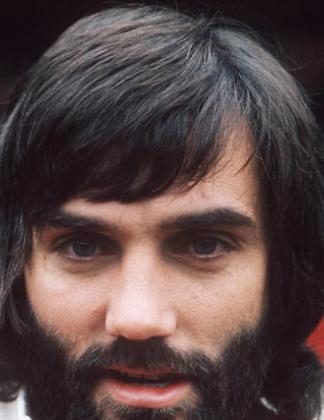 Photo: Bob Thomas/Getty Images
The George Best beard helped make his style of play seem even more effortless than it was. He played football to such quality that it looked like he was barely even trying to make the opposition look foolish. It just happened.
In fact, it seemed that he put such little effort in that he didn't even bother to shave.
It looked like he'd had a heavy night out, dragged himself out of bed, put his boots on and decided to humiliate some defenders. And, to be fair, that probably wasn't a million miles away from the truth.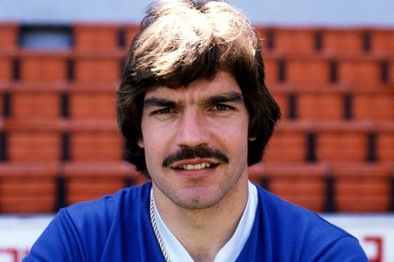 image via WhoAteAllThePies.tv
This is the only time Sam Allardyce will ever be ahead of George Best in a football list.
It's hard to think that the man we now know as "Big Sam" was once one of the world's sexiest men.
It's hard to think it, because it isn't true. But in his younger days, Sam Allardyce sported this fancy 'tache.
This ranks so high in the chart because mustaches that are the exact same width and style as a man's eyebrows earn extra points.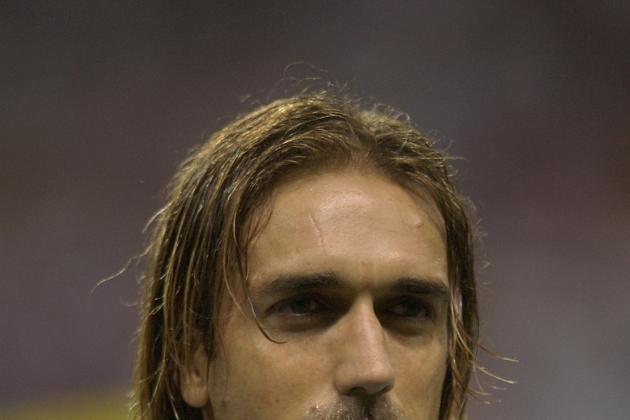 Ross Kinnaird/Getty Images

Effort went into Gabriel Batistuta's goatee, and we have a lot of time for that.
This carefully groomed effort from G-Bizzle creates the illusion that he's always pouting at you. Like Mona Lisa. Get off your seat now and walk around the room, then look at your monitor, and his lips seem to be pouting right at you.
Keep trying. Go to the other side of the room now.
Amazing, isn't it?
That sort of optical illusion can only be achieved by a beard sculpted by a man who knows what he's doing with a beard trimmer and isn't afraid to showboat with it.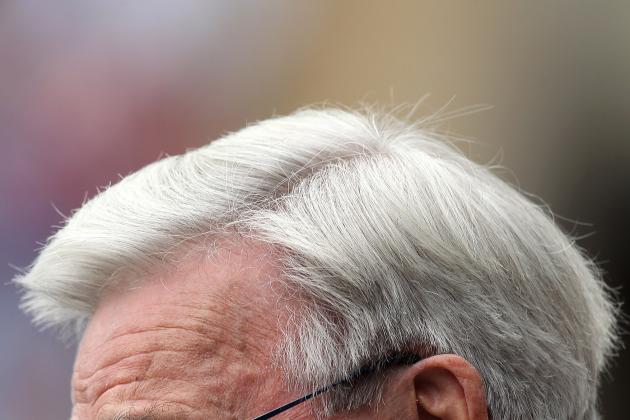 David Rogers/Getty Images

When you're Jimmy Hill, you have one defining feature: your chin.
Hill is 43 percent man, 57 percent chin.
So what does Hill do? He grows a tiny little mustache above his top lip to help emphasize the severity of the chin beneath the mouth.
When you've got it, flaunt it. Jimmy Hill does.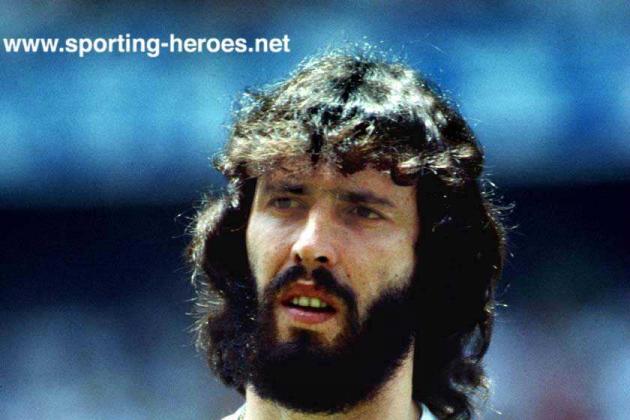 image via www.sporting-heroes.net
Some men like control of everything they can possibly have control of in life.
Others let nature take its course.
Argentinian international Sergio Batista didn't grow this beard. Nature grew this beard. Batista was merely a vehicle for it.
Batista looks like he has so much trust in the follicles in his face that he's willing to surrender large chunks of his head to its will.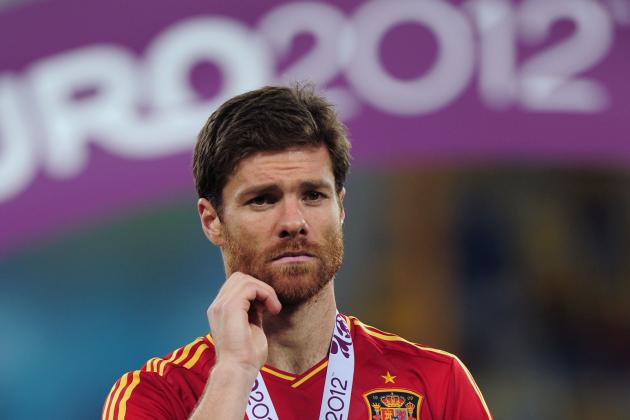 Shaun Botterill/Getty Images

Some people like brown hair. Some people like ginger beards. But so often, people are forced to choose between the two.
Not on Xabi Alonso's face, my friend. Not on Xabi Alonso's face.
XA offers the best of both worlds, as if his head were made up of the top half of one person's face welded onto the bottom half of another person's face by a dodgy second-hand face salesman.
And yes, this too is a beard that was in its prime during Euro 2012.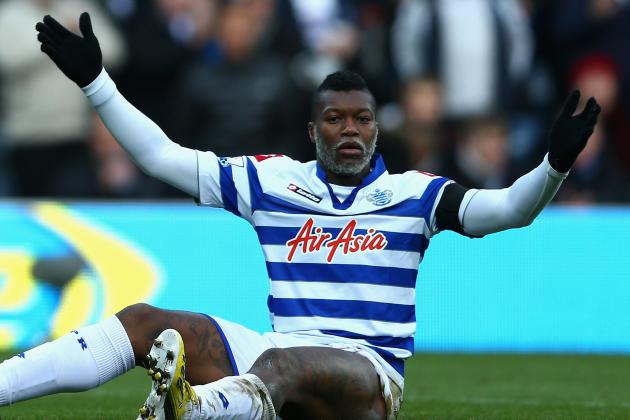 Paul Gilham/Getty Images

Djibril Cisse's beards make it on the list not just because of their varied styles.
Djibril Cisse's beards make it on the list not just because of the fact that they're almost always bleached.
But Djibril Cisse's beards make it on the list because of the sheer dedication to the art of beard. Cisse bleaches his beard so regularly that he must have swallowed about 500 ml of peroxide. But all in the name of facial fluff fun.
His intestines are probably as colorless as Alan Shearer's voice.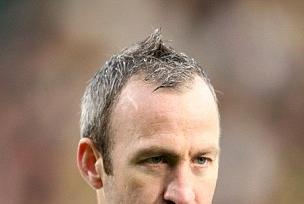 image via PA/Daily Mail
For some men, November is a countdown to Christmas, thinking about what presents to get, picking the best advent calendar.
But for men like Shaun Derry, November means Movember, and, to raise awareness for prostate cancer, they grow mustaches.
In Movember 2011, QPR's Derry grew this much-celebrated mustache in the style of Hulk Hogan's biker brother.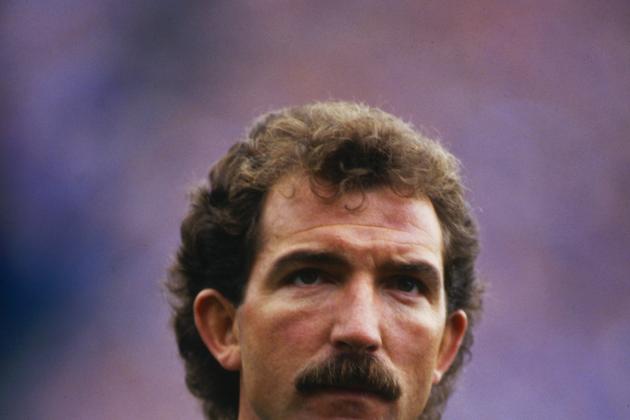 Getty Images/Getty Images

Graeme Souness makes the top five because his muzzy is as much a part of him as his face and personality are.
Without a mustache, what is Graham Souness? If you take his 'tache away, you may as well take the "n" away from his surname and replace it with two L's, because he would be Graeme Soulless.
When you think of Liverpool's glory years, you have a collection of images, but few are more iconic than the Souness soup strainer.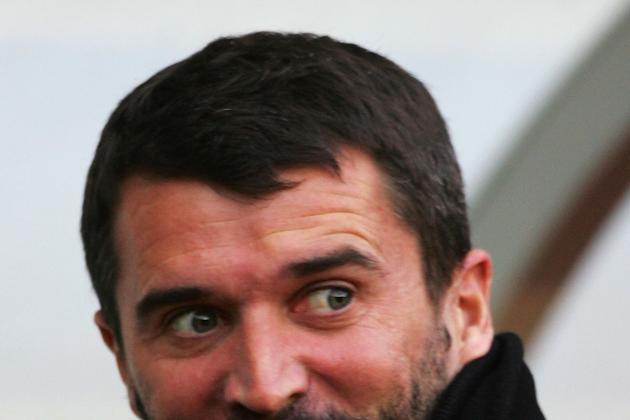 Matthew Lewis/Getty Images

If there wasn't a hair on Roy Keane's body, he'd still be a frightening gentleman. In fact, a completely bald, eyebrow-less Keano would be very scary, indeed.
But in its prime, Roy Keane's managerial period beard made him seem even more psychotic, like a man who had spent the past four months on the run from the police after a series of extremely violent crimes.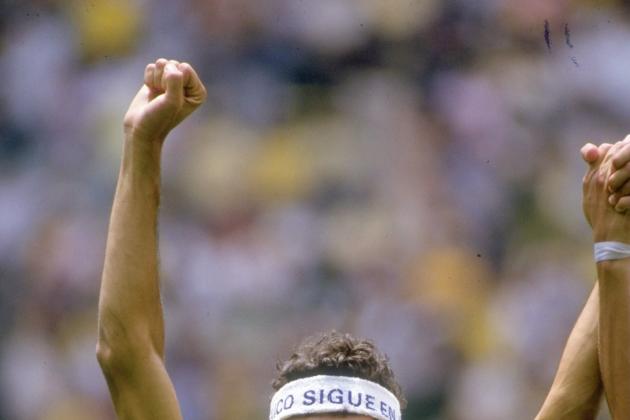 David Cannon/Getty Images

Sublime footballer.
Even better beard-grower.
The late Brazilian legend Socrates was a qualified doctor as well as a footballing wizard.
But he deserved a doctorate in facial-hair growing with this calm, yet rugged, offering that says: "Yeah, I've survived 15 years on a deserted island after a plane crash, and I've eaten my own best friend. It sounds bad, but it's not that big a deal."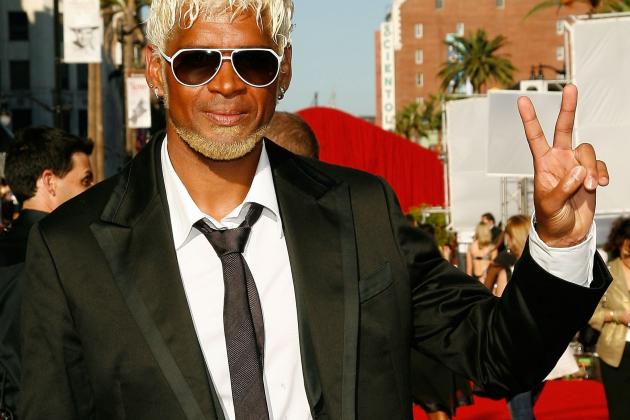 Vince Bucci/Getty Images

Just missing out on the top spot is the L.A. Galaxy's Abel Xavier.
He just pips Djibril Cisse in terms of best beard-bleachers, as he has a bit more fun with it. There's more pizazz to a Xavier than a Cisse.
Some might say Xavier's beard is too flashy, but in this list, there's nothing wrong with a bit of showmanship. It's encouraged.
That's enough from beard-Bleacher Report. Now for No. 1...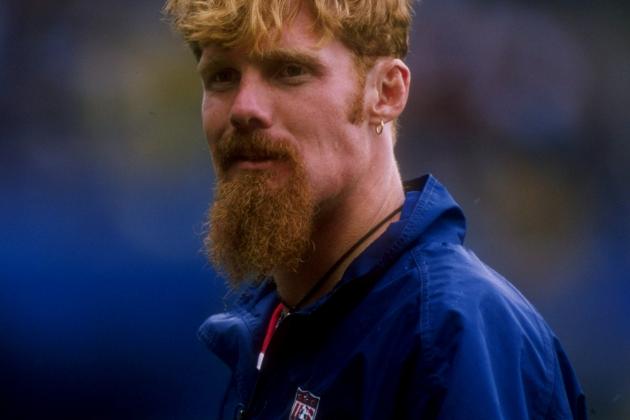 Todd Warshaw/Getty Images

If the history of rock 'n' roll could be summed up in one beard, this would be it.
Even if you had never seen a musical instrument before in your life, if you grew a beard like former U.S. international Alexi Lalas's and were given an electric guitar, you'd be able to play an expert heavy metal guitar solo instantly. You'd just be able to do it. That is the power of a well-constructed beard.
Lalas proves that a beard shouldn't just complement a face. It should be its main talking point.
Alexi Lalas, the league of bearded gentleman worldwide salutes you.