Lionel Messi and the 10 Best Left Feet Ever in South America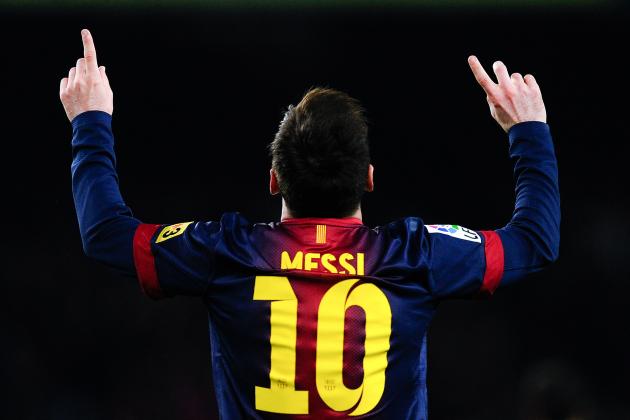 David Ramos/Getty Images

It is amazing how revered left-footed players can become. A good left-foot is generally referred to as "cultured", whereas their right-footed counterparts are never quite afforded the same level of praise.
South America is perhaps the natural home of the cultured left-footed player. From Gerson to Maradona and Rivaldo to Messi, some of the most gifted players the continent has ever produced have been naturally more inclined to use their left side.
They are held in almost mythical status. Every side needs them, despite their relative rarity. The left-footer is an essential member of any side, with this balance a necessity at the top level.
So, then, let's take a look at the 10 best left feet that the continent has ever produced.
Begin Slideshow

»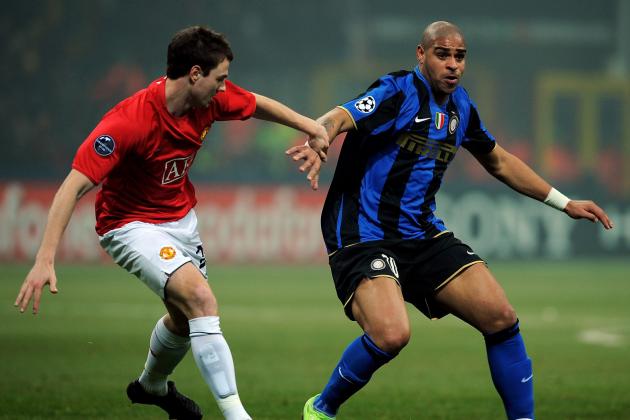 Shaun Botterill/Getty Images

Now 31, Adriano's career has sadly never really lived up to initial expectations. Once billed as the "new Ronaldo", he has failed to perform at the top level for a consistent period of time.
With Adriano, the difficulty has always been mental. He has had to endure desperate issues with alcohol and fitness in recent years, sadly meaning that his talent is ultimately set to go to waste.
Once starring in Serie A with Inter Milan, Adriano has spent the last two seasons barely mustering a game in Brazilian domestic football. Two clubs, seven games and two goals later, he has been clubless since departing Flamengo late last year.
It should not be forgotten, though, that his left-foot was one of the most feared attacking weapons in world football. With 27 goals in 48 international games, his record for Brazil remains quite outstanding.
The 2006 World Cup was meant to be his stage to shine, but it was not to be for the powerful forward.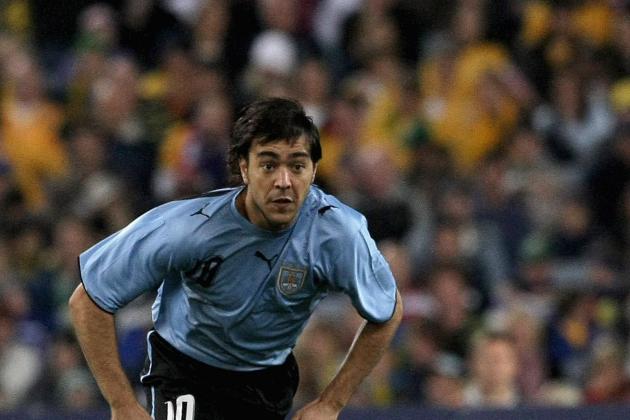 Robert Cianflone/Getty Images

Another former Inter Milan player to make our list is Uruguayan forward Alvaro Recoba. The magical playmaker spent a decade at the San Siro from 1997, scoring 72 times for the Nerazzurri.
Recoba is undoubtedly one of the greatest natural talents that Uruguay has produced, even if there is a feeling that he never consistently produced his best form when required.
El Chino is now back in his homeland with Nacional, the club he represented before his intial move to Inter. With the Montevideo club once more and now 36-years-old, Recoba is still showing his unique abilities in the prestigious Copa Libertadores.
A wonderful dribbler with the ball at his feet, Recoba has always retained a natural ability to pull off the seemingly impossible.
He may never have produced his best on a weekly basis, but there is no doubt that his memory lives on in Italy's second city in particular.
Now director of football at Russian side Anzhi Makhachkala, Brazilian left-back Roberto Carlos will be forever remembered as one of the finest strikers of a football the world has ever seen.
His free-kick taking ability, despite his poor ratio of success, has gone down in footballing legend and mainly because of one solitary goal early in his career. Carlos' incredible strike in Mention Le Tournoi of 1997 will likely be the one abiding memory of the event.
As shown in the video, French goalkeeper Fabien Barthez was only able to watch on helplessly as the ball swerved dramatically from well outside the post and into the back of the net. It has since become one of the most replayed goals in history.
While his free-kicks may not always have hit the target, his rocket of a left foot was feared the world over from open play. The Brazilian ultimately reached double figures for international goals in what is a fine achievement for a player who spent his entire career at full-back.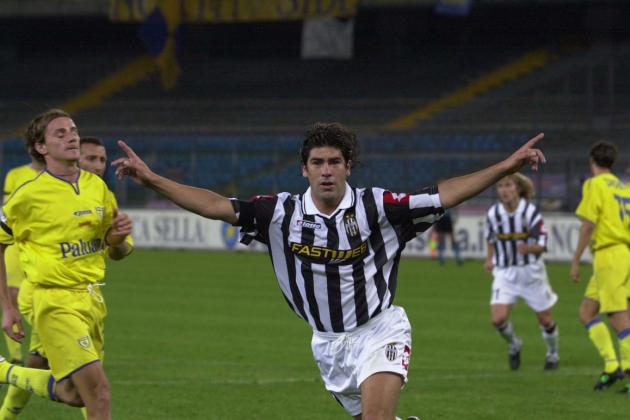 Grazia Neri/Getty Images

One of the greatest players in the history of Chilean football, Marcelo Salas will be remembered as one of the best left-footed finishers of all time.
A five-year spell in Italy with both Lazio and Juventus brought the La Roja forward three Serie A titles, while he ended with figures of 36 goals in 97 league appearances.
In South America, the centre-forward is best remembered for helping both Universidad de Chile and River Plate to domestic titles, while four goals at France '98 saw him pick up the World Cup bronze shoe award.
His time at Juventus may not have worked out as well as expected due to a series of injuries, but even fans of the Old Lady will appreciate Salas' immense striking talents.
There have been few better South American strikers in modern times, with the quality of his left footed finishing making him one of the most clinical forwards anywhere worldwide at the peak of his powers.
Known as the "Reizinho do Parque" (Little King of the Parque São Jorge), Rivellino was a typical Brazilian playmaker who had refined his technical ability by playing futsal as a youngster.
Used on the left flank in 1970, he provided balance to the side in a deeper role that allowed Jairzinho on the right flank to push on and play as an inside forward. His teammate would finish as the tournament's top-scorer.
Rivellino would also go on to attend the 1974 and 1978 without success, while also playing for his Corinthians side on almost 500 occasions without state championship victory. His talents deserved much more.
Eventual title success would come with Fluminense in the Carioca championship, before achieving league title success in Saudi Arabia
A certain Argentine youngster by the name of Diego Maradona would later acknowledge Rivellino as his inspiration. (YouTube)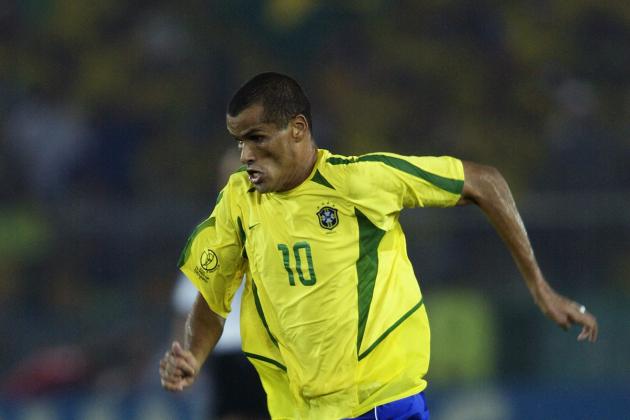 Gary M. Prior/Getty Images

Tall and graceful with perhaps the epitome of a "cultured left-foot", Rivaldo was one of the best players anywhere in the world at the turn of the century, culminating in his World Player of the Year award in 1999.
An icon in his time at Barcelona, Rivaldo helped his side to league titles in 1998 and 1999 before moving onwards to AC Milan in 2002. A year later, he would clinch the solitary Champions League crown of his career.
Willowy and slight, Rivaldo appeared to breeze around a football pitch with the ball at his feet. It was then left to his left foot in particular to deliver the moments of magic for which he became famous.
The 2002 World Cup would be the individual highlight of his fine career to date. Five goals en-route to title success would earn the Brazilian the silver boot as second top goalscorer and help solidify his place in annals of Brazilian footballing history.
Hailed as the brain behind Brazil's brilliant attacking unit of the 1970 World Cup, Gerson possessed a wand of a left-foot that enabled him to dictate play for his side.
With the likes of Jairzinho, Pele, Tostao and Rivellino alongside him, his job was made somewhat easier. However, few would argue that he was not a wonderfully gifted player in his own right.
It says much for the quality of the 1970 side, which Mssrs. Beckenbauer and Charlton described last week as "the best ever" (Portuguese), that two of their number feature in this list. Tostao, another left-footer, could and maybe even should also feature.
Gerson played 70 times for the selecao and was a member of the outstanding Botafogo side of the 1960s, as well as attending the 1966 World Cup.
His performances in Mexico '70, though, are still discussed in awe to this day.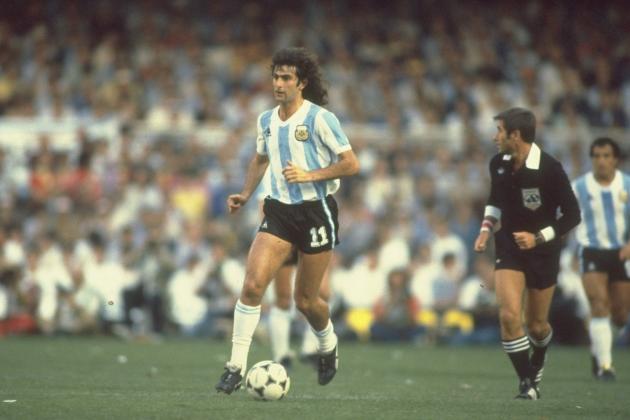 Steve Powell/Getty Images

Scorer of two goals in the 1978 World Cup final, Kempes was awarded both the Player of the Tournament and Top Goalscorer prizes at the Argentina-hosted event.
A centre-forward, Kempes enjoyed great success in Spain with Valencia and in his homeland with both Central and River Plate. At the time, he was among the very best strikers anywhere in the world.
Not a typical target man, he was famed for his late runs into the area and left-foot finishing. His irregular style of playing the striker's role often left defenders unaware of how to deal with his threat.
El Matador may have failed to help his side repeat their success at the 1982 tournament, but it was at the World Cup in Spain that another young left-footed star began to emerge.
The one and only Diego Maradona.
There is no question that, even just a year or two ago, Diego Maradona would have sat comfortably atop this list.
No doubt there will be many who will argue that he should still top the list and it is true that his achievements, in particular in guiding Argentina to the 1986 World Cup title, take some beating.
Whether dribbling or shooting, the Argentine was able to do things with a football that few others could realistically dream of achieving. In particular, his goals against England in 1986 (above) and Greece in 1994 are both efforts that will live in the memory for a long time yet.
From his beginnings at Argentinos Juniors to the final days of his career at Boca Juniors, he was always capable of winning matches single-handedly. When ageing and well overweight, his golden footwork was still regularly enough to influence games against players half his age and do so on a semi-regular basis.
Maradona was a truly special player, so for him not to have topped this list is fairly remarkable. His victor, though, will come as no surprise.
What is there left to say about Barcelona's Lionel Messi. The 25-year-old still has the supposed best years of his career ahead of him, but has already been at the top of the world game for quite some time.
There is simply nothing that he cannot do. Many would rank Maradona ahead of him in terms of greatness based upon his performance at the 1986 World Cup. He simply cannot match Messi, though, for consistent brilliance at club level.
While it is true that the younger of the pair is surrounded by what is an exceptional Barcelona side, it is disingenuous to suggest that Maradona's Napoli was as poor as some would claim. It was a fine side in its own right.
A wonderful dribbler, a masterful passer and one of the most clinical finishers the European game has ever seen, Messi is without doubt the best left-footed player South America has produced.
Some may still dispute the point, but by the end of his career surely there will be nobody arguing.