The 50 Greatest Goals in 2013 You Won't Have Seen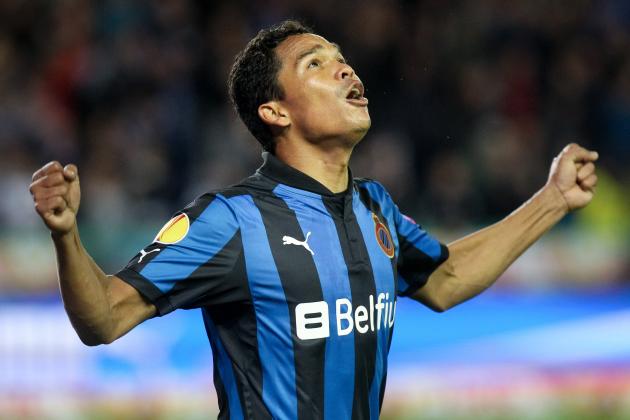 EuroFootball/Getty Images
King Carlos
It really annoys me when a well recognised player scores a good goal. The actual scoring of the goal doesn't annoy me of course, but the reaction to it does.
Commentators and fans bang on like that particular player is the only person possible of scoring such a goal but––as we know––they're not, and they aren't.
So to prove the point, I've stuck together a list of 50 great goals from 2013 you probably won't have seen––and there's not a Messi, Ronaldo or John Baines in sight.
There's a fantastic range of brilliant goals including special solo runs, spectacular strikes, vicious volleys and plenty of overhead kicks.
What makes them even better is that they are from some very unrenowned footballing arenas, like Australia, Cyprus, the Turkish third division and even a couple from Scotland.
This list is by no means definitive so if you've got one you think should have made the cut, feel free to post it below.
In the meantime, sit back and enjoy some great goals from 2013, most of which you probably won't have seen.
I'd like to thank my friends at tvgolo.com and 101GreatGoals for providing an exhaustive arsenal of great goals.
Enjoy.
For more, follow me on Twitter @bainesyDiego10
Begin Slideshow

»
Dutch journeyman Marc-Jan Fledderus has scored one goal in two seasons for Roda JC, so if you're not going to score very often, you may as well make them worthwhile.
Belgian international winger Nacer Chadli shows Eden Hazard and the rest how to do it, with this cheeky chip for FC Twente against AZ Alkmaar.
A backpedalling volley at the far post from a deep cross? Yes please.
Marco Rojas has gathered something of a reputation as a scorer of great goals in the Australian A-League, but few can be any better than this peachy volley.
Hector Herrera could have blasted this past the keeper or gone round him, but neither would have made him look as helpless as scooping it up and over. Hats off to Hector.
Yeni Ngbakoto could probably never do this again if he tried. There's a bit of skill involved and plenty of luck, but well worth the inclusion to see the keeper scrambling back in vain to save. Next.
Ukrainian football will need a new star now that Andrei Shevchenko has hung up his boots, and they look to have one in Artur Miranyan, judging by this beautiful goal.
He nutmegs his man on the halfway line before advancing to unleash a screamer into the top corner.
Shev who?
If Lionel Messi had scored this then we'd never hear the end of it.
However Vitoria Guimaraes are bottom of the Portuguese Second Division, so that's why we've never heard the start of Rafael Crivellaro's stunning goal.
Colombian striker Carlos Bacca has been in prolific form since signing for Club Brugge in the summer, and it's not hard to see why when he scores goals like this.
Chest, thigh, swivel volley from 40 yards out. Nice.
Another Lionel Messi-esque masterpiece from the depths of the Italy's Liga Pro 2.
Monza's Andrea Gasbarroni ties the Rimini defence in knots in a goal which reminds me of Ricky Villa's in the 1981 FA Cup final.
The next big thing coming out of Barcelona's La Masia WILL be Gerard Deulofeu, and he shows what he's all about with a fine solo goal against Xerez.
This is how to win a game against your fiercest rivals. Note the timing.
Straight from the vast archive of quality South American acrobatic goals.
River Plate's Ariel Rojas does the business against racing with a spectacular overhead kick.
Blackburn Rovers have already been through three managers this season, but not even a combination of Jose Mourinho, Pep Guardiola and Sir Alex Ferguson could keep out efforts like this.
If I scored a goal like this, I reckon I'd be slightly more excited than Mame Biram Diouf.
However the Hannover striker's brilliant overhead from outside for the box counted for very little with his side 5-3 down in injury time.
Another beauty from one of Ukraine's youth teams.
There's something very Gheorghe Hagi about the way Vladislav Kalitvintsev advances and lazily swooshes one in the T.C. from 30 yards.
Very low league Brazilian football. Amazing bicycle kick from a whipped in set-piece. Standard.
I'd like Ricardo Fernandes to claim he knew what he was doing here. He looks about the most surprised man in the stadium when it ended up in the net. Do it again.
Corner comes in, somebody heads it back out, defender runs on and smashes a volley home.
Skip to 40 seconds in to see the one I'm talking about, not the header which bounced three times before it found the net.
After spending an eternity in Tottenham Hotspurs reserve team, Giovani Dos Santos reminds us what he's all about with a lovely free-kick.
A goal fit to grace any game, coming from mid-table in the Portuguese top flight. Take a bow son.
I'm not quite sure what the context of this goal was, but judging by the reaction of Hamza Al-Dardour's team-mates and the dejection of the opposition, it must have been quite important.
Elano has scored plenty of spectacular strikes throughout his career and the Brazilian couldn't have fitted this 30-yard effort any more snugly into the far top corner. Beautiful.
We've not had a cheeky backheel yet, so will the fabulously named Ricky van Wolfswinkel please step forward.
Another Brazilian game and another overhead kick, this time reminiscent of Rivaldo's for Barcelona against Valencia in 1999.
Jailson's delight didn't last for long though––he was later sent-off.
Siena's Alessio Sestu walks on to a pass and nonchalantly curls the ball past inter Milan keeper Samir Handanovic during a 3-1 for the Bianconeri.
Greek superpower Olympiakos very rarely get beat at home, but thanks to this thunderbolt from Thanasis Karagounis, little Atromitos were able to make off with a 3-2 win at the Karaiskakis Stadium.
Not enough of the overhead kicks in this list have hit the net with any power, but Juan Garcia's stunning strike for Honduras against the USA doesn't have that problem.
David Beckham made a career out of a goal from the halfway line. Javier Umbides probably won't go on to have his own brand of boxer shorts but at least he gets a mention here.
Yet another overhead kick with this one clipping the angle of post and bar before going in. Fernando Baiano seemed to enjoy it, and it won't surprise you to find out that he got booked for whipping his shirt off when celebrating.
This was Raffaele Pucino's first-ever professional goal and he'll have a long way to go to better it.
Who needs Edison Cavani when your central defender scores goals like this?
A bittersweet moment for Scottish football. A rare moment of quality, unfortunately only witnessed by a few thousand empty seats. Top effort from Bryan Prunty though.
Another defender showing his forward men how to do it. Guillermo Burdisso's stunning volley for Boca Juniors put them 3-2 ahead against Quilmes and it was also the centre-back's second goal of the game.
Fikru Teferra starts and finishes this move himself, driving forward before swapping passes, flicking the ball up with his right and smashing it home with his left for Free State Stars against Kaizer Chiefs.
You get played in down the channel and look up to see nobody in the box ready for a cross, so what do you do?
Smash it of course. That was Darwin Quintero's theory of evolution of what to do when your strikers go missing.
Anything that Cristiano Ronaldo or Gareth Bale can do, Filipe Da Costa of Panserraikos in the Greek Second Division can do better.
I'm not convinced by that wall though.
Another fine overhead kick and another referee hanging about to try to spoil the emotion.
Vlad Chiriches has scored four goals in his entire career. One was against Chelsea at Stamford Bridge and another was this beauty to beat Ajax and set up a Europa League clash with the Londoners.
A delightful drive from just inside his own half by Jordi Amat. The Rayo Vallecano defender strolls forward, sees the Valladolid keeper off his line and just sends it past him. Simples
Spectacular overhead kick #237
Skip forward to 1 minute through the video to see Fred's delicious effort for Porto U20's against Rio Ave.
The second of two special strikes from Scotland. Graham Carey's unstoppable 35-yard effort breaks Hearts resistance in a 2-0 win for St Mirren.
Deep into injury time and you're 1-0 down, get your defender to launch it into the box and if the goal's in this list then you can guarantee somebody's pulled off a world-class overhead.
To prove that you don't need to be that good to score a great goal, check out this absolute stunner from the Turkish third division.
Korhan Ozturk meets a floated cross-field ball flush on the volley and rattles it into the top corner from at least 30 yards out.
I love the way the two ballboys behind the goal greet this once-in-a-lifetime viewing with absolute indifference.
Surely a FIFA Puskas Goal of the Year contender?
Anything that Korhan Ozturk can do, Morecambe's Kevin Ellison can nearly do better.
Now this is special.
A big, looping cross to the back post goes in the vicinity of Ramon Rodriguez, and the Cienciano striker meets it with a beautiful left-footed scissor kick into the top corner.
Diego Forlan looks like he's playing left-back for Brazilian side Internacional here, but that doesn't stop him from stumbling on and drilling home from distance.
Quilmes's Wilfredo Olivera meets a clearance from a corner full on, keeps it up with his first touch and smashes an up-and-under home from near the centre circle.
Who else feels sorry for that Goalkeeper tangled up in the back of the net? No, me neither.
This folks, is Djimi Traore. The same Djimi Traore that did his best to lose the 2005 Champions League final for Liverpool.
His career seems to have progressed as expected and he's now playing in the MLS, so I'm not sure where's he's pulled this goal from.
It still comes with his customary poor first touch though.
I wouldn't even try to pronounce this Polish bloke's name, let alone have a go at what he did during a game.
An outrageous piece of skill on the halfway line does for two defenders and he finishes it off with a crisp left foot finish.