Seattle Sounders FC vs. Portland Timbers FC: Live Blog, Updates and Analysis
Seattle Sounders FC vs. Portland Timbers FC– CenturyLink Field, Seattle.
SEA 1, POR 1
Johnson, 13'; Wallace, 90'
Full Time Report:
The Seattle Sounders jumped to an early lead through striker Eddie Johnson. Steve Zakuani streaked down the left flank, launched a low cross into the penalty area, and the American striker tapped the ball home from just outside the six-yard box in the 13th minute.
Portland began to settle and come into the game about 25 minutes in. They had chances through set-pieces and crosses but were unable to convert.
The second half played out with Portland dominating the possession. They worked the ball around but found it difficult to break through a stoic Seattle defense.
Finally, in the 90th minute, the Timbers broke though on an Rodney Wallace header. Andrew Jean-Baptiste put a hopeful ball into the box, and Wallace was there to head it home.
Portland will be buzzing on the way back to Oregon. Seattle will feel as though they clutched defeat from the jaws of victory.
Lineups:
Seattle: Gspurning; Yedlin, Traore, Hurtado, Burch; Martinez, Rose, Alonso, Zakuani; Ochoa, Johnson;
Subs: Hahnemann, Gonzalez, Scott, Caskey, Rosales, Carrasco, Martins
Portland: Ricketts; Zemanski, Jean-Baptiste, Silvestre, Harrington; Chara, Jewsbury, W. Johnson-C; Valeri, R. Johnson, Nagbe;
Subs: Kocic, Miller, Tucker-Gangnes, Wallace, Alhassan, Piquonne, Valencia
Substitues:
Seattle:
61':Mauro Rosales for Samuel Ochoa

70':Obafemi Martins for Mario Roberto Martinez
81':Steve Zakuani for Alex Caskey
Portland:
70': Frederic Piquionne for Jack Jewsbury
80': Rodney Wallace for Darlington Nagbe
89': Jose Valencia for Ryan Johnson
That's it for me!
Thanks for joining for tonight's Live Blog. I hope you've enjoyed it.
Feel free to follow me on twitter @jakelittle.
Until next time!
FT–SEA 1, POR 1
What an ending! Portland, you could argue, deserved more. Though the Sounders played well, I felt that the Timbers dominated a bit more.
Great match.
90'–SEA 1, POR 1
Surely, the game will end with the teams splitting the points.
Credit goes to Portland. They were persistent and never let their foot off of the gas pedal.
If Portland were to get a target man that could attack crosses, they would be a VERY dangerous team.
90'–SEA 1, POR 1
GOAL!!!!!!!!!!!!!!
Rodney Wallace levels for Portland. He took the chance beautifully and curls a header into the Seattle net.
79'–SEA 1, POR 0
Obafemi Martins feeds a great ball across the penalty area, but no one is around to tap it home.
Had someone been there, it would have been tough to see a way back for the Timbers.
79'–SEA 1, POR 0
Very little to report in this second half. Both teams exchanging possession but no clear-cut chances.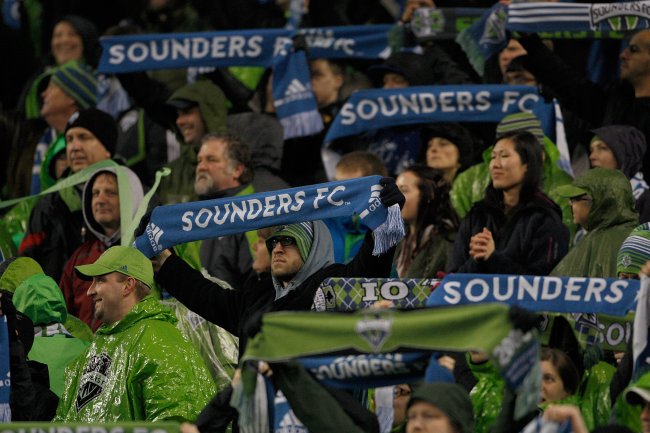 Kevin Casey/Getty Images
72'–SEA 1, POR 0
The official attendance at today's match is 40,150.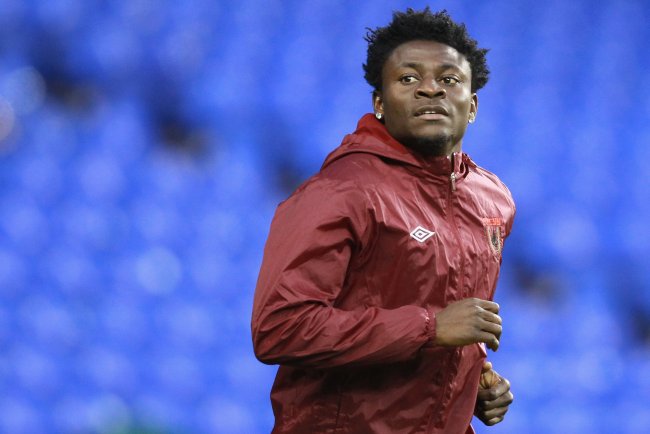 Ian Walton/Getty Images
70'–SEA 1, POR 0
Nigerian striker Obafemi Martins, who arrived in Seattle last night around 5 p.m. local time is coming on. The stadium is ERUPTING with applause.
66'–SEA 1, POR 0
Nagbe looks to be Portland's best chance of getting an equalizer. Seattle keeping penalty area packed though.
Lack of size hurting the Timbers. Sounders defense does not look like it is going to break down through the middle.
60'–SEA 1, POR 0
Lots of possession for Portland in the last 10 minutes. No danger to report on though. Seattle defending admirably.
54'–SEA 1, POR 0
Sounders first corner kick of the match. Should give you an idea about how much time they've actually spent in the final third.
49'–SEA 1, POR 0
Another set-piece for the Portland Timbers just outside the penalty area. Off the post. Never looked too dangerous.
It seems that if Portland is going to score, it's going to be in open play.
The second half is underway!
I would be surprised if the Timbers don't score a goal in the second half. Imperative that they press the Sounders and really put pressure on the home side.
If Seattle can use its speed to break down the flanks and score, expect Portland to be deflated and complacent.
If I were the Sounders, I would let Portland attack and have Eddie Johnson and Steve Zakuani waiting to break.
HT–SEA 1, POR 0
A tame ending to the first half. Both teams enjoying good possession in the last 15 minutes. Portland might have edged the better of the chances with a couple of set-pieces and some good attacking play.
Second half is going to be interesting. If Portland come out and score an early goal, we're going to have some game on our hands!
42'–SEA 1, POR 0
Tough shot for Nagbe to convert. Portland seem to have settled into the game much better now. Seattle defense look up to the task.
Critical for Portland to defend well going forward because they're not going to get many chances on goal.
36'–SEA 1, POR 0
Hurtado playing marvelous defense. Been my MOTM so far. A lot of soccer to play still, though.
26'–SEA 1, POR 0
On replay, maybe defender got the ball first. Still, I've seen MUCH softer penalties given.
26'–SEA 1, POR 0
For me, that is 100% a penalty. How is that not called?
25'–SEA 1, POR 0
There is nothing more frustrating than a terrible delivery on a corner kick.
20'–SEA 1, POR 0
The Timbers' defense does not look convincing at all. Appears as though there is little, to no, communication between the keeper and the back four.
16'–SEA 1, POR 0
That really was a cynical foul by Jean-Baptiste. He's going to have to be careful the rest of the match. Visitors cannot afford to go down to ten men.
16'–SEA 1, POR 0
Eddie Johnson breaks away and is pulled down just outside the penalty area by Andrew Jean-Baptiste. Yellow card given to the defender.
13'–SEA 1, POR 0
GOAL! Chara is going to be kicking himself for that. Zakuani blasts down the left flank and whips the ball in to the box. Eddie Johnson meets it just outside the six-yard box and taps it home.
Gorgeous play.
8'–SEA 0, POR 0
The linesman flagged Portland for offsides while draped in lime-green streamers. What an environment. Can't think of a better one in the MLS.
Portland look dangerous going forward. Another cross with just a bit too much pace on it.
This article is
What is the duplicate article?
Why is this article offensive?
Where is this article plagiarized from?
Why is this article poorly edited?