5 Clubs That Deserve to Survive and 5 That Deserve to Be Relegated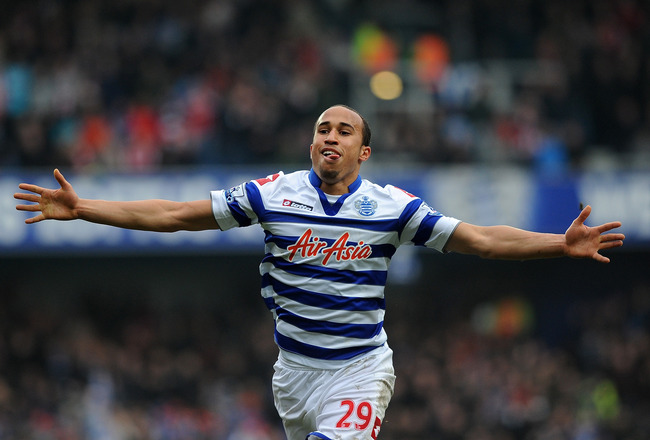 Charlie Crowhurst/Getty Images
The business end of the season is approaching and it is this time of year that the bottom of the league tends to be as entertaining as the top of the league across European football.
With so many high quality leagues, it can be difficult to keep track of those sides that are fighting it out to stay in their country's top tier.
Here are five sides that deserves to go down and another five that should stay up.
Let me know what you think in the comments section below and make your selections for who you believe will be relegated from Europe's top leagues.
Queens Park Rangers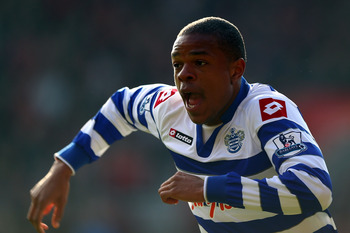 Clive Rose/Getty Images
Queens Park Rangers have put back-to-back wins together for the first time of the season and suddenly it feels like momentum is on their side and safety is now within reach, despite remaining four points away from Aston Villa, who sit just above the relegation zone.
QPR deserve to be relegated, quite simply, because they will have set an awful precedent should they overcome the ineptitude of Mark Hughes and remain in the Premier League for a third season.
In January alone, Rangers spent £25.5 million on just two players, Loic Remy and Christopher Samba.
Big money moves for Esteban Granero and Stephane Mbia last summer, combined with the astronomical wages that have been thrown at distinctly average players could potentially cripple the club if they are relegated to the Championship.
David Conn's Guardian column reveals that Rangers made losses of £23 million for the 2011-12 season and that figure will surely be even greater at the end of this season when you consider the transfer activity done by the club over the past two windows.
Should they achieve the improbable then other clubs will surely look replicate this tactic, knowing that as long as the club plays in the Premier League, debt will soon go away.
Wigan Athletic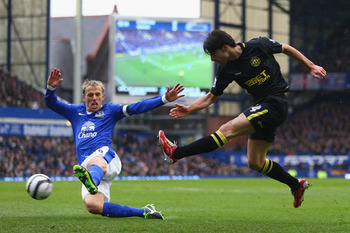 Michael Steele/Getty Images
Wigan Athletic appear to be set for another relegation battle and despite routinely escaping in the nick of time, most feel that the Latics might just have left themselves too much to do this season.
But Wigan deserve to remain in the Premier League, the club is run properly by one of the league's best chairmen, Dave Whelan, who balances the books, shows faith in his manager, Roberto Martinez, and encourages attractive football from his manager with results coming as a secondary concern.
It is also admirable that the club have shown great respect to The FA Cup and are now in the semi-final, knowing that a win over Championship opposition Blackburn Rovers or Millwall will give them a place in the final.
Most clubs who are towards the bottom of the Premier League sacrifice the cup competitions in order to prioritise their league form and the Latics should be rewarded for their brave approach this season, as it could become detrimental to their bid to avoid relegation.
Southampton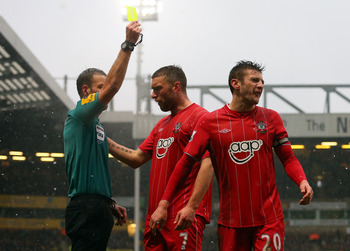 Julian Finney/Getty Images
This might be a controversial selection, but I believe Saints deserve to remain in the Premier League.
While the handling of Nigel Adkins was not ideal, I admire the ambition of the board at Southampton.
They have a vision and they are moving towards it in an appropriate fashion, without resorting to reckless transfer activity like QPR.
Their transfer policy is bold, but also interesting, providing the neutral fan with intrigue due to the originality of their targets.
Gaston Ramirez and Nathaniel Clyne are great examples, one is a high profile foreign talent with prior experience in one of Europe's top division, while the other is also highly rated but was yet to be handed the experience of top flight football before joining Southampton.
An outstanding academy, that has produced Gareth Bale and Theo Walcott, needs Premier League football to make sure that the likes of Adam Lallana and Luke Shaw remain for a considerable time.
Palermo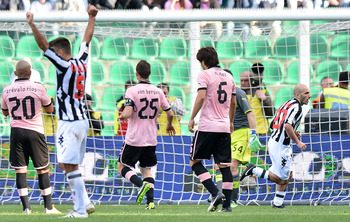 Tullio M. Puglia/Getty Images
Palermo is a club that deserve to go down to Serie B.
The club is run by the crazy Maurizio Zamparini, who recently stated that he expected Palermo to be in the Champions League by 2016.
Of course, even with relegation, this is not impossible, but it does not help when you constantly sell your best players such as Javier Pastore and Antonio Nocerino.
Moreover, the turnover of transfers is ridiculous, in January alone, the Rosanero completed 22 deals for players coming in and leaving the club.
No wonder the team struggle for consistency, most of them barely know each other.
So, a mad transfer policy and an even madder policy regarding their managers, who are out of the door at the Renzo Barbera before they've even had time to make an espresso.
Zamparini has made 10 managerial changes in the past two seasons. Stefano Pioli didn't even manage to reach the beginning of the 2011/12 season before he was sacked.
Coincidentally Pioli is now working wonders with Bologna and courted by bigger clubs too, indicating how clueless Zamparini can be.
Cagliari
Enrico Locci/Getty Images
Cagliari will not be relegated this season, but they deserve to.
The Isolani have been run atrociously by president Massimo Cellino lately.
Cellino has been arrested and charged with embezzlement and false representation in the rebuilding of the Is Arenas stadium.
With only one permanent stand, Cagliari defied orders to prevent supporters from attending the league game with Roma earlier this season, forfeiting the game 3-0 as a result.
Moreover, the Rossoblu have since played several games behind closed doors and others hundreds of miles away from their home in Sardinia.
The fans have been treated appallingly and not had the opportunity to watch their team regularly.
If the club were to be relegated, hopefully new management could take the club forward.
Chievo Verona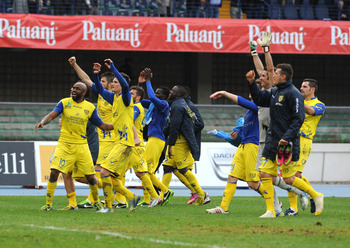 Dino Panato/Getty Images
Chievo Verona, once again, deserve to remain in Serie A for another season.
Besides Pescara, Chievo probably have the worst squad in the league, yet, Eugenio Corini has surely steered them away from relegation once again.
The Flying Donkeys—derived from their city rivals Hellas Verona, who goaded the club by singing to them that donkeys would fly before the day that Chievo would find themselves in Italy's top tier—have overachieved once again with a combination of excellent tactics and resilient performances.
By utilising a 5-3-2 at times—amazingly this formation is not quite as boring or negative as it might sound—they have often bamboozled the opposition in a league that is famous for being so tactically versatile.
Therefore, Corini deserves great credit for working with limited resources and once again achieving safety for the Gialloblu.
Reims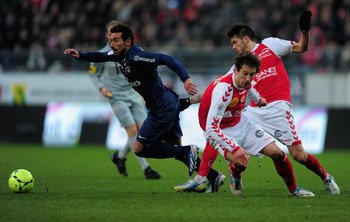 Jamie McDonald/Getty Images
The Ligue 1 relegation battle is tighter than most, three points separate five teams from 18th place upwards.
Nancy and Troyes seem doomed which could be dangerous view to have if you are one of the cluster of sides sitting above these two teams. If they feel that they can coast to the end of the season and hope that one club will suffer a slump at the wrong time, they might be usurped without much time to react.
Reims went on a 15-game winless streak recently and Ligue 1 football analyst Max Quelch-Woolls suggests they are the side that have failed to show enough bottle at the right time:
@jackrathborn Interesting. To go down Reims. Tough call but they had a long winless run where they didn't show much ambition & others did.

— Max Q-W (@FRfootballMax) March 11, 2013
Nancy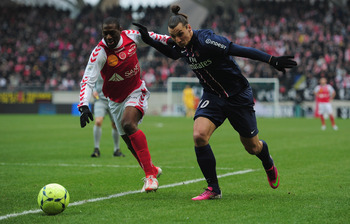 Reims caused a shock by beating PSG to climb out of the relegation zone
Jamie McDonald/Getty Images
With PSG easily spending the most in Ligue 1, there is a huge difference between the budgets of the rest of the league and Les Parisiens.
For this reason alone, it would be wonderful to see a club, on the opposite end of the scale to PSG, succeed by meeting their targets, while also adhering to the financial demands placed upon them. As Ligue 1 analyst Max-Quelch Woolls put it:
@jackrathborn They've been forced to sell players and make cuts due to financial problems but have kept in contention despite this.
— Max Q-W (@FRfootballMax) March 11, 2013
He also shed some light on the situation surrounding the club, as to why it they would be deserving if they do survive:
@jackrathborn To stay up is much harder. I'd go with Nancy as it would be against all odds if they were to survive.
— Max Q-W (@FRfootballMax) March 11, 2013
Fortuna Dusseldorf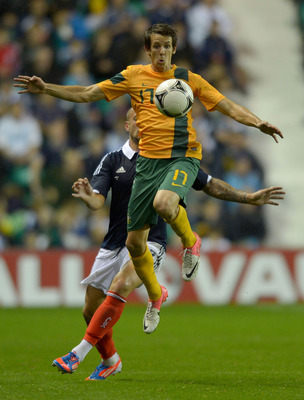 Kruse has been outstanding for Fortuna and has a big future with the Socceroos
Mark Runnacles/Getty Images
The Bundesliga is quickly becoming the league of choice for European football fans.
With outstanding efforts from their sides in the Champions League and the Europa League, the Bundesliga also offers great depth at the opposite end of the league.
While Greuther Fürth appear doomed, lying bottom of the league and 14 points off safety, there is still hope for Augsburg and Hoffenheim, who are seven and eight points from Fortuna Dusseldorf, respectively.
It has been a tremendous effort from Fortuna to be on the cusp of safety and Bundesliga analyst Will Dubey concurs and highlights one new signing and a player who has been handed a greater role for the Flingeraner:
"@willd268: Fortuna deserve to stay up. Huge overhaul in their squad in the Summer, made some good signings in the Summer bringing in"

— Jack Rathborn (@jackrathborn) March 11, 2013
@jackrathborn Malezas at the back and Robbie Kruse who's been outstanding. Adapted well to the top flight, playing good counter attack etc.

— Will Dubey (@willd268) March 11, 2013
"@willd268: @jackrathborn oh and Giefer. Third choice keeper at Leverkusen. He's been superb."

— Jack Rathborn (@jackrathborn) March 11, 2013
Hoffenheim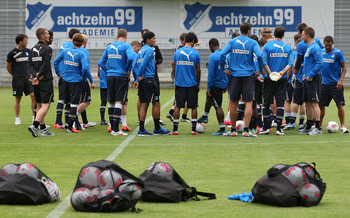 Thomas Niedermueller/Getty Images
It has been a bit of a fall from grace for one of the better-known Bundesliga sides this season.
Hoffenheim once challenged for the title in 2008-09, but a serious injury to star striker Vedad IbiŠević ended any hopes of claiming the Bundesliga, eventually finishing a respectable seventh after promotion the season before.
It seems like they might be destined for the drop though and Bundesliga expert Will Dubey has lamented the clubs transfer activity which might prove to be a fatal mistake from the club when it's all said and done.
Having spent €26 million in the past two windows—despite having a significant amount of that being funded by the sale of Gylfi Sigurdsson to Spurs for €10 million—relegation would be a disaster for the Sinsheim-based football club.
Keep Reading