Matchups to Keep an Eye on in MLS This Weekend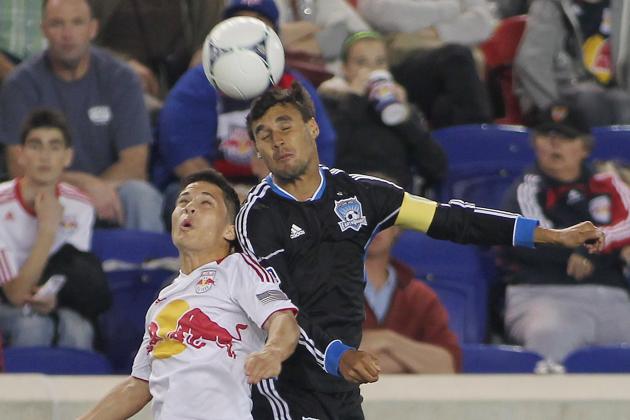 Andy Marlin/Getty Images

After an opening weekend with some good and not-so-good performances, MLS has a slate of eight matches for your enjoyment this weekend. The Sounders, Dynamo and Galaxy have the week off, presumably because they're participating in the knockout stages of the CONCACAF Champions League.
Let's roll through the schedule and look at the key matchup from each game.
Begin Slideshow

»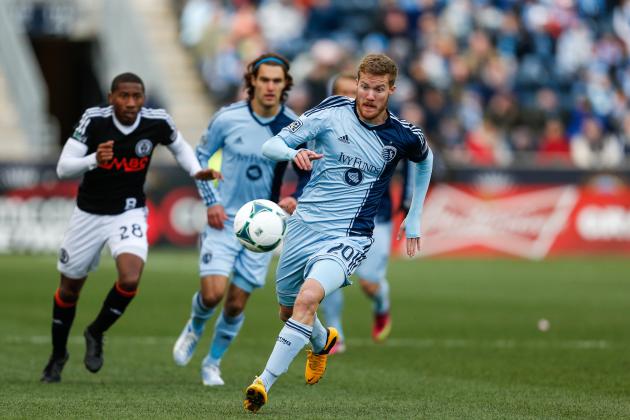 Brian Garfinkel/Getty Images

Key Match-up: Sporting KC offense vs. Toronto defense.
After an admittedly slow start in their opener against Philadelphia, Sporting KC dominated the Union in the second half. Graham Zusi's goal and two assists led the visitors to a 3-1 comeback win (the only comeback win in the league last week).
Toronto may have only allowed one goal last week in their opener, but they were playing Vancouver. The Whitecaps aren't exactly known as an offensive juggernaut.
If Sporting KC gets off to a slow start again this week, expect to see several members of the club with tattoos of Peter Vermes' foot on their backsides.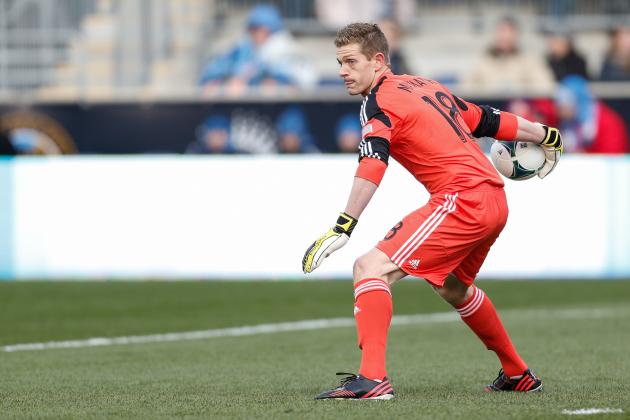 Brian Garfinkel/Getty Images

Key Matchup: Colorado offense vs. Philadelphia GK Zac MacMath.
The Rapids lost their opener against FC Dallas because of an absolute howler on the part of backup goalkeeper Steward Ceus. Colorado enjoyed 63 percent of the possession in the Lone Star State last week, but it didn't really do the team any good.
Zac MacMath didn't have a good day at the office last week against Sporting KC. He allowed three goals and, quite frankly, didn't look good doing it. If the Rapids play anywhere near as well as they did in their loss to Dallas, MacMath may have another long day between the pipes.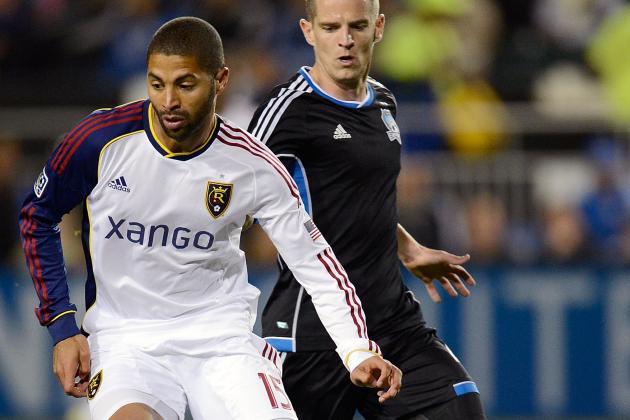 Thearon W. Henderson/Getty Images

Key Matchup: RSL's Alvaro Saborio vs. DC United's defense.
In last week's battle with Chris Wondolowski, Saborio was much more clinical in front of goal. While Wondolowski took eight shots, only one was on target. Three of Saborio's four shots were on frame, and two went in.
Like Colorado, DC United shot itself in the foot last week. An 80th-minute own goal from halftime substitute James Riley gave Houston the lead it would not relinquish in the opener.
The Dynamo controlled 58 percent of possession last week. If RSL can come close to that, DC goalkeeper Bill Hamid will be very busy.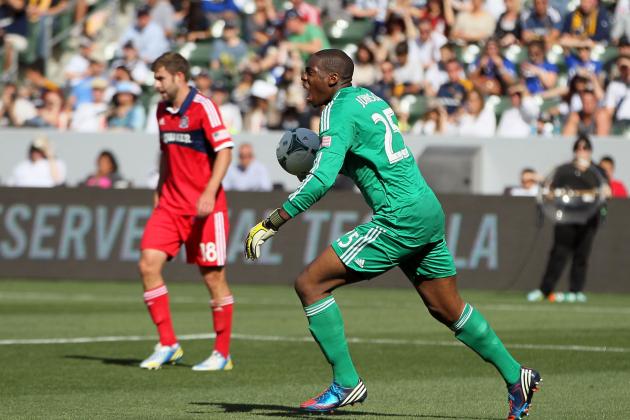 Victor Decolongon/Getty Images

Key Matchup: Chicago pride vs. New England rust.
While the Fire did get a 4-0 thumping from defending league champion L.A. Galaxy, it could have been worse.
"How?" you ask. While Sean Johnson did allow four goals, he also made six saves.
New England was the lucky club that had the first week of the season off, thanks to there being an odd number of teams. They're hoping, though, that it doesn't come back to bite them in the butt this week. Considering they've not played a match since a 2-0 win over New York on February 23, they may be a bit rusty.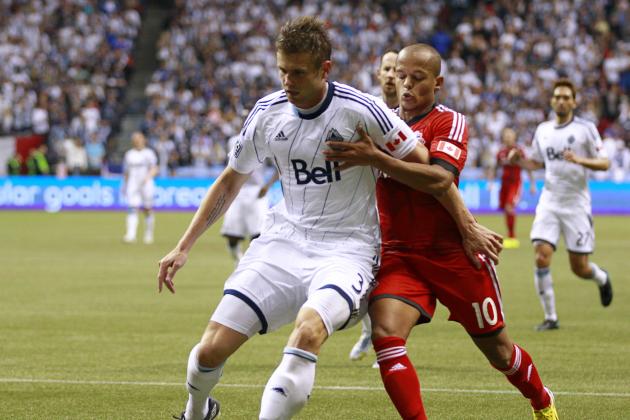 Jeff Vinnick/Getty Images

Key Matchup: Columbus forwards vs. Vancouver defender Brad Rusin.
Columbus will be looking to prove last week's season-opening 3-0 win was a better indicator of its talent than it was of Chivas USA's lack of talent.
Rusin came on in the eighth minute of Vancouver's win over Toronto last week. Whitecaps captain Jay DeMerit suffered a torn Achilles' tendon and is out indefinitely. Head coach Martin Rennie will be hoping Rusin can handle the job in DeMerit's absence.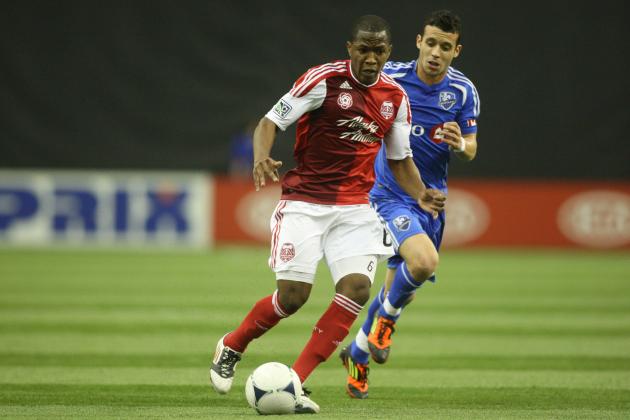 Richard Wolowicz/Getty Images

Key Matchup: Portland offense vs. Montreal defense.
Caleb Porter's Timbers managed a 3-3 draw with New York at home last week. While Portland's equalizer came from an own goal by Jamison Olave, it was second-half sub José Valencia who took the shot to begin with.
Portland had as many shots on target last week as New York had shots of any kind.
After only two wins and three draws in 17 road matches in 2012, Montreal went into CenturyLink Field (never an easy place to play) and came away with a 1-0 victory. Out of Seattle's 15 shots, only three were on target. Seattle had 59 percent of the possession, but Montreal kept the clean sheet.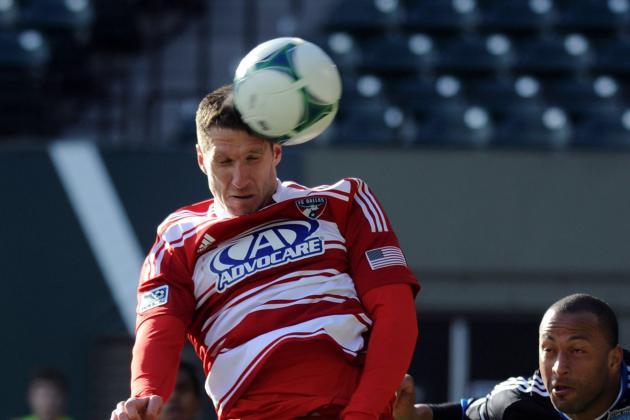 Steve Dykes/Getty Images

Key Matchup: FC Dallas forward Kenny Cooper vs. Chivas USA defense.
Cooper may not have been on the score sheet last week against Colorado, but if not for the Steward Ceus mistake, there might not have been anybody on it. I would almost be willing to bet money that Cooper will get his first of the year on Sunday.
The only thing more scandalous than Chivas USA's defense last week in its home opener may have been the unbelievable attendance total the team announced. If there were 7,000 people in the stands at that game, I will be the next president of the United States.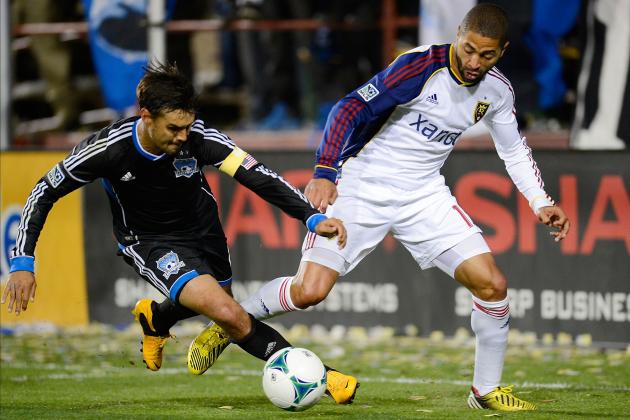 Thearon W. Henderson/Getty Images

Key Matchup: San Jose forward Chris Wondolowski vs. NY defense.
Wondolowski will be looking to make up for his poor performance last week against Real Salt Lake, where only one of his eight shots was on frame. I don't think he'll be setting a new record in 2013, but he'll need to start somewhere.
New York Red Bulls head coach Mike Petke will hope his defense can perform better this week than it did in its opener against Portland. Somehow, I don't think it will. I could be wrong, but Portland may have exposed some cracks we hadn't seen yet.