Reflections on Chelsea's 2-0 Defeat to Manchester City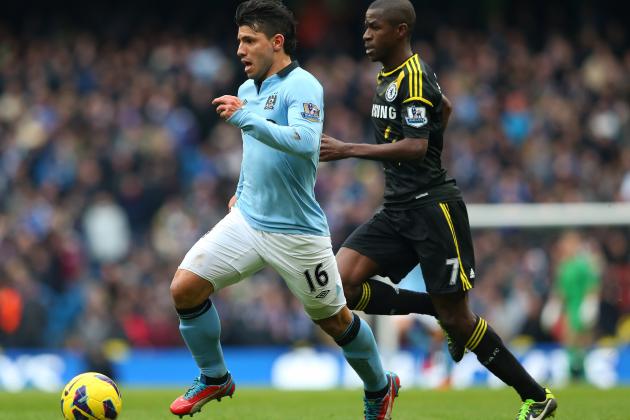 Alex Livesey/Getty Images

For most Blues fans, Chelsea's limp and thoroughly deserved 2-0 defeat at Manchester City on Sunday will be filed under "best forgotten." It's a game, too, that the majority of the Chelsea players who took part in it will not look back on with any fondness.
Ramires, in particular, had a shocker, displaying the touch of a drunken rhinoceros on numerous occasions. The match stats reveal that, incredibly, the Brazilian lost possession of the ball on no fewer than 24 occasions—a figure that, presumably, would have been even higher if the pre-match kickabout had been taken into account.
Given his woeful performance, it might be an idea if the midfielder spent the rest of this week doing keepy-uppy (it's a great way to improve ball control, Rami!). He needn't do it standing in the corner at Cobham wearing a dunce's cap, but if he plays like he did at the Etihad again, that might be considered an appropriate punishment in the future.
Meanwhile, read on for a few more random thoughts about Sunday's match…
Begin Slideshow

»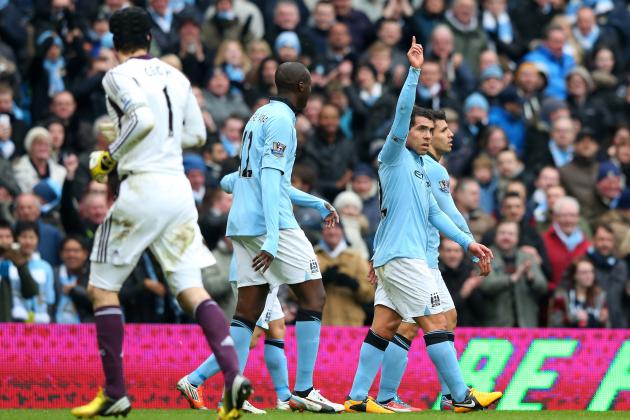 Alex Livesey/Getty Images

For a long time, Chelsea's least favourite ground was Anfield (no league wins for 57 years between 1935-92). Then, more recently, it was Highbury, with the Blues failing to win at the home of the Gunners between 1990-2005 (apart from a 5-0 demolition in the League Cup in 1998).
Now, though, it appears that the Etihad is the west Londoners' bogey ground. The Blues have lost there on their last four visits, their worst run at an away venue in the Abramovich era.
One of the reasons why Chelsea have fared so poorly in this fixture is Carlos Tevez. The really rather annoying little Argentinian has scored in three out of the Blues' four straight defeats at the Etihad and has a career total of eight goals in 11 games against Chelsea—a ratio unmatched by any other current Premier League player.
It might be a long shot, but Blues fans will surely be hoping Tevez is back "on strike" next time the two clubs meet.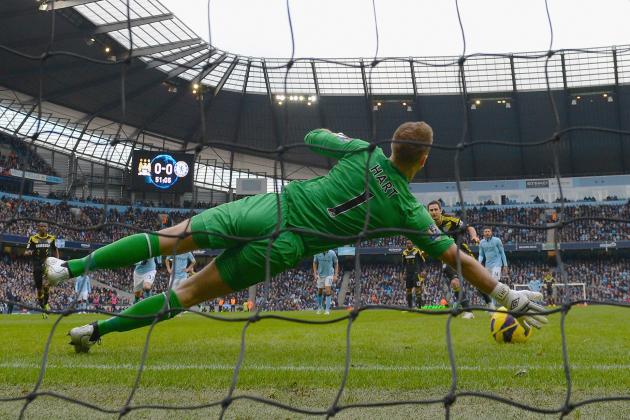 Shaun Botterill/Getty Images

Frank Lampard will be gutted, as they say, for missing the chance to give Chelsea the lead and reaching the personal milestone of 200 goals for the club when he saw his penalty superbly saved by City goalkeeper Joe Hart.
Discussing the incident after the game, the pundits on Sky Sports were surprised that Lamps didn't bring out his "smash it into the roof of the net" penalty, which he tends to reserve for big matches. Perhaps, though, Lampard thought that Hart would be expecting a blasted spot-kick and might stand his ground rather than dive early. From his point of view, then, going for a well-placed shot into the corner was a good option.
However, Hart seemed to read Lampard's mind perfectly and was moving to his right even before the Chelsea skipper had struck the ball, enabling him to pull off an excellent save. Perhaps the City goalkeeper should take up poker. On Sunday's evidence, you'd have to think he'd prove a tough opponent for even the wiliest of players.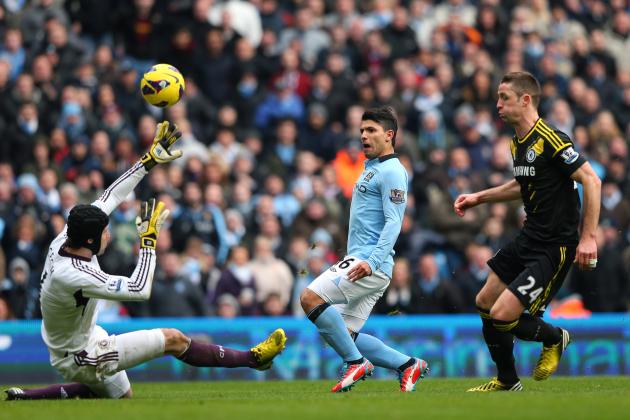 Alex Livesey/Getty Images

One of the few Chelsea players to perform anywhere near his best on Sunday was goalkeeper Petr Cech, who kept the score down by making a number of first-class saves.
To the delight of the away fans, Cech even pulled off a cheeky backheel in the second half, cleverly getting himself out of trouble when he was closed down by Sergio Aguero. The Czech shot-stopper is not normally the most flamboyant of keepers, but this incident suggests he may be a more swashbuckling character than we once thought.
If Cech has embraced his extrovert side, does this mean we can now expect to see him making spectacular "scorpion kick" saves in the manner of Colombian keeper Rene "El Loco" Higuita or suddenly dashing up to the halfway line like madcap 1980's Blues goalie Petar Borota?
Most Chelsea fans, one suspects, will be thinking, "Please, no!" and you can bet your last pound that Rafa Benitez won't be encouraging Cech to show off any more party tricks.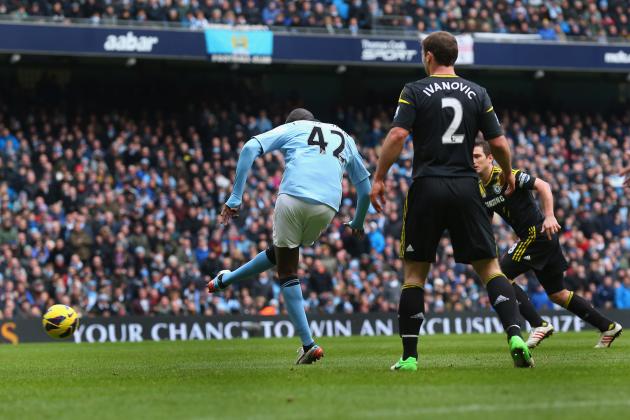 Alex Livesey/Getty Images

Five hours after the match at the Etihad had finished, a Paddy Power TV advert was offering to give punters their money back "if the match ends in a draw"—suggesting, somewhat bizarrely, that the company was still prepared to take bets on the game.
Well, if that's the case, I must admit I wouldn't mind putting a few quid on City winning. No, forget that, I'll go for a correct score. Umm...I don't know, let's say 2-0; that sounds about right.
And what about a first scorer? Carlos Tevez always nets against the Blues, but I've got a sneaking suspicion that Yaya Toure might grab the opener. So, let's put another hefty wedge on the Ivorian to get the first goal.
In fact, I've got a really good feeling about this one. I think it could be my lucky day. So, you know what, I've decided to go for the long-shot scorecast double: City to win 2-0, and Toure to score first. If that bet comes in—and I reckon it just might, somehow—it'll more than make up for Chelsea losing this weekend.
Cheers, Paddy!