Manchester City desperately needed a win to keep its ever-so-slight title hopes alive. Chelsea needed three points to stave off surging Tottenham and Arsenal as the hunt to finish in the top four heats up.
It was City that looked the part of champions, beating Chelsea 2-0 in a game that they dominated throughout. Yaya Toure would put City ahead in the second half, and Carlos Tevez would seal the deal late in the game.
Manchester City was the more threatening team early. James Milner just overshot a streaking Yaya Toure into the box with a pass, and later Petr Cech would make a brilliant save from a well-placed header off the corner.
Sergio Aguero was active early as well and had a golden opportunity in the box go awry when Cech forced him wide and Aguero's next touch was heavy, sending the ball out of play.
The first half was completely dominated by City, and the Manchester side had four very good chances to go ahead on set pieces. It seemed like every time you looked, Jack Rodwell was getting his head on the ball from a corner.
Chelsea was hanging on for dear life.
Even at the start of the second half, City looked the better team. And then a terrible Joe Hart penalty on Demba Ba in the box nearly changed the entire game.
Up stepped Frank Lampard to take a penalty, basically an automatic goal given his proficiency on penalties. But Hart would atone for his mistake, making a huge save on the attempt, and City were still even in a game they had been dominating.
City would have the next big chance, as Aguero would race into the box down the right side, just ahead of the Chelsea defense. But his chip over Cech would also clear the net, another golden opportunity by City left wanting.
After each team squandered golden opportunities on the break, Yaya Toure would finally give Manchester City the lead it deserved, turning in on his right book and curling a beauty just inside the post.
Chelsea—really needing the three points, but sure to be at least satisfied with a single point if they could muster it—began to ramp up the pressure in the final 20 minutes.
Eventually, Chelsea's need to press upfield would hurt them. After Aguero pressed up the left side and lost the ball, David Silva would reclaim possession and find Carlos Tevez just outside the box. The striker wouldn't wasted the few yards of space, absolutely ripping a rocket past Cech.
Game, set and match. City's unbelievably long title shots remain alive, while Chelsea now finds itself in a real battle to qualify for the Champions League with Tottenham and Arsenal.
Grades
Jack Rodwell, Manchester City: A-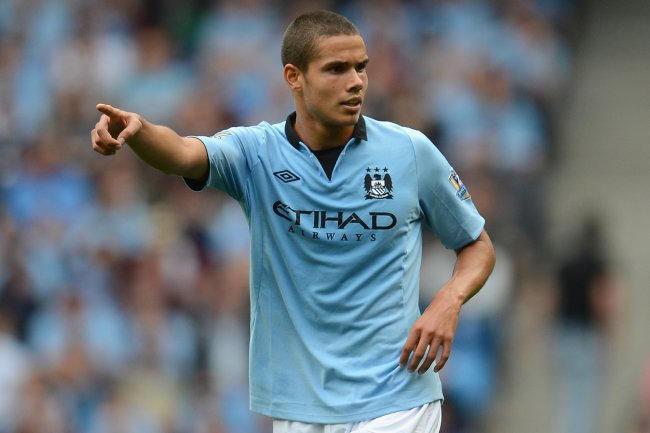 Michael Regan/Getty Images
Part of the reason Rodwell gets a grade at all is because I doubted his inclusion in the starting lineup to begin with, and he proved me wrong.
By my count, Rodwell got his head on the ball four times in the box on set pieces in the first half. While you would like him to score on one of those, his activity was impressive.
And honestly, given the thorough domination of possession throughout, most of City's midfield could have earned a solid grade. Yaya Toure, Silva and Aguero were also wonderful throughout, but they performed up to their own standards. My grades for City will be less conventional than usual today.
Frank Lampard, Chelsea: C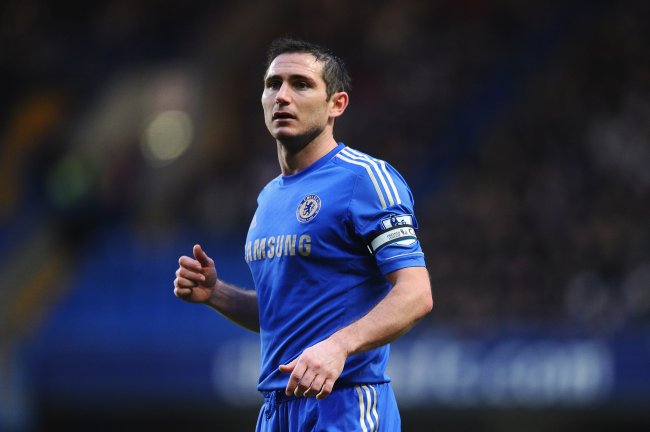 Laurence Griffiths/Getty Images
Lampard spend the majority of the game chasing the ball, a relative non-factor in the midfield. And then when he did have the opportunity to give Chelsea the lead against the run of play, he was stoned by Hart.
Not one of Lampard's finest days, that's for sure.
Kolo Toure, Manchester City: A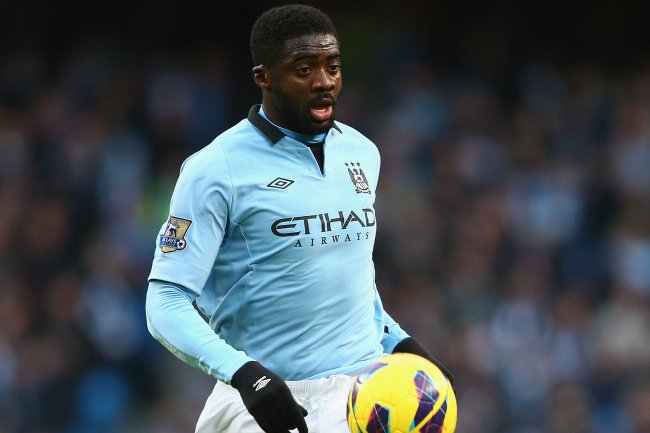 Clive Mason/Getty Images
The City defender was just wonderful in this game, sweeping up most Chelsea advances on the counterattack, keeping Ba (and later Torres) contained and even rotating out wide to stifle Ramires or Juan Mata when they found spaces behind City out wide.
Yaya Toure may have scored the goal in this game (and was really solid himself throughout), but for my money, Kolo Toure was the "Toure of the Match."
Petr Cech, Chelsea: A-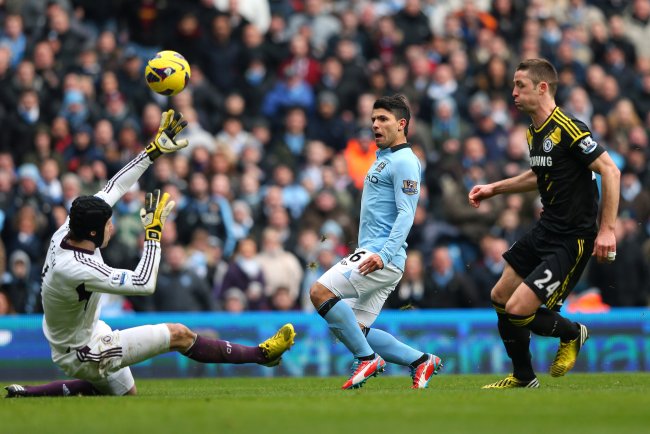 Alex Livesey/Getty Images
Yes, City scored two goals. But honestly, both of those goals were far more about poor defending and the individual brilliance of Yaya Toure and Tevez than they were about poor goalkeeping from Cech.
Were it not for Cech, City easily could have had two or three goals in the first half. The keeper's positioning was brilliant throughout, and he kept Chelsea in the game far longer than they deserved.
Roberto Mancini, Manchester City: A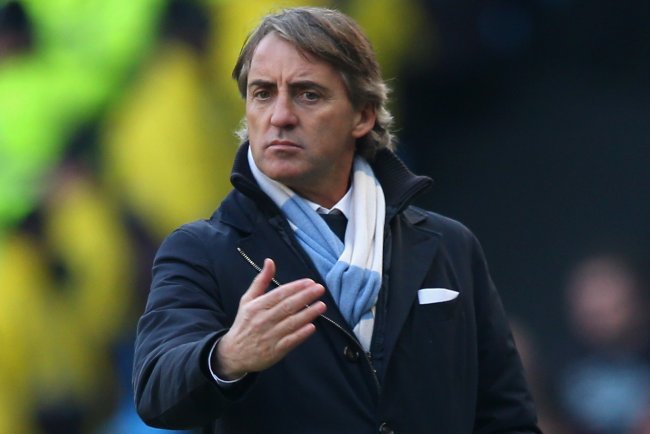 Alex Livesey/Getty Images
Yes, we're going to give the manager a grade, and a fine one at that. His starting XI came out buzzing and dominated the game throughout. He played Yaya Toure higher up the pitch, and it paid off, as the star midfielder was regularly a threat and eventually scored.
And bringing on Tevez in the second half paid off as well, as the striker put things away late in the game.
City desperately needed a win, and Mancini desperately needed his lineup and personnel decisions to work. They did, in a big way. For at least one day, the talks of Mancini being canned after the season should be quieted.