Top 5 Forward Groups in MLS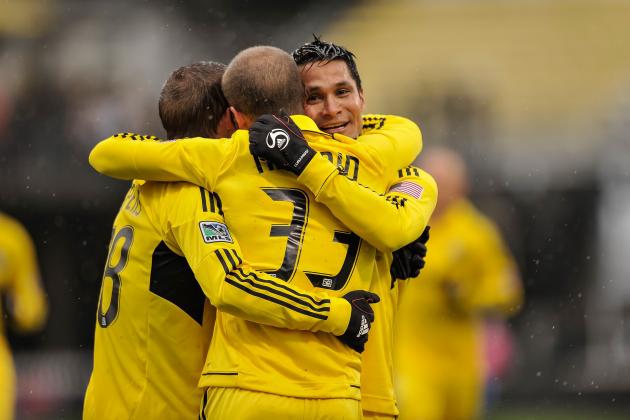 Jamie Sabau/Getty Images

MLS First Kick 2013 is less than three weeks away, and teams are training hard to get ready for the new season. The offseason has been very busy for a number of teams with the coaching changes, SuperDraft, free agent signings, trades, etc.
FC Dallas was pretty quiet until a couple weeks ago when Brek Shea was transferred to Stoke City. The team didn't waste any time using the allocation money, signing forwards Eric Hassli and long time fan favorite Kenny Cooper last week. The two will pair with Blas Perez up top, and both will surely help the Hoops this season. The signings got me thinking about the best forward groups in the MLS heading into the new season, and here is my list of the top five.
Just Missed the Cut: New York Red Bulls, Real Salt Lake, Houston Dynamo.
Begin Slideshow

»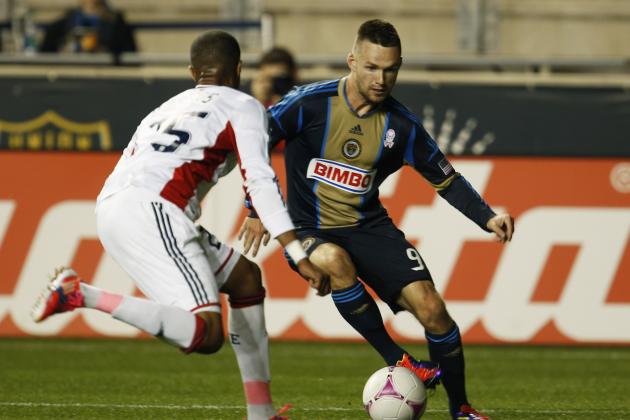 Chris Gardner/Getty Images

The Union only scored 37 goals last season, and the team made a couple moves to ensure that won't happen again. Jack McInerney found his groove late in the 2012 season before finishing with eight goals and three assists. He was one of the Union's few bright spots the second half of the season, and he has a chance to follow it up with a solid 2013 as well.
Sebastian Le Toux was recently traded back to Philadelphia after spending the 2012 season with the Vancouver Whitecaps and New York Red Bulls. Le Toux scored a combined 25 goals for the Union in 2010 and 2011, and he will be looking to rekindle that magic this year.
The team picked Conor Casey in the second round of the MLS Re-Entry Draft this past December, and while the past two seasons have been injury-riddled for Casey, he is the Rapids' all-time goal scorer with 50. If he is healthy, Philadelphia should have a very legit offensive attack.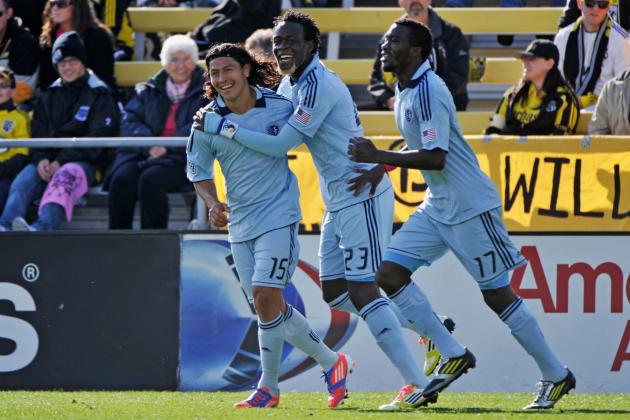 Jamie Sabau/Getty Images

Sporting Kansas City loaned forward Kei Kamara (11 goals and eight assists in 2012) to Norwich City before the transfer window expired last week, and he won't be with the team until at least May. The cupboard is far from bare, however, and there are plenty of options capable of filling in.
2011 Rookie of the Year C.J. Sapong scored nine goals last season, and he has the potential to be even more productive.
Claudio Bieler, a recent designated player signing, is also expected to make an immediate impact.
Teal Bunbury tore his ACL last August, but he is expected back at some point during the season.
Dom Dwyer was the team's first-round pick in 2012, and he is also a possibility at forward. If Kamara returns in May, this forward group could easily be the best. If he doesn't return, Sporting KC still has a very strong group up top.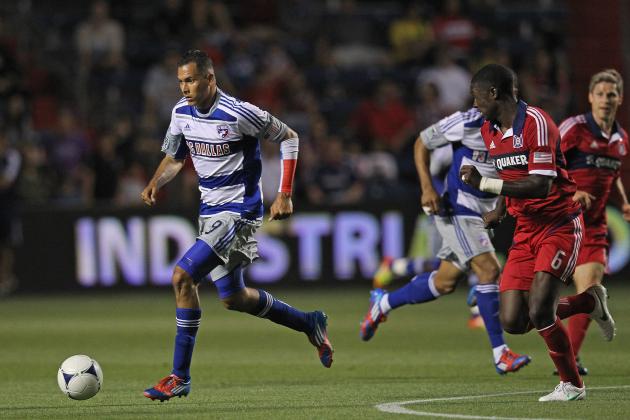 Jonathan Daniel/Getty Images

Blas Perez had a productive first season in Frisco, notching nine goals and four assists in just 20 starts. The questions of who is going to help him up top in 2013 were answered recently with the signing of Designated Player Eric Hassli and Kenny Cooper.
Hassli had just five goals and five assists in 2012 after netting 10 goals the previous season, but he is plenty capable. Cooper, the long time fan favorite in Frisco, will return to the team he started with after scoring 18 goals for the Red Bulls last season.
Homegrown talents Jonathan Top and Bradlee Baladez may figure into the equation as well. Perez will miss the first two games due to suspension as well as a number of other games for National Team duty, so it will be very nice having plenty of options to fill in.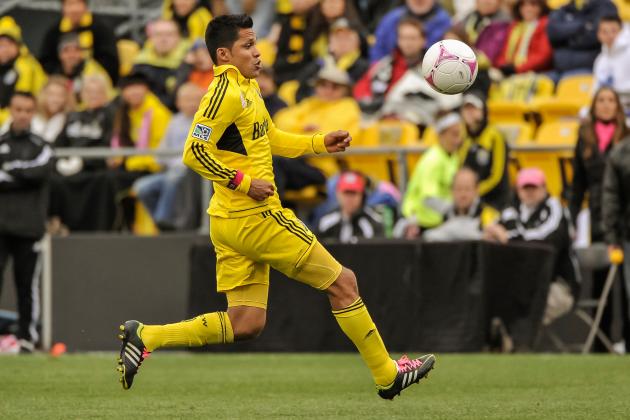 Jamie Sabau/Getty Images

The Columbus Crew will head into the 2013 season much differently than the 2012 season. Argentina striker Federico Higuain (13 games played) and Costa Rican forward Jairo Arrieta (18 games played) didn't suit up for the Crew until last summer, but they both made the most of it. The two dynamite players combined for 14 goals and 11 assists.
Recent acquisition, Dominic Oduro had six goals and three assists for the Chicago Fire in 2012, and he had 12 goals the year before. Columbus drafted Ryan Finley in this year's SuperDraft, and the 21-year-old led the NCAA in goals scored this past season. This team will have plenty of speed and skill up top, and opposing defenders will have their hands full.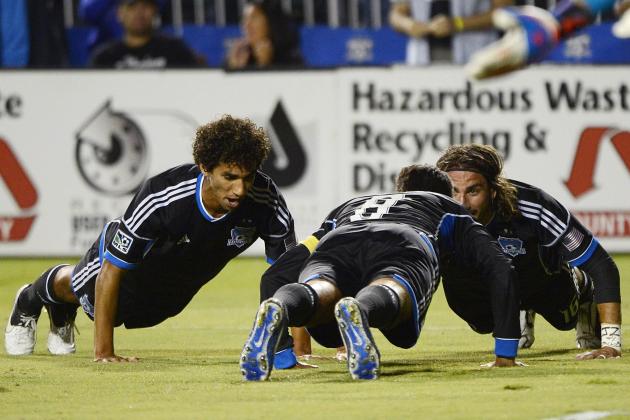 Thearon W. Henderson/Getty Images

There is no better place to start than the team with the reigning Golden Boot Winner. Chris Wondolowski tied the all-time record for goals in a season with 27, and he added seven assists to go along with it. He has 61 goals over the past three seasons, and that dominance may not stop anytime soon. Teammate Alan Gordon chipped in with 13 goals and seven assists (in just 23 games) last season, and Steven Lenhart ended with 10 goals and two assists. This trio was undoubtedly the most dominant forward group in 2012, and they deserve the top spot to start the 2013 season.
Follow Me on Twitter: CThrash13