Ghana vs. Burkina Faso: The Men Who Matter
Ian Walton/Getty Images
Wednesday's second semifinal will see the much-fancied Black Stars of Ghana take on the AFCON's surprise package, Burkina Faso.
With a coveted place in the final at stake, this West African derby is likely to be a cagey but fiery affair, with both teams acutely aware of the price of failure.
Ghana may be the clear favourites, but after beating Togo in extra time and securing draws with Zambia and Nigeria in the group stage, Burkina Faso will be optimistic about their chances of an upset.
In this article, Bleacher Report's African expert Ed Dove profiles some of the players likely to be central to the game's drama.
You can follow Ed on Twitter @Eddydove.
Asamoah Gyan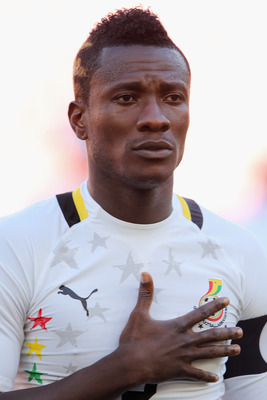 Ian Walton/Getty Images
Few of the players remaining in the tournament will have as much to prove as Asamoah Gyan.
At first glace, this may seem a strange suggestion, Gyan is one of the continent's premier strikers and has been Ghana's talisman for years. However, cast your mind back to this stage of the tournament last year, and the former-Sunderland man's psychology begins to unravel.
Over the last few years, Gyan's career has begun to decline—various moments and a trio of penalties have threatened to characterise him not as a bright and dynamic striker, but as a character unable to contend on the big occasions.
Gyan missed a crucial last-minute extra-time penalty against Uruguay in the 2010 World Cup, and Ghana went on to lose in the shootout. In 2006 he missed another against the Czech Republic, also in the World Cup. Last year, in the AFCON semifinal against Zambia, his spot kick was saved by Kennedy Mweene. Unable to find a breakthrough, the Black Stars crashed out.
Now back in the international fold after a brief absence and spearheading Ghana's attack once more, perhaps the semifinal will be the occasion for Gyan to put the misery of the past behind him and once more claim his spot as the nation's darling.
Jonathan Pitroipa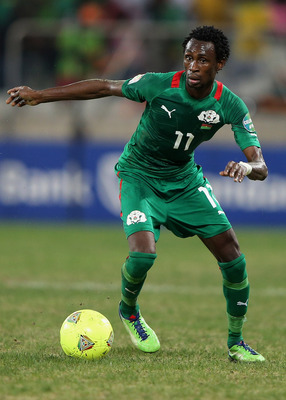 Ian Walton/Getty Images
When Alain Traore, Burkina Faso's star of the early rounds, went down clutching his thigh, soon to be ruled out of the rest of the competition, the collective groan of a nation was only drowned out by the roar of an unlikely qualification.
It seemed to many that any feint hope Burkina Faso had of progress was lost with Traore's non-participation.
Jonathan Pitroipa had other ideas.
Despite being a player of immense talent, Pitroipa has too often flattered to deceive in recent years. An impressive spell at Freiburg led to a move to Hamburg, but there he stagnated, his progress stymied by changes in management at the club, as well as a predilection within the club's hierarchy to seek younger players.
Now at Rennes, in France, Pitroipa has a renewed chance to make it in Europe. This tournament has certainly seen a return to form.
An impressive display in the demolition of Ethiopia was followed up with the extra-time winner against Togo in Nelspruit.
Pitroipa will now have his sights set on Ghana, and an unlikely place in the final.
Djakaridja Koné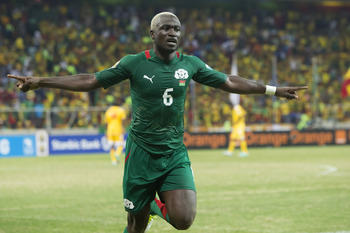 Gallo Images/Getty Images
While Burkina Faso's attacking talents have predominantly stolen the show thus far in the competition, their defensive stalwarts also deserve a mention—progress would not have been possible without their tremendous efforts.
One player who has shone for me has been enforcer Djakaridja Koné of French club Evian Thonon Gaillard.
Having come up against two of the more dynamic midfields in the competition—those of Zambia and Nigeria—the Burkinabé players didn't shirk their responsibilities and competed toe-to-toe with their opposites, winning their individual battles, protecting the back line and constantly prepared to help launch an attack.
Koné was also particularly effective against Ethiopia, breaking up opposition attacks as the Central Africans desperately sought an equaliser.
Despite having some of the finest central midfielders in Africa, Ghana have long been criticised for being unable to pierce well-organised defences and resilient back lines.
Wednesday's semifinal will be another occasion for the former Dinamo Bucharest man to prove his fire-fighting ability against the continent's finest.
Kwadwo Asamoah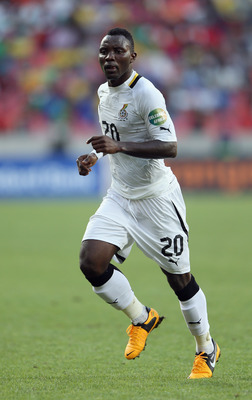 Ian Walton/Getty Images
Before the tournament, I tipped Kwadwo Asamoah to be the outstanding player of the competition, also backing him to lead Ghana to glory in the final on February 10.
Now, while it's not too late for the Juventus man to realise my predictions, thus far he hasn't shined as I hoped he would.
His versatility saw him shunted out to the left-back position in the opening game against the Democratic Republic of Congo, and whilst he has impressed on the flank in Serie A, it is in the centre of the park that I was hoping to see Asamoah make an impression.
In the Black Stars' final two group games he returned to the middle, often playing off Gyan, a tactic that worked to great effect in the final match against Niger.
However, against Cape Verde in Ghana's quarterfinal, he struggled to impose himself on the game, despite being given the run of the field. Certainly, the islanders played resiliently and perhaps even defensively, but Asamoah appeared to lack the nous to prise open the defence.
Against Burkina Faso, he may need to find some new ideas if he is to make the impact many expect from him.
Mubarak Wakaso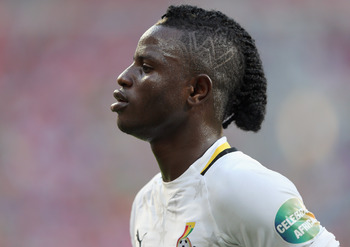 Ian Walton/Getty Images
It's fair to say that Mubarak Wakaso has been an unlikely hero for Ghana thus far in the Africa Cup of Nations.
However, with the side on the cusp of the final, the Espanyol man has emerged as a key player for the national side and currently stands as the tournament's joint-top scorer.
It's an amazing return from a player who only made his international debut last year and was playing with Spanish minnows Elche as recently as 2011.
Whilst I had expected him to make the squad, I was concerned that the Black Stars' litany of midfield options may have left him as a redundant bystander. How wrong I was, and Mubarak has made a considerable impact.
Thrust into the spotlight as the side's spot-kick taker following Asamoah Gyan's abdication of duties, Wakaso has demonstrated nerves of steel and an eye for a finish, contributing two crucial penalties, as well as the late breakaway goal against Cape Verde.
Could the youngster once again be the difference between success and failure in the semifinal?
Keep Reading