Top 5 Premier League Plays of the Day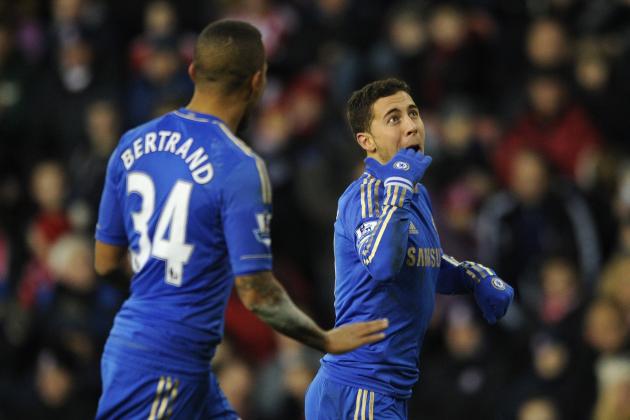 Chris Brunskill/Getty Images

Premier League football is back after a short FA Cup break.
An interesting array of matches served up quite a treat. While three 0-0 draws aren't going to live long in the memory, other fixtures produced stunning individual goals, amazing saves and a ridiculous comeback in the final 10 minutes.
Which plays were the best of the day? Read on to find out.
Begin Slideshow

»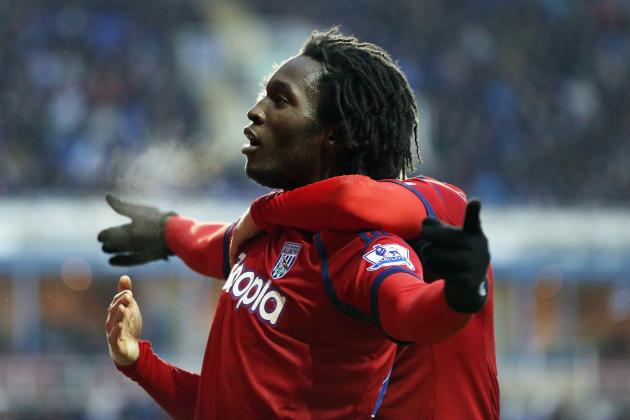 Bryn Lennon/Getty Images

Before we begin with the top five, it's worth looking at the plays which narrowly missed making the list.
Julio Cesar double-save keeps QPR moving forward
Many feared the worst for QPR against Tottenham Hotspur. Gareth Bale and friends arrived at Loftus Road with a slaughtering in mind.
Thankfully for the home side, Julio Cesar produced two fantastic saves to deny Jermain Defoe's long shot and Emmanuel Adebayor's subsequent rebound. Cesar used his left arm to pluck Defoe's effort away from the top corner before puffing his body out to halt Adebayor.
The 0-0 result was rightfully met with a cheer from the home fans.
James Morrison and Romelu Lukaku
Both players produced excellent performances for West Bromwich Albion today. The opening goal and a host of other chances were created by Morrison's ability to run directly and cross with precision. With Shane Long missing, Lukaku made a nuisance of himself by scoring, having a goal disallowed and hitting the post.
Mark Schwarzer saves Fulham
A brilliant diving save kept Fulham ahead of Wigan when the score was 1-0. Schwarzer stretched as far as possible to push Shaun Maloney's long shot onto the bar and away from danger. An important feat considering the 1-1 result.
Arthur Boruc reaction denies Aston Villa
Arthur Boruc saved Southampton in an edgy game between two relegation candidates. Enda Stevens nearly made up for conceding a vital penalty with a fantastic shot from outside the area. He blasted low and straight, forcing Boruc into a top-draw reaction save that kept the Saints on track for a 1-0 win.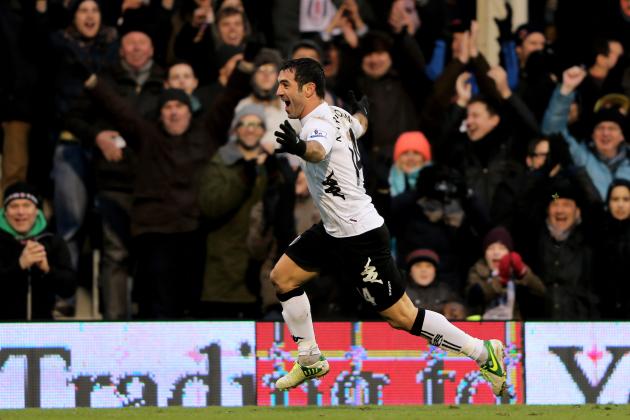 Ian Walton/Getty Images

Score: Fulham 1-1 Wigan Athletic
Location: Craven Cottage, London
Giorgos Karagounis is settling at Fulham. The veteran midfielder made it onto this list last week by securing Fulham an FA Cup third-round replay against Blackpool—but it appears he is just getting started.
The Greek midfielder once again slammed home an important strike for Martin Jol's men. Although the home side missed out on three points, Karagounis' goal eased nerves around the stadium.
He picked up the ball with 22 minutes gone, dribbled beyond the reach of three Wigan defenders and sniped the ball off the post and into the bottom corner. Ali Al-Habsi had no chance.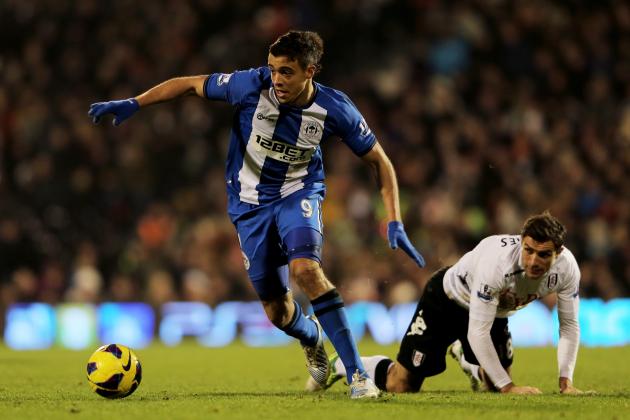 Ian Walton/Getty Images

Score: Fulham 1-1 Wigan Athletic
Location: Craven Cottage, London
Franco Di Santo isn't known for his goal-scoring prowess.
The Argentinian forward has a tendency to let games pass him by, but he pulled Wigan out of the lurch at Craven Cottage. An individual piece of creativity saw the striker grow in confidence with half an hour left. Ten minutes later, he snatched a vital point with a hammer blow from the edge of the box.
Picking the ball up on the left, Di Santo dribbled into a pocket of space that was surrounded by five Fulham defenders. He strolled through unchallenged and powered the ball past Schwarzer.
This goal is certainly as important as Karagounis'—but takes fourth spot due to Di Santo's solo skill and astuteness when capitalising on free space.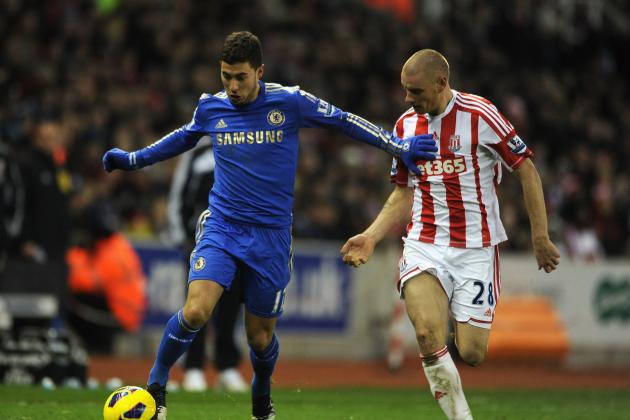 Chris Brunskill/Getty Images

Score: Stoke City 0-4 Chelsea
Location: Britannia Stadium, Stoke-on-Trent
Oh dear. A terrible day for Stoke was finished off by a breathtaking Eden Hazard goal. The visitors were outstanding against a defence that has shut out the likes of Arsenal, Liverpool and Tottenham this season.
Much like Di Santo's goal, Hazard also took advantage of having too much time. The Belgian skipped around an effortless tackle before swerving his long-range effort beyond Asmir Begovic.
Chelsea overcame the recent Premier League loss to Queens Park Rangers with the first 4-0 home defeat of Stoke City's top-flight era.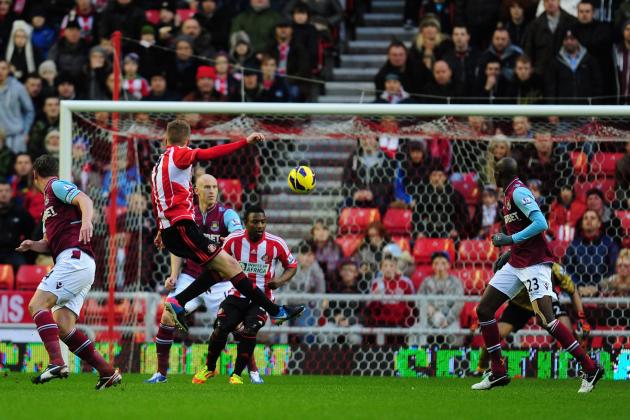 Stu Forster/Getty Images

Score: Sunderland 3-0 West Ham United
Location: Stadium of Light, Sunderland
Photos often fail to construe just how spectacular a goal is. Take a look at the image above. Sebastian Larsson thwacks the ball so hard that his momentum lifts him a foot off the ground.
The Swedish maestro reacted well to a headed clearance; controlling the ball with his right boot and spanking it home with the other. The Black Cats took a deserved lead with the 25-yard beauty and maintained control until the match finished.
Martin O'Neill will be thrilled with the win.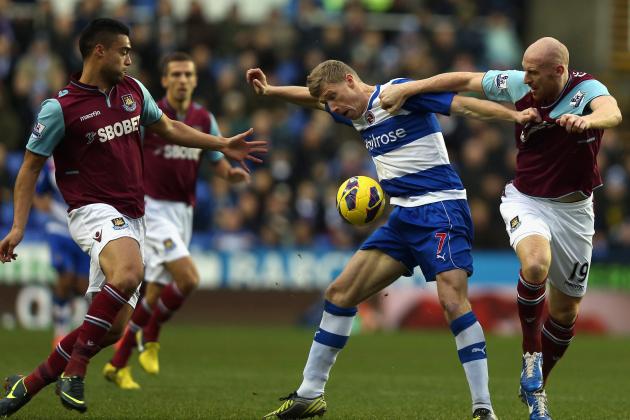 Bryn Lennon/Getty Images

Score: Reading 3-2 West Bromwich Albion
Location: Madejski Stadium, Reading
Steve Clarke will have no idea how his team lost to Reading. The Baggies had a 2-0 advantage with 10 minutes to go. Importantly for the home side, the scene was set for a memorable comeback.
Pavel Porgrebnyak's late winner wasn't an amazing thump from the edge of the box. It is highly unlikely to capture the imagination away from the Madejski Stadium. Even so, it gains this week's top spot for being an immensely valuable team goal.
Ian Harte sent a long ball into the West Brom area from his own half. Alex Pearce flicked it between two defenders and into the path of Big Pav, who delicately pushed the ball into the roof of the net. He did brilliantly to evade an incoming challenge and showed great heart to latch onto the home side's last chance of the game.
Do you agree with my top plays of the day? Let me know in the comments section below and be sure to follow me on Twitter: