Arsenal: 6 Biggest Areas in Which the Gunners Can Improve in 2013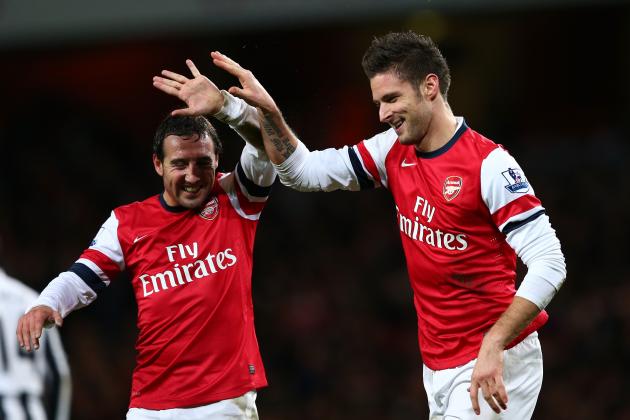 Clive Mason/Getty Images

Believe it or not, 2012 was a pretty good year for Arsenal. Not if one's ultimate goal is to win trophies, of course, but considering the various crises and doomsday scenarios that the Gunners successfully navigated, they've done pretty well.
However, there is still much to be improved upon, as almost any fan will affirm. As the club begins its eighth year without winning a major trophy and is on the brink of letting another one of its brightest stars leave, there is much to be improved upon.
So don't let all of Arsenal's troubles be forgotten just yet. As we switch calendars and make unrealistic resolutions, let's look at six that the Gunners need to keep to become a better team and prevent a 2012 hangover.
Begin Slideshow

»
For years now, Arsenal have been pushed into undesirable situations and forced to sell their best players because the club stood by as contracts ran down to their final year.
Samir Nasri toyed with the club to engineer his lucrative move to Manchester City in the summer of 2011, Robin van Persie disgracefully did the same last summer and Theo Walcott is doing it now.
And by the way, Bacary Sagna will have one year left on his contract after this season.
Clearly there is an issue here. And Arsenal have already taken steps to address this chronic problem by signing the British quintet of Aaron Ramsey, Alex Oxlade-Chamberlain, Jack Wilshere, Kieran Gibbs and Carl Jenkinson.
But it's time to end this problem and keep together a team that has the potential to challenge for trophies.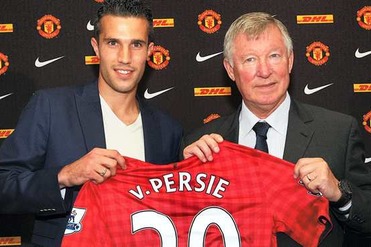 credit: soccer.mu
This is another area that Arsenal have already begun to improve, but is nevertheless one of the biggest issues that the club needs to work on.
With fountains of new revenue coming in from a new £150 million sponsorship deal with Emirates Airlines, Arsene Wenger cannot use financial excuses to explain his infuriating austerity anymore.
It's time for Arsenal to invest in the squad.
And that does not mean simply replacing players who leave; rather, surplus men must be brought in to give the team the quality and depth necessary to compete for the Premier League title.
Deals should get done at the beginning of transfer windows, whether they be arrivals or departures. No more transfer sagas or wrangling over insignificant amounts of money. Like Manchester United, get your business done quickly and cleanly, and proceed with the business of running a football club.
Richard Heathcote/Getty Images

Arsenal's kryptonite in the past couple seasons has been teams that relentlessly press them in all areas of the pitch, preventing them from establishing a passing rhythm and dictating play as they want to.
But if a team wants to legitimately compete for silverware and claim to be among the best in the country and Europe, it needs to be able to overcome a simple strategy used to defeat it.
Just look at Arsenal's last two matches against Swansea (which is worthwhile anyway because the two teams are meeting in the FA Cup this weekend), and you will see that the Gunners were completely hapless when taken out of their comfort zone by a superficially inferior side.
Not all teams have the stamina and can maintain the constant pugnacity required to make this strategy work, but the best ones do. If Arsenal wants to beat the big boys, they will have to overcome this one key stumbling block.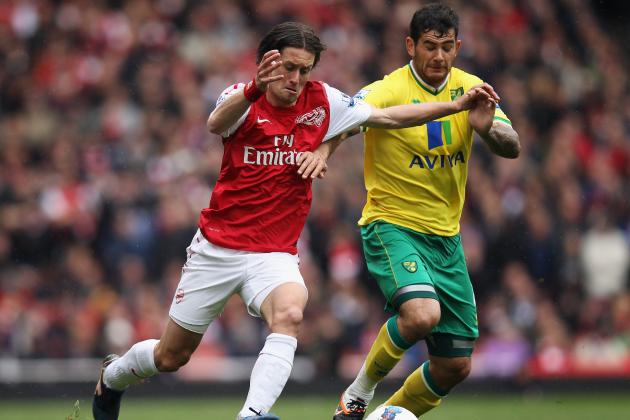 Bryn Lennon/Getty Images

If Arsenal are unsettled when other teams press them, why not employ the same strategy against other teams? The Gunners have, in fact, and predictably, it's worked extremely well.
Against Manchester City back in September, Arsenal put in a heck of a shift, doggedly pursuing their opponents each time they won the ball, maintaining possession for 59 percent of the game against one of the most fluid sides in the Premier League.
To use an example from a couple years ago, Arsenal dismantled Chelsea during December of 2010 almost solely due to the pugnacity of their pressing.
I remember marveling at just how hard that group of footballers worked to win the ball that day, and, not coincidentally two of the Gunners' three goals came as a direct result of forcing the Blues to make mistakes.
To beat the best, one must play like the best. And constantly pressing to win the ball back is how to do it. Players that have that relentless streak, like Tomas Rosicky, are invaluable.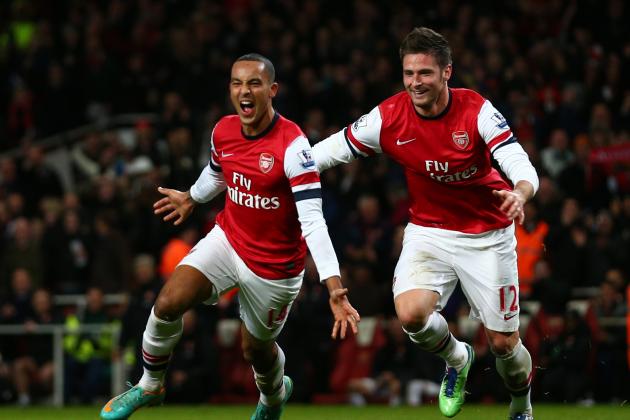 Clive Mason/Getty Images

Arsenal's midfield is packed with technically skilled, creative players. When these maestros link up with their forwards, the team scores goals. Often, the Gunners don't have too much trouble with the former, but actually finishing their chances has been a bit more of a struggle.
Against Wigan recently, Arsenal took a total of 11 shots, but only came up with one goal: Mikel Arteta's penalty kick.
When the Gunners took on Bradford in that infamous Capital One Cup tie a few weeks ago, they produced a staggering 27 shots, 11 of which were on target. And Arsenal only broke through in the 88th minute from a Santi Cazorla cross.
When the forwards—and the rest of the team, really—takes advantage of its chances, we see results such as the 5-2 victory over Tottenham and the stunning 7-3 win against Newcastle on Saturday.
While Arsenal cannot score several goals per game, more clinical finishing will earn the team invaluable points.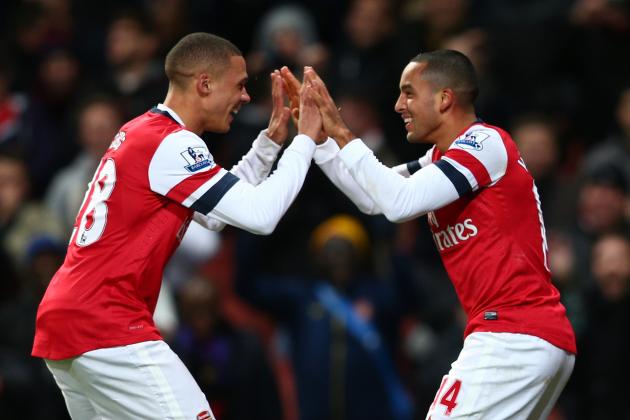 Clive Mason/Getty Images

It's a cliche at this point, but nevertheless one that is true: Great teams—champions—find ways to win matches, and mediocre ones find ways to squander results.
For too long, Manchester United have exemplified the former, and Arsenal the latter.
United have a below-average defense, but always seem to steal points when squeaky bum time arrives. Against Manchester City recently, the Red Devils managed to eek out a result at the death, and they did the same against Newcastle United in an epic boxing day thriller.
Arsenal, meanwhile, consistently do the opposite, throwing away points in the second half against Swansea, Fulham, Schalke and others.
A chronic problem for the Gunners during the past couple seasons has been taking care of business against weaker opponents, and this, too, is the mark of mediocrity.
For Arsenal, a successful 2013 will entail shedding this nagging label.