Stats Leaders for 2012-13 Season so Far: Feat. Xavi, Iniesta, Ronaldo, Messi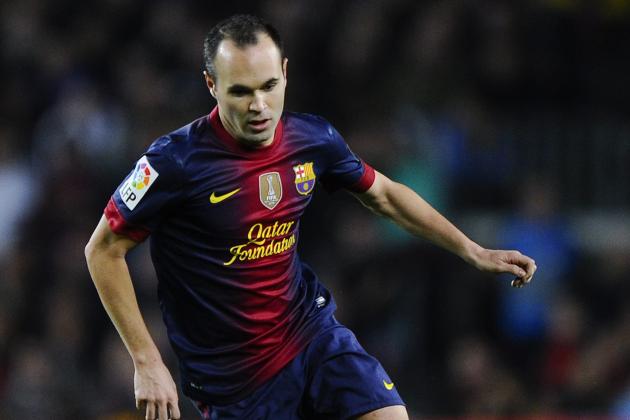 David Ramos/Getty Images

As the year draws to a close, we all have our subjective takes on the players who lorded it over 2012. Now it's time to see if the numbers back up our arguments.
Referencing 2012-13 season stats supplied by whoscored.com, we can rank players in Europe's top five leagues based on cold, hard data.
Some of the results will read exactly as you'd expect them to—with football's most celebrated names living up to their billing with the equivalent of straight As in their particular area of expertise. Other categories promise to throw up some surprises.
Back in October, I wrote a piece about how football is in the midst of a stats of revolution. Analysis of the kind supplied by whoscored is now freely available to fans, and it's become common practise for elite coaches to lean on numbers in selecting their teams, researching opponents and scouting new players.
They'll always be a place for subjectivity in football, but statistics are no longer the reserve of the geeky minority. Fans are hungry for information, and the increasing availability of intelligent game data is feeding their need.
WIthout further ado, here are a selection of whoscored.com's stats leaders for the 2012-13 so season far.
Begin Slideshow

»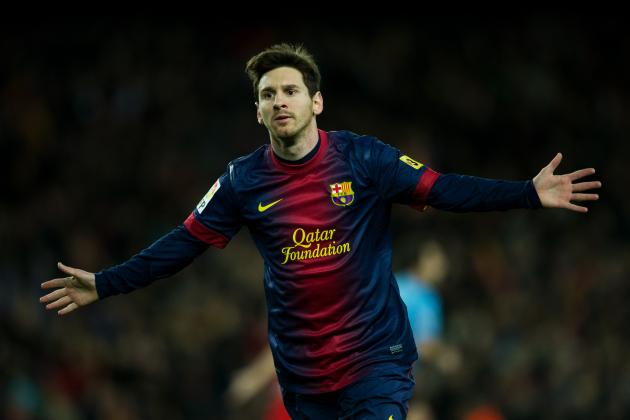 Jasper Juinen/Getty Images

3. Radamel Falcao, Atletico Madrid—17 goals (16 games)
2. Zlatan Ibrahimovic, PSG—18 goals (16 games)
1. Lionel Messi, Barcelona—26 goals (16 games)
You may have seen this one coming. Lionel Messi's 91 goals in 2012 included 26 in the first half of the 2012-13 Liga season, amassed in just 16 games.
Ibrahimovic is looking a good investment for PSG on the evidence of his better-than-a-goal-a-game ratio in Ligue 1, while Colombian hitman Falcao continues to blaze a trail in the colours of Atletico Madrid.
Cristiano Ronaldo misses out on the top three with 14 goals in La Liga so far this season–matched by Stephan El Shaarawy's haul for AC Milan—while Manchester United's summer signing, Robin van Persie, and the overachieving Michu of Swansea are joined by Napoli striker Edinson Cavani on 13.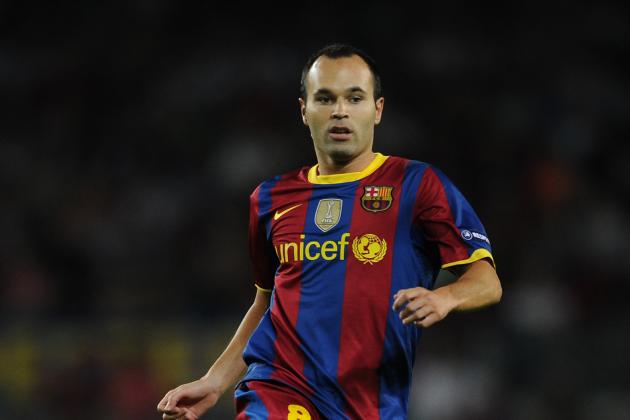 Jasper Juinen/Getty Images

3. Borja Valero, Fiorentina—8
2. Cesc Fabregas, Barcelona—9
1. Andres Iniesta, Barcelona—10
Is it really a surprise to see three Spanish players at the top of this category?
Valero can't get a look-in for the Spanish national team despite leading Italy's Serie A on assists this season and playing a big part in Fiorentina's impressive campaign.
With players like Fabregas and Iniesta ahead of him in the pecking order, it's hardly surprising. The Barcelona pair have been implicit in their team's record-breaking start to the 2012-13 Liga season, laying on 19 Barca goals between them.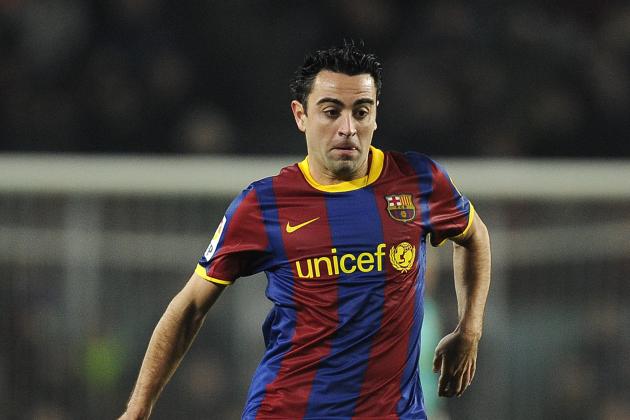 David Ramos/Getty Images

3. Holger Badstuber, Bayern Munich—93.1 percent
2. Angelo Ogbonna, Torino—93.5 percent
1. Xavi, Barcelona—95.3 percent
Xavi's achievement in this category is even more impressive for the fact he plays more passes than any other player in Europe's top five leagues—see the next slide for more on that.
Not only is the Spaniard prolific with his passing, but he's pinpoint with it.
Interestingly, five of the top 10 players for pass success can be found in the Premier League, including Arsenal pair Mikel Arteta and Per Mertesacker. Xavi is the sole representative from La Liga, with two based in Serie A and Badstuber representing the Bundesliga.
The one concern with this stat is that deep-lying midfielders and defenders benefit from more uncontested passes than midfielders and attackers, which makes Xavi's position atop the list more remarkable still.
Richard Heathcote/Getty Images

3. Michael Carrick, Manchester United—85.4
2. Mikel Arteta, Arsenal—87.3
1. Xavi, Barcelona—102.1
Three of the top five in this category can be found in the Premier League, with Manchester City's Yaya Toure coming in fifth.
It's certainly no surprise to see Carrick so high based on his role at the fulcrum of Manchester United's midfield. The 31-year-old's influence has never been greater at Old Trafford, and he's threatening his best season for United.
Arteta brings a similar sense of calm and control to the Arsenal midfield. The Spaniard has thrived playing to Arsene Wenger's passing philosophy in north London and taken his game to another level.
As for Xavi, it's hardly surprising he tops the list when you consider Barcelona are football's pass masters and he's stationed at their hub. He gets the ball when he wants it and unfailingly has plenty of strong options to pass it on to.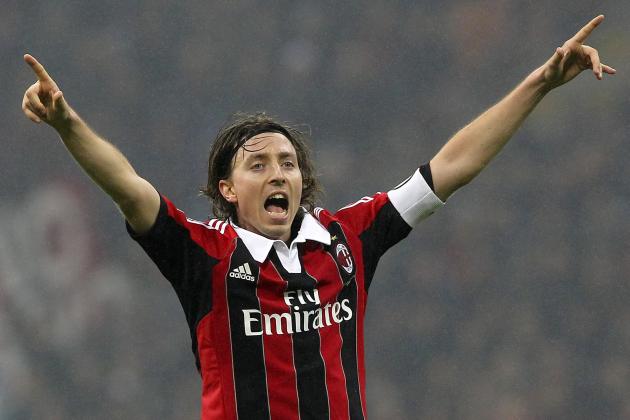 Marco Luzzani/Getty Images

T3. David Pizarro, Fiorentina—10.3 per game
T3. Andrea Pirlo, Juventus—10.3 per game
1. Riccardo Montolivo, AC Milan—10.6 per game
Serie A dominates this category, which tells you Italian football is both blessed with some of the most technically-proficient players in the world and also played with such little space in midfield that playing longer passes is the only way through.
Seven of the top 10 players for accurate long passes ply their trade in Serie A, with the other three hailing from Germany's Bundesliga.
The highest Premier League entry is Manchester United veteran Paul Scholes.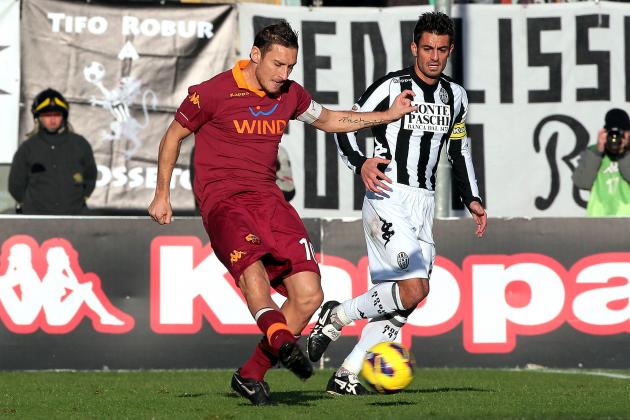 Gabriele Maltinti/Getty Images

T3. Antonio Cassano, Inter Milan—1.2
T3. Andrea Pirlo, Juventus—1.2
1. Francesco Totti, Roma—1.8
Italy also dominates the average accurate through balls category, with eight of the top 10 to be found in Serie A.
All of the top three are over 30, with Pirlo clocking in at 33 and Totti holding back time with Roma at 36. For more on that theme, read my November piece entitled, "Do football's pass masters get better with age?"
The numbers provide a strong argument they do.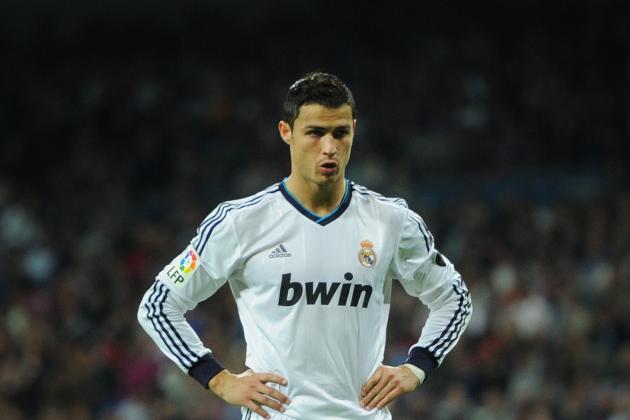 Jasper Juinen/Getty Images

T4. Lionel Messi, Barcelona—5.3
T4: Zlatan Ibrahimovic, PSG—5.3
2. Luis Suarez, Liverpool—6.1
1. Cristiano Ronaldo, Real Madrid—7.3
"If you don't buy a ticket, you can't win the raffle," so goes the saying, and these four players subscribe to it fully.
Messi and Ibrahimovic come in joint fourth with an average of 5.3 shots per game, with Liverpool's shoot-on-site specialist Suarez ahead of them on 6.3.
But the all-too predictable leader in this category is Ronaldo, who probably shoots in his sleep and definitely shoots at every opportunity while playing for Real Madrid.
The highest-placed midfielder in this field is Tottenham's Gareth Bale, who has averaged 4.1 shots per game in the Premier League this season.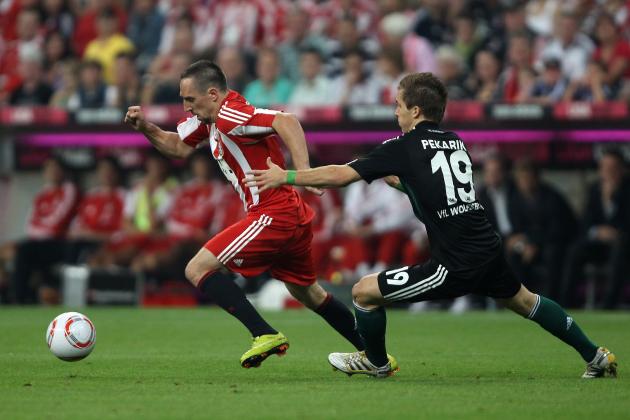 Clive Brunskill/Getty Images

3. Diego, Wolfsburg—4
2. Hatem Ben Arfa, Newcastle United—4.9
1. Franck Ribery, Bayern Munich—5.8
The Bundesliga is where it's at for dribbling. Of the top five in this category, four play in Germany, and they're spearheaded by Bayern Munich's elusive French winger, Ribery.
Wolfsburg's Diego is at three, followed by Sercan Sararer of Greuther Furth and then Daniel Caligiuri of Freiburg.
Might we take that to suggest players are encouraged to be more expressive in the Bundesliga? Could attacking players have greater confidence on the ball? Or is it just that games are more stretched and defenders more beatable?
Tellingly, Messi is the only representative of La Liga in the top 20 for this category, which tells you passing—and not dribbling—is the quickest way to goal in Spain.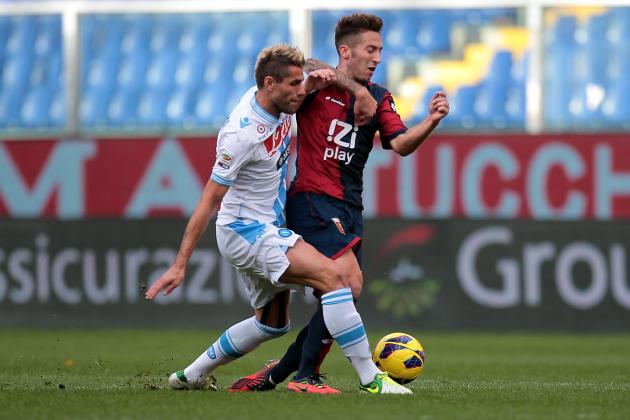 Gabriele Maltinti/Getty Images

T4. Hugo Mallo, Celta Vigo—4.9
T4. Fagner, Wolfsburg—4.9
2. Matteo Darmian, Torino—5.3
1. Valon Behrami, Napoli—5.6
Italy is the tackling capital of European football, it seems. Serie A provides five of the top 10 in this category, with Swiss international Behrami on top of the pile.
Manchester City's Pablo Zabaleta is only Premier League representative in the top 20, which includes not a single player from either Barcelona or Real Madrid.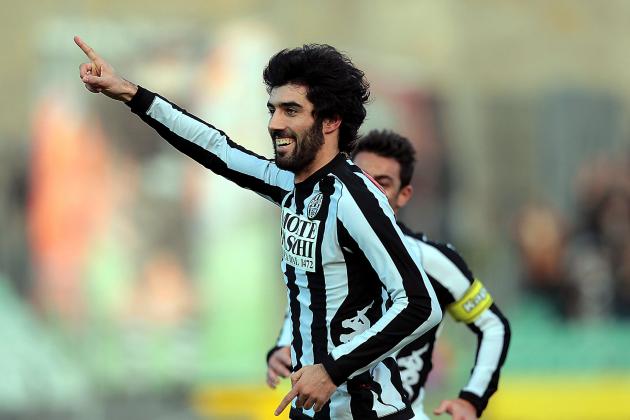 Gabriele Maltinti/Getty Images

T5. Blaise Matuidi, PSG—3.9
T5. Sandro, Tottenham—3.9
T5: Oliver Song, Freiburg—3.9
2. Thiago Xavier, Troyes—4
1. Neto, Siena—4.3
The received wisdom that Brazilians are good at reading the game is evidenced here by their heavy representation in the interceptions category.
Brazil serves up three of the top six, but it's Portuguese international Neto who leads the field with an impressive average of 4.3 interceptions per game.
Fulham's Chris Baird makes an unexpected appearance in the top 10, but it's Spurs Brazilian midfielder Sandro who leads the Premier League charge.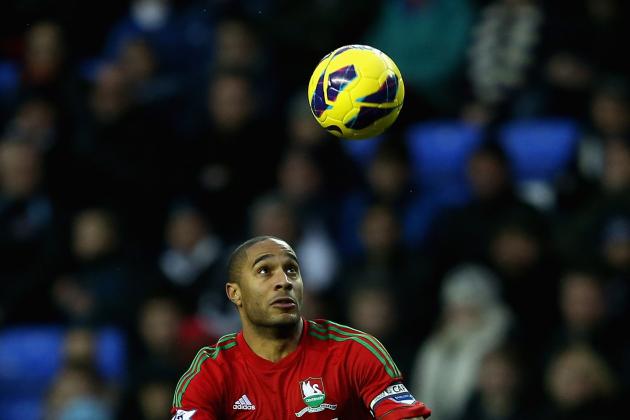 Warren Little/Getty Images

T4. Michael Mancienne, Hamburg—1.5
T4. Jesus Rueda, Valladolid—1.5
2. Gary Cahill, Chelsea—1.6
1. Ashley Williams, Swansea—1.7
Finally some glory for the Premier League, as Swansea's Williams takes the average blocks per game category at the midseason point.
Having "nearly killed" Robin van Persie last week, Williams could use some good press. So here it is.
And with that, I'll leave you to pour over the numbers and draw your own conclusions.
2012 in review at B/R
- 2012 B/R world football awards
- Premier League Best XI of 2012
- 5 biggest world football scandals of 2012