World Football: 25 Sweetest International Goals This Year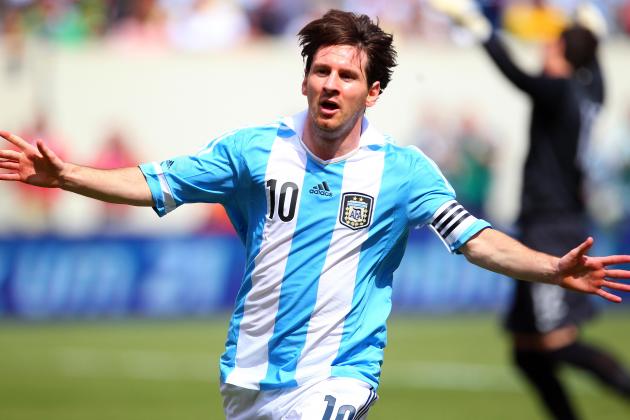 Rich Schultz/Getty Images

It's been a great year for international football as we've been treated to Euro 2012, which did not fail to disappoint, along with plenty of World Cup qualifiers to feast upon.
Spain reigned in Europe and Mexico triumphed at the Olympic games in London to shock Brazil.
Here are 25 of the best goals throughout the season.
Be sure to make other suggestions in the comments section below and join the debate.
Begin Slideshow

»
Maybe Messi's greatest moment for Argentina, finally shedding the name of "The Catalan."
Mario Balotelli might have given us the most iconic moment in international football this season.
The Italian smashed in his second goal of the game against Euro 2012 favourites Germany and then ripped his shirt off to produce one of the most amazing poses that almost blew up Twitter.
Cometh the hour, cometh the man.
Cristiano Ronaldo stepped up to discard a resilient Czech Republic side with a powerful header.
Germany were beginning to get frustrated: They were missing countless chances against a stubborn Greece side, despite outclassing the 2004 European champions.
With a wealth of attacking talent on the pitch, who decided enough was enough? The captain, Philip Lahm, cutting inside from the left and slashing a vicious shot into the far corner.
Being robustly marked by the Irish, Balotelli improvised brilliantly to redirect a corner with a thunderous volley with his back to goal.
Neymar was ready to sparkle on the big stage for Brazil at London 2012, and he didn't disappoint with this stunning free kick.
Coming on as a substitute it was clear that Pavlyuchenko wanted to impress.
The Russian striker held onto the ball to the frustration of his teammates as he cut inside from the left, but then smashed the ball home to shut them up.
Andrea Pirlo was many people's player of the Euro 2012 tournament.
A majestic passer who can do this from set pieces, what's not to like?
Rafael van der Vaart is often the odd one out for the Netherlands due to a surplus of attacking talent.
But when the Hamburg star can do this, he's a must for Louis van Gaal.
Zlatan Ibrahimovic is genius, it's that simple, and maybe the last remaining critics in world football will begin to realise it after stunners like this.
The Udinese starlet made it onto the list for the Puskas Award for the best goal of 2012, so it's only fair he makes it onto our list.
Just don't get used to seeing this from him often. Having never scored for Udinese, the Ghanaian clearly deals in quality rather than quantity of goals.
For some, Carroll was a controversial inclusion in England's squad for Euro 2012 after a poor season with Liverpool.
Carroll answered those critics with one of the most emphatic headers you will ever see. The cross from Steven Gerrard was special too.
A defence-splitting run from Theo Walcott and then an outrageous finish from Welbeck shocked Sweden.
The question is, did he mean it?
Another who has struggled in recent years to translate his amazing club form to the international stage, Falcao put an end to that perception in 2012 by exploding for Colombia.
Watch how he sits the Paraguay defender on his backside with the turn before a superb finish. Deadly.
Marco Fabian justified the hype as one of Mexico's star men in this friendly in the buildup to the Olympics with a stunning long-range strike (25-second mark).
Greece had equalised by this point and Germany could not believe it, having completely dominated the match.
Again, it was not the fancy football that Germany had become known for. Instead, midfield general Sami Khedira surged forward and thumped home a volley. Emphatic.
Yuki Otsu topped Fabian's effort for Mexico to claim the spoils for Japan in this friendly with a remarkable volleyed effort (40-second mark).
Mario Gomez had been criticised by many for hiding against Chelsea in the Champions League final for Bayern a few weeks earlier.
He answered those critics with a beautifully taken goal in a fierce derby against the Dutch.
Gaston Ramirez stunned the UAE, who were very competitive throughout the Olympics, with this wonderful free kick.
Now that he is in the Premier League, Saints will be hoping he can produce more of this in their bid to avoid relegation.
Maybe not the most sensational goal of 2012, but a historic one as the Welshman scored the first goal for Great Britain in the Olympics.
Here it is from a fan's perspective.
A lovely player, underrated by many, popped up with a brilliant goal against Italy and could become a fixture for Les Bleus moving forward.
Another that made it onto the shortlist for the Puskas Award, Jimenez' strike is well worth checking out. Sensational.
Another quite amazing goal from Messi, who could obviously have his own list of top 25 goals of 2012.
This free kick is typical of what the man can do. He can hurt you from set pieces now, as well as his deadly finishing, movement and the many other skills he possesses.
The hosts did not win a game, but maybe this was Poland's greatest moment at Euro 2012, Dortmund star Blaszczykowski unleashed a scorcher in one of the games of the tournament.
It was poetic justice that the ignorant critics who have often criticised the great Swede from the British media were forced to watch the PSG start destroy England.
The Mail even described this as the "greatest goal ever scored."