Jose Mourinho: Why the Real Madrid Manager Will Stay or Leave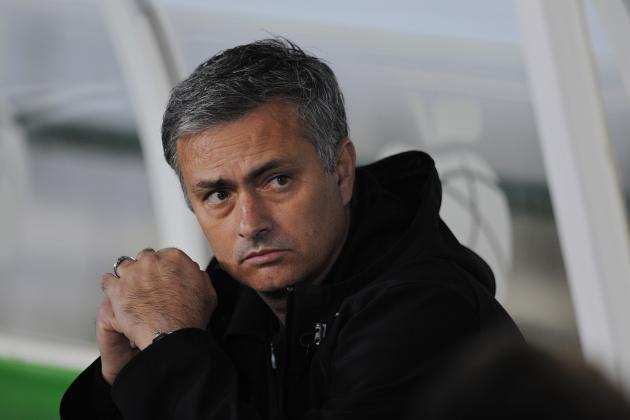 Denis Doyle/Getty Images

With questions continuing to mount over Jose Mourinho's future beyond the season, it's worth looking at the reasons Real Madrid may opt to keep faith with their manager or part ways.
One of the bigger concerns should be as to where Real Madrid go in order to pick up their next manager should Mourinho leave.
Do they go down a similar path of a young manager who remains on the rise, or is it safer to go with a figure who will undoubtedly steady the ship?
Whatever Real's final decision may be, it should never be forgotten that Mourinho helped to lead the club past one of the most dominant football teams in the world, finally overcoming Barcelona and reclaiming the league title.
Begin Slideshow

»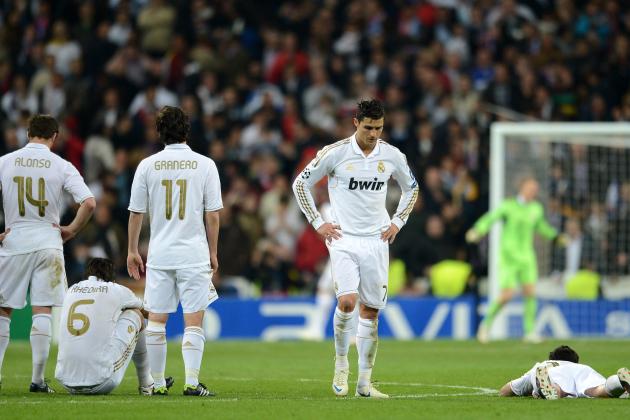 Jasper Juinen/Getty Images

Last season, Real Madrid's squad was praised as being one of the strongest and most destructive in Europe, a view that was seemingly shared by all except Jose Mourinho.
The Real Madrid manager failed to make good use of his whole squad, often leaving out players like Kaka and running his first-choice XI into the ground.
Success in La Liga was a given once the team defeated Barcelona at the Camp Nou, but a stretched and exhausted Real had very few answers when drawn against Bayern Munich in the Champions League.
And that remains the greatest focus for the club, the holy grail and the path on which most of their efforts will be concentrated.
A league title under Jose Mourinho was a necessary stepping stone to 'La Decima," just in the same way the Copa del Rey win was a building block towards a title-winning mentality.
This season, Real Madrid do not look like a team capable of going the distance in Europe. Despite having added to their squad, something significant is missing. A togetherness, a desire to fight for one another and the kind of football that brought so many teams to their knees last season.
If Mourinho fails to land the Champions League this season, that may be enough reason for the club to hang onto one of the competition's most successful managers—if only for one more year.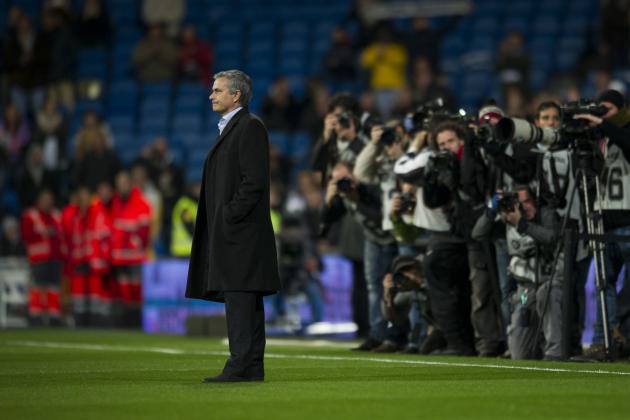 Jasper Juinen/Getty Images

There's very good reason to believe that at this stage Jose Mourinho is no longer wanted at Real Madrid. It's certainly not for the lack of success he has brought and may bring, but the nature of his character seems to be dividing the dressing room.
Mourinho wants to gain success his way, and part of his master plan is to create a siege mentality at his club. It might have worked in the past, but this group of Real Madrid players does not need it.
The players are well aware of where they're falling short, but their quality is such that they do not need battles being fought for them on other fronts.
Mourinho's war with the media and sections of the support has done little to help the squad move into a winning run of form, while it's hardly the most dignified manner for a Real Madrid manager to behave.
We'll continue to hear conflicting stories about Mourinho and Florentino Perez's relationship as the season progresses, but there's no doubt that something noteworthy is hidden behind the handshakes and smiles.
Mourinho's fighting mentality and the way he seemingly creates enemies—notably with the media—may mean that this is his final year.
A winning coach, yes, but perhaps it's time to unite a divided squad and move on from the Portuguese manager.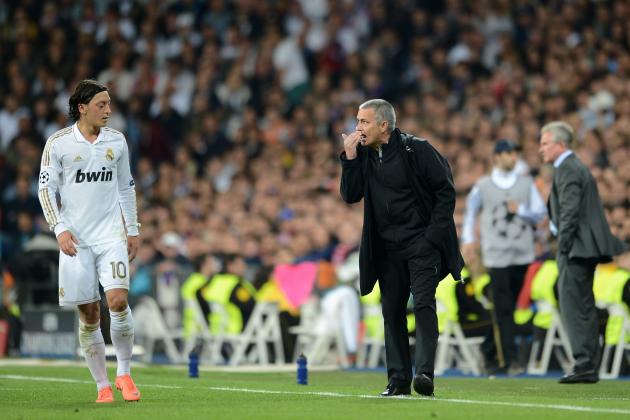 Jasper Juinen/Getty Images

This one may fall into the category of Jose Mourinho's lack of confidence in his squad, but how many of the players are suffering because of his methods?
Perhaps suffering is too strong a term, maybe the best way to look at it is simply that the manager isn't focusing on his strongest assets.
Mesut Ozil should be Real Madrid's focal point on the pitch. For the style of football they're capable of playing—the blitzkrieg counterattacks—a player like Ozil needs to pull the strings for it to be a success.
But Mourinho has seemingly created another small battle between himself and the German international. Some might wish to think that the whole story has been blown out of proportion, and again the issue of Mourinho's war with the media arises.
But Ozil's performances up until recently tell a different story.
What about Kaka and the lack of faith Mourinho appears to have in him? Couldn't the Brazilian and Ozil form a devastating partnership on the pitch, one which sees them successfully combine with Cristiano Ronaldo as an advanced midfield three?
There has also been evidence in the past of Mourinho passing the blame for draws or defeats onto his players, once again adding to the notion that all is not well in the squad.
It's always been the case that when a team fails to perform the manager is the first to feel the heat. Real Madrid can hardly swap out the majority of their squad for players Mourinho hand picks himself, and why would they want to relinquish their hold on some of Europe's finest footballers?
Maybe it will come to be that a change of manager is best for the squad and the success of this group of players.
Whatever the winning relationship was last season, it has undoubtedly morphed into something else this season.
Jasper Juinen/Getty Images

Efforts should certainly be doubled to retain one of either Cristiano Ronaldo or Jose Mourinho, as it seems questionable whether both will be at the club next season.
What a hammer blow it could be if they lost both Ronaldo and Mourinho in the same summer.
Ronaldo's claims of being 'unhappy' at Real Madrid have fuelled speculation of a move away. And despite the club's stance that the player won't be going anywhere unless a crazy offer is put forward, the rumours linking him with nouveau riche clubs around Europe simply won't go away.
Despite the vast quantities of talent at the club and the likelihood of bringing in equally talented individuals in the near future (yes, that is a nudge in Atletico Madrid's direction), either one of Mourinho or Ronaldo seem to hold the key to Champions League glory.
It's about keeping up with Barcelona and not allowing the Lionel Messi-led Catalans to race off into the distance and out of sight. Thus far, Real Madrid have managed to keep pace, relatively speaking.
But if Ronaldo does leave, wouldn't an easier transition be to hold onto Mourinho for at least one more season?
Obviously the manager is not without his faults, and anyone could argue—as has been done—that failure in certain competitions should be attributed to him.
But it's about a mental defeat and how the club reacts to losing their two biggest figures in one go.
Should Ronaldo leave, perhaps a noticeably fresher squad could reinvigorate both Mourinho and the rest of the camp.