Mario Goetze and the Top 10 Young Attacking Midfielders in World Football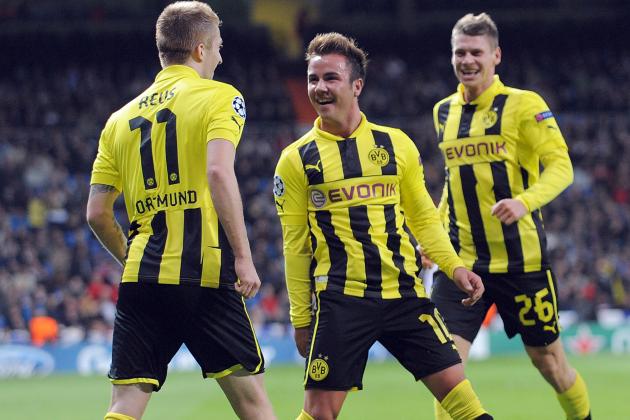 Denis Doyle/Getty Images

Last week, Mario Goetze reminded football fans of just how rare a talent he is. The 20-year-old spearheaded Dortmund's attack, playing a part in all of his side's goals, as BVB beat Ajax 4-1 in Amsterdam and secured a top-placed finish in Champions League Group D.
Blighted by injuries, the German international has had a frustrating 2012 calendar year. And while he has shown promise since the beginning of the current season, he only truly showed his class last Wednesday.
In honor of Goetze's sensational return to form, we have compiled a list of the top 10 young attacking midfielders in world football. Players selected are central playmakers or wingers, age 21 and under. Read on for the full list, in alphabetical order by surname.
Begin Slideshow

»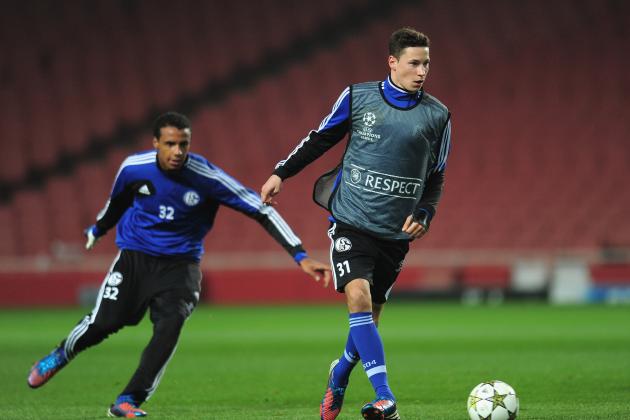 Shaun Botterill/Getty Images

The second-youngest player to start a Bundesliga game and fourth-youngest Germany international to earn his debut cap, Draxler is extremely experienced for his age. Two seasons ago, at only 17, he started in the Champions League semifinal.
Stronger and more explosive than in yesteryear, Draxler has enjoyed an excellent start to the 2012-13 season. He's become more incisive on the dribble and when he scores, it's usually a sight to behold. In that regard, Draxler is reminiscent of a young Marco Reus: Bursting with potential, but not yet ready to be a week-in, week-out scorer.
The Schalke man is well beyond Reus' level when the Dortmund attacker was at the same age. Now, Draxler just needs to take the next step.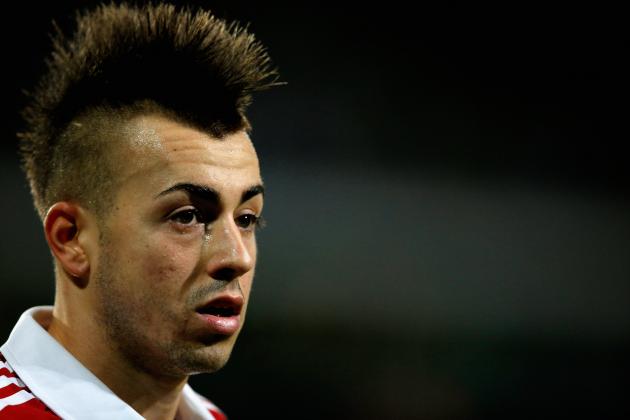 Dean Mouhtaropoulos/Getty Images

Heading into the current season, El Shaarawy was perhaps the second- or third-highest rated young Italian attacker. Three months into the campaign, he now is the undisputed number one, head and shoulders above the competition.
Armed with pace to burn, the 20-year-old winger has made the left wing position his own at Milan; his success has been the only bright spot for the Bianconeri in what has been a dismal season thus far. El Shaarawy has scored a Serie A-leading 10 goals in 14 league games, and came up aces in key matches against Napoli and Zenit.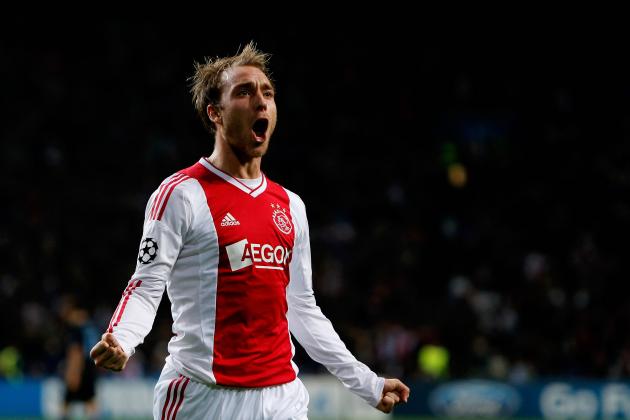 Dean Mouhtaropoulos/Getty Images

Following in the footsteps of a procession of world superstars to come from the Ajax academy, Eriksen is indisputably the cornerstone of the Dutch champions' attack. Even two seasons ago he was a key player for Ajax.
And in 2012-13, he has taken advantage of his chance to prove himself on the big stage as he faced off against the likes of Real Madrid, Manchester City and Dortmund in the Champions League.
Supremely technical and with playmaking vision that is suggestive of a player well beyond his years, the 20-year-old appears to have a very bright future indeed. With his contract set to expire in 2014, expect his name to be heavily discussed in the transfer market next summer.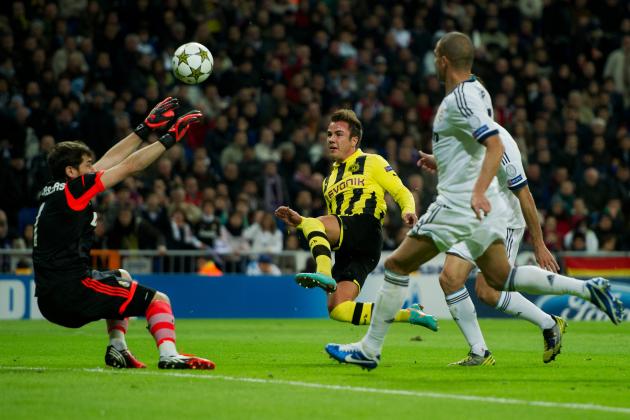 Jasper Juinen/Getty Images

The inspiration for this article, Goetze is widely touted as one of the greatest talents Germany has ever produced. Given that he comes from the land of Beckenbauer, Matthaeus and Gerd Mueller, that is the highest of compliments.
Goetze has all the technical attributes and quick thinking of a world class playmaker, but what sets him apart is his intelligence and humility. Not content to wait for the ball to come to him and blame others for goals conceded, he'll run anywhere to receive (or win) possession, and will not shy away from the tackle. He's even played in defensive midfield on a few occasions.
Still just 20, and backed by two excellent coaches in Juergen Klopp and Joachim Loew, Goetze has the potential to become a legend of the game.
Clive Rose/Getty Images

Once dubbed the "Belgian Cristiano Ronaldo," Hazard has hit the ground running since making the leap from Lille to Chelsea over the summer. While many before him have struggled to adjust to Premier League football, Hazard was ready from day one: In his first three domestic games, he scored once and assisted a whopping six goals.
Since his sensational start, the versatile attacking midfielder has cooled down as his team has struggled somewhat. However, the Belgium international undeniably has proven he has all the makings of a superstar.
His soft first touch, exceptional dribbling ability and playmaking sense are just what Chelsea have needed, and make him a truly rare commodity. And at just 21 years of age, he still has plenty of room for growth.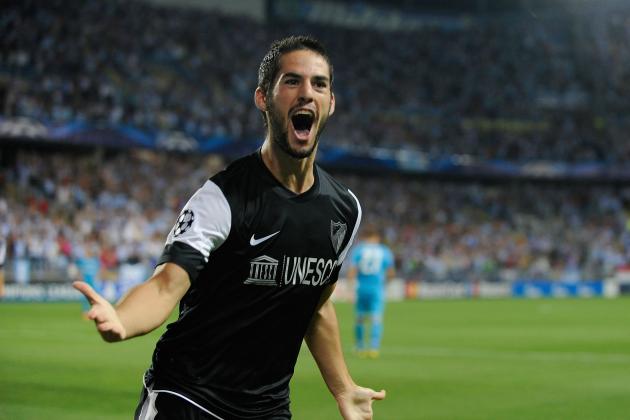 Denis Doyle/Getty Images

Following the retirement of Ruud van Nistelrooy, free transfer of Joris Mathijsen and sales of Santi Cazorla and Jose Rondon during the summer, there was vast uncertainty over how Malaga would fare in their first season of Champions League football. The Spanish side have exceeded their expectations by winning Group C ahead of Milan, Zenit and Anderlecht. And in their fine campaign, Isco has been the man to provide the creative spark.
Whereas many on this list have had more success against ordinary domestic teams than on the international stage, Isco has saved his best performances for the Champions League. The 20-year-old scored twice in his team's group stage opener against Zenit, recorded an assist in a comfortable win away to Anderlecht, and set up Malaga's only goal against Milan at the San Siro.
He has yet to achieve a level of consistency in La Liga, but at 20, he still has plenty of time to mature.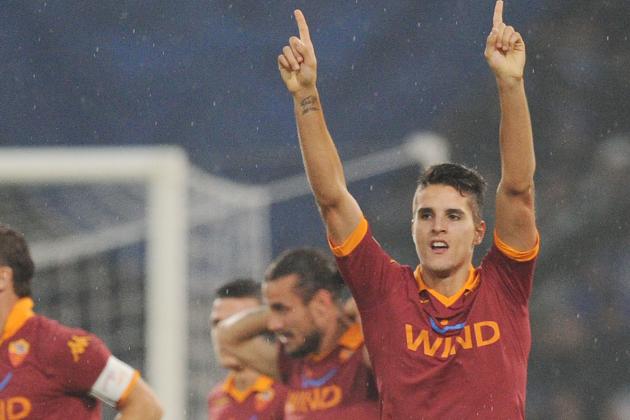 Giuseppe Bellini/Getty Images

Lorenzo Insigne was touted as Serie A's best young attacking talent heading into the current season, but the 21-year-old has yet to prove his credentials in his first year in top flight football. Instead, Erik Lamela has stolen the limelight from the Napoli man following his flying start to the 2012-13 campaign.
After a modest first season in Serie A, the 20-year-old Lamela has scored eight goals in 12 appearances, leading Roma to a sixth-placed standing in the Italian top flight. With pace to burn, close control and a thunderous finish, it's no wonder why he's been dubbed the "Argentinian Kaka."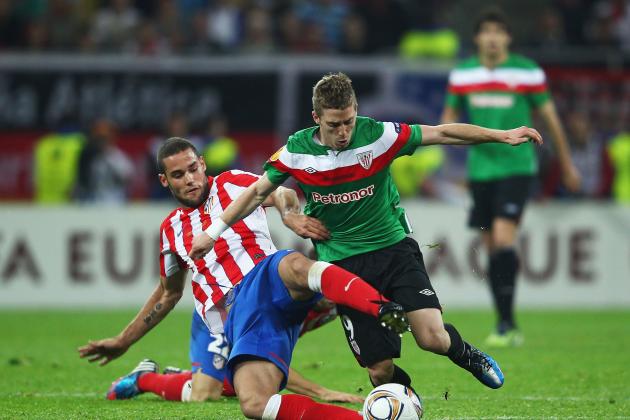 Alex Grimm/Getty Images

Widely regarded as Spain's greatest attacking talent and one of the heroes of Bilbao's run to the Europa League final in May, Iker Muniain could one day follow in the steps of great Spanish attackers like Raul and David Villa.
Although he is still a very raw talent and has struggled to find his form this season, the Pamplona native has enormous potential both as a winger and as an out-and-out striker. And he proved last season that he is more than ready to perform on the continental stage: In the Europa League, he played a part in eight goals. Still approximately one month away from his 20th birthday, the future is bright for the diminutive attacker.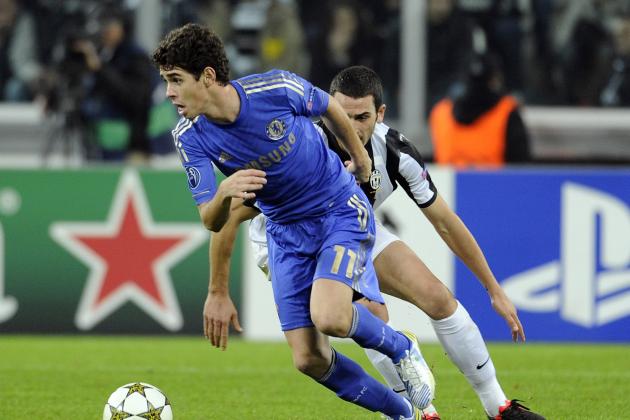 Claudio Villa/Getty Images

Like Hazard, Oscar took a big leap in his career over the summer, but has had no trouble settling in at Chelsea. The Blues shelled out €32 million for his services, and the 21-year-old has repaid the club's faith with some brilliant displays in the Champions League.
While Oscar is yet to make a great impression in the Premier League, his two goals against each of Juventus and Shakhtar Donetsk illustrate his composure and focus in the games that matter most. The Brazil native has rare individual class, and that could be the X-factor for the Blues in the coming years.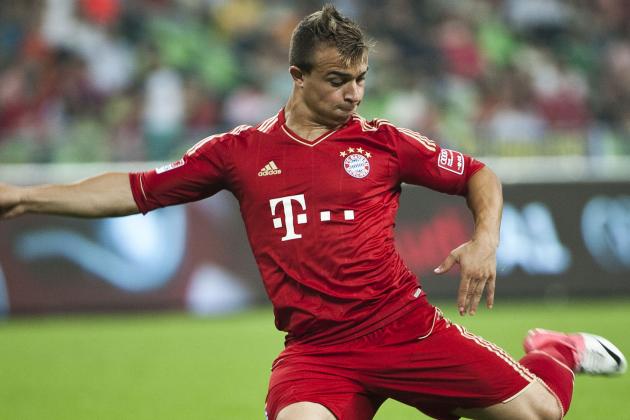 Victor Fraile/Getty Images

He may have only earned limited playing time thus far this season, but Shaqiri fully deserves recognition as one of the planet's best young attacking midfielders. With Franck Ribery, Arjen Robben, Thomas Mueller and Toni Kroos also competing for one of three attacking midfield slots, he was always going to be a substitute in the early stages of his Bayern career.
The heir to Ribery and Robben, Shaqiri proved his credentials almost exactly a year ago when he assisted both of Basel's goals as the Swiss side knocked Manchester United out of the Champions League in their famous 2-1 victory. Armed with creativity, near-superhuman strength and a left foot that conjures memories of Robben in his prime, it's only a matter of time before the Kosovo-born winger becomes a first-team regular.