Rating Manchester United's Players in the 3-2 Comeback Win at Aston Villa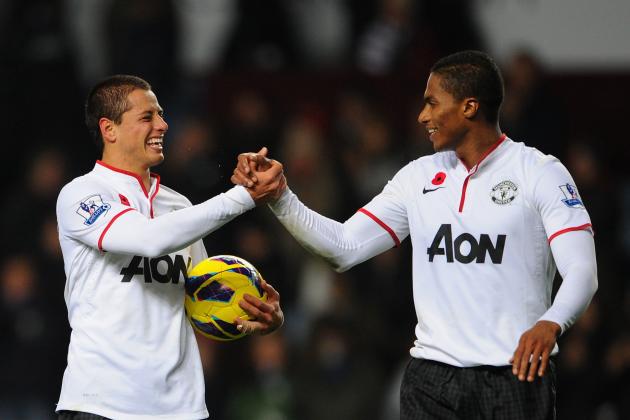 Michael Regan/Getty Images
Chicharito inspired Manchester United to a thrilling comeback win
Manchester United staged yet another thrilling comeback to add to their exploits this season as they came back from 2-0 down to beat Aston Villa 3-2 at Villa Park.
United fell behind 2-0 after 50 minutes against a young Villa side who had beaten them only once in their last 33 league meetings.
However, for the eighth time in 17 games this season, the Red Devils responded to going behind with a stirring comeback. Javier Hernandez was the hero this time, as he came off the bench at halftime to score two goals (including the winner). He also took the shot that led to United's equalizer off an own goal.
Here are the player ratings from this amazing game.
Begin Slideshow

»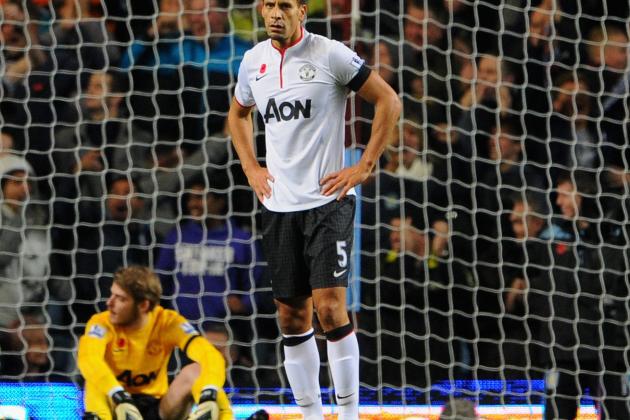 Michael Regan/Getty Images

David de Gea
The young Spanish stopper was largely blameless for the goals, as his defence left him too open on both occasions. David de Gea made a very important stop from a Andreas Weimann header, when the scores were at 2-2 in the second half. It was a calm performance with good decision-making, distribution and shot stopping.
7/10

Rafael da Silva
The Brazilian fullback once again showed why he is United's first-choice right-back now with a decent performance, both in defence and attack.
However, Rafael da Silva is still liable to make the occasional mistake and the one he made in this game almost cost United dear (Aston Villa's second goal came down his flank). In attack, he provided the cross that led to United's equalizer.
His attacking contribution got greater as the game progressed, as he overlapped and combined well with Antonio Valencia on United's right
6/10
Chris Smalling
Chris Smalling played in his second game in four days after being out for the whole season thus far. The rust and lack of match fitness showed, especially against Christian Benteke who gave him a very tough time.
He started off handling Benteke well enough, but the ease with which the Belgian striker shrugged him off for the first Villa goal seemed to have affected Smalling's confidence.
He needs more game time to get back to his best for the Red Devils.
5/10
Rio Ferdinand
The United man had his hands full organizing a defence full of holes. Rio Ferdinand didn't really make any obvious mistakes, but was caught flat-footed for both Villa goals. He wasn't helped by Patrice Evra's nonperformance at left-back and Chris Smalling being dragged all over the pitch by Christian Benteke either.
6/10
Patrice Evra
Patrice Evra was the man supposed to be marking Villa's two-goal hero, Andreas Weimann. So that says everything about how well United's skipper on the day performed.
He made a few runs in the attacking areas, but the age that he took to come back on each of those occasions was frankly alarming. Opinion is mounting that Evra's legs have gone or started to go, and this game furnished further evidence for the same.
4/10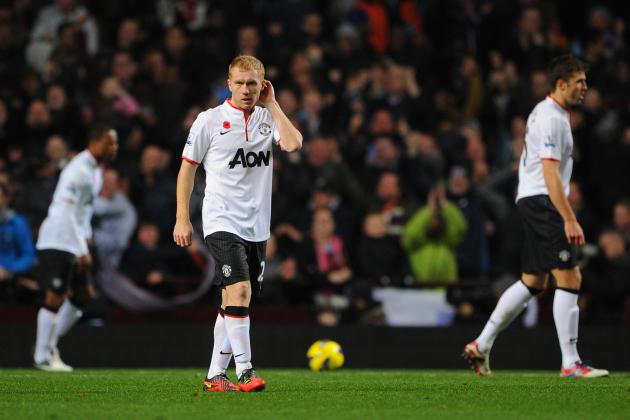 Michael Regan/Getty Images

Paul Scholes
It seemed like the Ginger maestro was trying to match Xavi's statistics against Celtic in the first half. Paul Scholes completed an amazing 74 out of 80 attempted passes in the first half.
However, one of the passes he misplaced caused Manchester United dear as it led to the counterattack for Aston Villa's first goal. The second half saw United defer less to Scholes. However, he did produce a brilliant ball over the top that allowed Javier Hernandez to score United's first goal.
Once again, he and Carrick failed to protect the defence against Villa counterattacks, but his overall influence on the pitch was positive for the Red Devils.
8/10
Michael Carrick
Every time Michael Carrick plays alongside Scholes, he seems happy to act as the second fiddle and defers to the United legend. This was especially apparent in the first half when 17 of his 60 successful passes (out of 69 attempted) were to Scholes. The second half saw him try to play the ball forward or to the wings quicker, and this definitely contributed to United's increased potency.
There was not much wrong with the performances of either Scholes or Carrick individually. However, it is clear that a midfield of Carrick and Scholes sacrifices pace in favor of control, which almost cost United dear in this match.
7/10
Antonio Valencia
When the team sheets were announced, everyone jumped on the fact that the Aston Villa left-back, Enda Stevens, would have to make his debut against Antonio Valencia. However, the youngster must have wondered what the fuss was all about for an hour, as the Ecuadorian winger found little joy down the Manchester United right flank.
However, he was much more effective in the last half hour when Rafael began to overlap with him. As Stevens tired, Valencia's strength and pace saw him create a few openings. However, Valencia's final ball was mostly a disappointment, as shown by the fact that he only completed three out of 12 attempted crosses.
7/10
Ashley Young
Ashley Young made a return to his old club, where he got a hostile greeting from his old fans. He saw a lot of the ball early on, but failed to do anything with it.
He had a disappointing first half just like most of his team mates as he failed to provide any penetration in attack. He was substituted at halftime in favor of Javier Hernandez, a game-changing move by Sir Alex Ferguson, if ever there was one.
5/10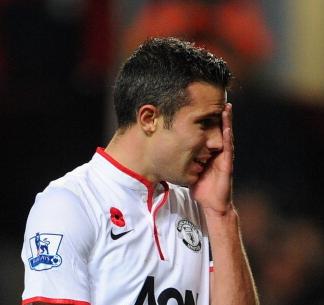 Michael Regan/Getty Images

Wayne Rooney
Wayne Rooney had arguably his least effective game since his return from injury. An anonymous performance saw him struggle to leave his mark on the game. He even failed to combine well with Robin van Persie for most of the game.
He moved to the left in the second half, and his tendency to move inside left Patrice Evra exposed even more. Rooney was eventually substituted out 79 minutes after he picked up a knock.
5/10
Robin van Persie
The Dutch striker was left too isolated in the first half as United played a slow, ponderous game focused on possession. He dropped deeper to play in the hole in the second half, but even that did not increase his influence in the game.
However, on 70 minutes, he suddenly sprang to life. With the score at 2-2, RvP first hit the crossbar with a header off a Rooney corner. Fifty-seven seconds later, he did the same thing when he hit the crossbar with a thunderous left foot shot.
Unfortunately, it wasn't to be his day as far as goalscoring was concerned. However, he provided the all important assist for the winner with the delivery of an accurate free kick for Chicharito to head into the net.
7/10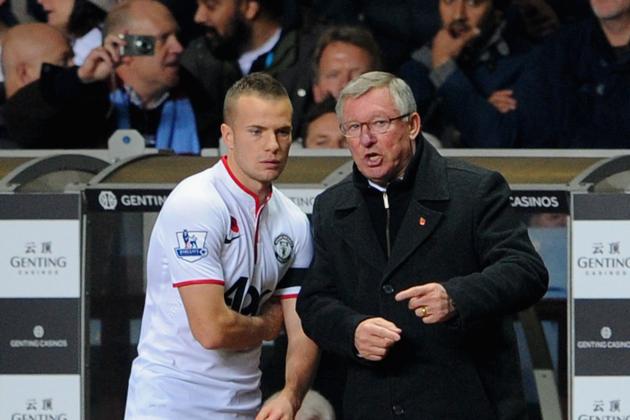 Michael Regan/Getty Images

Tom Cleverley (sub Scholes 71')
Tom Cleverley provided a busy cameo after he came on for Paul Scholes on 71 minutes. As usual, he looked tidy in possession as he successfully completed all 25 of his attempted passes.
Once again, he showed why he deserves a place in the starting lineup as his introduction gave the Manchester United midfield a mobility that was missing for the previous 71 minutes of the game.
6/10
Anderson (sub Rooney 78')
Anderson brought a lot of running with the ball to the game. His drive from midfield did help in pushing the Aston Villa defence deeper at a time when United were looking for the winner.
His composure on the ball also helped the Red Devils in injury time, as they sought to run down the clock. With their mobility and drive, both Cleverley and Anderson provided a good argument for why at least one of them should start in the United midfield regularly.
6/10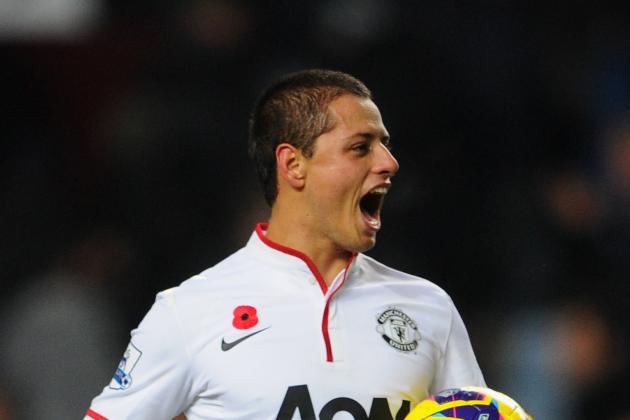 Michael Regan/Getty Images

Javier Hernandez (sub Young 45')
Technically, Chicharito was a second-half substitute in this game. But he is sure to run away with all the accolades as the catalyst behind all three of Manchester United's goals.
Just like other recent matches, the Mexican striker was full of running and good movement in a largely static Manchester United display till that point. It was obvious that the Aston Villa defence didn't know what to make of him.
His finish under pressure for the first goal was huge. The way he spun off at the back post to take the shot that led to the second goal was a textbook example of strikers creating chances for themselves with great movement. And his movement for RvP's free kick and his subsequent header to score United's winner were just world-class striker play.
Chicharito is now on a great run of form, with seven goals (he would say eight) in his last five United appearances (two of them as a substitute).
In his post-match press conference, Sir Alex Ferguson revealed that Chicharito would play in United's next game, as reward for his performance against Villa. He also praised his contribution and his general play (quotes via Adam Marshall, manutd.com):
As I have been saying for the last few weeks, he's fresh as he had a good summer break and it's made a difference to him. When he came to us two years ago, that's what we're seeing again today and, when you score a hat-trick, you pick yourself. I think he'll be playing next week.

He does his natural thing. He's fantastic in the penalty box with his movement, his quickness and being in space and that has got him three goals today.
To United fans, it seems ages ago when they were worried about Chicharito's lack of form. With this performance, he added another chapter to the legend of the second-greatest substitute Manchester United has seen.
10/10