2012 MLS Playoffs: What to Watch for in Galaxy vs. Whitecaps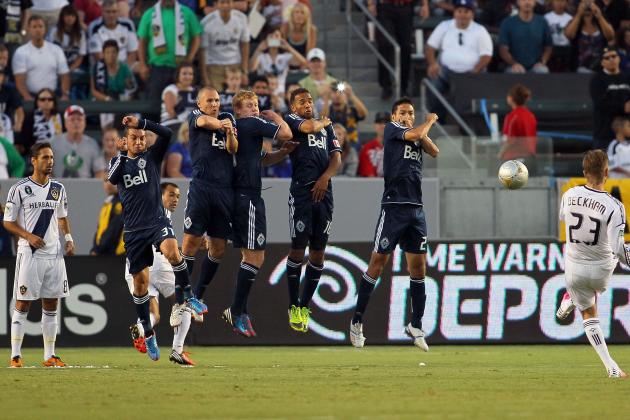 Victor Decolongon/Getty Images

The Los Angeles Galaxy will host Vancouver Whitecaps FC in the Western Conference knockout round on Nov. 1. Whichever team wins the match will move on to the Western Conference Semifinals and face No. 1 seeded San Jose Earthquakes.
The Galaxy are fortunate to make the playoffs this season after a terrible first half, while Vancouver surprised many people by beating out FC Dallas for the final playoff spot.
We've already seen fifth-seeded Houston Dynamo beat the Chicago Fire in the Eastern Conference knockout round. Will we see another upset in the West?
Here's what to watch for during Thursday's crucial playoff matchup.
Begin Slideshow

»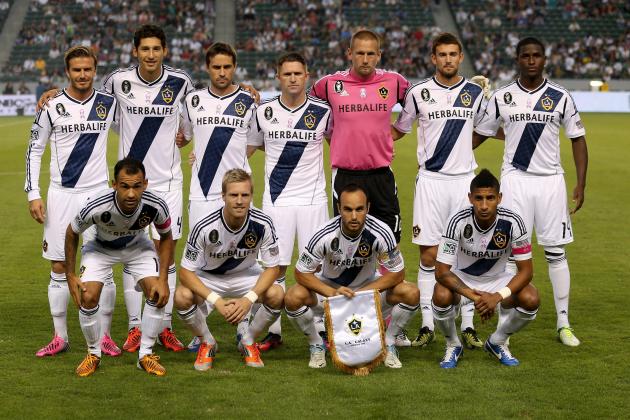 Stephen Dunn/Getty Images

Both Bruce Arena and Martin Rennie have tough lineup decisions to make for what will be the last game of the season for one of these teams.
In Los Angeles' final regular season match against Seattle Sounders FC, Arena opted to send out a squad that hasn't been used much this season.
Instead of the normal pairing of Landon Donovan and Robbie Keane up top, which has yielded great results for L.A., Edson Buddle got the start and Donovan played in the midfield. This move resulted in both Marcelo Sarvas and Mike Magee sitting on the bench, while Swedish international Christian Wilhelmsson played on the wing.
Now Bruce must decide which lineup he wants to go with, but this is definitely not a bad problem to have. Whoever he starts, Arena will have a very deep bench to go to when a substitution is needed.
My guess is that we'll see Landon return to his normal role next to Keane up top. The midfield will then consist of Magee, Beckham, Juninho and Sarvas. This leaves Buddle and Wilhelmsson on the bench to provide fresh legs in the second half.
Vancouver's coach Martin Rennie has a harder decision to make. In the final game of the regular season, both of Vancouver's Designated Players, Kenny Miller and Barry Robson, started the match on the bench.
However, the Whitecaps ended up with a 0-0 draw against Real Salt Lake, and holding RSL scoreless is an impressive feat.
Since he'll need his best players on the pitch against the Galaxy, I think Rennie will start both Miller and Robson Thursday night.
Both David Beckham and Robbie Keane have made huge contributions to get the Galaxy to where they are now.
Coming off an ankle injury, Beckham is ready to go against Vancouver. He's had success in the past against the Whitecaps. He scored one of his trademark free kick goals in a 2-0 win earlier this season.
In addition, this will be Beckham's second-to-last season of his career (assuming he retires after his current contract is up). I'm sure he will be doing everything he can to win as much hardware as he can before he ends his illustrious career.
Robbie Keane also looks to make an impact for the Galaxy. He was recently named the team's MVP for the 2012 season and has been phenomenal since his return from the Euros.
In fact, he finished atop the MLS Castrol Index, even ahead of league-leading scorer, Chris Wondolowski. He'll want to continue his great form heading into the playoffs, scoring five goals in his last six games with the Galaxy.
Also, after being captioned as an "unidentified fan" in a photo alongside David Beckham and Russell Brand, recording a hat-trick and leading the Galaxy to a playoff win might be enough to get him recognized by American media.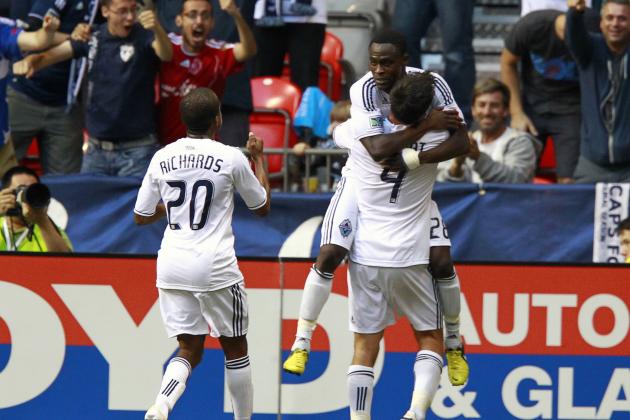 Jeff Vinnick/Getty Images

Dane Richards and Darren Mattocks are two key players for the Whitecaps. I expect Vancouver to sit back and absorb pressure from the L.A. offense, while waiting for opportunities to counter.
Richards is arguably the fastest player in MLS. His speed is scary, but his control is somewhat lacking. If he can get the ball ahead to Mattocks on a counter, then Vancouver will be in good position to give the Galaxy fits.
Mattocks is a very athletic forward who can pose a threat to the L.A. defense. He leads Vancouver in scoring, with seven goals this season.
If both Richards and Mattocks are on top of their game on Thursday, expect Vancouver to get a few dangerous opportunities on the counter. This will be the Whitecaps' bread and butter against a Galaxy team that will likely have most of the possession and dominate the midfield.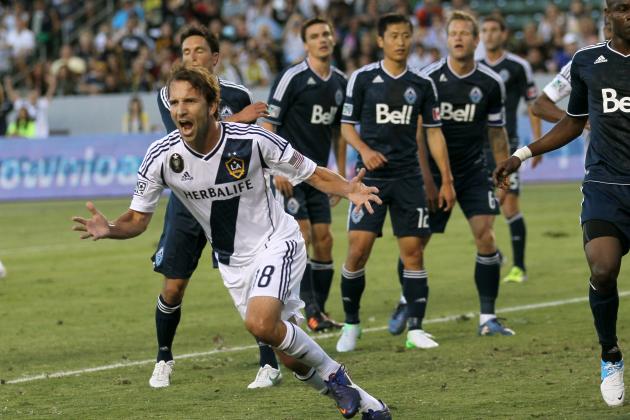 Stephen Dunn/Getty Images

There are plenty of off-the-field aspects to this match that have to be considered.
This is only Vancouver's second season in MLS, and quite surprisingly, they made the playoffs. They are facing the defending champions and are huge underdogs. Will they embrace this role, or will the lack of postseason experience be their downfall?
In addition, the Galaxy and Whitecaps have met five times so far. L.A. has won four of those, while Vancouver was able to draw once.
The struggle for Vancouver continues. They have not won an away game in nine tries. On the other hand, the Galaxy have beaten their opponents at the Home Depot Center in six of their last seven games.
Vancouver will have to end their scoring drought to stand any chance against the defending champions. In five of their last seven road games, the Whitecaps have failed to score,
Everything points to a Galaxy win, but we all know that anything is possible in the playoffs--just look at Real Salt Lake in 2009 and the Colorado Rapids in 2010.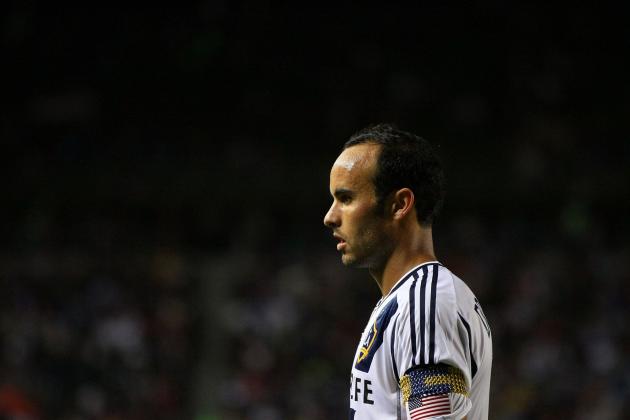 Victor Decolongon/Getty Images

The biggest name in US soccer history, Landon Donovan, will be ready to lead his team to another title this postseason.
After being sidelined because of an injury, Donovan will play against the Whitecaps. However, he didn't look like himself in the last game of the regular season. Maybe it's because he was moved to the midfield, or it might be that his injury is still bothering him.
There's been a lot of drama surrounding Donovan and his potential retirement. He's been saying that he hasn't truly been enjoying soccer. In a moving interview by ESPN, he shares a lot about how he feels and what's in store for the future.
I need time where I can just pause, and breathe and rest, let my body heal, let my mind refresh, and I think at that point I'll be excited to play again.
While I personally do not think that Donovan will retire after this season, it is a possibility. I believe it's more likely that he will pursue a permanent move to Everton FC either after this season or the next, so this may very well be one of the last times we see No. 10 in a Galaxy jersey.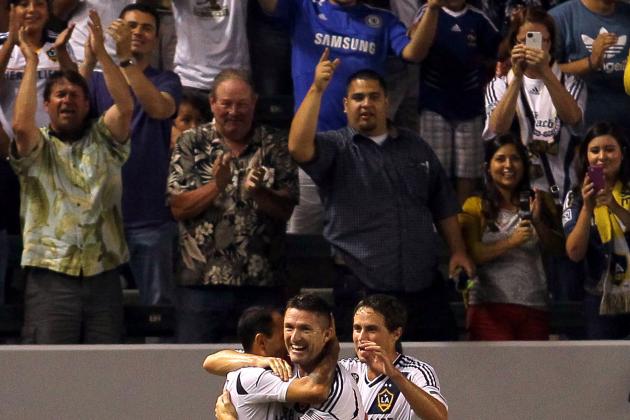 Victor Decolongon/Getty Images

Prediction: Galaxy Win 3-1
The Los Angeles Galaxy will be too much for Vancouver to handle. L.A. is in form and has a pretty healthy squad to begin their playoff run. Robbie Keane and Landon Donovan will lead the way in a decisive victory against the Whitecaps.
After this, the Galaxy will face off with the San Jose Earthquakes in a two-game series for a chance to reach the Western Conference Finals.
San Jose and Los Angeles are long-time rivals, and the matchup will likely be one of the most electrifying and entertaining in this year's playoffs.