World Football's 20 Best Goals of October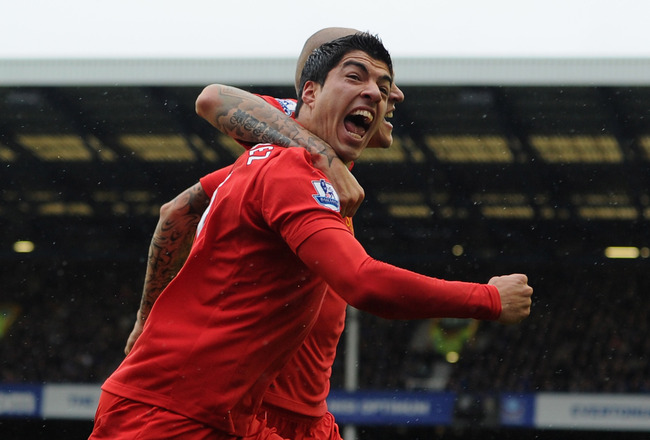 Chris Brunskill/Getty Images
Goals, goals and more goals. There is nothing quite like a great highlight reel of the best in class.
When it comes to getting a chance to enjoy some of the best talent and top goals in the previous month look no further than the slideshow at hand.
From volleys to bicycles and players tearing up from the moment, October had some great goals scored all over the world.
Tom Cleverly vs. Newcastle United
Young Manchester United midfielder Tom Cleverly took one of the midfield storybooks of his club when he channeled some prime David Beckham-level class with his perfectly placed goal.
Lionel Messi vs. Real Madrid
Lionel Messi's class is never mistaken, and he once again proved why with this quality bending free-kick strike against Real Madrid.
Juan Arango vs. Eintracht Frankfurt
Borussia Monchengladbach's Juan Arango opened his account in October with a brilliant strike in the Bundesliga.
It would be one of several masterful strikes this month.
Dean Cox vs. Walsall
Leyton Orient's Dean Cox channels some Xabi Alonso skills from long range with this goal from inside his own half against Walsall.
Rafael Porcellis vs. Leixoes
C.D. Santa Clara's Rafael Porcellis scores from a brilliantly delivered cross that he blasted in via a personalized style.
Alessandro Del Piero vs. Newcastle Jets
Sydney FC striker Alessandro Del Piero proved why he was a solid acquisition for the club this summer.
Gareth Bale vs. Scotland
Gareth Bale scored a long-range rocket to help Wales defeat Scotland in their most recent meeting.
Takashi Usami vs. Hoffenheim
Darmstadt's Takashi Usami dribbled past the majority of Hoffenheim's side to find the space to score this effort.
Luis Tejada vs. Santos Laguna
Toluca striker Luis Tejada found the back of the net with this improvised bicycle kick.
Emmerson Boyce vs. Swansea City
Wigan Athletic's Emmerson Boyce pulled out a goal from his bag of tricks two weekends ago at the Liberty Stadium and will hopefully continue to keep the store well stocked and ready for when the time comes.
Vincent Kompany vs. Scotland
Manchester City's Belgian defensive star Vincent Kompany proved that just because you are a defender does not mean you have no skills on the ball.
Luis Suarez vs. Everton
Luis Suarez scored a great tight-angle goal against Everton. That was followed with a statement celebration that may have made him more enemies around the game, but it made Liverpool fans beam with pride.
Juan Mata vs. Manchester United
Chelsea midfielder Juan Mata couldn't have cared less if Manchester United built a wall in front of the goal because he was going to score on the free kick no matter what.
Santi Cazorla vs. West Ham United
Arsenal midfielder Santi Cazorla scored a brilliant strike against West Ham United in the Gunners' last majorly impressive English Premier League victory.
Ivan Ramis vs. West Ham United
Wigan Athletic's Ivan Ramis blasts home this striker from the volley straight from a corner. Pure class in the finish.
George Boyd vs. Huddersfield
Who says the lower leagues in England are not up to par with the Premier League for quality goals. Check out George Boyd's long-range blast.
Graziano Pelle vs. Ajax
Feyenoord's Graziano Pelle scored a masterful volley to secure a draw with their rivals Ajax in the last week of October. Watch from 1:05 onward.
Gary Cahill vs. Tottenham
Chelsea defender Gary Cahill reminded everyone that he has quality form outside the box with this brilliant volley against Tottenham.
Juan Arango
Borussia Monchengladbach's Juan Arango scored multiple master-class goals this past month. Here is by far his best.
Ronaldinho vs. Figueirense
World footballing legend Ronaldinho pulled out some of his old tricks with this masterful strike.
Pure class and even more pure emotion from the former Barcelona star.
Keep Reading