8 Reasons to Believe Chelsea Can Emulate Manchester United's 1999 Treble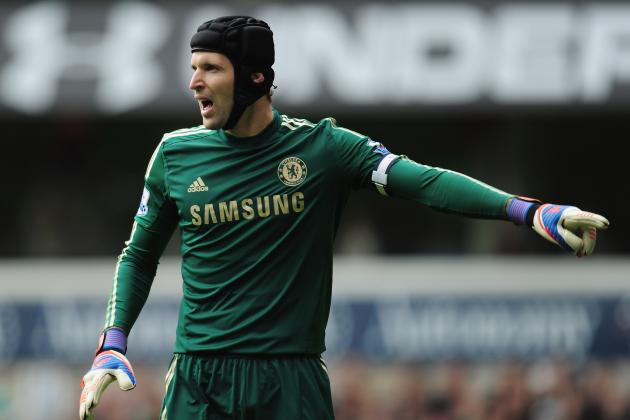 Shaun Botterill/Getty Images
Petr Cech will be a key figure in Chelsea's hopes for a treble
Manchester United's 1998-99 season marked the first time an English club has ever recorded a treble—winning the Premier League, FA Cup and Champions League in the same season. This season, Chelsea looks set to accomplish that very same feat.
During that year, in a span of 10 days, the Red Devils put the finishing touches on a historic season.
First, they wrapped up an impressive league run with a 2-1 victory over Tottenham on May 16. With a 22-13-3 record—79 points—the Red Devils just edged out Arsenal for the league title by a single point.
Manchester United followed that up on May 22 by beating Newcastle United 2-0 to secure the FA Cup. After allowing two goals in the first two rounds, the Red Devils recorded five shutouts in their next six games, only conceding one goal.
Finally, the Red Devils added an improbable 2-1 comeback victory over Bayern Munich on May 26 in the Champions League final. Down 1-0 at the 90th minute, Manchester United substitutes Teddy Sheringham and Ole Gunnar Solskjaer each tallied goals in stoppage time to ensure the victory.
It also ensured the club would enjoy a treble, and the eternal glory that comes from winning it.
Since then, United's 2007-08 campaign—which included a Champions League triumph and a league title—is the closest any team has gotten to repeating the feat.
This season, with a fantastic start to their name, Chelsea have a look similar to that of the historic Red Devils.
Here are eight reasons the Blues will emulate Manchester United's treble-winning season.
Begin Slideshow

»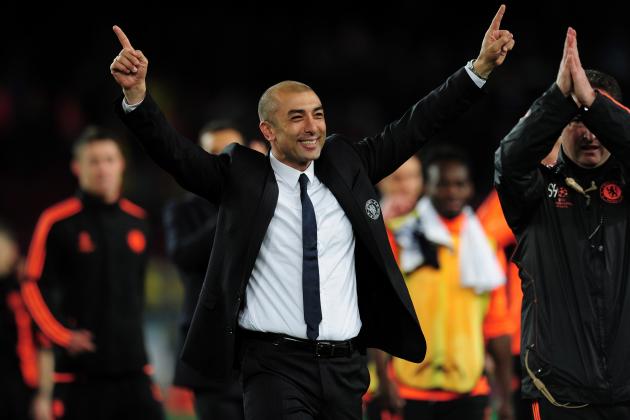 Shaun Botterill/Getty Images
Roberto Di Matteo has had a lot to smile about already this season
At 7-1-0, manager Roberto Di Matteo has the Blues off to a great start.
Just how great?
Put it this way: The last time Chelsea started out this good—9-1-0 in 2005—they ended up winning the league title.
The Blues currently sit four points clear of second-place Manchester United heading into their weekend clash at Stamford Bridge.
But while the showdown between the two rivals is always a bitter one, there really should be no doubt that Chelsea will come out victorious.
In their eight Premier League fixtures, the Blues have looked downright dominant.
They've scored 19 goals—including eight in their last two games—and only allowed six.
They've looked unbeatable at home and resilient on the road.
In two tough away matchups—Arsenal and Tottenham—Chelsea pushed their way to two hard-fought victories against tough opposition.
The fixture with the Red Devils should be no different.
Following this weekend—except a matchup with Manchester City—the Blues only face one top-five league opponent in their next 10 fixtures.
Paired with a victory on Sunday, we could very well see Chelsea boasting quite the insurmountable lead at the halfway point of the season.
That only serves as good news for the Blues' treble hopes.
Michael Steele/Getty Images
Captain John Terry head's the defensive efforts for Chelsea as they look to repeat as CL champs
Sure, Chelsea suffered a tough 2-1 defeat to Shaktar Donetsk on Tuesday night.
However, with Juventus dropping points against Nordsjaelland—a 1-1 draw—Chelsea looks to be in good shape.
As of now, the Miners lead the group with seven points, Chelsea are in second with four points, Juventus is third with three points and Nordsjaelland is last with one point.
The Blues won't have to wait long to get revenge, as they play host to Shaktar Donetsk on Nov. 7.
Chelsea are sure to have the advantage on their home turf, where they are 5-1-0 in all competitions this season.
While Oscar's late goal on Tuesday might seem to be meaningless, it actually made a significant difference.
Had the Blues been shut out, Chelsea would have a goal differential of +2 and the Miners would lead the group with +4. Thanks to Oscar, the two are now tied at +3.
Thanks to the score, with a win on Nov. 7, Chelsea have guaranteed themselves a spot at the top of the group—no matter the margin.
With two of Chelsea's remaining three group stage matches taking place at home, Chelsea are almost assured a place in the knockout stage.
The only question remaining is whether they will finish top of the group or not.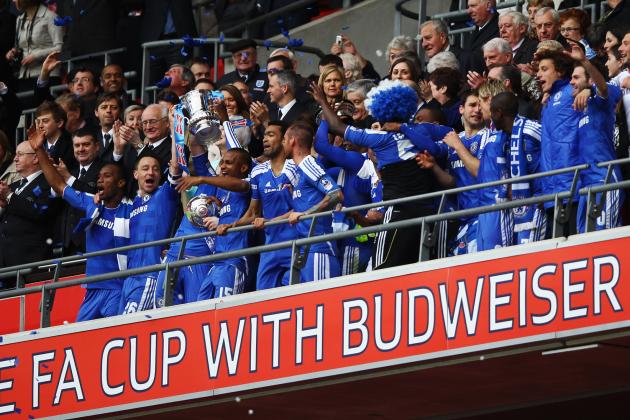 Clive Brunskill/Getty Images
Chelsea will look to repeat as FA Cup champions
The last time Chelsea were eliminated from the FA Cup before February was back in 1998. Since then, the Blues have won the cup five times—including four times in the last six years.
Needless to say, Chelsea understands how to win the FA Cup.
By February, the Blues will be 24 games into the Premier League season and awaiting the beginning of the knockout stage in Champions League play.
That is more than enough time for Chelsea to grab a vise grip on the league, allowing them to pay a little more attention to their FA Cup ties and Champions League fixtures.
League play always takes priority over the other two competitions. However, Chelsea looks set to continue their dominating run.
With that said, nobody would question the club if they decided to put a little more effort than usual into the FA Cup.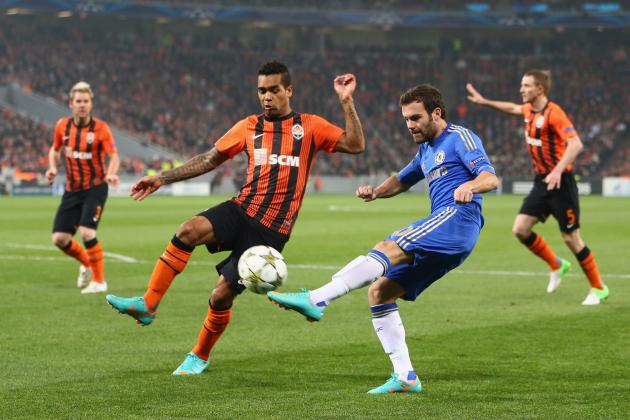 Michael Steele/Getty Images
Juan Mata has found success in both distributing and scoring goals
Juan Mata's absence from Spain's roster during this past international break was downright baffling.
Mata has easily been Chelsea's, if not the entire Premier League's, most valuable player thus far.
In 11 appearances for the Blues, the 24-year-old midfielder has totaled six goals and seven assists. He is currently tied with fellow Spanish international Fernando Torres for the team-high in goals, while being in sole possession of the team-high in assists.
As of late, Mata has been on a roll.
All six of his goals and six of his assists have come in the last five games.
His stellar play was last on display in this past weekend's 4-2 come-from-behind victory over Tottenham.
Mata not only netted the equalizer, but he also netted the go-ahead goal and capped off his excellent afternoon by assisting the final goal.
With no signs of letting up, Matta will give opposing defenses fits while freeing up his teammates.
The Blues should be personally thanking Spanish manager Vincente Del Bosque for Mata's success.
All this extra rest has certainly been paying dividends.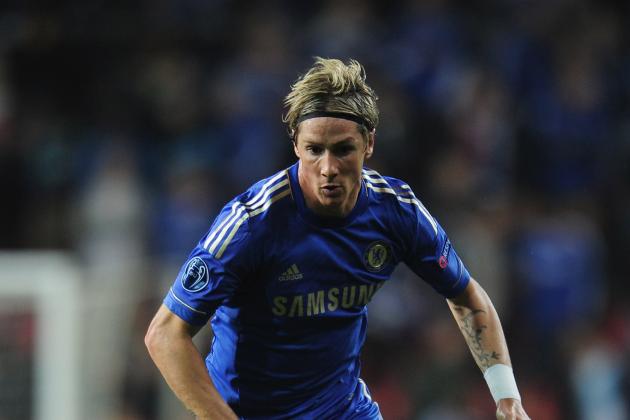 Shaun Botterill/Getty Images
Fernando Torres' resurgence this season will be key to Chelsea's success
Don't call it a comeback.
With 10 goals already in 23 appearances this season for both club and country, Fernando Torres is already well on his way to surpassing his total in goals from the last two seasons—12 and 13.
In eight Premier League fixtures this season, the former Liverpool striker has netted four goals. And when he hasn't found the back of the net, he's been effective in contributing to the scoring opportunities of the teammates around him.
But what is most improved from the Torres we have seen over the last couple of seasons is his rediscovery of scoring goals when it counts.
Last season, you'd be hard-pressed to find a goal from the 28-year-old striker that was vital to the game. Sure, his score against Barcelona was big; however, the Blues were already in stoppage time with a lead in aggregate.
This season, Torres has already provided four.
He netted the go-ahead goals in matches against Manchester City, Reading and Arsenal and scored an equalizer against Norwich.
That's over two-thirds of his goals being significant.
With a renewed sense of confidence only growing with every passing game, Torres is probably the biggest key to Chelsea's chances of completing a treble.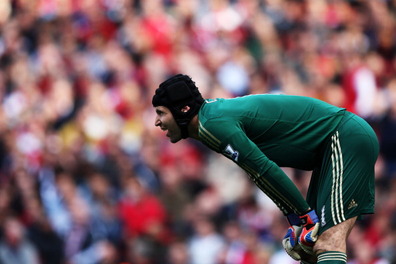 Richard Heathcote/Getty Images
Petr Cech has been a brick wall in net for the Blues this season
They say you're only as good as your weakest link. Well, in football, you're only as good as your goalkeeper.
Luckily for Chelsea, they've got a pretty good one on their hands with Petr Cech.
During last season's Champions League triumph, Cech was easily the most valuable player.
In a style of play that saw the Blues "park the bus" against tougher opponents such as Barcelona and Bayern Munich, Cech was faced with an onslaught of shots.
In their final three matchups—two games versus Barcelona in the semifinal and one against Bayern Munich in the final—Chelsea were out-shot 90-20.
However, with great play in net for the Blues, Cech only allowed three goals in those matchups.
This season, in eight league matches for the Blues, Cech has continued his sensational form.
He has only allowed six goals and has saved 27 of the 33 shots on goal he has faced. He has a GAA of 0.75 and a save percentage of 81.8.
The last time Cech put up better numbers was during the 2008-09 season when he boasted a 0.69 GAA and an 82.6 save-percentage.
The 2010-11 Chelsea Player of the Year winner is showing that he is back in top form.
That can only mean bad things for opposing attackers.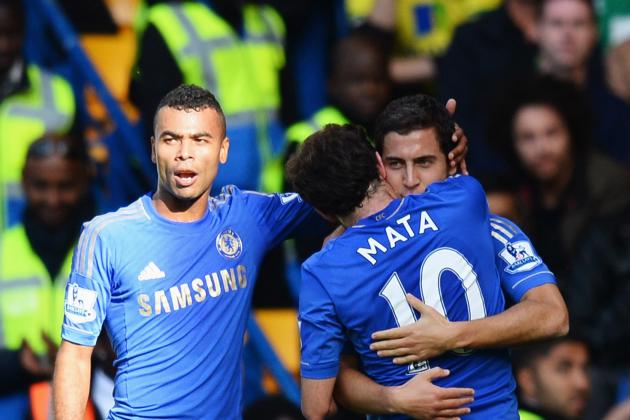 Mike Hewitt/Getty Images
Eden Hazard (facing forward) and Juan Mata (facing back) are vital pieces to Chelsea's new midfield attack
After spending the majority of games last season fighting for possession and on defense, Chelsea decided it was time for a change.
The solution? Bring in the talented pair of youngsters Eden Hazard and Oscar.
Their presence has been felt almost immediately.
After the first three games of the season, Hazard had one goal, four assists and a won penalty to his credit. Out of the Blues first eight goals of the season, Hazard directly contributed to seven of them.
Since then he has added a goal and a pair of assists.
His skills on the ball have puzzled defenders and freed up runs for teammates.
Oscar has done much of the same.
The Brazilian talent has made his biggest splash on the Champions League stage.
In three such matches, Oscar has netted three goals and an assist.
Most memorable was his two-goal outburst within two minutes—the second of which was easily the best goal of Chelsea's season thus far—against Juventus at Stamford Bridge.
Although he doesn't appear on the stat sheet too often, his passing and runs have been vital to the successful movement of Chelsea thus far.
Throw in Juan Mata and his accomplishments and you can see why this has proven to be a formidable midfield attack that would strike fear in the hearts of any opposition.
The scary part is that this trio is only two months into their playing time together.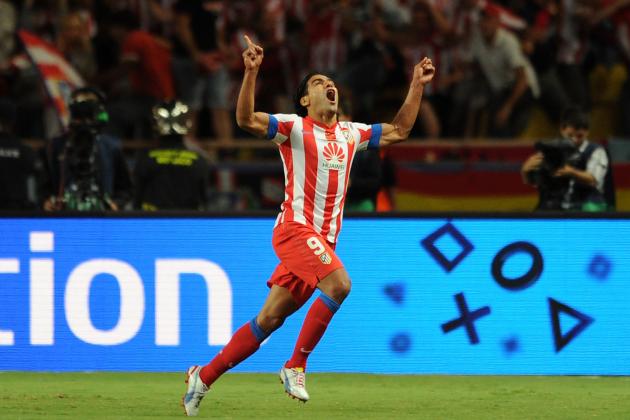 Chris Brunskill/Getty Images
Radamel Falcao would prove to be a dangerous scoring threat for Chelsea
While Fernando Torres has seemingly recovered his goal-scoring form, Chelsea are reportedly set to allow Daniel Sturridge to leave.
This move is baffling when you consider that it would leave Chelsea with no other striker on the depth chart for Torres.
Torres surely wouldn't mind that scenario; however, the club should. What if the Spanish striker were to get injured? Then what?
That's where the January transfer window comes into play.
Chelsea have been linked to Atletico Madrid striker Radamel Falcao since last summer, yet they declined to make a move.
After seeing what the 26-year-old Colombian striker can do firsthand when he recorded a hat trick in Atletico Madrid's 4-1 whooping of Chelsea in the Super Cup, the rumors started heating up again.
Paired with Torres, the two could provide one of the most lethal attacking duos in all of football. It would also allow manager Roberto Di Matteo a chance to rest Torres—the striker has started every single game for Chelsea this season.
The Blues had also been linked to Napoli striker Edinson Cavani, with the club having reportedly been close to making a last-minute deal before the summer deadline.
As of now, the talks seem to be dead.
However, if Sturridge does in fact leave, there is a chance that the talks might heat up again.
Cavani might prove to be the better option, especially when you consider the high asking price for Falcao.