20 Toughest Tacklers in the English Premier League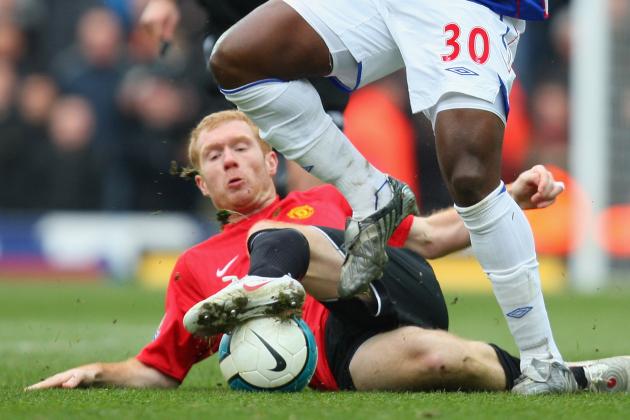 Mark Thompson/Getty Images

Tackling is an art. Some have mastered it, some haven't.
Bleacher Report takes a look at some of the English Premier League's current toughest tacklers, whether they're well-timed but firm, reckless and stupid or a little bit of both.
Some of the new additions to EPL sides have certainly been getting their teeth stuck in, but there are also a few of the usual suspects cropping up as well.
It's important to note that this is not simply a collection of thugs or dirty tacklers.
Begin Slideshow

»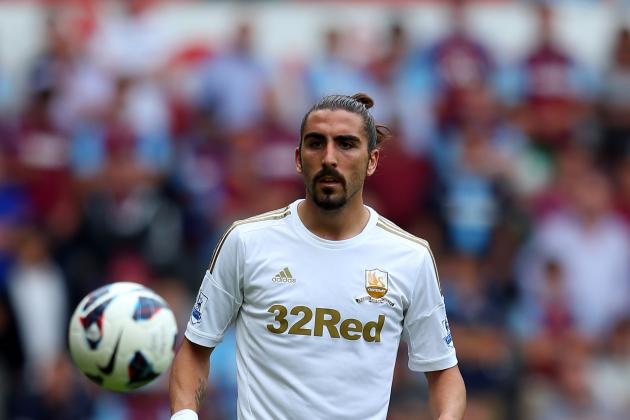 Richard Heathcote/Getty Images

We start with an uncompromising, dogged presence on the pitch.
Xavi of Barcelona admitted he'd never been marked so closely when his side went up against Almeria, suggesting Chico would even follow him off the pitch if necessary.
He's already picked up a red card for excessive force in addition to a solitary yellow, and the Spaniard is guaranteed to go in full-blooded every time.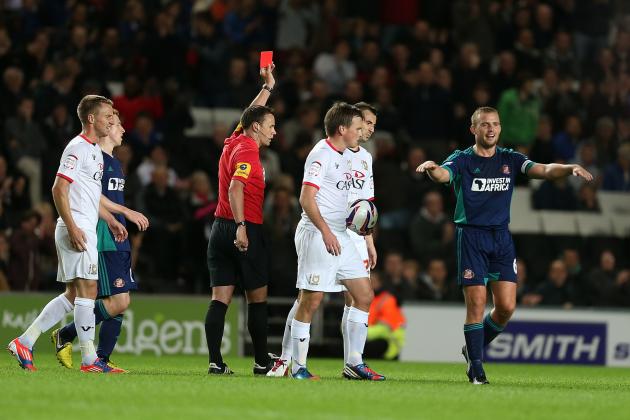 Pete Norton/Getty Images

Lee Cattermole, the man who has never managed to reel it in, is undoubtedly one of the toughest tacklers in the English Premier League.
His aggressive nature knows no bounds and it is one that has given Sunderland's multiple managers nightmares over the years. Something tells me Martin O'Neill won't tolerate it for long.
He's received five career red cards so far and he's only 24 years old.
Scott Heavey/Getty Images

After a slow start at Tottenham battling injuries and delayed arrivals, Sandro has lived up to his promise.
Touted as one of the better defensive midfielders in the game coming from Internacional, the Brazilian has really stepped his game up for both club and country.
He was a standout performer in the Olympics under Mano Menezes and has solidified his role in Andre Villas-Boas' 4-3-3 as the new Fernando.
The midfielder has accrued an impressive 3.3 interceptions per game so far this season.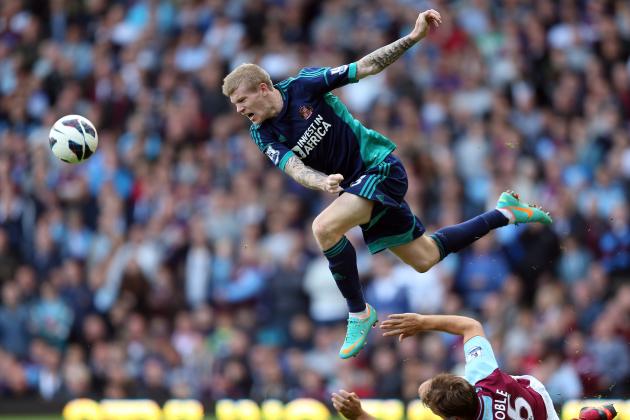 Richard Heathcote/Getty Images

Mark Noble is an absolute terrier. Despite his relatively small stature in comparison to his colleagues, he makes up for it with truly energetic and committed performances.
He and his midfield partners at West Ham are able to exert great pressure on opposing teams, cutting off supply lines to the forwards and harassing them in possession.
Noble leads the league with 4.9 tackles per game.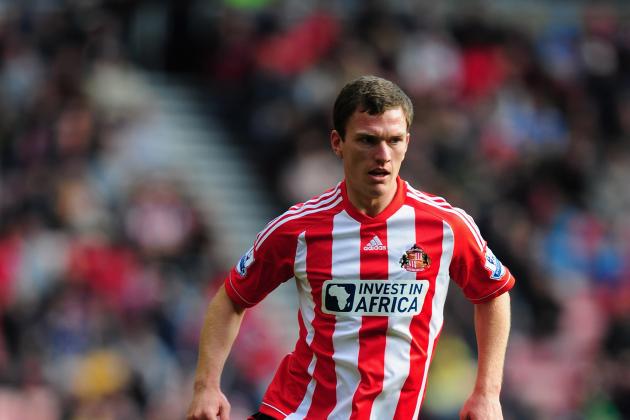 Stu Forster/Getty Images

If having one reckless tackler at Sunderland wasn't enough, Martin O'Neill has inherited the man he once sold to Birmingham City having arrived on Wearside.
Craig Gardner has never been the most subtle player in the game, and his overall lack of creative ingenuity or tackling prowess has always been offset by grit, determination and tenacity.
As a result, he is just a little bit messy. Three yellow cards already this season suggests he's on course for his usual statistics.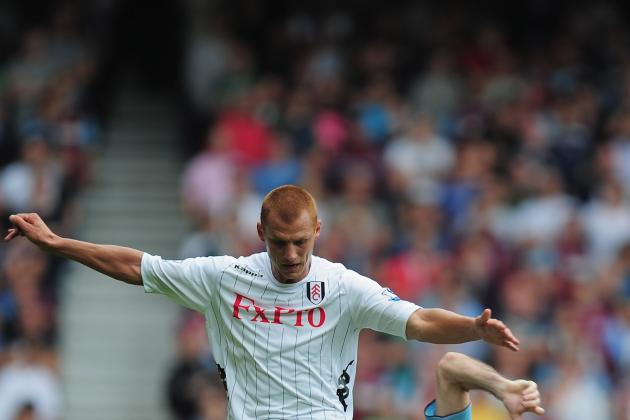 Jamie McDonald/Getty Images

Steve Sidwell is not exactly renowned for tackling. In fact, he's not renowned for much other than blasting the occasional shot 30 yards over the bar.
He's a true box-to-box midfielder though, and gets his foot in very effectively when possible.
His "clumsy" nature when retrieving the ball leads to his fair share of cards, but the former Reading star is nothing if not consistent.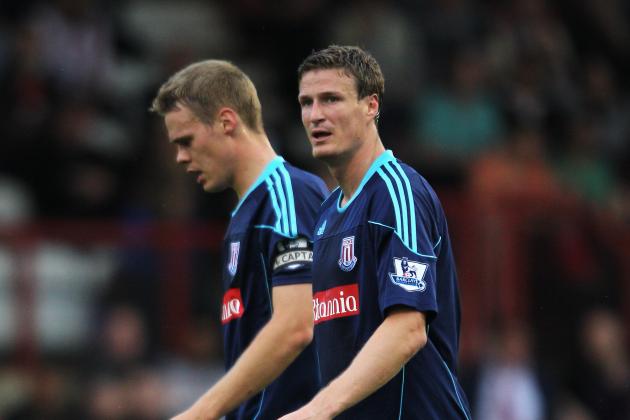 Dean Mouhtaropoulos/Getty Images

Stoke on the whole are recognised as a combative, forceful team and their central defensive partnership of Ryan Shawcross and Robert Huth is no exception.
The duo tend to contain quick, nifty strikers easily by exerting their dominance early on and don't hold back against the big boys either.
The two combined for 13 yellow cards and a red last season, taking absolutely no prisoners in a clean sheet-laden season for Tony Pulis.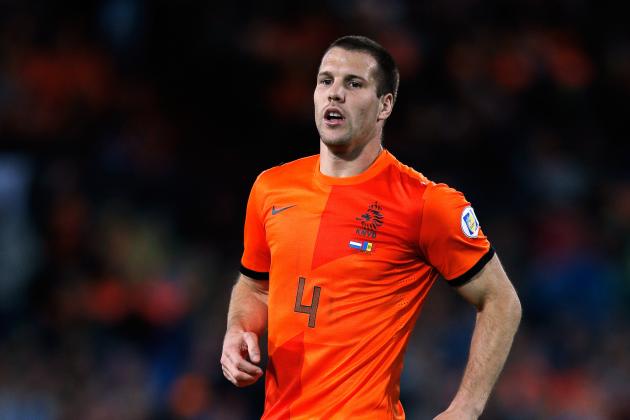 Dean Mouhtaropoulos/Getty Images

They don't call him "Concrete Ron" for nothing.
Ron Vlaar, a new arrival at Villa Park courtesy of a £3.2 million move from Feyenoord, has already endeared himself to the Aston Villa faithful after several imposing showings.
His ability to read the game, put in a forceful challenge and then carry the ball away is something the Villans have lacked for several seasons now, so the Dutchman is a hit as long as he continues what he's doing.
Mike Hewitt/Getty Images

Serbian defender Branislav Ivanovic is the hardest right-back in the league.
While modern footballing advancements have seen nifty, fleet-footed full-backs rise to the fore, this Chelsea player represents a refreshing blast from the past.
Whether he's deployed on the flank or in the centre, Ivanovic will clatter you.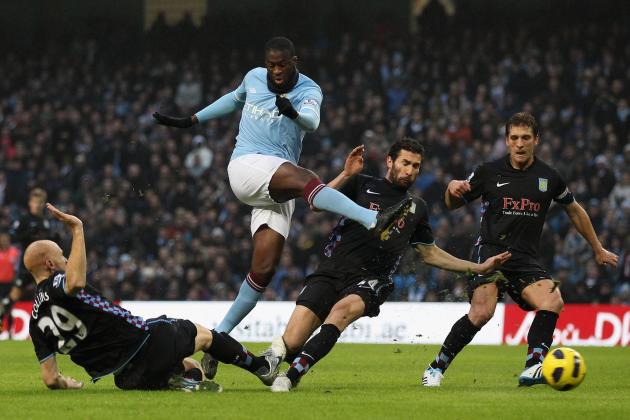 Alex Livesey/Getty Images

James Collins is the bravest defender in the English Premier League right now.
He will throw his body in front of anything he sees to prevent a goal and makes an unbelievable amount of essential clearances and stops.
Before joining Aston Villa in 2009, he had quite a bad injury record. Tackles like this are probably the reason. (photo via The Sun.)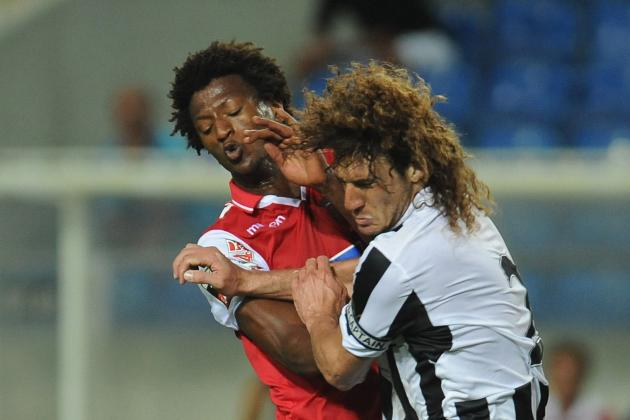 Valerio Pennicino/Getty Images

Argentinian defender Fabricio Coloccini hasn't been able to make a telling impact on this season so far due to injury, so Newcastle's defence can only improve once they get their captain back.
When playing, he's known for his solidity and physicality. He's tough in the tackle and uncompromising in the air, making him the perfect partner for Steven Taylor in the heart of the Magpies back line.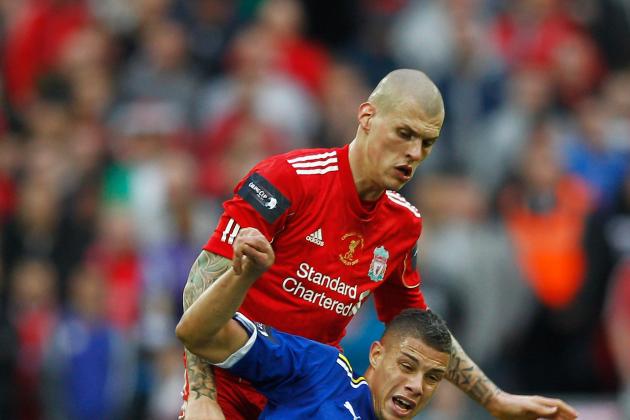 Paul Gilham/Getty Images

Martin Skrtel is not someone you'd want to meet in a dark alley.
Besides the fact he looks like an angry Skeletor, his typical style of play, that being him taking the ball off you whatever the consequences, often leaves people floored.
Like Fabricio Coloccini and Steven Taylor, the Slovakian international is the perfect complement to Daniel Agger in the heart of Liverpool's defence, combining steel and poise.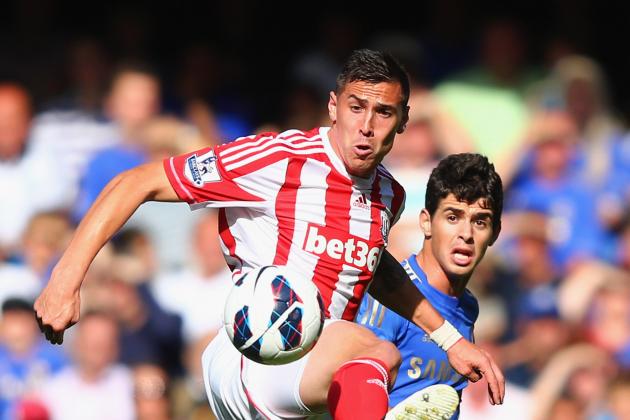 Clive Rose/Getty Images

Stoke's signing of Geoff Cameron was relatively unsung in the world of football, but the United States international has slotted in nicely at the Britannia Stadium and started on the front foot.
His defensive statistics are excellent so far, and for my money he's been a standout performer for the Potters in a solid opening to the season.
His 4.2 tackles, 4.5 clearances and 2.7 interceptions per game make up an impressive stat line. He's getting his foot in where it matters.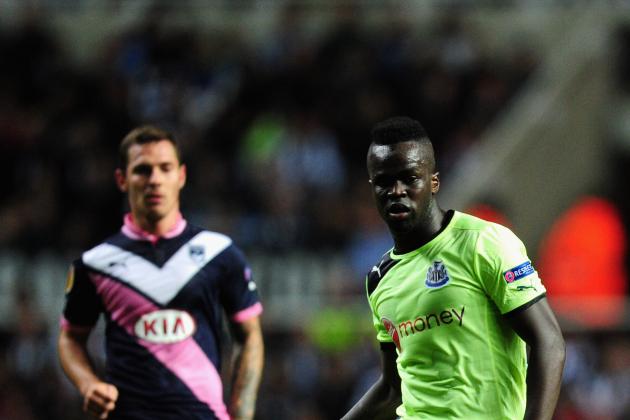 Stu Forster/Getty Images

Cheick Tiote is a midfield monster.
His commitment, aggressiveness and tenacity make him someone you don't want to compete with in midfield. Yohan Cabaye, who is slightly more reserved in his efforts, is the perfect compliment to the Ivorian destroyer.
Tiote averaged 2.8 tackles and 2.5 interceptions per game last season.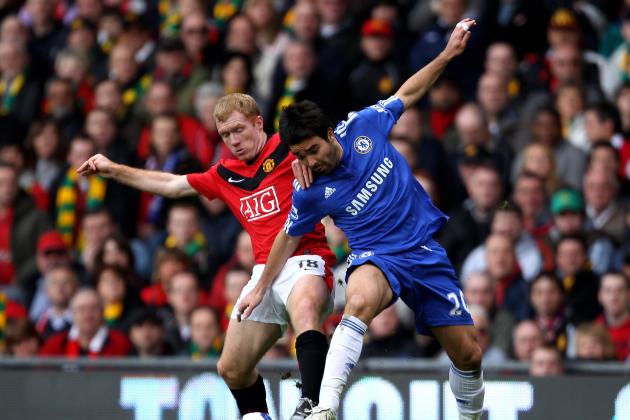 Alex Livesey/Getty Images

Whichever way the argument "Paul Scholes can't tackle" swings, whether he goes in hard or just recklessly, the force he generates in a tackle is simply astounding.
He slides in at full velocity, whether it's from behind, from the side or head on. Pablo Zabaleta, Denilson and Xavi Hernandez are just three of a long list of players willing to vouch for this.
Roy Keane must have taught him a few things.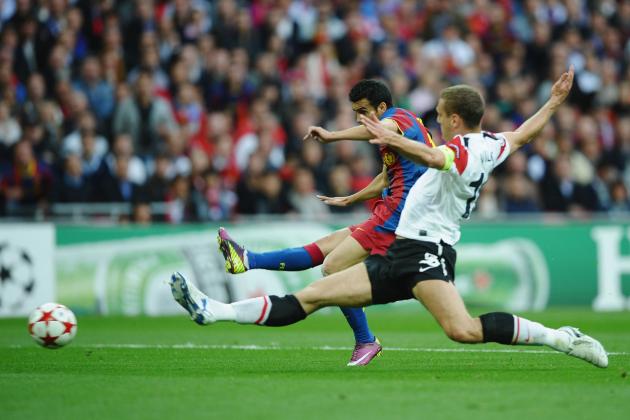 Laurence Griffiths/Getty Images

"Nemanja, ooooh. Nemanja, ooooh. He comes from Serbia! He'll f***ing murder ya!"
The song that rings around Old Trafford when Nemanja Vidic puts in one of his trademark tackles or headers says it all.
Manchester United have been the benefactors of his brute force nature while defending for years now, and without him the Red Devils defensive line is evidently softer.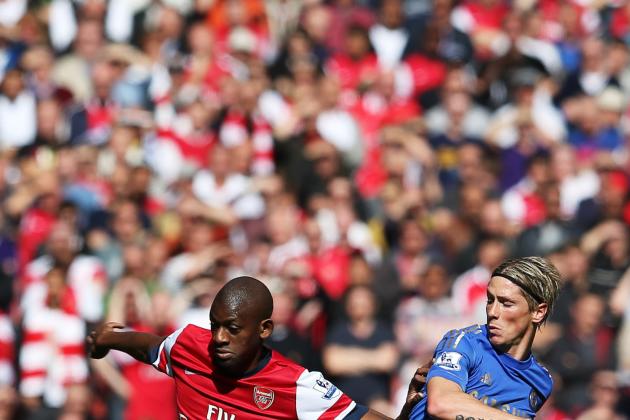 Richard Heathcote/Getty Images

Abou Diaby is an inconsistent player, but when he's in form you don't stand a chance.
His sheer frame, physical strength and long legs mean he's almost certain to either retain the ball or steal it off you, and he uses his bulk in the right way too.
His starring game at Anfield this season was a prime example of his talents, managing four successful clean tackles in addition to controlling the midfield against Joe Allen and Nuri Sahin.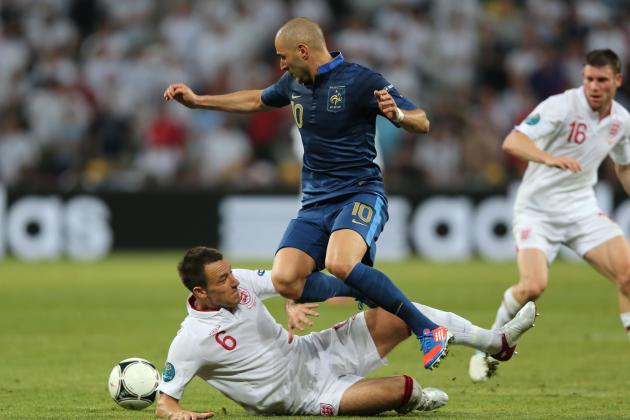 Ian Walton/Getty Images

John Terry is one of the most committed and battle-hardened defenders the English Premier League will ever witness.
No one can doubt his passion for the cause when he's on the field, and it's pictures like this that make the crowd appreciate his efforts. (photo via The Guardian.)
The Chelsea captain plays at 100 percent capacity in each and every game, never holds back and is happy to lunge in when required. (photo via Digital South.)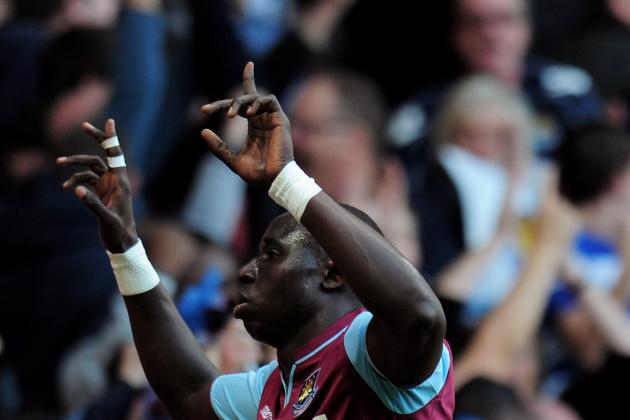 Shaun Botterill/Getty Images

Unlike his midfield partner Alou Diarra, who plays the percentage game when tackling, Mohamed Diame of West Ham goes in full-blooded.
He, along with his colleagues Mark Noble and Kevin Nolan, tries to stamp his authority on the game and control the centre of the park with brute force.
The Senegalese destroyer was incredibly influential for Wigan Athletic, so it's no surprise to see him snapped up quickly as a free agent and playing well at his new club.
Statistics courtesy of WhoScored?