Ranking the 10 Worst Kits in Football This Season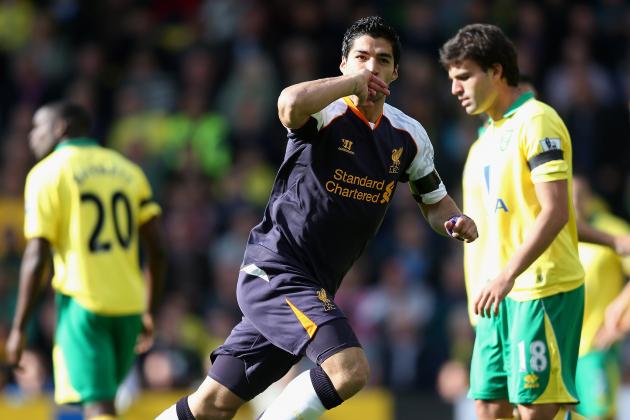 Julian Finney/Getty Images

Although the football on display is what the majority of those watching care about when a new season comes around, examining the kits is an enjoyable pastime, also.
It's not just the uniforms of the team one supports that draw the gaze either, as the sheer mass of teams from around the globe make it impossible not to scrutinise upon clubs both foreign and domestic.
Whether it's to distract the opposition, make a statement or just to be noticed, some clubs just do not get things right in the design phase of putting together their strips.
So, we all know who the Belles of the Ball already are, let's consider just who are the Beasts of the kit world this season.
Begin Slideshow

»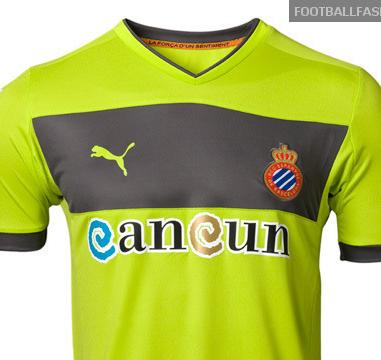 All Image Rights Belong to FootballFashion.org
A bright behemoth to start the countdown with, I know, but a horrendous collaboration of fluorescent and dull nonetheless.
Usually bright colours are used as warnings, either for an oncoming hazard or disaster, both of which aptly describe Espanyol's start to the season.
The Barcelona outfit is stuck firmly to the base of the La Liga table and although their away isn't the biggest contribution to that status, their sickness-inducing away kit doesn't appear to be helping too much.
It isn't so much the design of the Puma-sponsored strip that's to blame here, but more the saturated use of a colour that can only be likened to snot.
Splice into that mix a rather pointless dose of cobalt grey and you have a truly confusing number on your hands.
Ew.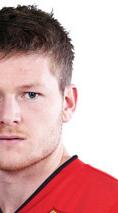 All Image Rights Belong to FootballKitNews.com
While the kit isn't actually all that unattractive, it's more the method in which the new kit came about that makes Cardiff City's home uniform a necessary inclusion.
The Welsh outfit were taken over by a Malaysian consortium not so long ago and a swift business venture for the new owners was to change the club's team colours from blue to dragon red.
At the time of the announcement, thousands of loyal Bluebirds expressed their concern at the massive change (via BBC), of course seeing it as a sacrifice of tradition in the name of business and money.
Since then, a lot of fans of the club have come around to the change but it nevertheless shows just how much private ownership now influences clubs, giving power to foreign owners who perhaps aren't as aware of history.
Cardiff City aren't called the Bluebirds for nothing.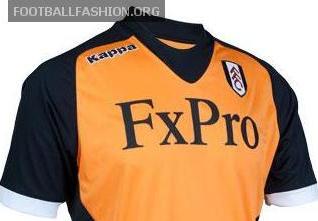 All Image Rights Belong to FootballFashion.org
Given the amount of money that gets circulated in the English top flight, you'd think that a club like Fulham at least has the ability to produce two kits of a highly attractive standard.
However, the Cottagers' away kit is a sign that no matter how advanced the club may be, they can still get things seriously wrong at the drawing board.
Known for their white colours, it's hard to point out just what the logic was behind such a flagrant injection of orange.
Perhaps the decision was made by Martin Jol, who's trying to ameliorate his club with the Dutch national team to make his club more appealing to the Oranje by dressing just like them.
Someone's been tangoed.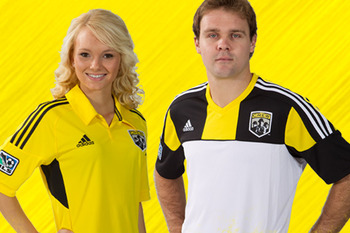 All Image Rights Belong to TheCrew.com
Either a mishap in the designing phase or somebody just got lazy, Columbus Crew's away kit reminds us that we can be anything we dream to be, and hopefully there's some budding kit designers out there.
From the shoulders until about five inches lower, it all seems to be going swell until the kit all of a sudden turns into the blandest number available (pictured right).
It's actually quite easy to imagine a team of designers getting into the swing of things but then getting bored as soon as the crest was on the strip, calling it a day, and hitting the bar.
Consider me bamboozled.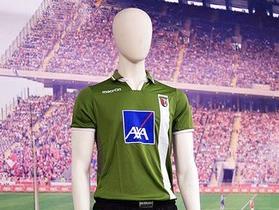 All Image RIghts Belong to FootballKitNews.com
Macron are by no means a giant among sport brands, and Braga's away kit is, as a result, nothing special in any small terms.
The Archbishops have never won the Primeria Liga and if a club's strip does anything to help that plight, then Braga won't be breaking that trend anytime soon.
The collared jersey was a thing of the past, and if a team is going to pull it off in the present day, it has to be done just right. Braga did it wrong.
Green is an incredibly tough colour to make look good, and the dark moss shade that the Portuguese side have gone for this season won't be attracting too many new supporters anytime soon.
In any case, the squad can hope that the away strip allows them to blend into the pitch, springing a surprise or two on their unknowing opposition.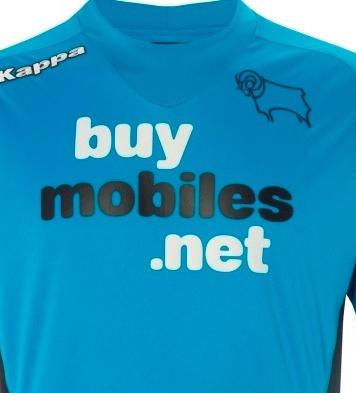 All Image Rights Belong to FootballKitNews.com
As with Cardiff, Derby would appear to have taken on the mentality of "business first, football second."
The colour of Derby's third strip is enough to discourage anyone from attending matches at Pride Park but the club need to start warning for product placement prior to every game.
This is of course due to the massive advertisement plastered across the chest and belly of the club's jersey, which one can only hope has massive financial benefits to replace their lost dignity.
Someone should probably alert the Rams that they've got a little crest on their sponsor.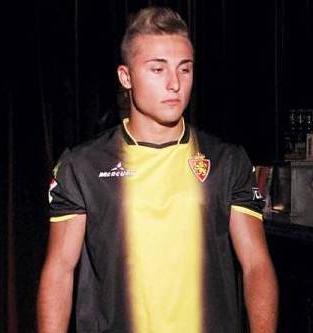 All Image Rights Belong to FootballKitNews.com
When playing away from home, a team needs to be fierce, aggressive and quick on their feet. So, while Real Zaragoza may not float like a butterfly this season, they'll certainly be able to sting like a bee in this yellow and black mistake of a shirt.
Unlike others on this list, Los Blanquillos don't actually have a corporate sponsor, however, I for one wish they would, just so I have something else to look at other than this kit.
Bees are infamous for allegedly having just one sting in them before they eventually die, though it's questionable whether Real Zaragoza have even that as they are dangling precariously around relegation this season.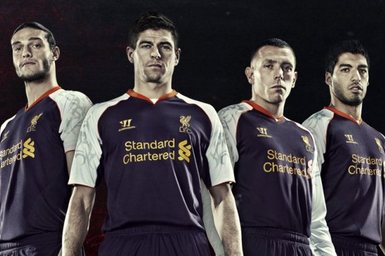 All Image Rights Belong to Soccer-Blogger.com
As part of the Fenway Sports Group revolution at Anfield, the American owners have succeeded in not only making their club one of the most financially backed clubs in the Premier League, but also the ugliest.
Orange. Grey. Purple. Throw a little yellow in there for good measure. I just can't help but feel that the club's third kit for the 2012-13 season was designed by a Manchester United fan.
Just as Brendan Rodgers and the Reds strive to find their identity once again, it's as if this kit is also trying to figure out exactly what it is by trying to be everything all at once.
With the new sponsors being Warrior, it's evident that FSG are trying to subconsciously make their team a tad more fearsome, but the tribal patterns are just a touch too far, don't you think?
The very epitome of "mish-mash."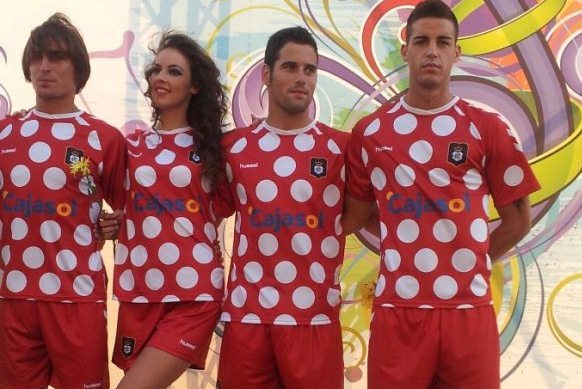 All Image Right Belong to FootballKitNews.com
I can only assume that the job directive given to the kit designers at the Nuevo Colombino was to construct a uniform that would make any opposition laugh themselves into submission.
Little did these designers know that clowns haven't been funny for years now, making the polka dot ensemble all the more laughable.
Unless Recreativo de Huelva all emerge from a tiny little car before each match begins, I'm not laughing as this kit is just plain gruesome.
All Image Rights Belong to FootballKitNews.com
To be awarded the title of "worst kit of the 2012-13 season", a strip has to be truly repugnant, distasteful and quite simply, wrong.
Having a lower league status is no excuse for having a horrible uniform, so it can only be looked upon as rude that Gillingham created the travesty that is their kit this year.
There's just too much going on for this to considered anything other than abysmal.
The neckline isn't quite cropped but it isn't quite a collar and the colours are just that bit too jazzy.
However, the greatest travesty lies halfway between the club crest and the Vandanel logo, and that is the gaudy, laced collar.
The kit is to commemorate the centenary of the club and is how the kit supposedly looked in the 1912-13 season, so Gills fans can only hope that the League Two side abandon it at the end of the campaign.