20 Sweetest Goals of the Soccer Season so Far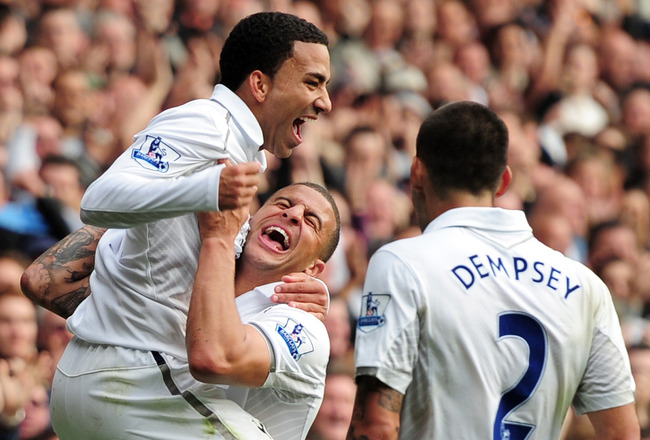 Shaun Botterill/Getty Images
Goals make the world of soccer go around. It does not matter if they are ugly or gorgeous, they are the difference maker to any match.
However, the pretty ones are those that make us all stop and just marvel at their brilliance.
From South America to the Russian Premier League, here are the top goals so far this season between all competitions.
Oscar's Second Goal Against Juventus
Chelsea's newest midfielder, Oscar dos Santos, only a few months since his move to the club announced his skills to the world in the UEFA Champions League with a fantastic brace against Juventus.
Ireland U21 Conor Henderson vs. Italy
Young Irishman, Conor Henderson dazzled the crowd at his nation's match against Italy in early September with this superb strike from distance.
Yevhen Konoplyanka Against England
The Ukraine's Yevhen Konoplyanka proved that there were still goal scorers in his nation's side ready to show their worth in the wake of Andriy Shevchenko's retirement.
Angel Di Maria vs. AC Milan
Do preseason goals count? Why not? Angel di Maria lashed this brilliant strike against AC Milan this summer in the Herbalife World Football Challenge.
Perparim Hetemaj vs. Northern Ireland
Finnish playmaker Perparim Hetemaj scored an excellent international free kick against Northern Ireland in the middle of August.
Ignacio Scocco vs. San Martin
Newell's Old Boys forward Ignacio Scocco would not be denied against San Martin with this thunderbolt of a shot.
Bend It Like Beckham
David Beckham showed that he still had the skill to bend one in when he scored directly from a corner kick on Aug. 23.
Martin Jiranek
The longest range goal of the show so far has Martin Jiranek from Russian side Terek blasting one in from way down town.
Pavel Pogrebnyak vs. QPR
Reading FC Russian striker Pavel Pogrebnyak scored a brilliant back heel flick against Queens Park Rangers to help his side advance to the next round of England's Capital One Cup.
Romain Alessandrini vs. Nancy
Rennes player Romain Alessandrini made the most of his opportunity against Nancy in the French Ligue 1 competition with this full speed flying back heel goal.
Ronaldinho
You can knock him for his fitness and partying issues all you want but Ronaldinho can still produce the goods when he wants to.
Fabrizio Miccoli
Palermo forward Fabrizio Miccoli gives it a go from a midfield volley only to see a moment of magic ensue.
Thierry Henry vs. Toronto FC
Fast forward to 1:19 and watch Thierry Henry make short work of Toronto's goalkeeper from about 30 yards out.
Facundo Roncaglia vs. Parma
Fiorentina's Facundo Roncaglia scored a wonder goal on Sept. 23 in the Italian Serie A matchup between his side and Parma.
Jackson Martinez vs. Sporting
FC Porto frontman Jackson Martinez scores a great back heel after beating the offside trap of Sporting Lisbon.
Tom Cleverley vs. Newcastle
Manchester United midfielder Tom Cleverley once again made us all sit up and take notice as to his chances of one day filling the boots of Paul Scholes or Ryan Giggs in a United strip.
Luis Suarez vs. Manchester City
Liverpool thought that this stunner from Luis Suarez would be enough to see them through with a win over the Champions, but it proved only a false hope.
Zoltan Gera vs. Liverpool
West Bromwich Albion winger Zoltan Gera scored this great volleyed effort on the Baggies opening day against Liverpool FC.
Fabio Quagliarella vs. Chievo
Juventus forward Fabio Quagliarella had a great match against Chievo a few weeks ago and scored an impressive side volley in the Old Lady's victory.
Juninho
LA Galaxy midfielder Juninho is another player that has felt the joy of a long range goal this season.
Keep Reading