Newcastle United vs. Manchester United: 5 Key Battles to Watch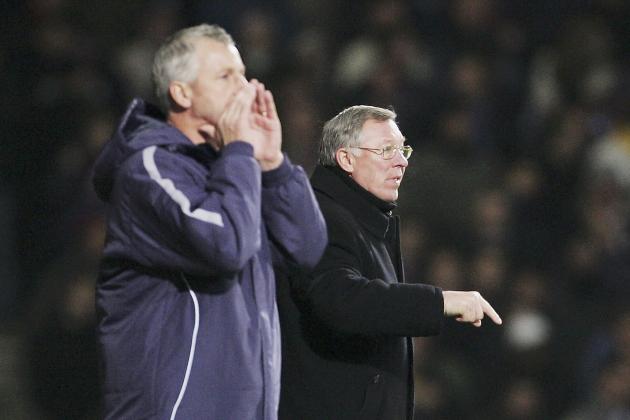 Phil Cole/Getty Images

Even so early in the season, Sir Alex Ferguson knows that Newcastle United against Manchester United is critical. Wayne Rooney knows it too, and he can be the key difference.
The context of the match is critical for Sir Alex.
Manchester United used to start their season too slowly. Following Manchester City's new challenge a couple of seasons ago, Ferguson determined that United must start fast. They did last year, but City started even faster.
This season they are the two teams the others want to beat, having sewn up the Premier League last year. With both having personnel changes and new players to bed in, both will be disappointed so far.
Ironically, Mancini should be the more worried. Although both teams have lost two matches so far, City sit behind United in the EPL and bottom of their Group in the UEFA Champions League.
Furthermore, they have won only one of their last six and two of their last eight, against QPR and Fulham. Like United they are shipping goals, with City conceding in every match and United conceding first in six of theirs.
So both defences need sorting out.
United must do this for Sunday. You can't keep coming back from a goal down, even with Robin Van Persie in the team.
Newcastle United have two very dangerous strikers in Demba Ba and Papiss Cisse. Like the latter, Wayne Rooney hasn't hit the form of last season yet. Cisse has one and Rooney none in all competitions. Both stats are likely to change this weekend.
Once again (and this must be giving Sir Alex sleepless nights), injuries will dominate the thinking. After the horrendous and almost unprecedented injury crisis last season, especially with centre backs, he must have hoped for better luck this year.
In fact it has been almost as bad. Amazingly, Rio Ferdinand has been the fittest of the five at his manager's disposal. Vidic, Evans, Smalling and Jones have all been indisposed. In fact, the latter two have not played a single match yet.
At last, Sir Alex has realised that he needs to give his younger players a chance. Michael Keane and Scott Wootton both played competently in the Capitol One Cup against Newcastle; Wootton came on against Cluj. Ba and Cisse could give them nightmares.
Last season, United took only one point off Newcastle. A midweek away match at St James' Park was a 3-0 drubbing with Demba Ba scoring one of the goals of the season.
At Old Trafford, a disgraceful penalty decision stole a point, but United should have had it sewn up before then.
That was then and this is now. Alan Pardew has brought in a few more squad players. Sir Alex has signed a world-class striker and a European standard No.10.
The defence in general and Patrice Evra in particular are getting the blame for conceding, naturally. But United attacks from the back and defends from the front, so the whole team is to blame.
A key point which has been mentioned elsewhere is the vacuum that opens up in midfield when Scholes and Carrick play. In the second half against Spurs, everyone pushed forward and United were irresistible. Against Cluj the whole team pushed forward, and with 73 percent possession, United won easily.
The most extraordinary thing about that Cluj match was the "wingless wonders." For a team renowned for playing 4-4-2, this was a revelation. It was a clear demonstration that Sir Alex is moving towards a mobile, fluid, interchanging, fast, short-passing game like Barcelona.
It would have worked even better if Evra and Rafael had taken on their respective full-backs, but they seemed to be under orders.
Sir Alex is unlikely to repeat that formation on Sunday because it would signal that he would take a draw. Newcastle are a better team than Cluj. But counter-attacking is bread and butter to United, and with pace across the team, we may see a mix of the two.
So before considering the key battles between Newcastle and Manchester United, let's think about formations.
Begin Slideshow

»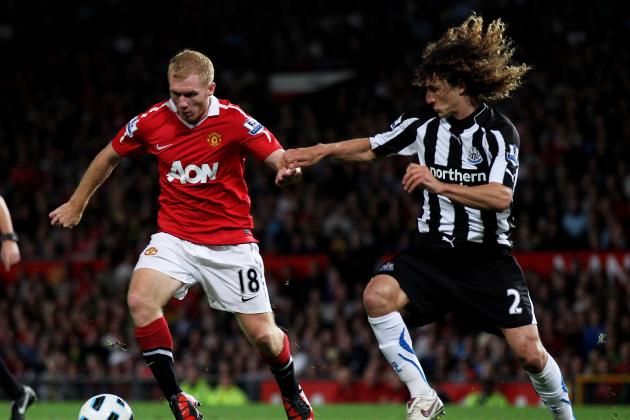 Alex Livesey/Getty Images

The key question for many people is whether Paul Scholes will start.
There are many others as well.
Will Rooney play up top with Robin Van Persie?
Who will be fit in defence?
Will Evra be dropped?
Who will play on the wing, if at all?
Following his showing on Tuesday and in the Newcastle match last week, Sir Alex would probably love to start with Fletcher alongside Carrick. Last night Mancini started with Toure and Garcia in much the same way.
But Fletcher, despite playing 90 minutes on Tuesday, is still coming back from a debilitating condition that he will have to manage for the rest of his life.
We've discussed at length the pros and cons of Scholes playing. If Ferguson could be sure that United would play the whole match in Newcastle's half there would be no doubt. Scholes would play.
Then there is the question of Carrick's fitness. On Monday he cried in with a virus. He, Scholes, Valencia and Giggs stayed home. Giggs had the same bug.
Newcastle have a Europa League match tonight, so they will have two less days to recover. Anderson and Cleverley are young enough to have recovered by Sunday. They could start together. That would be very bold. They dealt easily with Cheick Tiote last week, who is also returning from injury.
The injury situation
According to "Physio Room," United have four of their five centre backs crocked: Vidic, Evans, Smalling and Jones. That is deeply worrying. Smalling's return date has been revised from Oct. 7 to Oct. 20.
Newcastle currently have their two best CBs and best goalkeeper in the treatment room (Steven Taylor, Coloccini and Krul), but the latter two could be back for Sunday.
Sir Alex likes to keep the media and opposition guessing. Of course, he will give Jonny Evans as much time as possible to recover from his dead leg against Cluj.
But he also wants to give Chris Smalling time for his metatarsal injury to heal. If he can get away without him on Sunday, he will. There is no match until Oct. 20 because of internationals. If Smalling was declared fit, he would get called up by England who also have an injury crisis at centre back.
Don't rule out Smalling making a sudden appearance at right back, however.
Newcastle have had nearly as many injuries as United but seem to be slightly better placed. Tiote, Krul and Coloccini may all play tonight, but that gives Pardew a dilemma because he would want them all for Sunday also.
It would be surprising if there were no knocks tonight, but Tiote showed last week that he still hasn't recovered his best form after a muscular injury.
Teams and formation
Reading between the lines and assuming no new injuries after tonight, the teams might line up as follows:
Newcastle United (4-4-2)
Krul
Simpson, Perch, Williamson, Santon
Ben Arfa, Tiote, Cabaye, Gutierrez
Ba, Cisse
Manchester United (4-4-2)
De Gea
Rafael, Evans, Ferdinand, Buttner
Valencia, Anderson, Cleverley, Kagawa
Rooney, Van Persie
The chances of this being exactly right are nil, but Carrick was poor in the 3-0 defeat last year. Again, if he hasn't recovered, Ferguson may be able to keep him out of the England squad, despite his call-up. Scholes will definitely play some part. Giggs only if needed.
Evra has been consistently disappointing. Buttner deserves another chance to show he can be just as attacking but help shore up the leaky defence. Far too many goals are coming from the left side.
So the substitutes could be Lindegaard, Evra, Wootton or Keane, Powell or Tunnicliffe, Nani, Welbeck and Hernandez.
So what are the key matchups?
The first one is between Sir Alex and Alan Pardew. Last season, Pardew won this hands down, but many of his players carried a surprise element.
On Sunday, both may be hampered with injuries, but Sir Alex has a far bigger squad and therefore more tactical options. His bench should also be stronger despite injuries.
Many have begun to wonder whether United have become too predictable. They start too slow, concede the first goal and rely mainly on Van Persie.
All that may be about to change. United played without wingers on Tuesday, and it was very effective. There should be no surprises in how Newcastle will set up, so Sir Alex may have the edge.
After 32 minutes of this fixture last year, Demba Ba pulled the rabbit out of the hat with that goal, and Newcastle never looked back.
Both he and Papiss Cisse are capable of the spectacular as the latter's overhead showed in the Capitol One Cup last week.
Then there was Tiote's sensational goal against Arsenal.
You simply can't legislate for goals like that. You might say Ferdinand wasn't tight enough on Ba, but that would be to take away from a breathtaking piece of vision and ability. Tiote's was like Darren Ambrose's when Crystal Palace knocked United out of the League Cup. James Morrison does it for West Brom.
Paul Scholes and now Nick Powell can do it for United. But that is not what the first key battle will be about.
The two Dembas, Ba and Cisse have pace and invention. They are both very strong. They understand each other's game having played together for club and country countless times.
Rio Ferdinand will have to be at his canny best, and the key to the battle may well be pace. Rio has lost a yard, and Evans, while fit to play, may still be hampered by the remnants of his two "dead legs" (one against Spurs and another against Cluj).
When you look at how dangerous Jermain Defoe was last weekend and the pace with which Gareth Bale tore through the United defence, there must be a worry.
The way to reduce that threat is by restricting the supply.
Verdict: Newcastle to dominate if they get the supply.
Reasons to be fearful. Hatem Ben Arfa and Jonas Gutierrez can both tear a defence apart. What's more, they can both get to the by-line and cut the ball back for the two strikers we mentioned.
If Pardew has Tiote fit, he may well be encouraged to play this very attacking formation, especially if Cabaye is also in midfield. Both are combative, and Cabaye is sometimes a little too much.
So United must have pace and tackling ability at full back. That's why Buttner will surely get his chance. Ben Arfa would be licking his lips at the prospect of turning his fellow countryman and former captain Evra apart.
Buttner showed he can tackle well and will not shirk combat, as his yellow card proved against Wigan. Rafael is not as good at tackling, but right now he is better than Evra.
The best way to neutralise the threat of the two Newcastle wingers is through pinning them back in their own half on defensive duties. While Gutierrez is good at this, one suspects Ben Arfa would rather shirk it.
So Buttner may have more opportunities than Rafael, but the Brazilian can be a match-winner. He has just been voted Player of the Month at United. What he must not do (and is prone to do) is get stranded up-field. He has the pace to recover and really must concentrate better.
Verdict: United to shave it.
If Tiote is fit and back to his best, United have a big problem.
The grainy video is enough to show why he is the Roy Keane or Yaya Toure player United are missing. He is very strong in defence and creative in attack. He can score goals with either foot. He can, however, lose heart as he did last week against United.
Yohan Cabaye is also a talented footballer but more crude in the tackle. He is vulnerable to a booking, and that could take some of the sting out of midfield. He has also been linked to a possible move away.
These are the reasons why Paul Scholes should not start for United. Yes, he can ping passes; yes, he can score a goal out of the blue. But when Newcastle are on the attack, he can be run through and is at risk of a booking himself.
United will need to be mobile in attack and midfield. That argues for Cleverley and Anderson. If Fletcher is fit, he should play with Cleverley, unless of course Michael Carrick is fit also.
If Tiote is still feeling his muscular injury and/or Cabaye his mouth infection, United have a chance. The importance of Valencia is to play past and round central midfield.
Verdict: If Tiote and Cabaye are fit, Newcastle dominate.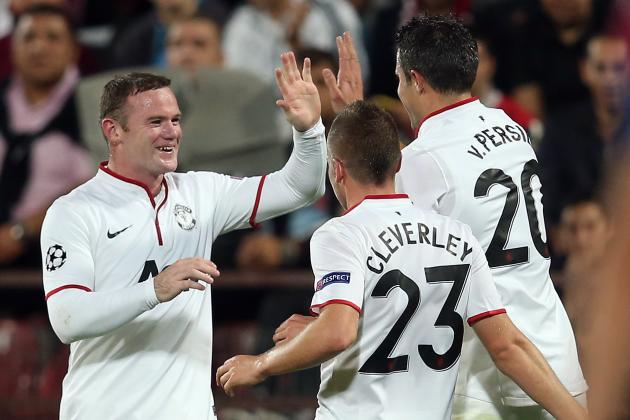 Julian Finney/Getty Images

On Tuesday, Wayne Rooney played with Robin Van Persie for the first time and showed what the future can hold. The ex-Evertonian showed why Sir Alex can afford to leave out Paul Scholes, with two sublime assists.
Eventually the preferred line-up may include all three of Rooney, Kagawa and RVP up front, but Sir Alex is unlikely to use a similar formation to the Cluj match against Newcastle, because of the threat down the wings.
If, as expected, Newcastle line up with a 4-4-2, then Ferguson will match up and probably play his top pairing as strikers.
If neither Coloccini nor Steven Taylor is fit, then Rooney and Van Persie should be able to dominate the Newcastle defence.
Valencia will surely play and should be able to get several runs and crosses past Santon for the strikers to feed off.
Indeed, the match may well come down to whether the two United strikers are more productive than the Senegalese pair.
Verdict: United on top.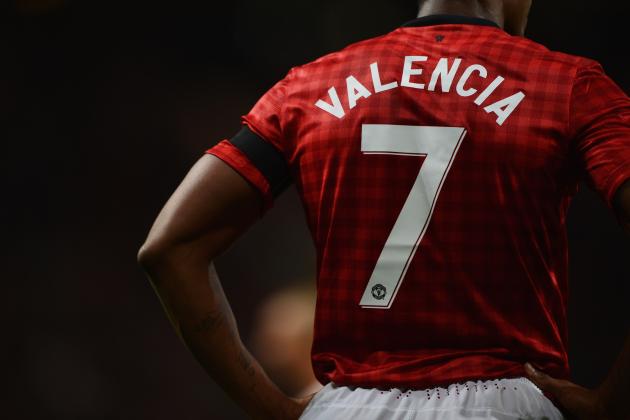 Michael Regan/Getty Images
Antonio Valencia
This is the view Sir Alex will hope Santon has of Antonio Valencia on Sunday.
Potentially, together with midfield, this is where the match could be won. It's not just about what United can do to the Newcastle full backs, it is also about the support their wide players can give to Buttner and Rafael at full-back.
This is why Buttner should play.
Nowadays the key down the flanks is to "double-gang" the full back and wide midfield. Valencia and Rafael work well together because the Ecuadorian can tackle well enough to play right back. He can therefore cover as necessary when an attack breaks down.
On the other flank, it would be surprising if Nani played. He is so out of form and favour that Sir Alex played without any wide players at all in Cluj. That probably flummoxed their manager!
One possibility is to play Welbeck wide on the left. He deserves his place and has played out wide for both United and England. He also is good at tackling and winning the ball back. He has pace and, like Van Persie, is dangerous coming in from the left.
Above all, Welbeck's aerial ability could be useful in both penalty boxes.
Kagawa, however, has the ball skill and quick thinking to unlock a defence. His scores and assists statistics in the Bundesliga last season were worth the transfer fee alone. The only weakness he has shown so far is being knocked off the ball too easily.
Sir Alex wants to play a fast-paced, slick, fluid attacking game. Kagawa, Rooney, Van Persie and Cleverley have the skill and mutual understanding to cut holes like a surgeon's knife through the tightest defence. The first three are also sharp finishers.
There has been much assertion that Kagawa should only play in the No. 10 position. That's all very well against weaker teams but Rooney and Van Persie must play. Either can play "in the hole"
It seems certain that although Kagawa will often be used in that role, he has the flexibility to play as an attacking midfield and on either flank.
Although the proposed formation suggests the latter at face value, it disguises the fact that, as Tuesday showed, the five attacking players need to interchange. We also saw Cleverley frequently breaking up play on the left and Anderson on the right.
So while Kagawa would normally start on the left, you would see Rooney, Van Persie and Cleverley out there at times throughout the match. 4-4-2 can quickly become 4-3-3 or even 4-2-4.
Santon may struggle to keep hold of Valencia, and therefore, his attacking play may similarly be inhibited. Danny Simpson on the right is a former United trainee who might have made it at Old Trafford but was let go for £1 million when an offer came in.
He will surely struggle against the rotating players on his flank, leading to the back four being stretched and holes opening up for Rooney and Van Persie.
Verdict: United to dominate
Overall verdict: United to shave it 2-1 assuming Newcastle don't score first.