10 Premier League Players You'd Love to Go Partying with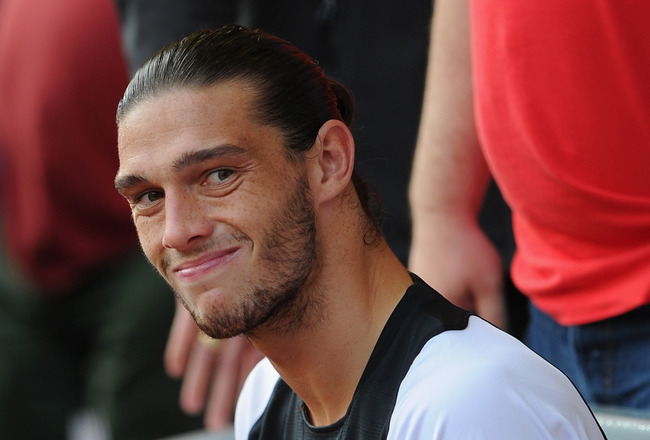 Michael Regan/Getty Images
Professional athletes may be looked upon as god-like figures in modern society, but the men and women who entertain us on a weekly basis like to kick back and relax just as much any other human being.
While some may find their solace in fishing or quiet walks along the beach, there are a number of individuals who would make the ideal partners when hitting the town.
Footballers may be generally limited in the amount that they can party, with alcohol and smoking bans as well as club curfews common occurrences.
However, that doesn't stop the average Premier League player from popping up in the tabloids every now and then, and the English drinking culture definitely makes this division home to some of the hardest party-goers.
All for their own reasons, anyone would be lucky to party it up with the following 10 players, and we're here to explore just why that is.
Emmanuel Frimpong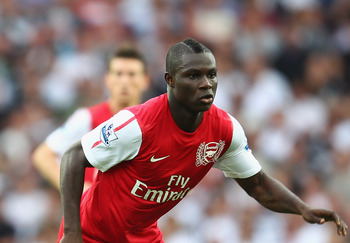 Clive Mason/Getty Images
Although he just returned from a very long injury lay-off, Emmanuel Frimpong has had the last seven months to keep himself occupied and has undoubtedly attended his fair share of parties in that time.
The Arsenal anchorman may have been born in Ghana but has fully embraced his English roots since coming to London at a very young age.
When he isn't playing football, Frimpong is making a go of his part-time career as a rapper, using the links he holds with English grime artist and cousin, Lethal Bizzle.
The 20-year-old isn't that far over the legal drinking age, but you can bet that Frimpong has all the hook-ups in certain London joints and the benefits of being amongst his posse would be many.
Frimpong is so active in his career as a rapper and on Twitter that it's hard to believe he has only played six times for Arsenal, since it feels as if he's been in the limelight for much, much longer.
Jack Wilshere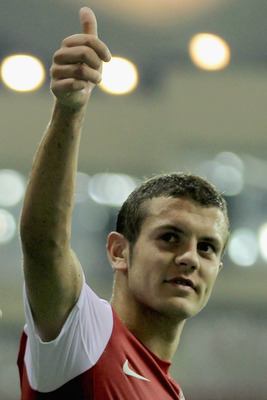 Lintao Zhang/Getty Images
Another Arsenal starlet and a man who came through the Gunners academy with Emmanuel Frimpong, it may not seem obvious at first why Jack Wilshere would be such a good party compatriot.
However, I'm convinced young Wilshere's proneness to injury could be turned into a positive, thereby circumventing the guidelines that professional footballers normally have to abide by.
Arsene Wenger is notoriously strict in regard to the diets and nightlife his players are allowed to partake in.
Therefore, suffering a long-term injury might just be the only way to enjoy all the financial benefits that come with being an Arsenal player, whilst being able to party as hard as one would like.
Wilshere hasn't played in more than a year, and while he's being tipped for a bright future with club and country, it would seem that injuries put that destiny at risk.
Money. Connections. The high life. Wilshere can have his cake and eat it, too.
Ashley Cole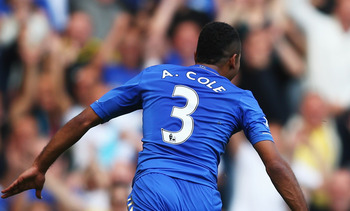 Clive Rose/Getty Images
Whether you love him or hate him, there's no question that Ashley Cole knows how to take off his work clothes and paint the town red.
Some will see him as one of the most respected full-backs in world football. Others will simply see him as that guy who has had one of the longest on-again-off-again celebrity relationships, his being with Cheryl Tweedy.
Regardless of the potentially considerable repercussions, a night out partying with Ashley Cole would be impossible to see as anything but interesting.
Tabloids have reported of numerous brush-ins with the police following nightclub outings, and while anything criminal isn't condoned, the bad-boy of Premier League football would appear to be enjoying himself (via Metro).
The Champions League winner calls London his home, but you can bet the Chelsea defender has connections with some of the higher-ups in countries far and wide.
Javier Hernandez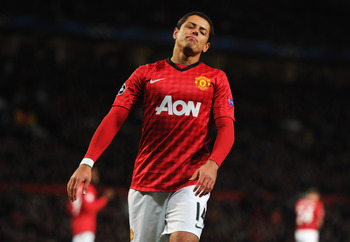 Michael Regan/Getty Images
Some nations are known for their fine exports and economy, some are renowned for their rich culture, and others are perhaps best known for their approach to alcohol.
Mexico would appear to fall under the latter category, and although Javier Hernandez's profession may not permit him to sample the country's wares as often as he may like, he'd still make a good party companion.
Manchester United's striker is one of only a few Mexican players in the Premier League, so if a tequila worm is your taste on any particular night, "Chicharito" may be the ideal candidate for a guide.
Adel Taarabt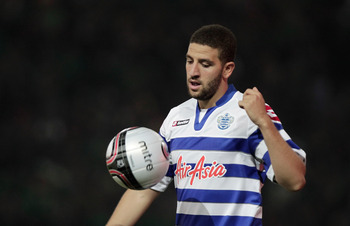 Chung Sung-Jun/Getty Images
Regularly looked upon as QPR's bad boy, Adel Taarabt has seen his fair share of controversy in his three year at Loftus Road.
Taarabt is a Muslim and doesn't drink alcohol as a result of his faith, but the winger is a prime example that you don't need to drink to have a good time, something that is easily forgotten these days.
The Moroccan international has a "do as I please" attitude, typified in the moment where Taarabt actually caught the bus home after being substituted at halftime (via Daily Mail).
It's these kind of antics that lead one to believe a party night out with Adel Taarabt would be nothing if not eventful.
James McClean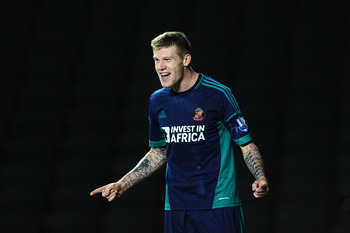 Laurence Griffiths/Getty Images
Another example of a nation renowned for their drinking culture is Ireland, and James McClean is one of the brightest prospects to emerge from the Emerald Isle in recent years.
The Sunderland winger was open in his despair at not featuring more regularly under Giovanni Trapattoni in the recent 2014 World Cup qualifiers (via Daily Mail), so wouldn't be a quiet companion in the slightest.
The Boys in Green may not be seen as particularly heavy-hitters on the international stage, but a few of the Republic of Ireland team members assuredly know how to party.
What's more, McClean has had the last year or so to hone his evening skills in the north-east of England, generally seen as a "party capital" famed for their stag and hen parties.
The attacker has proven to be an exciting feature in the Premier League since arriving from Derry City in 2011, and could be just as entertaining a pal to have by your side when hitting the bars.
Joey Barton

Barton's assault (view with discretion)

Currently on loan at Marseille from QPR, Joey Barton shouldn't be of worry to anyone in the Premier League for the rest of this season.
However, if the former Manchester City captain were to make his return to England sooner than that, he'd be better to have as a friend than otherwise.
In short, Barton's company when partying would be good to have simply because if you didn't have it, it means that you could be at risk.
Barton has proven to be another of the Premier League's bad boys over his career and has been caught on CCTV assaulting a member in the public after having one too many.
Of course, this comes in surplus to all the physicality Barton shows on the pitch too, and the midfielder wouldn't be a bad guy to have around if a scuffle happened to break out.
Andy Carroll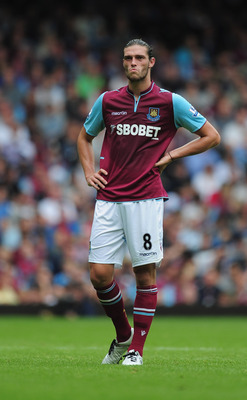 Jamie McDonald/Getty Images
During his days at Newcastle United, Andy Carroll was alleged to have gone on a 14-hour drinking session with Kevin Nolan at a house party that supposedly played host to a "white powder" (via Metro).
Not to condone the use of Class A drugs, but it's clear that Carroll likes a drink and goes to great lengths to have a good time.
The striker's most recent social escapades came in July when Carroll was snapped living the good life in Ibiza, surrounded by sun, women and alcohol (via Daily Mail).
Although the forward is undoubtedly all the more well-behaved after getting caught up in the aforementioned allegations at his north-east mansion, Carroll is still one of the Premier League's party animals.
Wayne Rooney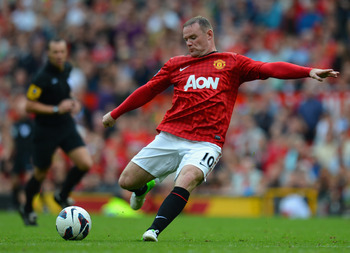 Shaun Botterill/Getty Images
Family life may have Wayne Rooney settling for nights in watching television more and more these days, but you can bet the Manchester United talisman is still a good person to be around in his forays out.
The striker's decade in the Premier League has been a well-documented one and Rooney has spent a considerable amount of time in the tabloids.
Prostitutes are far from the best, or the most sanitary, way to cap a night on the town (via Telegraph), but there is more to Rooney's exploits than what has been looked upon as little more than smut.
What's more, the former Everton prodigy earns more than £200,000 a week and could definitely finance an extravagant night of the finest quality.
After all, the finest things in life are most certainly not free.
Mario Balotelli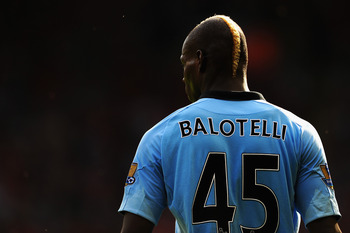 Michael Regan/Getty Images
Was there any way that the Italian youngster wasn't going to feature on this list at some point?
Mario Balotelli only came to the Premier League in 2010, but uses all 365 days of the year to the fullest and has wasted no time in making himself somewhat of a cult icon in world football.
Whether it's donating thousands of pounds to homeless people or paying exorbitant tabs in a random pub, Balotelli's antics have become a thing of legend (via talkSPORT).
A night out with Balotelli would appear to be a night where dreams become reality and just about anything is possible.
The tabloids have done well to keep up with all the hijinks of the Manchester City starlet and hopefully there's a lot more to come from the youngster who just loves to live his life as he pleases.
If you were to ask every Premier League fan which player they like to party with from the English top flight, it would be safe to assume that a majority of the votes would be in favour of Mario Balotelli.
Keep Reading