English Premier League: Latest News, Rumors, Preview and Predictions for Week 5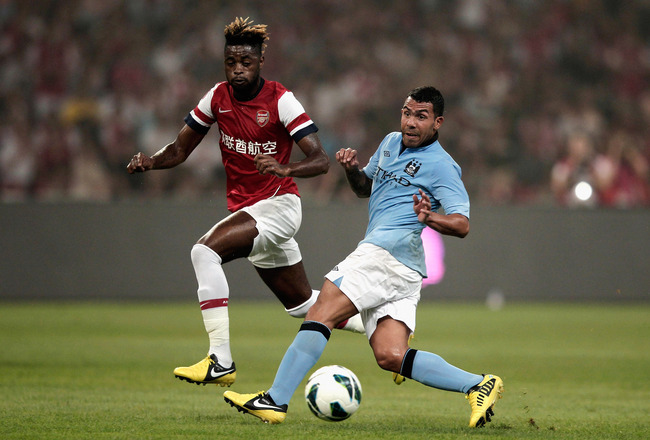 Lintao Zhang/Getty Images
Chelsea has stormed out of the gate to lead the English Premier League after four games following a hard-fought draw against Queens Park Rangers. The Blues are being tracked by the usual cast of contenders, including the rivals from Manchester.
While those teams battle at the top of the table, it's already becoming a crucial time for other squads. Liverpool and Tottenham are among the clubs that haven't lived up to expectations so far and will be looking to get things moving in a positive direction.
No matter where you look, there's a storyline to discuss heading into Week 5. Let's take a look at some of the latest EPL news, preview the match of the week and make predictions for all 10 matches on the slate.
Tension Between Manchester United and Liverpool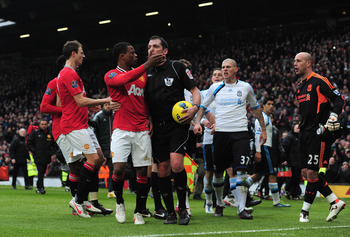 Shaun Botterill/Getty Images
Manchester United and Liverpool are two of the most storied clubs in the world and the fanbases have grown to despise each other. With tensions between the sides on the rise recently, officials for both teams have expressed concern ahead of Sunday's match.
Mike Whalley of ESPN reports David Gill and Ian Ayre will hold a meeting during the week to discuss ways to ensure things don't get out of control on Sunday or in the future. It's an attempt to show unity, at least on this issue, between the teams.
It's unclear if the talks will have an impact on how the fans act. Hopefully nothing happens to make outside issues overshadow what should be a terrific clash between the Red Devils and a desperate Reds side looking to turn things around.
Fellaini to Chelsea?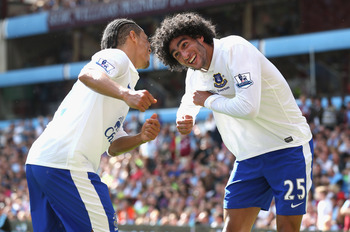 Mark Thompson/Getty Images
Even though the summer transfer window just closed a couple weeks ago, rumors for January are already beginning to develop. For example, Chelsea are keeping tabs on Everton star Marouane Fellaini, according to Wayne Veysey of Goal.com.
Fellaini has been a force for the Toffees in the early going, leading the team with two goals and using his combination of size and power to generate plenty of scoring chances. Losing him would leave a major hole in the Everton lineup.
That said, Chelsea has concerns in the midfield and Fellaini would solve them. If the Blues presented a major offer, it would be tough for Everton—which is always watching its bottom line—to decline it. It's a situation worth watching in the coming months.
Match of the Week: Manchester City vs. Arsenal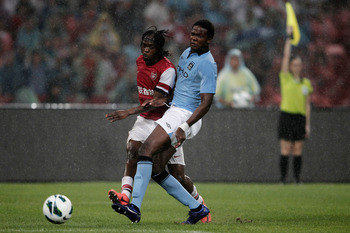 Lintao Zhang/Getty Images
Manchester City has struggled on the road in the early going, earning only draws with Liverpool and Stoke City. The Citizens will be happy to return to Etihad Stadium for a match against a suddenly red-hot Arsenal squad.
After two straight scoreless draws to begin the campaign, the Gunners have exploded for eight goals over their past two games. That includes six in a victory over Southampton, easing some concerns about the team's ability to replace Robin van Persie's production.
The key matchup will be in goal. Both offenses are riding high right now, so both Joe Hart and a recuperating Wojciech Szczesny should plan on being busy throughout the match. Whichever goalkeeper handles the pressure better will give his team the edge.
Saturday Predictions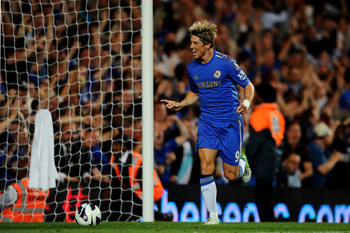 Mike Hewitt/Getty Images
Swansea City vs. Everton
Everton will be working on short rest after a Monday clash with Newcastle and have to face a Swansea side that should be hungry for a win after its first loss of the campaign. Michu will be the difference in a close battle.
Prediction: 1-0 Swansea
Chelsea vs. Stoke City
The Blues open Champions League play with a match against Juventus on Wednesday, making it unclear what type of lineup Roberto Di Matteo will put together for the Stoke clash. If it's anywhere close to full strength, Chelsea will roll.
Prediction: 3-1 Chelsea
Southampton vs. Aston Villa
Promotion hasn't gone as planned for Southampton. The Saints have allowed a staggering 14 goals in their first four games, overshadowing a solid offensive performance. The defensive lapses will continue to plague them moving forward.
Prediction: 3-2 Aston Villa
West Bromwich Albion vs. Reading
West Brom was one of the Premier League's most surprising teams through three weeks. Victories over Liverpool and Everton paired with a Tottenham draw raised expectations. How they rebound from Saturday's loss to Fulham will give fans a better idea of what to expect.
Prediction: 1-0 West Bromwich Albion
West Ham United vs. Sunderland
Sunderland needs to find some offensive balance if it plans on moving up the table. Steven Fletcher has scored all three of the teams goals so far. West Ham's back line will key in on him to help keep the team's home winning streak alive.
Prediction: 2-1 West Ham
Wigan Athletic vs. Fulham
Inconsistent would be the best word to describe Fulham right now. The Cottagers opened the season with a 5-0 victory over Norwich and won over the weekend, but in between were three road losses. Wigan hasn't been lighting the world on fire either, though.
Prediction: 1-1
Sunday Predictions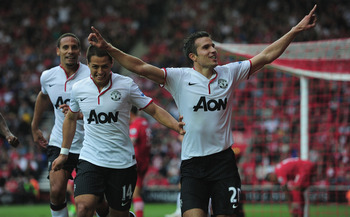 Jamie McDonald/Getty Images
Liverpool vs. Manchester United
Liverpool has shown signs of life at times, especially during its draw with Manchester City, but it's still a rebuilding process at Anfield. On the flip side, United's offense has flexed its muscle since getting shutout in the opener.
Prediction: 3-1 Manchester United
Newcastle United vs. Norwich City
A rash of injuries have caused Newcastle to drop off a little bit after beating Tottenham in the opener. But the Magpies should benefit from a home match against a Norwich side, which still hasn't picked up its first win of the campaign.
Prediction: 2-0 Newcastle United
Manchester City vs. Arsenal
Both teams have mid-week Champions League games and injury concerns. In situations like that, it's usually best to lean toward the team with more depth, which is City. It should be a great match, especially if Arsenal can carry some momentum from the Southampton blowout.
Prediction: 2-1 Manchester City
Tottenham Hotspur vs. Queens Park Rangers
Tottenham finally got in the win column by knocking off Reading. If the Spurs want to start making up ground toward the top six, they need to get three more points against QPR. But it's hard to have confidence they will beat a team that just tied Chelsea.
Prediction: 1-1
Keep Reading