The Hillsborough Papers: How the Liverpool Families Have Helped Us All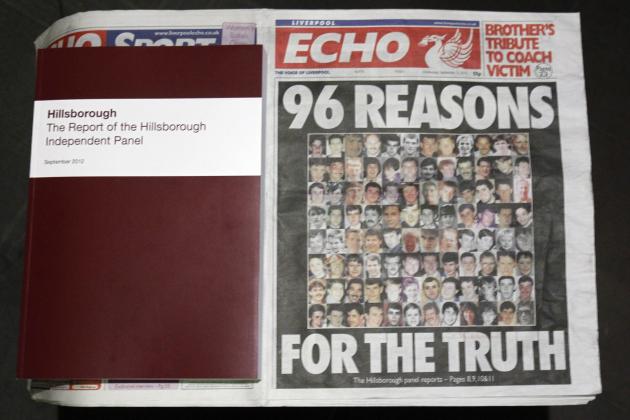 WPA Pool/Getty Images

This afternoon in England many people in Liverpool and countless others watching TV paused for two minutes of silence to remember the 96 Liverpool fans who perished at Hillsborough in 1989.
Many of us also paused to reflect on the courage, determination and single-minded belief of the families and their supporters for what they have achieved.
Despite all possible obstruction and not a little opacity and mendacity over the last 23 years; not to mention great personal and financial cost; they have succeeded in their honourable quest.
Unlike The Sun newspaper, which reported this shortly after the Hillsborough Disaster, the families wouldn't stop until they found the truth...the whole truth...and nothing but the truth...
Britain has for hundreds of years pioneered democracy and the tenets of arguably the best legal system in the world. Other countries have modeled their constitutions and legal systems on what is essentially the English legal system.
The three most fundamental principles of that system are:
Everyone is entitled to a fair trial—the accused is innocent until proved guilty.
The evidence is based on the truth and facts as far as possible, rather than circumstantial evidence or supposition.
Transparency of proceedings and full disclosure wherever possible.
The publication of The Report of the Hillsborough Independent Panel today shows very clearly that the victims of the disaster and their families got none of these in any of the previous inquests or inquiries.
There will now be a waiting period while the attorney general and others decide what should happen next.
The families have been vindicated and there will now be civil and criminal proceedings to consider.
But whatever they have achieved and are yet to gain, they have done us all a favour: not just football, or even sports fans; but ordinary people, going about their daily lives and living as good citizens.
So, whatever else this article may cover, I'd like to thank those of you who have fought so hard and so long for truth and justice. The Hillsborough process before today has shamed us all and we must learn from that.
Your perseverance, dedication and above all love for your deceased relatives and friends have shown us how good and decent people can be in a world where values deteriorate daily.
As many people know, I am a Manchester United fan, but that was utterly irrelevant this afternoon, when I was a football supporter and an ordinary citizen.
I was at the Bradford City Fire Disaster, so Hillsborough touched me more than many. But separate from this I have gone on record many times berating the financial obscenity of football.
In a world where Manchester City are rumoured to have offered £160 million and wages of £300,000 a week for Cristiano Ronaldo, the "Hillsborough families" have restored a sense of sanity and decency.
They have used their own money for 23 years to get justice and closure, while the institutions defending the charges have been financially supported by public money.
Those families have reminded us of the values that football has lost somewhere along the way. Football exists FOR the fans, not the owners, sponsors, players or commercial enterprise. Without the fans, whether directly in the grounds or indirectly through TV, there is no Premier League.
And that is one reason why the campaign for Financial Fair Play and, if necessary, players' wage caps, must succeed.
Because somewhere along the line the supporters have been forgotten.
The 96 fans who died in the Leppings Lane in 1989 and the many more who were injured were there for nothing more than the enjoyment of the most supported sport on the planet; and the team they loved with a passion.
Who could not be moved when the Anfield fans sing "You'll Never Walk Alone". In 1989 they lost 96 relatives and friends; in 1986 Bradford City fans lost 56 of theirs; in 1971 Rangers fans lost 66 of theirs, but the lessons weren't learned; and in 1958 United fans lost the heart and soul of arguably one of the greatest teams ever assembled.
So if at least one good comes out of today, let it be an end to the disgraceful and disgusting chants and songs about these disasters by opposing "fans". They stain the game we love.
Let us instead all unite in memory of 96 ordinary people who, like all of us, cared about their team with a passion.
We, they and the bereaved families are at one today. Let's mourn for a moment, celebrate the fulfilment of truth and justice and reflect on the other favours their tireless quest may have done us all.
Begin Slideshow

»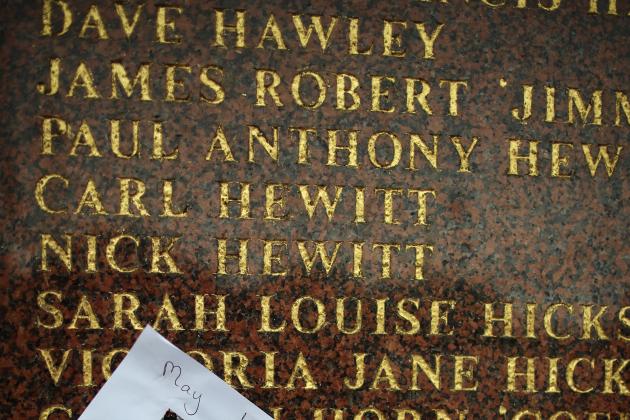 Christopher Furlong/Getty Images

Who, having watched the Panel press conference, having heard the mothers, having stood for two minutes silence, and especially having witnessed the awful events at Hillsborough in 1989, could fail to be moved?
This isn't just about Liverpool, or Bradford City, or Lincoln City (two of the Bradford victims were their fans), or Rangers, or any one team or their supporters.
This is about the footballing community, the citizens of the UK and sports fans worldwide.
In England, we were spun a web of lies and half truths about Liverpool fans causing their own deaths, including young girls and boys whose bodies were tested for alcohol to try and substantiate a monstrous deceit.
It may be true that citizens can lose respect for the police and authorities who are appointed to keep us safe, if they are found to be flawed or incompetent. But surely there is far more loss of respect where lies and deceits attempt to cover up the truth? And worse still to blame innocent, ordinary, decent citizens.
Footballing disasters unite fans in grief and loss; cover-ups and whitewashes unite us in disgust and disrespect for those appointed to serve and protect us when they fail, and worse when they cover up that failure.
Yes indeed, everyone is human, but to perpetrate such institutional dishonesty is inhumane.
Nevertheless, just as the shocking events at Hillsborough unite us in grief, so can today's truthful reportage unite us in delight for the decent people who have fought the system, injustice, prejudice and obstruction for so long.
And let us celebrate another thing. The Government recently introduced a measure whereby if 100,000 citizens of the UK sign an online petition, an issue must be debated in Parliament.
140,000 signed up for the Hillsborough families' cause. They won their debate. Today they won justice for the fans and families also. Democracy works.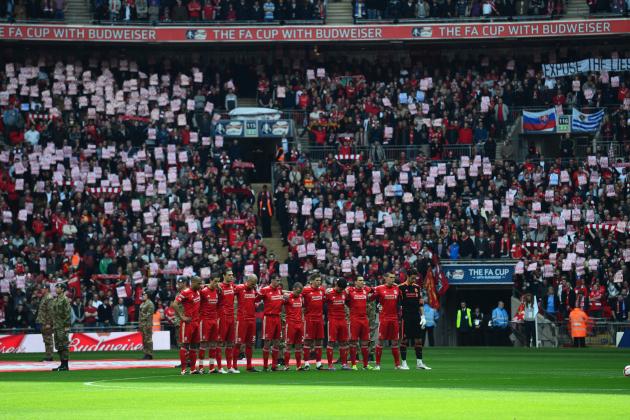 Shaun Botterill/Getty Images

Make no mistake. The ramifications of today's report will be far-reaching for the sport that we love; and maybe beyond the boundaries of England, or even those of football into other mass-supported sports.
People gather together in stadiums to celebrate their love of football. Very few things can stir passion more than your team scoring a goal.
On a lovely day in 1989, the fans of Liverpool and Nottingham Forest gathered with the desire to celebrate their team's success in the Cup. Anyone who was there will never forget it. Few who watched on TV will forget it.
I know. I was at Bradford City. I survived. 56 people didn't. The fire started where my son and I normally sat. He wasn't able to be there, so I stood on the Kop and watched a real-life horror movie.
I was trapped like a sardine in thousands of people. When I came to my senses I literally fought my way out of the ground and ran in tears for two miles to a phone box where my wife eventually picked me up.
It took me 10 years to realise I had what is called PTSD (Post Traumatic Stress Disorder) and more time to overcome it. In some ways I never want to forget it, because it gives me a sense of perspective when I become too self-absorbed.
But I survived. None of my family died, nor any friends or even acquaintances. I was lucky.
There were massive failures of process and people at both Valley Parade and Hillsborough.
Inquiries were made; reports were written; matters were glossed over and some swept under the carpet.
Tonight and tomorrow in England, there is a nation shocked at the scale of the whitewash and cover-up of the true Hillsborough facts.
Liverpool families will celebrate their triumph of justice for a short while. But pretty soon, if not already, there will be a growing sense of anger, not just in Liverpool, but across the nation.
Prime Minister Cameron senses this, hence his "profound apology" to the families.
From tomorrow, the families, fans and government will be united in a singular determination to learn from the Hillsborough deceit and change.
As in many such events, there is always a massive hyper-reaction and a determination to put things right and make sure they can never happen again.
This time will be different.
The 1971 Ibrox Disaster led to the Wheatley Report in 1972 on the safety of sports grounds, and the Safety of Sports Grounds Act in 1975. A by-product of this was the "Green Guide" (Guide to Safety at Sports Grounds). This last guide was disseminated to every football club and many sports clubs in the UK.
First issued by the Home Office in 1976, it noted that 'voids' beneath the floor were a 'common feature' in stands vulnerable to fire. They became a 'resting place for paper, cartons and other combustible materials which can be ignited, unnoticed, by a carelessly discarded cigarette end.'
The guide recommended inspections before and after every event to clear rubbish.
And yet the Bradford City Fire was started by the accidental ignition of 30 years worth of detritus collected in the void beneath a wooden stadium covered by a tarred roof.
This time it will be different
It may take many years in total, but as a result of the tireless quest of the Hillsborough families, no stone will be left un-turned in the re-examination of what should have been reported, included and recommended in the reports and inquests following Hillsborough.
In an age of health and safety legislation, you can bet there will be some inconveniences at first, but you can also bet your life that fans' welfare, safety and enjoyment will be put right at the top of the agenda, irrespective of the cost to the owners and the public purse.
Richard Heathcote/Getty Images

Some fans always stand, even where there are seats and not just in response to a goal or near-miss.
They stand in the Stretford End at Manchester United. They stand at Anfield and grounds across the land.
They may be a minority and they have been threatened with withdrawal of their ticketing rights. So far it hasn't worked.
When I was a boy, my Dad used to take me to watch Gillingham. We always stood. Priestfield Stadium nowadays holds about 10,000 seated spectators within the same physical space that constitutes the ground. I have stood in a crowd of 30,000 at the same stadium 50 years ago.
I've also sat in the old Gordon Road stand on splintered wooden benches with a void filled with paper and plastic rubbish beneath me. That was years before the Bradford City Fire Disaster.
I've walked out of the same ground with my Dad protecting me from falling over in a crowd of thousands, in fear of falling over and being crushed; similar circumstances to the Ibrox disaster.
Anyone who has been to Old Trafford, White Hart Lane, St James' Park, the Emirates or any of the other big stadiums in the UK or elsewhere will know that sense of fear and vertigo when you're in the highest, steepest parts of the stadium.
What is there to protect you if you fall? What would prevent a crush if the fans standing in their seats suddenly fell forward en masse?
One of the things that annoys people about health and safety legislation is that it sometimes protects us from ourselves. Hardly surprising in a nation where people typically look for someone else to blame when things go wrong; and where U.S. style litigation is rampant and growing.
So you can bet that the health and safety industry will be asked to review the consequences of Hillsborough after the reopened inquest comes to the correct conclusion about the causes of the disaster.
And whether we like it or not, a major outcome will be even greater personal safety. How can that be wrong?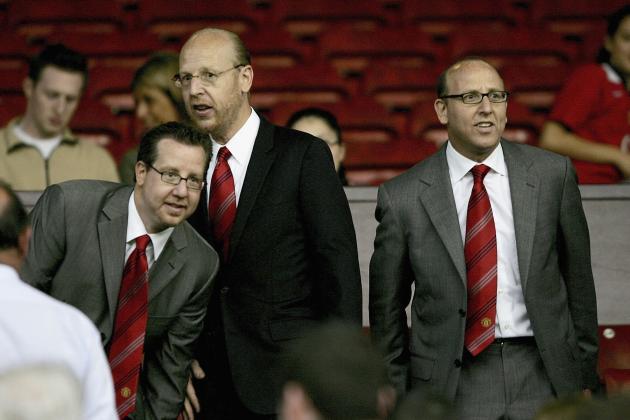 Clive Brunskill/Getty Images

Owning a football club comes with responsibility—especially to the fans and their welfare and enjoyment.
The owners of Hillsborough and Valley Parade failed in this duty.
In the UK we now have legislation that embodies the concept of "corporate manslaughter".
This is not in any way to suggest that owners are falling down in their duty to fans. But if the Hillsborough disaster had happened yesterday there would have been more than just civil litigation and compensation.
The whole question of stadium safety and owners' responsibility to the fans will be re-examined yet again.
One possible outcome could be for owners to better engage with their stakeholders and find out what they really want.
Starting with a players' wage cap, so that the major beneficiaries of the much richer Sky TV deal for Premier League clubs can be the fans themselves, in terms of amenities and lower ticket prices for starters.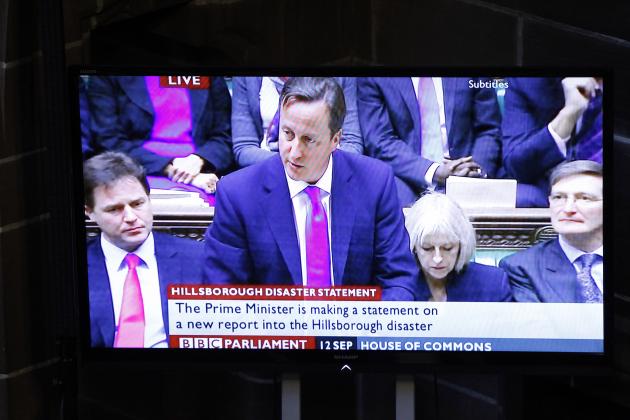 WPA Pool/Getty Images

The Hillsborough Papers are the biggest news story of the day in the UK.
The present government bears no responsibility on the Hillsborough matter, other than to put things right. At present there is no suggestion either that the government of the time did anything wrong. But those since could have done more; especially to listen and act.
The South Yorkshire Police and Health Authorities at the time will come under heavy criticism and scrutiny. There will be civil proceedings and maybe criminal ones too.
The present administration has presided over a massive increase in 'open government'. The Hillsborough papers could have been kept hidden for another seven years.
The prime minister's frank and damning response presages open and massive action across the board. Public authorities and institutions will come under detailed scrutiny. Government will become a whole lot more public.
A precedent will be set that will affect each and every citizen, not just football fans.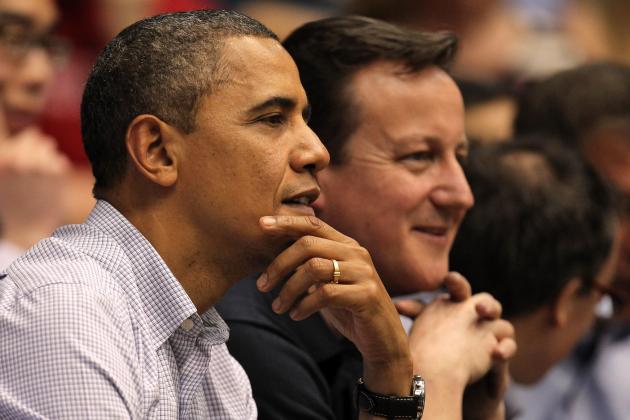 Gregory Shamus/Getty Images

Barack Obama recently reinforced the "special relationship" with Britain at the Democrats' Convention, following Mitt Romney's embarrassing gaffe in criticising England's organisation of the Olympics.
The Hillsborough story and its ramifications will wash onto other shores, like BP's oil spill. If a British company can be prosecuted in the U.S., then best practices in sports stadiums and fans' welfare can be transmitted across the globe also.
Heysel had a profound effect on UEFA and indeed FIFA, which acted accordingly.
Why is it that flares and similar incendiary devices are routinely allowed in football grounds across Europe, but since the Bradford City Disaster are banned in the UK—even in concrete stadia?
Wherever tens of thousands of fans congregate to follow their sporting religion, there is a risk of accidents and crushing. That is what actually killed 96 innocent people.
The rest of the world may take notice now the naked truth is out. Why ban alcohol from football grounds when it is the people themselves that are the real risk?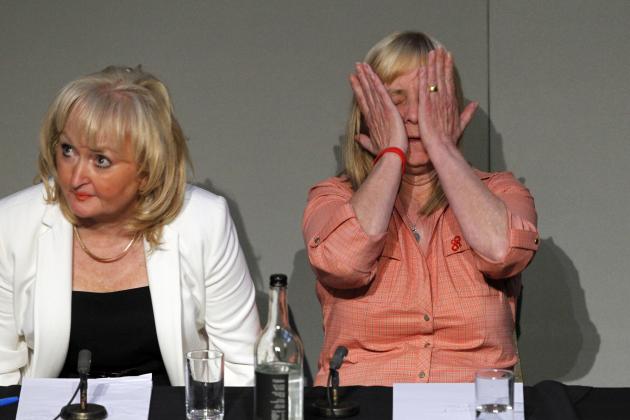 WPA Pool/Getty Images

As in the Northern Ireland Peace process, it is ordinary mothers, sisters, daughters and wives that have taught us what really matters and have restored our sense of justice and decency (and fathers, brothers, sons and husbands of course).
There will be a great outpouring of emotion and relief on this momentous day in Liverpool.
These individuals took matters into their own hands and they won a fight for individual and collective justice. With their own meagre resources, money, endless energy and determination, they beat the system.
This was a victory for ordinary people against monumental odds. It is a victory for every football fan, every sports fan and every citizen of the UK and beyond.
Thank you the Hillsborough families for teaching us what really matters and restoring our faith and pride in decency, honesty and true justice.
Now it is for the owners and administrators to learn the wider lessons and give football and other sports back to the fans who support their team through thick and thin, like 96 innocents did on that day 23 years ago in Hillsborough.