United States vs. Jamaica: 5 Things We Learned from Team USA's 1-0 Win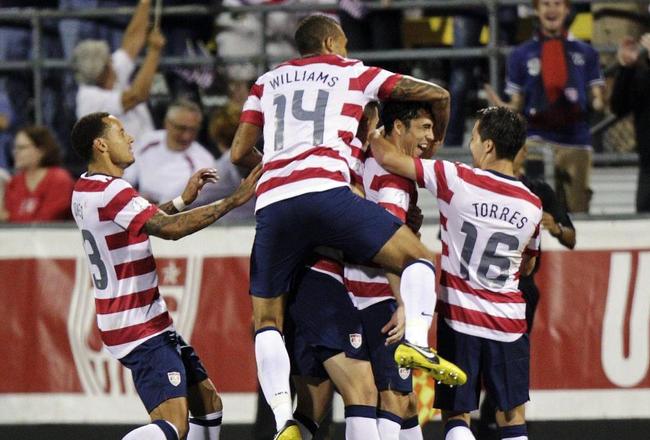 It wasn't stylish, it wasn't pretty and it sure wasn't over until the final whistle blew, but the United States exacted its revenge Tuesday night, winning 1-0 over Jamaica in a pivotal World Cup qualifying match.
Coming off an absolutely heartbreaking—and I'd say embarrassing—1-0 loss to Jamaica four days prior, the United States national team had to win and grab three points to have a legitimate shot at advancing through to the final round of CONCACAF qualifying.
The Americans looked dominant in the first half, holding the ball for more than 80 percent of the game. But shot after shot hit the woodwork.
That is until Herculez Gomez scored on a free kick in the 55th minute to put the U.S. ahead, a lead the Jamaicans would never recover from.
The United States, Jamaica and Guatemala are now all tied in their CONCACAF qualifying group with seven points each. With each having two more matches to play, it'll be incredibly important for the Americans not to sit on their laurels and stay hungry for matches against Guatemala and Antigua and Barbuda in October.
But what did Tuesday night's thrilling 1-0 victory teach Jurgen Klinsmann & Co. and what of it can they carry into next month's qualifiers?
Join me as I present the five things we learned about the U.S. men's national team and what it means concerning their chances of qualifying for Brazil in 2014.
Herculez Gomez Playing at the Top of His Game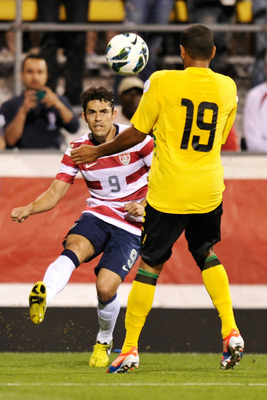 Jamie Sabau/Getty Images
Let's just get this out the way right now—Herculez Gomez is playing up to his namesake and looks like some sort of football half-god, half-man on the pitch. But I'm not just talking about the fact that he's scored a lot of goals. That's the least of it.
Sure, Gomez's free kick in the 55th minute was a thing of beauty. New Jamaican goalkeeper Dwayne Miller hesitated for a half-second too long in getting to his left, but it was Gomez who was continually making himself a nuisance for the Jamaican centre-backs.
Remember in the 39th minute when he out-muscled a defender six inches and 30 pounds heavier to head in a Graham Zusi cross?
Or how about in the 11th minute when he chased down a pinpoint ball from Steve Cherundolo only to be knocked down—in the box, mind you!—and a great opportunity was wiped away.
Last night, and to a greater extent over this entire qualifying campaign, it's Gomez who has been the savior at striker for Jurgen Klinsmann.
Right-Back Position is Steve Cherundolo's to Lose
Jamie Sabau/Getty Images
Speaking of Steve Cherundolo, the 33-year-old showed that his veteran presence is sorely needed on the back line.
Not only does he deliver some of the most accurate long-passes with relative ease, but he still—at 33 years young—has the athleticism to get forward along the right sideline and back in defense when the Jamaicans were mounting one of their few attacks of the night.
He also showed himself to be a great help and support to new American winger Graham Zusi.
Klinsmann Needs Deeper Bench
J. Meric/Getty Images
I understand that Landon Donovan and Michael Bradley, arguably two of the best players on the U.S. side, have sat out the last two qualifiers and forced other players into starting roles thereby depleting the bench, but there's got to be better reserves on call for Americans than what we saw last night.
Jozy Altidore came on as a super-sub in the last 10 minutes, but he couldn't have looked more confused out on the pitch, flicking passes to no one and making runs that caused bottlenecks in the midfield.
Brek Shea had some bad, bad touches in the rare moment he actually found the ball.
Maurice Edu was the only competent substitute to come off the bench, providing fresh legs as a holding midfielder.
When Donovan and Bradley return, some players who started against Jamaica will be back on the bench, but what if they were injured and forced out for some length of time?
U.S. Will Qualify Playing Like This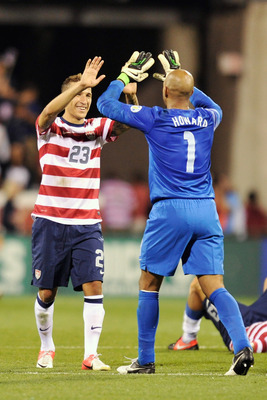 Jamie Sabau/Getty Images
However, with all that said, the U.S. team looked nothing but dominant in Tuesday's win against Jamaica.
Over 80 percent possession? Check.
Over 90 percent passing efficiency for the U.S.? Check.
Under 60 percent passing efficiency for Jamaica? Check.
With a little less misfortune hitting the woodwork, the U.S. would have won this match 3-0 and looked like a team that could take on the next tier of sides outside of CONCACAF.
...and Danny Williams Will Be Their Biggest Asset in Brazil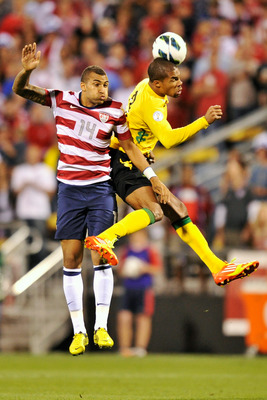 Jamie Sabau/Getty Images
The 23-year-old looked way too confident for his own good against Jamaica—and that's exactly what we need out of him.
Danny Williams was taking shots at distance against Jamaica and that's something the U.S. team has lacked, especially in World Cup play.
Usually, the U.S. plays their hand close to their chest, attempting to wear down opponents and then making counter-attack runs when they least expect it.
To compete with Europe, you've got to balance the two styles—making runs and firing at point-blank range so as to keep centre-backs from cheating up too much.
The U.S. team is built for counter-attacks and quick runs so they've got that covered. If Williams can improve his shot just a hair, they'll have both and be a force to be reckoned with in Brazil.
Keep Reading

United States (National Football): Like this team?