English Premier League Week 4: 10 Storylines to Watch This Week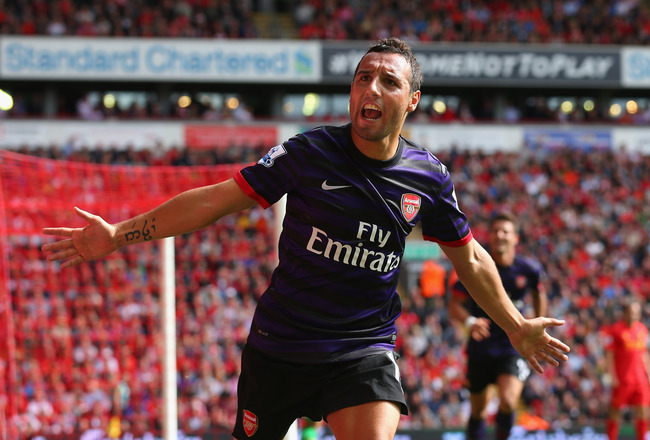 Alex Livesey/Getty Images
After some time off due to 2014 World Cup qualifiers, the English Premier League is back this weekend with another 10 fascinating matchups ahead of us.
The first three weeks have already provided us with results, outcomes and performances that nobody expected. Some teams have started the season with a bang, while others are seemingly yet to get out of the starting blocks.
Will those players and teams continue their previous performances in Week 4, or are we in for something completely unexpected this week?
Here's 10 storylines to watch for in the EPL this week.
1. Will Swansea City Continue Their Strong Start?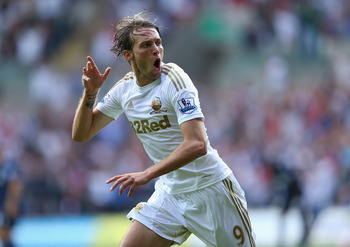 Richard Heathcote/Getty Images
Few expected that the 2012-13 English Premier League would start this way for Swansea, but three weeks in, the Swans currently sit second on the league table and are yet to be defeated.
They have scored more goals than any other team so far, and have been simply dominant throughout midfield behind the fantastic play of summer signing Michu.
Can they keep it going in Week 4?
The Swans play an away match to Aston Villa, who are yet to pick up a win this season. Manager Michael Laudrup's side are thus in a seemingly good position to continue their run of good form. Whether they will or not still remains to be seen.
2. How Will the Transfer Window Affect Fulham?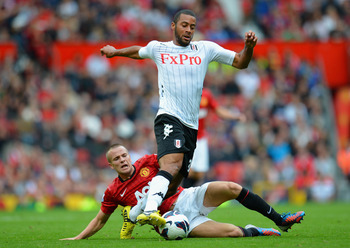 Shaun Botterill/Getty Images
Fulham—for mine—made a huge transfer mistake when they let both Clint Dempsey and Moussa Dembele leave the club in the same transfer window.
I know that Dempsey was always leaving and that Dembele had a clause in his contract, but the fact remains that both are huge losses for Fulham's chances at success this season.
Dembele was the heart of their midfield and gave them their drive going forward, so it will be interesting to see how his absence affects Fulham this week against West Bromwich Albion, who have started the Premier League season strongly.
The Cottagers were hopeless against West Ham last week, and while they do play at Craven Cottage, Martin Jol's men are in for a very tough match this week against the Baggies nonetheless.
3. Has the Goal Scoring Begun at Arsenal?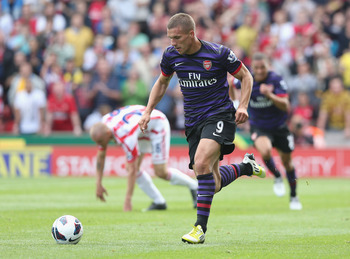 David Rogers/Getty Images
With the sale of Robin van Persie over the summer transfer window and no goals through their opening two matches, many were wondering whether Arsenal had what it takes to be a genuine contender in the Premier League this season.
That thought was quickly banished with a strong 2-0 victory over Liverpool at Anfield, with new signings Lukas Podolski and Santi Cazorla finding the back of the net to kick off their respective goal-scoring careers in the English Premier League.
The question now becomes whether that performance has opened the floodgates at Arsenal; whether that performance will be the catalyst and spark that ignites their attack this season.
They play a home fixture to Southampton, who have conceded the second-highest amount of goals so far this season, so you would like to think that the Gunners can find the back of the net, especially with Cazorla in the form that he's in currently.
4. Can Southampton Finally Get a Point?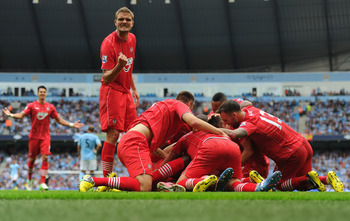 Michael Regan/Getty Images
Through their first three Premier League matches, Southampton sit dead last in the table and are yet to pick up a single point—despite the fact they've been relatively strong throughout.
Against the Premier League's best, the Saints showed they are certainly no pushovers this year and were terribly unlucky not to pick up a single point against both Manchester City and Manchester United. Southampton led 2-1 late in the second half in both those matches before falling 3-2 in the end.
An away fixture to a resurgent Arsenal isn't exactly their best chance to pick up some points, and they will be hard-pressed to walk away with anything to show for their efforts once more, but you never quite know with the Saints.
I don't think this is a relegation team this season, and it could only be a matter of time before they start playing and winning like they should be.
5. How Will Manchester City's Away Form Fare This Year?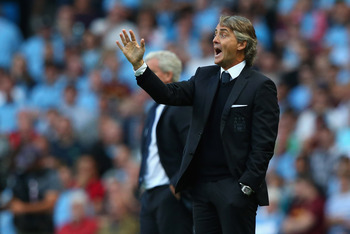 Alex Livesey/Getty Images
Away from the Etihad, Manchester City were nowhere near the team they were at home last season, and almost lost the Premier League title because of it.
Their one away match this season has already ended in a draw—a point they were incredibly lucky to get at all—and Roberto Mancini will be eager for their poor away form from last year not to carry over into this year. A strong away performance this week will help that.
However, this week, the Citizens are playing Stoke City, with the Britannia Stadium proving to be one of the tougher places to travel to last season in the Premier League.
In their past five encounters at the Britannia, Manchester City have not won a single match and have scored just three goals in that time. Can they turn that around with a strong win in 2012?
6. How Will Manchester United's Attack Function?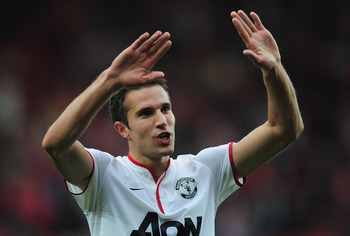 Jamie McDonald/Getty Images
With Robin van Persie, Wayne Rooney, Danny Welbeck, Javier Hernandez up front and Shinji Kagawa in attacking midfield, it's fairly safe to say that Manchester United have several attacking options this season. But what combination will we see against Wigan Athletic this week and how will it function?
Wayne Rooney is still a week or two away from recovering from his horrific injury, and with Robin van Persie recently taken off early for the Netherlands, it could be a very interesting attack that Sir Alex Ferguson lines up against the Lactics.
With great depth and talent throughout the striking ranks, United fans should hold no fear about being left short up front, but it will be fascinating to see how they are utilized this week. Perhaps a bigger role for England international Danny Welbeck?
7. What Can West Brom Deliver This Week?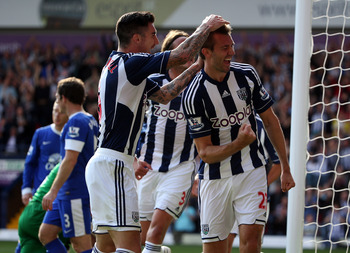 Ross Kinnaird/Getty Images
West Bromwich Albion haven't had the easiest first three matches of the Premier League season, but with two wins and a draw, the Baggies have proved themselves a genuine threat to the top teams in the league again this year.
They currently sit third on the ladder courtesy of wins against Liverpool and Everton as well as a draw against Tottenham Hotspur, and now many are wondering whether they can continue their solid performances right throughout the season.
They play a difficult away fixture this week against Fulham, but as mentioned before, the Cottagers are a little exposed courtesy of their summer transfer window deals, and could easily be beaten by the Baggies if the Midlands club play to their best once more.
8. Will Brendan Rodgers' Horror Start Roll On?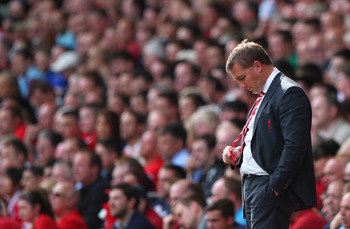 Alex Livesey/Getty Images
Liverpool's new manager Brendan Rodgers made the switch from Swansea City over the summer, and his three games in the English Premier League since then have been nothing short of a nightmare.
The Reds currently sit 18th—in the relegation zone—without a single win to their name having thrown away victory against Manchester City. It's the worst start by Liverpool in a very long time, and already the pressure is on Rodgers to find a win and get their season going.
Away at the Stadium of Light isn't the most ideal place for this to happen, but it is doable if Liverpool come switched on and ready to play.
Martin O'Neill's Black Cats are a very tough team to beat at home; meaning that Rodgers' Reds will need to be at their best if they're to pick up their first win of the season.
9. What Transfer Signings Will Break Out This Week?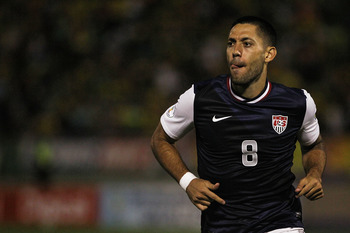 Marc Serota/Getty Images
Most players that transferred in the final few days of the summer transfer window didn't play that weekend, meaning that Week 4 of the Premier League is the first real opportunity that fans have to witness their teams' last-minute signings for the year ahead.
It's also the first real chance that the players themselves have to prove to the club that they were worth signing this year—meaning that we could see a few breakout performances this week.
I'm keeping my eye on Clint Dempsey, who made his move from Fulham to Tottenham Hotspur on the second-to-last day of the window.
The man they call Deuce has just finished two strong international performances for the United States against Jamaica, and with quality players around him at Spurs, he could be the transfer signing to break out this week.
10. Can Tottenham Finally Get Their Season Going?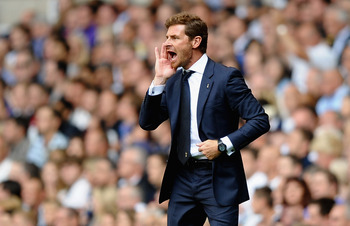 Laurence Griffiths/Getty Images
The performance of Dempsey could be huge for Tottenham this week because, if we're going to be honest here, they desperately need something.
You wouldn't think a side that includes Gareth Bale, Jan Vertonghen, Gylfi Sigurdsson, Moussa Dembele, Emmanuel Adebayor and Dempsey would be struggling, but, well, they are.
Three matches without a win has the pressure squarely on Andre Villas-Boas to get the job done—a seemingly easy fix given the fact that Spurs have blown wins twice late in the game.
They play Reading away this week—a very winnable match—and given the talent available to Spurs, a match they should win comfortably. This should be the week that Spurs finally get their season going.
Should being the operative word there.
What are you looking forward to seeing in the EPL this week?
Comment below or hit me up on Twitter: Follow @dantalintyre
(Note: All statistics courtesy of SoccerStats.com)
Keep Reading